Celtic's Long Road to Lisbon…Part 1
25 May 1967 – 9.50am. For the first time in my life I can see what Glasgow looks like from above. My first plane trip gives me a chance to look down on housing schemes, shipyards and green hills. I will not be the only person on this plane flying for the first time. Summer holidays generally meant Troon, Saltcoats or Portobello if we were adventurous. I had been out of Scotland once before – a fortnight in a caravan in Devon but that journey was nothing compared this one of almost 2000 kilometres.
For the last 2 years or so I had been travelling all around Scotland watching my team, Celtic, in their quest for Scottish Cup and League Championship success. However even the trip to Pittodrie was merely a jaunt in comparison with a flight to the Portuguese capital.
As the plane levelled off and we settled down I thought how this journey began. I don't mean leaving home at 6am this morning. Was it some 6 years or so earlier when I saw my first Celtic game? Or was it even before that? In fact I realised that, like probably many others on that flight, my journey to see Celtic try and become the greatest club in Europe had begun even before I was born.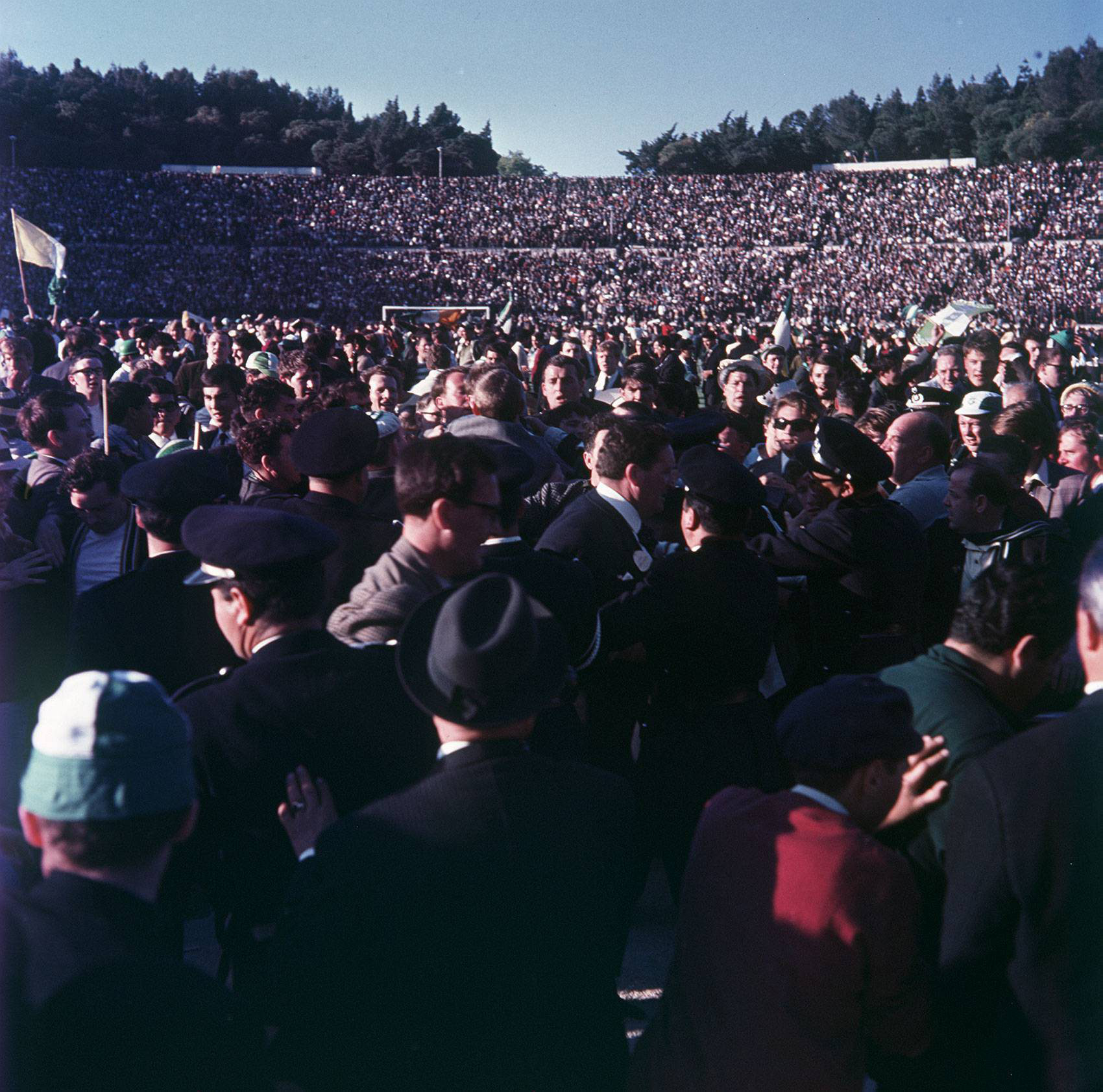 On 22 July 1901 Michael Maher (my grandfather) paid his 1 pound fare in Dublin and set sail for Glasgow. He was 19 years of age. He had been born and raised in the small hamlet of Levitstown Mill near Athy in Kildare. Leaving school at 15 he worked for a short period in service of a local landowner and at the Mill itself. He then moved to Dublin and had been working in the Jacobs biscuit factory for around three years when he received news that his father had died. His father had been much older than his wife and now Michael was the main income earner. He had heard that work was to be had in the industry of Glasgow so decided to try his luck in Scotland.
Having lived in Dublin for three years he would not have been too unprepared for the grimy city he found when he got off the boat at the Broomielaw. However one thing would be different – here there would be a section of the local populace who would not be too keen on him and his religion.
Work did not take long to find. On 24 July he commenced at the Saracen Foundry in Possilpark. As well as employment he of course sought out accommodation and perhaps not unsurprisingly the company of fellow immigrants. They would have helped him with information on places to stay and meet his countrymen.
One of those places would have been in the East End of the city – Celtic Park. I don't think my grandfather ever got too interested in the game of football itself but at Celtic Park he could at least converse with people who shared his beliefs and ideas. Like many of the early Celtic supporters he was in the Irish National Foresters. This was a Friendly Society which supported Irish nationalism.
Its constitution called for "government for Ireland by the Irish people in accordance with Irish ideas and Irish aspirations". He was also a member of the United Irish League a nationalist party with the motto "the land for the people". He soon became secretary of the Mossend branch of the League when he moved there to work with Caledonian Railways as a brake man at the local yards. The rest of his working life would be spent with the Railways.
In September 1901 he brought his mother over from Ireland and she lived with him until her death in 1908. In 1912 he married Mary Mulgrew at St Francis Xavier's church in Carfin and they settled down in the area.
If my grandfather only had a passing interest in the game of football itself then that was not the case for his sons. First born in 1912 was Michael (of course!). He eventually went into the priesthood and I have obviously no memories or great knowledge of his youth. However my father told me he had been a reasonable player and also had played Gaelic Football during his years in Ireland. At a very early age he was enrolled as a member of the United Irish League and at this stage my grandfather was often to be heard at meetings in the Lanarkshire and Glasgow areas where he would give lectures and talks on famous Irish Nationalist figures and episodes in Irish history.
My uncle John came along in 1915. No idea if he played football but he was undoubtedly a Celtic fan. In my childhood I remember him talking about the players he had seen and games he had been at.
And he had a green budgie called Charlie Tully!
It was he who first took my father to the football. My father was born in 1918 and started going to see the Bhoys with his older brother from a young age. They saw some of the great names, and great games in Celtic history – John Thompson, Jimmy McGrory for example, they were at the famous Cup Final comeback against Motherwell in 1931 and they were part of the record 147,000 crowd at Hampden in 1937 to see Celtic triumph over Aberdeen. I don't think my father was at Ibrox in 1931 when John Thompson was fatally injured but he certainly could remember the sadness of the following weeks.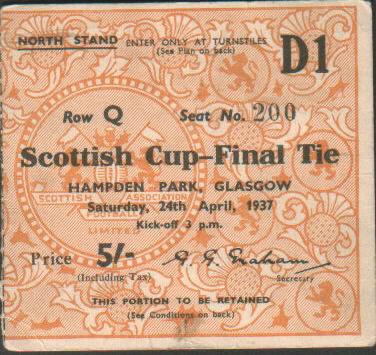 His favourite player was undoubtedly Jimmy McGrory. By the time I was going to the football Jimmy was the manager although everyone reckoned he was not much more than a Bob Kelly puppet. However no one ever criticised him. People like my father remembered him as a loyal Celtic player whose goals got Celtic a lot of success. His favourite McGrory moment was a header at Fir Park from about 20 yards – although when he first told me about it the distance was nearer the penalty spot!
The youngest brother was Gerald, born in 1921. In a generally quiet family I found him the quietest of all. He had left home at 11 to go into a seminary and also gone to Cambridge University. Obviously an intellectual man but in my childhood and teenage years he appeared rather stern and aloof from our type of conversations. Imagine my surprise in later years to discover he had had a liking for fast cars and motorbikes and had been a footballer (goalkeeper) of some note.
He had played for Cambridge University including the big Varsity game V Oxford University which in those days was often played at Wembley Stadium. Not only that but he had majored in Irish history. So I was left regretting the conversations we could have had.
My father's 2 sisters, Kitty and Eileen, were not particularly interested in football although Eileen's husband was. Terry Brennan was quite a well-known character in the Glasgow licensing trade and was always a good contact for tickets. I don't think Kitty knew too much about football but she could still talk about it if necessary when we visited on a Sunday. In those days Celtic were probably still more connected with and associated with the Irish Catholic community than they are now and Kitty's main concern was not results – it was the behaviour of the fans.
When Celtic Supporters caused trouble it did not just reflect badly on a football club but a whole community whether all of that community supported Celtic or not.
Apart from going to watch football my father also played a bit. I have no idea about his football playing activities although I seem to recall him saying something about being a right winger. Certainly apart from Jimmy McGrory his two football heroes were Stanley Matthews and (in later years) Jimmy Johnstone. However thanks to Adolf Hitler all of my father's football watching and playing came to an end and like lots of others he also missed out on properly enjoying some of the best years of his life.
He was only 21 when war was declared and he was soon called up. He joined the Cameronians. (I found out many years later that that regiment had originally been formed to fight against the Catholic faith). Like many he was reluctant to talk about his experiences but I did find out he had been a prisoner of war and had suffered terrible treatment and conditions.
At one stage his family was told he was missing, presumed dead, before he was located in a POW camp. Towards the end of the war when the Allies were approaching he managed to get out and was eventually picked up by an American patrol and shipped back to an American Military base in England. He was emaciated and in such a condition that when his father and brother came to see him they decided not to allow his mother and sisters to visit.
However he had such great physical and more importantly mental and moral strength that he recovered. In 1948 he joined, along with my Grandfather, the Anti Partition League. I suppose there was a bit of irony in that. After years of being in the British Army he was now in an organisation whose aim was to get the British out of occupied Ireland.
By this time he had met my mother – Alice Ryan. I do not know too much about her family but apparently her father – a miner from Castlecomer, Co. Kilkenny – who had died before I was born, had been a staunch republican.
As far as Celtic were concerned there was a family connection although my mother never really appreciated it. Once when she was a young girl she got the 44 Bus at Carfin on her way into Glasgow to do some Saturday afternoon window shopping. When she boarded she noticed her big cousin already seated so she went up and sat beside him. They chatted away during the journey until Parkhead Cross where he got off. After he had disembarked the conductress came up and asked my mother if she knew who she had been talking too.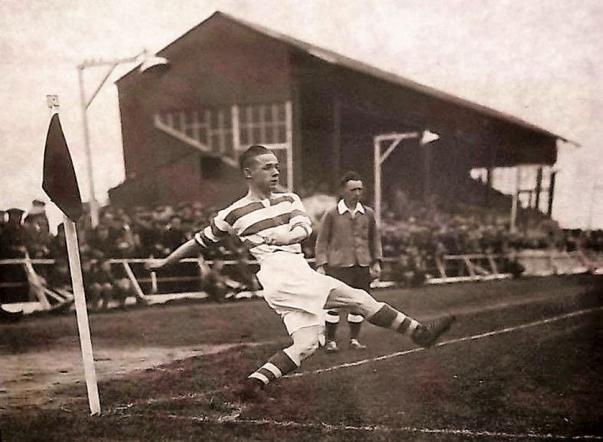 My puzzled mother said "Of course I do – he's my cousin." "That was Jimmy Delaney" said the conductress. "I know" replied my mother still puzzled. She knew he played football but it had never occurred to her that other people would know him. Some years later Jimmy Delaney was the first Celtic Legend I met although as a young boy at the time I did not then appreciate the position he had held in Celtic history.
Two of my mother's brothers – Eddie and James – were Celtic fans. Although Eddie moved to Dundee around the end of 1959 and for the next few years got his Saturday football fix at Dens Park or Tannadice. He was lucky as in that period Dundee had a great side and won the League in 1962. The following year Eddie became the first member of our family to attend a European Cup Semi Final when he was at Dens Park to see Dundee play AC Milan. I was a bit envious.
In 1963 you could not imagine Celtic winning a League never mind getting to a European Cup semi-final.
As in my father's family my mother's sisters had no great interest in football itself but they knew how much the game and Celtic in particular meant to the family and the community. My aunt Margaret did have to become more interested in Celtic when she married Peter Monaghan. My uncle Peter was a real Celtic man and even had a season ticket. Up until about 1990 he was the only person I knew who actually had one.
In those days season ticket holders were rare and probably related to, or descended from some of the earliest Celts. The 2 Monaghan boys, John and Brendan, were older than me and regular Celtic match attendees from an early age.
My parents married in 1949. Not wanting a fuss they went over to Ireland and had a quiet wedding with just 2 witnesses. The settings were not simple though. Mt Mellary Abbey in Cappoquin, Co. Waterford. My father's brother, Michael, was based there having being ordained in 1939. He said the Nuptial Mass in the grand abbey in front of a mere handful of people including the organist who played "Moonlight & Roses"!
They stayed in Dublin for a while after they were married before settling down in a room and kitchen above a shop in New Stevenston. That is where I spent almost the first 3 years of my life. It was a very basic flat with a shared toilet on the landing and a tin bath for washing in. In 1953 we moved a bit up in the world – to Garrowhill, Baillieston. It was there that I spent my really formative years and it was to some degree because of that locale that I became a Celtic supporter.
To be continued…
Mike Maher