Having explained my family background it might be assumed that I would have been a Celtic fan from a very young age. However my own journey to Celtic took a slightly longer path. During the 1950's I knew virtually nothing about Celtic or the game of professional football. Of course I did know about football. You could not live in Scotland without being aware of football. But for me it was a game that was played in the street, in the school playground, in the park.
I only had a vague idea that crowds of people would go to watch others play the game. And we had other diversions and games too despite, or maybe because of, not having television. Our neighbourhood was full of young children and I simply had to go out the door and find someone to play with. Especially during the lighter summer months we could go out in the morning and come back at night with the odd visit back to the house for something to eat.
And back doors were rarely locked so we did not have to bother with taking a key. At primary school I had friends from all over Baillieston and either on foot or on bike we would travel all over the area. If we did go further afield the tram was an easy option especially during the school holidays when a penny special meant travelling as far as the tram was going for only one penny.
Saturday mornings were spent playing football in the park or going to the Odeon matinee in Shettleston or the baths. During this time I had no memory of my father going to see the Celtic. As Celtic Park was only a few miles away he must have gone to at least a few games but these were not always great times for Celtic and possibly he did not want to inflict any pain on me by telling me about them? Of course having three (soon four) children and a mortgage meant other priorities on the financial front.
He did have football involvement though. He helped run the Our Lady's High School football team and he did take me to some of their games. One was at a large park with seats. I was not that concerned with what was going on on the field. I was more interested in running about the rows of seats with some other kids and consuming my bottle of Irn Bru and crisps that my father had given me before going off to be with the team.
It was some years later before I discovered that the "large park" was Hampden and it was not until 2004 on a visit back to Scotland when I caught up with Billy McNeill that I discovered the game had been the Scottish Schools Cup Final. So the first time I had seen Billy play was not in the green and white of Celtic but the blue of OLHS.
It was on 9 April 1960 that my life changed. By then we had acquired a television and that afternoon my father suggested I come in and sit with him to watch Scotland play England. I found it fascinating and exciting and was amazed at the vast crowd who were there to watch. We cheered as Scotland took the lead through Graham Leggat and groaned when England luckily (at least to us) equalised. However the result did not really matter to me. I had discovered a new and more exciting version of the game of football.
As soon as the game finished the street was full of kids kicking balls and playing impromptu games. Our schoolyard games too would change. Previously we had just kicked the ball around in the general direction of what was perceived to be the opposing goal. In one part of the yard there were two sets of drainpipes which we used as goals. However they were at separate ends of the same wall so our game meant dribbling and kicking in a U shape out from our goal and back round towards the opposition one.
However after we had seen that international match our horizons changed. The area of play was more defined with jackets or bags for goals at a reasonable distance apart. We even introduced corners. Shies were a bit different. On one side was the school wall. It was generally agreed that the wall was part of the game and a "pass off the wa'" became a perfect way of learning the 1-2 skill. The other side was a bit different as there was no immediate boundary. A shy was claimed by just picking up the ball and throwing it back in when you felt it had travelled too far away. Naturally the definition of "too far" depended on whether it was to your advantage to continue or not. Posts and crossbars were imaginary with a rough rule that if the goalie could not reach the ball with his arms fully extended then it was "ower the bar". Defenders and attackers did not always agree on this rule!
If that Scotland v England match had introduced me to the excitement of football then another game a few weeks later showed me its artistry. I still was not too clued up on professional football so when I went to school on the morning of 18 May I had no idea what was happening that evening. In the line waiting to go into the classroom Joe Flanagan said to me "Are you going to be watching the European Cup Final on the tele tonight?" "Oh aye" I replied with no idea of what he was talking about.
"I reckon Real Madrid will win" he said. I had never heard of Real Madrid but when you are 9 years of age you are not going lose respect and credibility by admitting it so I replied "me too".
By listening to others I found out that Real Madrid were playing Eintracht Frankfurt in the European Cup Final at Hampden Park that evening. As there were no floodlights at Hampden the game kicked off early and I watched the first 15 minutes or so before my father came home and joined me in front of the TV.
Watching the International the previous month I had been on the edge of my seat with excitement. This was different and not just because it was two teams who I had no connection with. On this occasion I sat spellbound, mesmerised by the football artistry on display especially from the team in all white.
I wish I had the literary skill to write about the impression this game had on me. It was like seeing a beautiful piece of art for the first time, or hearing a piece of music that stops you in your tracks. My mind was thinking if this is what you see when you go to a football game then I want to go to one. Of course I had never been to any major game before so maybe I thought that this type of performance was what you got at the likes of Shawfield or Firhill every Saturday afternoon. For older people like my father though it was a real eye opener. If this was football what the hell had he been watching over the last few years?
The next morning Real Madrid was the talk of the playground. Everyone saw themselves as Di Stefano, Puskas or Gento and the schoolyard seemed like Hampden. Real Madrid were exotic and glamourous with their superstars from Spain, Hungary and Argentina. You would never get a Scottish team capable of competing with them.
Although it was now summer football was still the main game in the streets. We did occasionally play a form of rounders but cricket was an alien idea. Now that we had TV we could watch Wimbledon and for a week or so our street became a tennis court. We fashioned racquets out of bits of wood and the conveniently sited cracks in the road formed the boundary lines. However such pastimes as these were temporary distractions. Football was the only game that really mattered.
And yet when the 1960/61 season started I was only vaguely aware of the fact. It was already a few weeks old when I noticed from the back pages of the Sunday Post that football was back in swing. I started to keep a scrapbook using photos that caught my eye in the Daily Record, Sunday Mail and the Sunday Post. Those newspapers along with the Sunday Observer were delivered to our door but that newspaper did not seem to have as much photos and the reports were a lot longer and used bigger words than in the other papers.
In addition to those deliveries we got the Irish Weekly every Sunday but that paper only seemed to mention 2 teams – Celtic and, to a lesser degree, Hibernian. These were fascinating names but so too were the likes of Queen of the South, St Johnstone, Albion Rovers, Airdrieonians, Heart of Midlothian. At that stage I had not yet identified myself solely with Celtic.
Those were more competitive times in Scottish Football. Teams like Aberdeen, Dundee, Motherwell, Hearts, Hibs, Clyde, St Mirren and even Falkirk were winning leagues and cups and many sides had international players. Although I went to a Catholic school only a few miles from Celtic Park my school mates claimed allegiance to various teams mainly because they had had more recent success than Celtic.
They were not actually going to the likes of Shawfield or Love Street or Fir Park but they identified with this teams who seemed more likely to win than Celtic. A few years later when Jock Stein arrived most of those boys would be on the terraces at Celtic Park.
The name Celtic was the one that did seem to crop up the most often though when I eavesdropped in on the adults discussions at the granny's place every Sunday. The earliest memory I have of paying attention to a Celtic result was in the Sunday papers of 2 October 1960. The headline caught my eye – "Storrie book ending for Diamonds"
It told how Jim Storrie had scored in a 2-0 win for Airdrie over Celtic at Broomfield. A few days later came the moment that I remember as the first time I really took an interest in Celtic. My best friend at the time – Peter Dickson – was a Celtic fan and he told me excitedly that Willie Fernie was returning to Celtic. I did not know who Willie Fernie was or that he had even left Celtic in the first place but Peter's enthusiasm rubbed off on me and on Saturday 8 October along with Peter we sought out the Celtic score as soon as we could.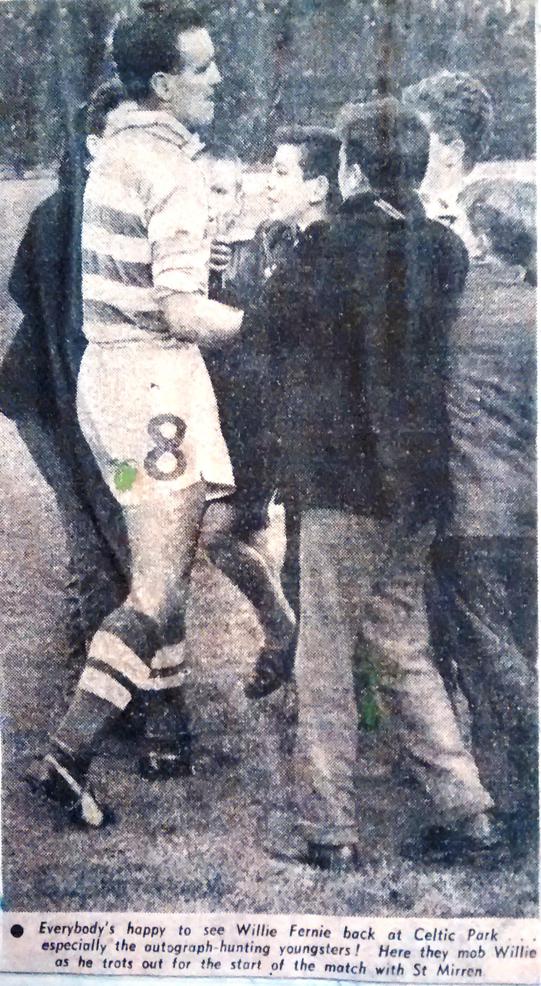 A 4-2 win over St Mirren at Celtic Park. My Celtic supporting life had got off to a great start. It was even better the following week. Peter's father – Danny Dickson – was involved in running the St Bridget's Boys Guild team and on Saturday 15 October they had a big game away to the other top Boys Guild team of the time – Viewpark St Columba's.
After the game we got on the team bus to take us back to Baillieston. The radio was on and we heard that Celtic had won 6-0 against Hibs at Easter Road. That night was the first time I recall seeing a Celtic game on TV. "Scotsport" had highlights of the game from that afternoon including an overhead kick goal from Stevie Chalmers.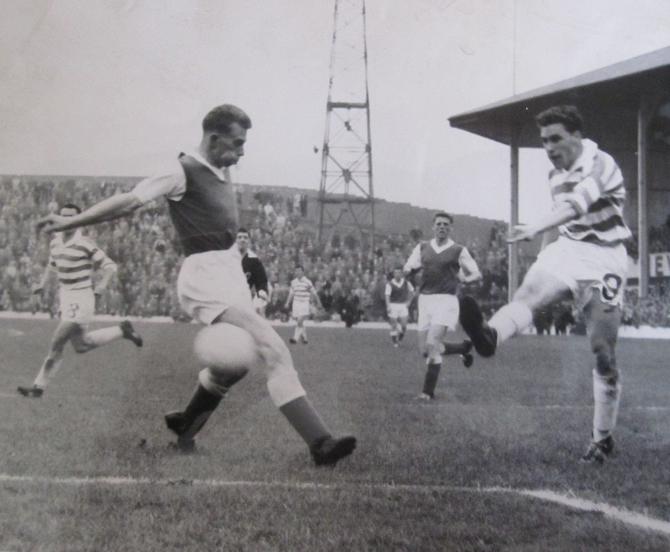 Now I was really hooked and every Saturday would seek out the Celtic score. As far as watching football was concerned though that was mainly done at Maxwell Park with the Boys Guild. My first football "heroes" were guys like goalkeeper Jimmy McCarthy in his red sweater and centre forward Malky McKay. Peter Dickson and I often gave a hand to the running of the team. On Friday nights we would put "dubbin" on the balls and on Saturday mornings we would go down to a local woodworker and pick up a bag of sawdust.
This was then used to line the pitch for the afternoon's game. In those days football was still the major form of entertainment for many people and even amateur games could attract a big crowd. It was not unusual to see at least one side of Maxwell Park full of spectators when the Boys Guild team was playing.
To be continued…
Mike Maher