Now that I had "discovered" Celtic I found out that other members of my family knew about them too! My father, uncles and aunts would talk about them when we met at granny Ryan's prefab in Newarthill. I must have had my ears closed all those years! My uncle Peter Monaghan and his sons John and Brendan were the ones I enjoyed hearing the most as they actually went to most of the games.
My other uncles on my mother's side of the family were only occasional attenders in those day. I once asked my uncle James Ryan why he did not go to see the Celtic – His reply was that "they did not come to see me when I was sick!"
Obviously Celtic's performances in those days left a lot to be desired! My father's brother John was a regular attender at Celtic Park as were his two sons, my cousins Michael and Johnny. Anyway my family's attendance at games did not matter to me by this time. I just wanted to experience it myself.
The 1960 festive season was an important one in terms of my football development. On Christmas morning I discovered my parents (or Santa Claus!) had got me the Scottish Football Book by Hugh Taylor. That book was to be a Christmas ritual for another 20 years.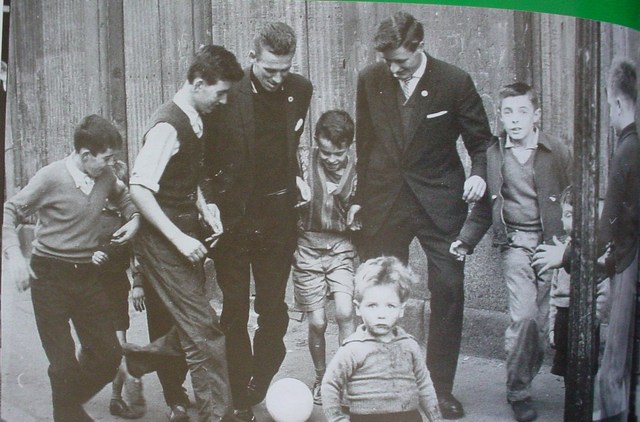 On 31 December Celtic beat Kilmarnock 3-2 after being 2 goals down. I recall reading the newspaper report detailing how a new youngster – Charlie Gallagher – had scored the late winner. I was excited as Kilmarnock was a top team and challenging for the League title. (Later on I was not as thrilled as Killie lost out on Championship by 1 point to Rangers).
On the Monday 2 January I had my first experience of an Old Firm game. With 1 January being a Sunday the traditional Ne'erday game was played the following day. No live TV coverage in those days so as the family gathered round the TV set at granny Ryan's that evening to watch the highlights we already knew Rangers had won 2-1.
The game was typical of Old Firm games of that period. Celtic would pour into attack and due to poor finishing had to be satisfied with only a 1 goal lead at the break. Celtic then had a goal disallowed and Rangers scored twice to win the game. I had yet to find out about the full background to such games but I realised then how much it meant to my family.
Complaints were made about the refereeing and my aunt Mary said that Celtic should put in a protest. At that time I thought that such an idea was quite feasible and that the match might get replayed!
I was in some despair after that game but a few days later came the moment I had been so looking forward to. Saturday 7 January was a cold day in the West of Scotland. I am not sure if the St Bridget's Boys Guild team had a game scheduled or not but whatever when I went up to Peter Dickson's that day his father told us there was no game on. He then asked us if we would like to go to Celtic Park to see the match between Celtic and Third Lanark. To say I was excited was an understatement!
I said I would have to let my parents know and raced back to my house to inform them. When I got there no one was home. I hastily scribbled a note saying I was going to see Celtic with Peter's dad and left it proudly on the sideboard.
Peter's uncle had a car and took us to Parkhead – I think there were 4 of us – myself and Peter and his father and uncle although Peter's cousin may also have come along. I cannot remember how we got in although I suspect we were "lifted over" the turnstiles as was common in those days.
Anyway I was at last into Celtic Park and soaked up the entire atmosphere as we made our way to a position beside the fence at the side of the "Rangers End" beside the Jungle. My literary abilities are too limited to fully describe my emotions but I can still feel the atmosphere. The main thing that struck me was the colour especially under the floodlights. In those days there was no colour TV and newspaper photos were in black and white.
I knew Celtic played in green and white and Third Lanark wore red. But the colours were more vivid than that in real life. Celtic's hoops were a brilliant emerald and Third's shirts were a dazzling scarlet.
After 13 minutes John Divers scored the first goal I saw live. Thirds equalised a few moments later. Stevie Chalmers put Celtic ahead but Thirds equalised before half time. In the second half Jimmy Goodfellow got the winner for the visitors. (Many years later I wondered if any of the 22,000 crowd that was at that game could possibly have considered that in little more than 6 years Celtic would be champions of Europe and Third Lanark would be out of business!).
The result did not really mean that much to me. I was just happy to have at last got to see the Celtic in action. I went home excited and went outside with my brother Gerry to kick a ball about in the driveway while the snow that had been threatening all day started to fall.
For the next few weeks I followed Celtic through newspaper reports, TV highlights and news gleaned from family and friends. The scores were usually obtained from the tele printer on the Saturday afternoon "Grandstand" TV programme although we would sometimes find out from the first arrivals back in Baillieston after a home game. However I wanted more of the real thing myself. But how to get there? Celtic Park was only a relatively short distance away and easily reached by tram, but the feeling was that it was still not a place for unaccompanied youngsters.
My father did not seem that interested in going to a game and Peter's father was mostly occupied with the Boys Guild team on a Saturday. On 11 February Celtic were to host Montrose in a Scottish Cup tie and Peter and I were desperate to go. The only thing we could do was simply go and not bother telling our parents. But of course we would need money for the tram fares and entrance money as there was no guarantee of a lift over.
We decided we would tell our parents we were going the Odeon in Shettleston and ask for pocket money for that. Phil Dolan joined us and it was his place we went to first. No problem there nor at Peter's so all we had to do was tell my mother what we were planning to do and then off we would go.
I am not sure if my mother was suspicious or whether I just felt guilty but after I initially told her we were going to the pictures I then felt I could not continue and told her of our real plans. "Well I will have to tell your father about this" she said as she left the kitchen to go and get him. Peter and Phil both scowled at me. Now we were in trouble. Not only would we not be going to the game but the parents would be informed of our lies.
My mother returned a few moments later with my father. "So you were planning to go to Celtic Park?" he asked. "Yes" we replied somewhat morosely. "All right then" he said. "Let's get in the car and go then". There were a few seconds hesitation before we realise we were not going to be "shopped" but were actually going to the game – and without needing to spend money on the tram fare!
I cannot recall how we got in. My father would not have been able to lift all 3 of us over. I think he waited inside while we got in through the "Boys Gate". However once inside he took all three of us into the enclosure in front of the Stand. This cost an extra sixpence but my father would have reckoned it was an easier place to keep an eye on us and also removed from any of the wilder inhabitants of the terracing.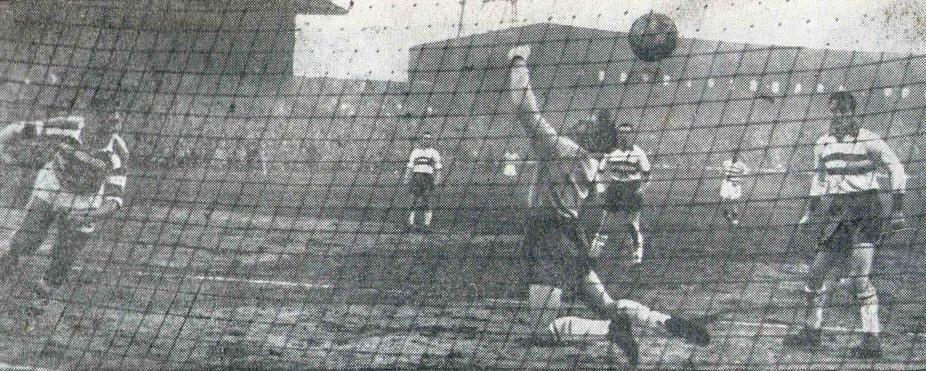 And so I saw my first Scottish Cup Tie. We had a vantage point near the by-line at the East terracing and Celtic gained a corner there in the first minute. When the ball came over a Montrose defender deflected it into his own net so I had a clear view of my first Scottish Cup goal. Celtic won comfortably by six goals to nil and we all returned home delighted with our experience.
It was then I discovered my father really was a Celtic Supporter. I had no recollection of him going to games prior to that but he must have considering how close Celtic Park was. I found out too that he had been a founder member of the Carfin Celtic Supporters Club. Anyway his interest seemed to be rekindled and the Saturday following the Montrose game we were back in the enclosure at Celtic Park as he took me and my brother Gerry to see Celtic play Hibs.
The old enclosure disappeared years ago when the main stand was extended to include seating at the front. However it was a great vantage point as it was nearer the pitch than a lot of the terracing and was at a slightly higher angle. An extra benefit was that if you stood towards the rear near the front wall of the Stand the overhanging roof gave some shelter from the rain.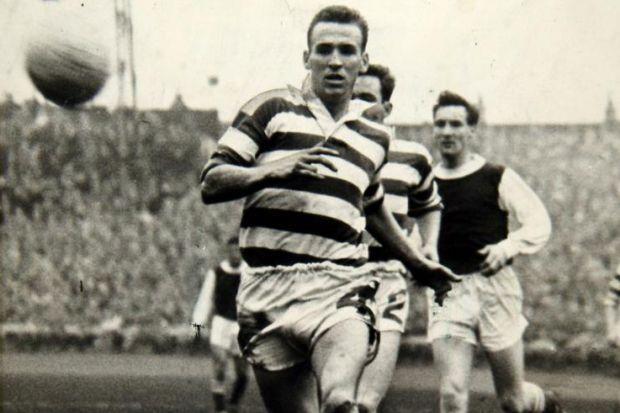 Hibs were back at Celtic Park a few weeks later for the Scottish Cup quarter final in front of a crowd of 56,000, the biggest I had experienced so far. I had to stand on tip toe for most of the match and was just able to see Stevie Chalmers net a late equaliser at the "Celtic End". The Scottish Cup had more prestige then and as Celtic was as usual well out of the hunt for the Championship by then it represented the only chance I had to see my team lift a trophy.
A few weeks earlier there had been some good Scottish Cup news. Late one Wednesday evening my father came into the bedroom I shared with Gerry and told us to come down and see something on TV. That was something unusual especially on a school night. My mother protested but my father persuaded her that this was something important so she relented.
What we saw was the highlights of the Rangers v Motherwell Scottish Cup third round replay at Ibrox. Motherwell won 5-2 and my mother's annoyance was quelled to some degree when she realised her cousin's son – Pat Delaney had scored one of the goals. That was the first time I realised the enjoyment that a Rangers defeat generated.
Rangers' dismissal from the Cup meant one less hazardous opponent for Celtic but we now had a replay at Easter Road to contend with. Again it was midweek so we were in bed although unable to sleep when the game was being played. No live TV or radio so it was late evening before my father came up to tell us the score. 1-0 to Celtic after extra time with a goal scored by a young reserve called John Clark.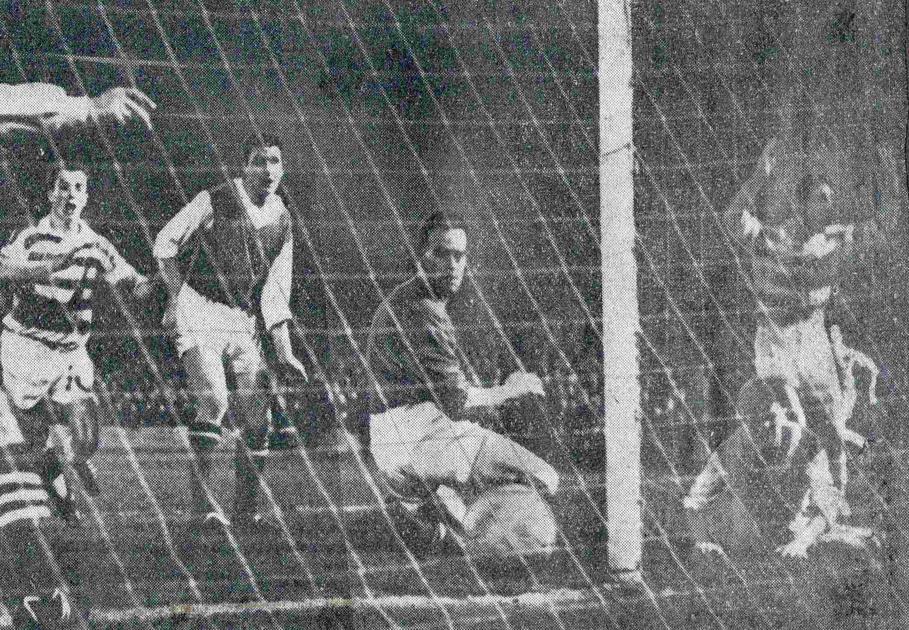 We were into the Semi Finals where we were paired with Airdrie. Exciting times for a first season fan who could hardly wait for the big game. Before that there were other League games including one against Dunfermline Athletic who were in the other semi-final. For some reason I recall we were taken to the Stand for that game. Maybe it was the weather? Anyway Celtic game from a goal down to win 2-1.
The following Saturday, 1 April was the day of the semi at Hampden Park. However Gerry and I would not be going. My father had some other engagement that day and could not take us. At least that was the story we were told. It was a long time later before I realised his "engagement" was at Hampden. I think he was reluctant to take a couple of youngsters to the Hampden slopes with more than 72,000 other people.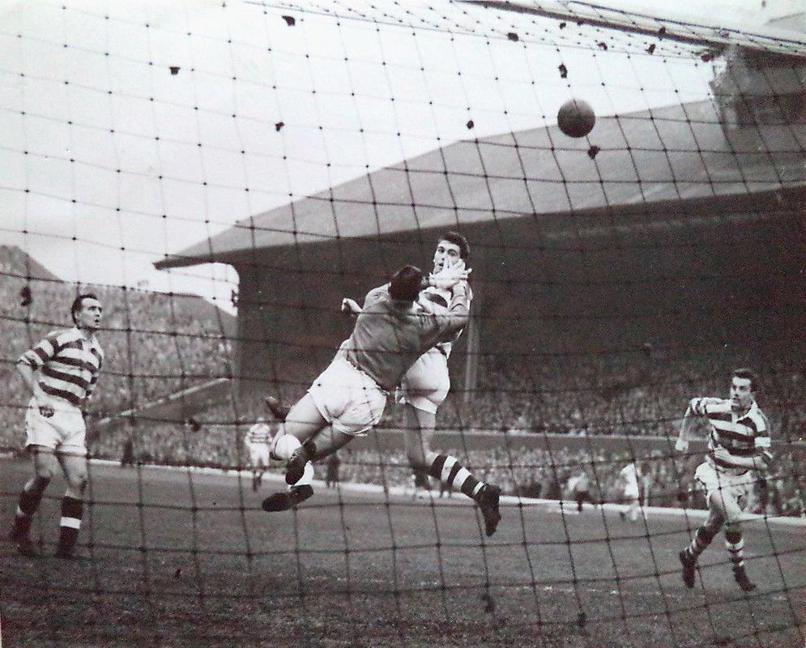 The second half of the game would be on the radio though and my mother was told to make sure she put on BBC Scotland just after the 4pm news. However her technical ability was somewhat limited and we had to listen to another BBC station with a commentary from an English game with only an update of what was happening in Scotland! However we did discover that Celtic had a 4-0 win and as the opponents in the final were to be lowly Dunfermline surely my first season as a Celtic Supporter would be a successful one.
Before the final though there were more games to be played including my first "away" game at Dens Park. 
Considering the plethora of teams in the West of Scotland a trip to Dundee for a first away game seems a bit odd. However it was more to do with family than football. My mother's brother Eddie Ryan had recently taken a management position with Timex who were based in Dundee.
He had bought a house in Broughty Ferry and family had an open invitation to call. In those days the journey from Glasgow was still a bit of an adventure. Especially to a kid. My father was an AA member and got from them a route map for the journey north. As navigator I got a seat in the front while my mother was in the back with the 2 other boys Gerry and Jim who was born in 1956.
It so happened that Celtic was due in Dundee on the last weekend of the Easter break. A game against Dundee on the Saturday and then United were to be the opponents at a non-floodlight Tannadice on the Monday afternoon, being the local Easter holiday. We would not be able to see the second game as we would be back at school. I was puzzled as to why Dundee had a different Easter from Glasgow!
Dad took Gerry and me to the Dens Park grandstand as a holiday treat. We were seated at the end nearest the bulk of the Celtic support in the 17,500 crowd just above the tunnel where the teams came out. A Stevie Chalmers goal gave Celtic a 1-0 win. I saw my first Celtic penalty in this game. A tame effort by Billy McNeill that Pat Liney saved. (Missed penalties were something I would have to get used to over the next 50 years or so).
I also witnessed for the first time the excitement on the Celtic terracing of a Rangers reversal. When the half time scoreboard announced Aberdeen 3 Rangers 0 the cheers from the terracing were long and joyous. My father was excited too and told us about a Cup semi-final some years earlier when the Dons had beaten the Ibrox men 6-0. That seemed incredible to us but on that day Aberdeen went on to record a 6-2 victory.
While we were in Dundee we learned that Celtic would have 2 players in the Scotland team for the following week's game against England at Wembley. Billy McNeill had been in the original eleven and then due to Lawrie Leslie's injury Frank Haffey would be in goals. We were happy to hear that but as any Scot of that age will remember Frank must have wished that the Airdrie keeper had stayed fit.
A year had passed since I saw that Scotland v England international on TV with my father. The Wembley games however were not featured "live" at that time. Indeed there were league games scheduled on the day of the game. Gerry and I listened to a second half commentary on the radio in our room. Scotland was 3-0 down at half time but scored 2 goals to bring themselves back into the game. We rushed downstairs to tell our parents the exciting news but by the time we got back up England had scored again and again and again and again – 9 times in all. That night's Scotsport programme screened the highlights. Instead of the usual stirring introductory theme music the lament "Flowers of the Forest" was played instead!
That was all forgotten the following Saturday as at last we were going to the Cup Final. My father and my uncle John had splashed out and got wing stand seats for themselves as well as Gerry and me and our cousin Johnny. However my big day turned out to be almost a non-event. I had a bit of a cold through the week and on the day of the game woke up to discover it had really taken hold of me. To be honest I should not have gone but no way was I going to miss Celtic winning a Cup in my first year as a fan. I remember virtually nothing of the game which was viewed by me through a fuggy haze.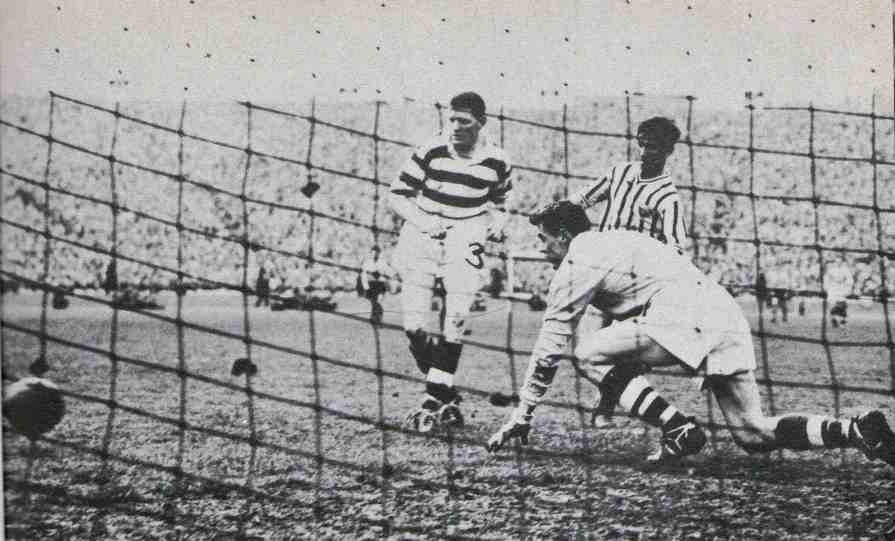 I do remember being in the back seat of the car as we made our way slowly out onto Aitkenhead Road. My father was concerned about Gerry in case the delay in getting home would upset his diabetic condition. He asked John to look and see how things were in the back seat. He replied that Gerry seemed fine but that "Michael looks terrible!" I gather the game had been reasonably entertaining with the Dunfermline goalkeeper Eddie Connachan making some great saves to ensure the tie ended goalless.
The replay was the following Wednesday. With Hampden having no floodlights in those days the match started around 6pm. That meant my father would not have time to go and therefore neither would I. We listened to the radio commentary that told of wave after wave of Celtic attacks. A goal had to come and so it did. Dunfermline scored after 67 minutes. After more futile Celtic attacks Dunfermline clinched the game with a second goal 2 minutes from time. I kicked the radio in disgust and annoyance. My father was raging at me – "if you cannot take a defeat then there is no point in supporting a football team".
Although I was now into football spectating I had not given up the "playing side". Games would "kick off" in the school playground before class in the morning. The score would be carried through to morning break, lunchtime, afternoon break and even after school. The lunchtime session was an important one being the longest break and the chance to build up a good score. My routine was to race home (a five minute run) throw back some lunch (which always seemed to be toasted cheese) and then race back to get involved as quickly as possible. If you could get as many as your players on the pitch as possible before most of the opposition had returned from lunch then you could build up a good score.
As well as the playground game we had also started a "street team" by the grand title of Baillieston Rovers. Replica strips were not in fashion then so we all wore different colour jerseys. Peter Dickson was the captain – he had a ball – and the squad was generally made up by George Weightman, Pat Thomas, Johnny Manning, Joe Flanagan and a few other floaters.
We played games against other similar teams in the area. Although most of the teams had a nucleus of regulars there was a good deal of flexibility in player registration. Our usual home was Maxwell Park and our regular opponents were Johnny Lynas's team who played at Barrachnie – we often got the tram to that one!, Michael Roche's team at Swinton and Gerry Miller's team who played at Hillsburgh Park in Garrowhill.
There were no goalposts at that latter venue so jackets and bags were used instead. As our games were mostly 8 or 9 a side that was probably a better arrangement than playing on full size parks with full size goals! The Baillieston Rovers team kept going for a few years even into our first year at Secondary school. We even had a trip to Bargeddie!
Much as I loved playing football I now looked on myself as a Celtic Supporter and more and more Saturdays were taken up with going to see the Bhoys. At first it was in the company of adults either my father or Peter's.
However as Celtic Park was only a short tram or bus ride away it was not too long before we started going by ourselves. It was 14 October 1961 that Peter and I first went to see Celtic by ourselves. The opposition was Stirling Albion. We got the bus from Baillieston to the bottom of Westmuir Street. We could have continued on to Parkhead Cross but by getting off where we did we not only saved a penny but could also call in to see Peter's Auntie Betty who lived in the tenement by the bus stop. That meant we got some biscuits and a drink of ginger before making our way up to Celtic Park.
On that occasion we went into the Jungle for a spell but mostly we viewed games from the terracing behind the goals at the Rangers End. Although that was not a successful era for Celtic there were some entertaining and high scoring games. I recall beating St Mirren 7-1, Partick Thistle 5-1 and in particular a thrilling 4-3 win over Hibs on a wet muddy pitch. The rain that day sent us into the Jungle and we had a great view of Johnny Divers' diving header for the winner.
Peter's father and uncle would still take us to games when they were going too. They were football fans as well as Celtic supporters and would on occasion go to games not involving Celtic.
I remember being a bit envious on one occasion when I heard that they were going to drive to the "big game' one day to see some genuine title challengers in the shape of Kilmarnock and Hearts at Rugby Park. They probably considered that too long a journey for us but they did take us to Firhill to see Partick Thistle play Kilmarnock on a day when Celtic were up at Dundee. That was actually the first time I had seen Kilmarnock in the flesh. As they were a team who was generally challenging for honours they often appeared on TV and in the newspapers but of course that was always in black and white.
When the teams came out that November afternoon I said out loud – "Kilmarnock wear red socks!" much to the amusement of the people around me. For some reason I had thought their socks were brown. At least that is how they looked in black and white!
I now considered myself a real Celtic supporter and over the next few years went to almost every home game and often went to reserve games when the first team was away. However they were not years that were particularly successful for Celtic. We never made any challenge for the title and although we did reach a couple of Scottish Cup finals we never lifted the trophy.
The 1963 Final replay defeat to Rangers was embarrassing and painful to witness.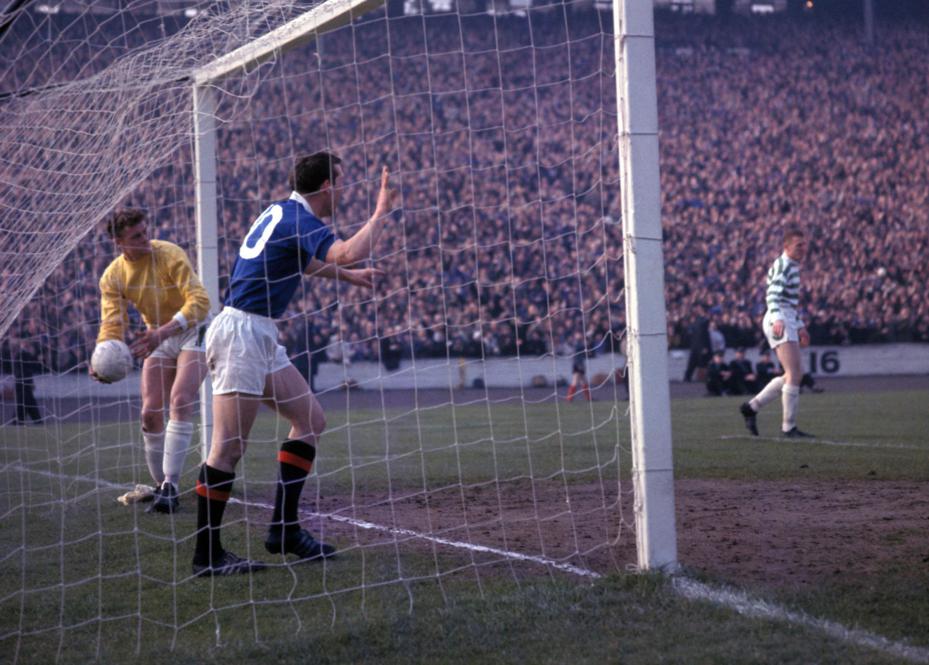 By that time my life had changed. I was now attending Senior Secondary school – St Patricks High in Coatbridge and the family had moved to Bellshill. That meant Celtic Park was slightly further away but still easily accessible with plenty of buses from Bellshill Cross to Parkhead.
I was closer to the Lanarkshire grounds and if Celtic were playing away I could still get my football fix on a Saturday at the likes of Fir Park or Douglas Park.
There were lots of Celtic supporters of course at my school including a few among the teaching staff. Coatbridge was well known for its Irish connection (we used to call it the 33rd County) and there were lots of Celtic Supporters Clubs. We were faithful fans but need desperately something to change.
And in early 1965 it did.
To be continued.
Mike Maher