Jock Stein's arrival as Celtic manager in March 1965 did not just change Celtic it changed Scottish Football. In fairness Big Jock had already been a force of change. He had taken Dunfermline from a small outfit battling against relegation to Cup Winners and laid the foundation for the period when they were respected in Europe and genuine challengers for the honours in Scotland. I had no doubts he would work his magic at Celtic Park.
Big Jock's arrival came at a great time for me. I was 14 coming on 15. I was considered capable enough of going to all the games if not on my own at least in the company of others. Home games were easy to get to by public transport and in the 1965/66 season I started going to away games regularly on the Kirkwood CSC bus.
This was a great experience. Going to grounds I had never been to before, enjoying the rituals and banter on the bus and listening to stories of games and players before my time and hearing songs of past Celtic victories and incidents in Irish history. And that season ended in real glory – winning the Championship. That was something I had not dared to even consider in previous years.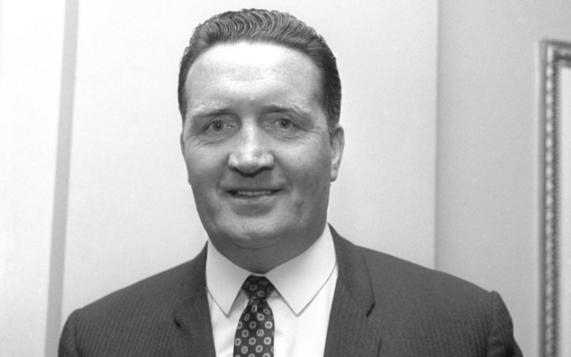 With Jock Stein at the helm things were going to get even better I was sure. Something inside me told me that 1966/67 would be an even greater season than the one just finished so I decided to go back to something I had done in my first season as football fan – I would keep a scrapbook of the season and even a bit of a diary. You never know it might just be worth reading again years later.
30 July 1966
We saw the World Cup Final on the TV today. It was live too – not like the one in 1962 – we had to wait until the next day then to get the pictures from South America. We have been watching all the games on television. I think it is brilliant but Dad is not so sure – he thinks if you get too much on the tele then people will stop going to the games.
About 5 minutes after the kick-off I had to go into the kitchen to get a drink of ginger. Mum was there – she is not that interested in football. She was not looking happy. Did not think that us laddies should be supporting Germany after what happened to Dad in the war. I knew he was a POW. I have seen the marks on his body but the war seems a long time ago. I had not thought of it like that before. Maybe we should think again about supporting Germany.
I went back into the living room to watch the game with that thought in my mind. Just as I got back in Helmut Haller scored for Germany – Dad was up out of his seat yelling "Yes Ya Beauty" Wonder what Mum would have thought? We were all cheering just at the end when Germany scored again but England won in extra time. Dad said the third goal never crossed the line and we all agreed. Maybe there will be a photo in the papers tomorrow to show it. At the end Dad, Gerard and Jim went out of the room but I stayed to watch the World Cup being presented even though I can't stand that Nobby Stiles. Imagine if you could see a Scottish team winning a big Cup on TV?!
6 August 1966
Well what a day – We thumped Manchester Utd 4-1. That wee rat Nobby Stiles was up to his dirty stuff again but we showed them. And a big crowd too – must have been over 50,000 there today.  Me and Peter Dickson right in the middle of the Celtic End.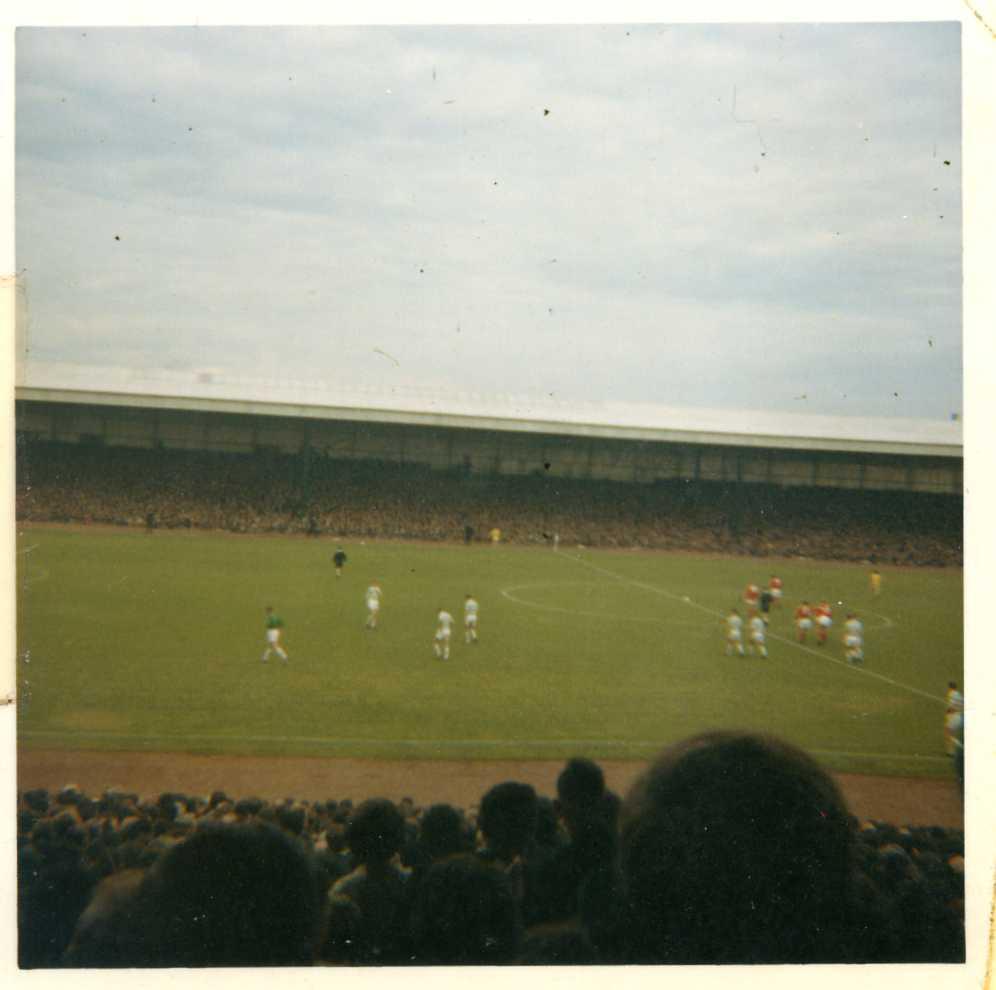 The new Jungle roof was up – some people in the Jungle were even joining in the singing – Never heard that before. Lots of banners there too – Dad said it was good to see the flags and banners back again. There was one designed like a Union Jack but Green, White and Orange instead of Red, White and Blue.  Lots to talk about back at school next week. And I got that Weekly News Colour magazine. Glossy pictures from last season with all the results and us winning the League. Also had a page about the European Cup we will be in. Real Madrid, Inter Milan, Liverpool, Anderlecht are all in it. The final is in Lisbon on Wednesday 24 May next year. It will be on the tele no doubt.
13 August 1966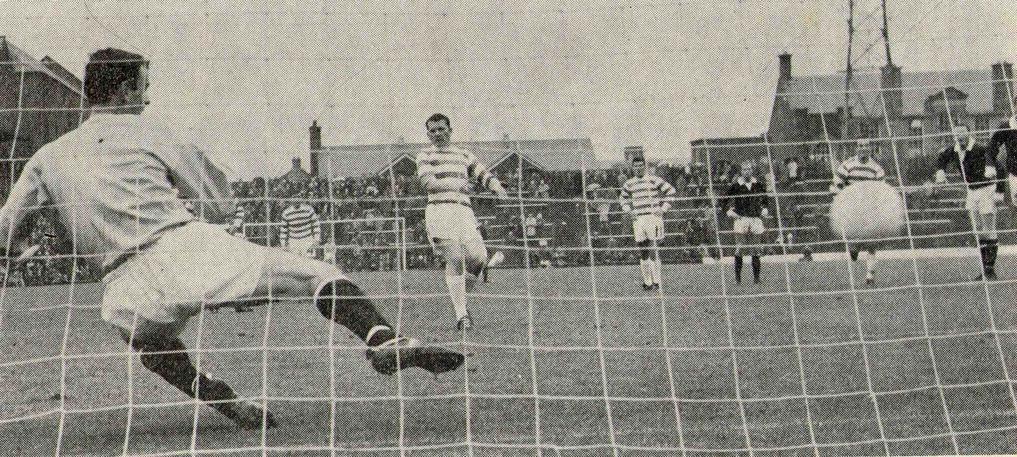 Got soaked today. It was pouring all day. At least when I went to the Public Trial game at Parkhead on Tuesday I could get under cover but not at Tynecastle.  Went on the Kirkwood bus again with John Fagan, his da, his cousin and his uncle. Traffic was bad when we got to Edinburgh.
Somebody said we would miss the kick off and me and John got up out of the seat to see what was happening up the road.  His dad said "no Panic- just remember the 3 C's- cool, calm and collected" He was right and all. We had to step on it going up the road but we made the kick off.
Only about 25,000 there but no way we could get under the cover. Looked like a lot of Hearts fans in there anyway so just as well standing at the Gorgie Road end. Had to keep wiping my specs to see. John said I should fit windae wipers. But I could see the game all right. Wee Joe scored 2. Cost me 5 shillings! No Boys Gate tickets. Last year I got the train to Tynecastle and we walked back to Haymarket after the game. Today it was the other direction back to the buses. "Watch out going under the bridge" says the uncle. "Hearts fans sometimes go up on top and throw bricks and bottles down". Was OK the day though. Hail Hail sounded great echoing in the walls of the bridge.
24 August 1966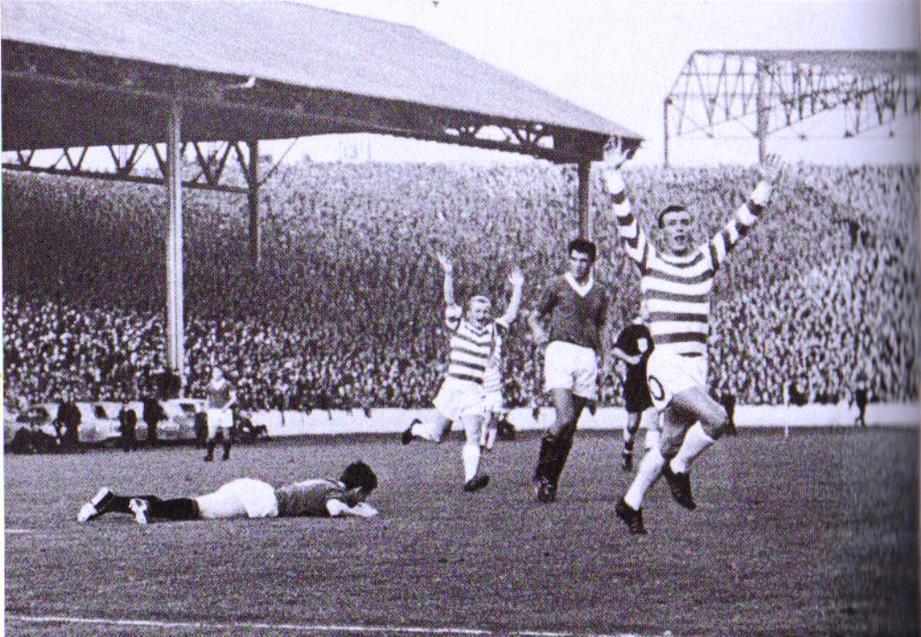 My first win at Ibrox last night.  Missed the start though. We had a double decker bus last night and it was packed. Tom Tumilty came along too.  John's cousin was telling us how he had heard the wee Gers in the school next to him singing "We all live in an orange submarine".  Took ages to get there.
Parked near Helen St.  We were all walking to the ground at a fair pace but me and Tom decided to run. When we got to Edmiston Drive it was mobbed. Thousands trying to get in the turnstiles and no order in the queues.  We were pushing and shoving as best we could. We heard the roar for the teams coming out and still nowhere near the gates. Then a wee bit later another roar- It was from the Celtic end- we'd scored!
The mounted polis were there then.  Somebody said they should have been there ages ago.  Another guy says it was because the Polis wanted an 8'clock kick off but Rangers insisted on 7.30 and that is why the coppers didn't get it sorted sooner. We missed the first half hour near enough. We ran up the big stairs to the top of the terracing.  Just as we got there I looked on the pitch and saw wee Bobby Lennox swing his leg at the ball. Bang! Into the net – 2 up.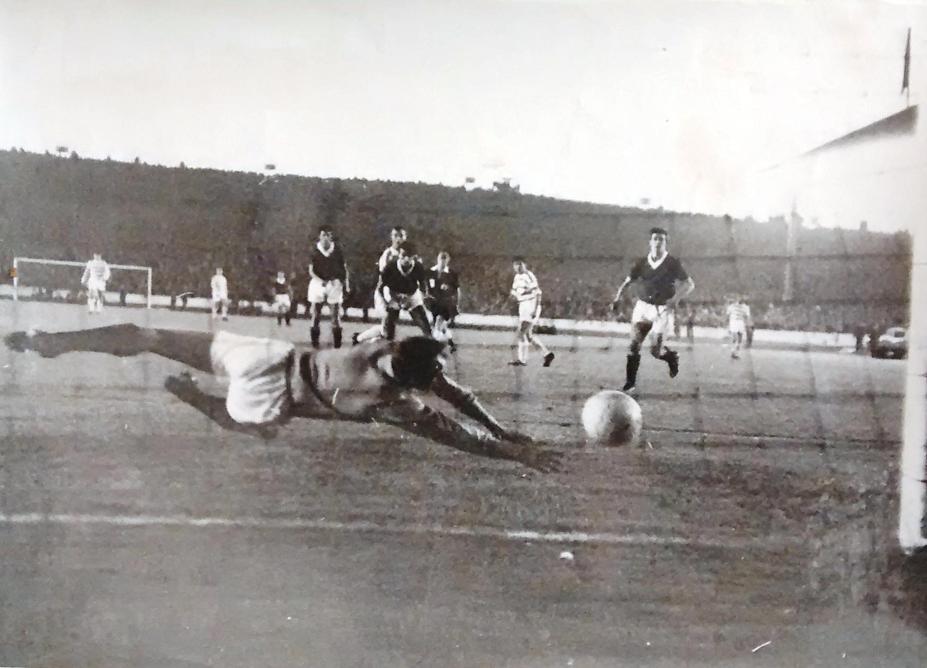 Second half the wee man got another 2. He is so fast they can't catch him. We were singing "we've just sunk an orange submarine" on the way home. Dad was beaming when I got home – there were highlights on Scotsport so I saw the first goal too. The paper this morning said there was about 80,000 there and the headline was "Rangers Torpedoed" Everyone calling Bobby Lennox the Buzz Bomb at school today.
3 September 1966
That's us won the section and won every game too. Remember when we never qualified for the quarter finals for years. Only 1-0 today but that'll do. Wee Jimmy got injured and we brought on a substitute – Willie O'Neill so we did not play with 10 men.  Wonder if this substitute idea will last.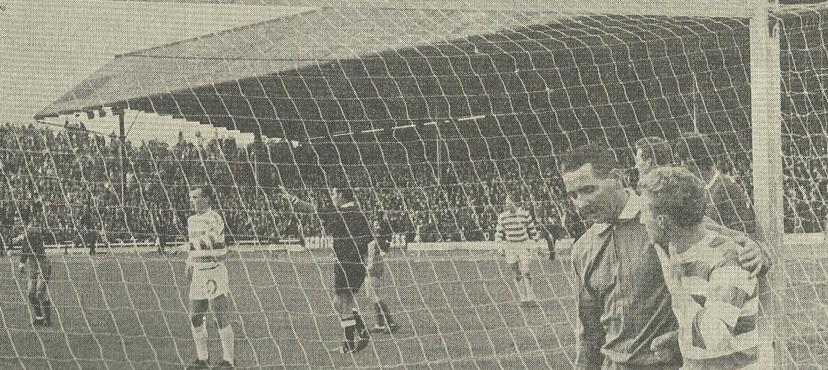 On Wednesday we won at Shawfield too.  That is the first time I saw a whole game at Shawfield. Two seasons ago I went by service bus and it broke down. By the time replacement one came I was about 20 minutes late in getting in.
And then last season went for the supporters' bus and discovered that because it was a New Year's Day game the kick off was 2 o'clock and the bus had gone. Luckily there was a guy in a wee van who saw a couple of us in the same boat and he gave us a lift but we still missed the first half hour. Was not much of a game on Wednesday and it is hard to get a good view there. I went down the front not for from the dug outs. Saw Big Jock raging at Bertie Auld for sitting on the ball.  I thought it was funny but dad agreed with Big Jock – you don't take the mickey out of other players.  Maybe if it was against Rangers it'd be different?
17 September 1966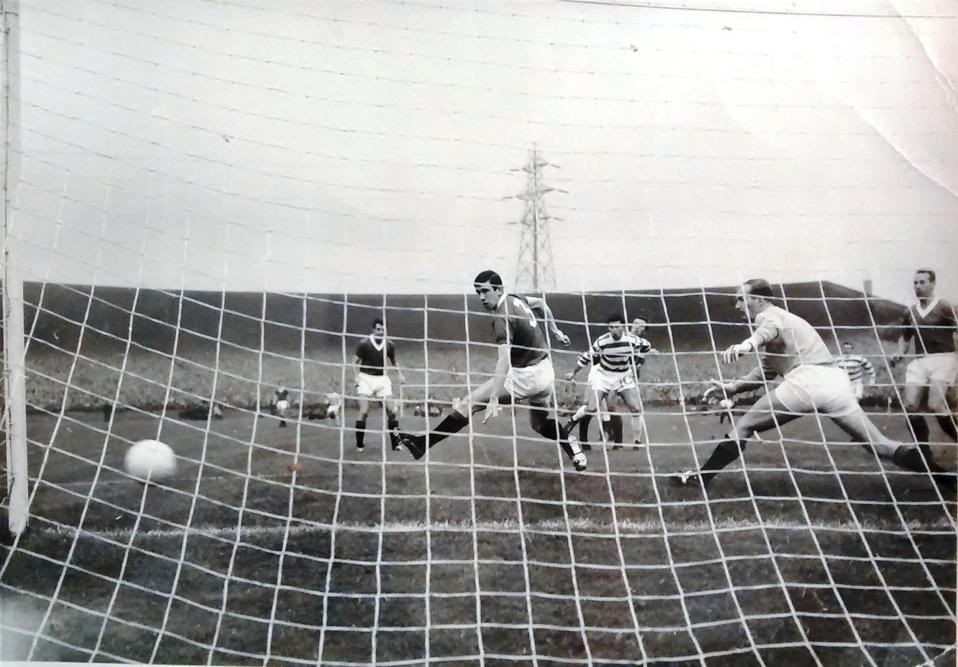 Wish we had scored more against Rangers  today. But it was a stroll really. We always were in control. Almost the same start as on Wednesday night against Dunfermline – 2 up in the first 4 minutes. Thought we might have got another 6 but still 2 points and we showed them who the boss is.
24 September 1966
Home late from Dundee but nearly did not make it at all. Joe Haughian came along today like he said he would. Big John wasn't there though. His dad said it was because the bus was not coming back till midnight. I don't think he thought we should go either but we didn't want to miss it now. He said he would get us a lift back down the road when the game finished.  They had to hold up the kick off for about 10 minutes to let the crowd in.  I had Celtic 9 in the sweep but Andy Penman scored first for Dundee.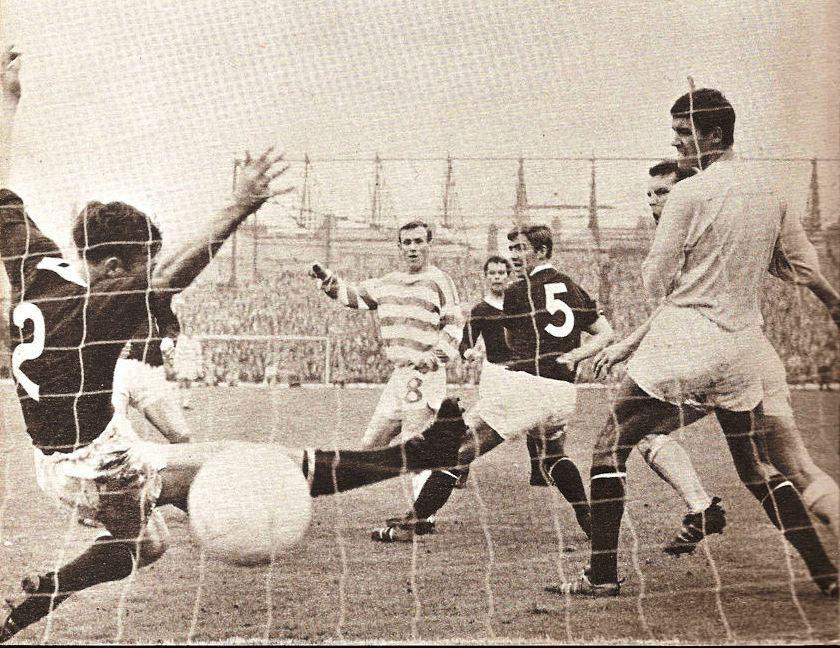 Buzz Bomb equalised and Stevie Chalmers got the winner.  A linesman got hurt and had to get replaced so the game was stopped for a while. After the game John's da took me and Joe to the bus park and got us on a bus going straight back to Glasgow. The bus stopped for us near Muirhead. Just as well Joe had come as I was not sure where I was. It was dark and we scrambled down a grassy bank then along the road to where Joe said we would get a bus to Coatbridge. Back home in time though to watch Scotsport and Sportscene.
28 September 1966
A win in the European Cup tonight against Zurich. 2-0. I thought it was 3-0 for a while. Joe McBride put the ball in the night right at the end. Some people did say the ref blew for time up first and when I got home and saw it on TV it was confirmed. Big Tam scored a screamer for the first – he was just over the halfway line when he thumped it.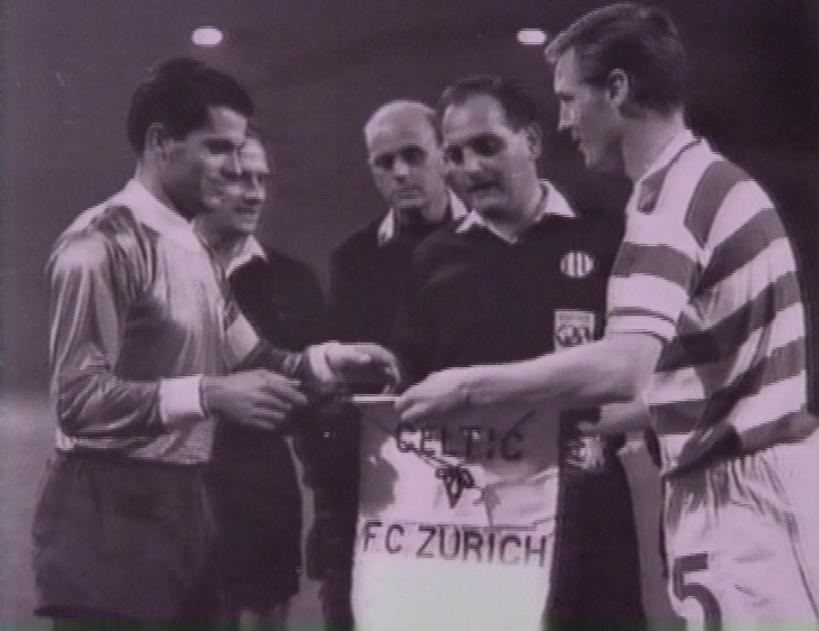 There was a big squad from St Pat's there. A couple of years ago it was just Peter and me but more coming now. Singing good too. The Holy Ground song getting belted out now. Not too keen on "when the Celts go marching in"- I think that is just copying other teams.
Like that "You'll Never Walk Alone" stuff. I heard a few guys singing that at Fir Park last season. Why would they want to sing a Liverpool song? Thankfully haven't heard it since.
15 October 1966
League Flag was unfurled today – On the new Jungle roof at the Rangers End.  The Irish tricolour is always at the Celtic End. Bob Kelly's wife did the unfurling and got lots of cheers. Not like a few years ago – Then the cheers would have been for hanging Bob Kelly!  Roddy McKenzie had another good game against us but we were all over them so we deserved to win. That is their first defeat but I don't think they will be up at the top of the table for long.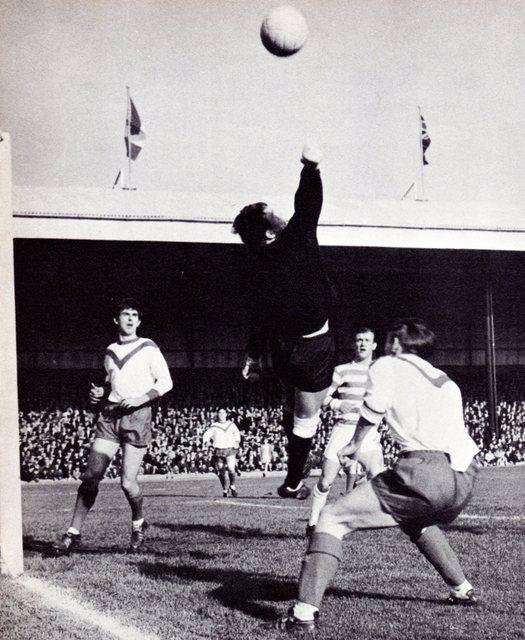 29 October 1966
League Cup Winners again! A bit different from last year. Rangers actually played not too bad and I thought they were going to score just before Willie O'Neill cleared it off the line. We did not attack much but we scored. Dad thought it was a cracker. Joe McBride headed down and Wee Bobby onto it like a flash and lashed it into the net.  John's cousin calls him Spencer Davis because he Keeps On Runnin.  Weather not like last year either and the bus was a wee bit quieter. Last year John Daisley started the singing with "Kelly the Boy from Killeen" with its "Hymn for the Dawn of the Free." This year it was "We shall not be moved." Maybe we know we can beat them now.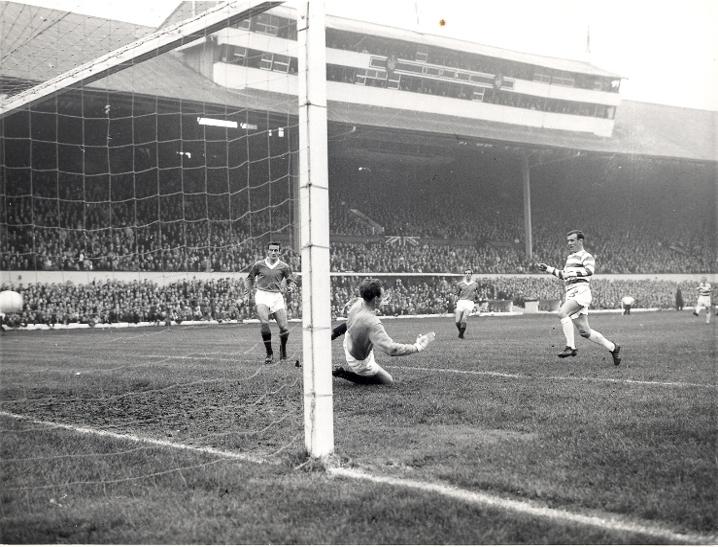 That's 3 games against them at Ibrox, Celtic Park and Hampden. 3 wins and they have not even scored.
20 November 1966
That was one of the best games I have ever seen yesterday. Beating Dunfermline 5-4 with a last minute goal after being 4-2 down.  We were at the far end so I did not know why we got that penalty but there was good photo in the Sunday Mail today of Roy Barry punching the ball.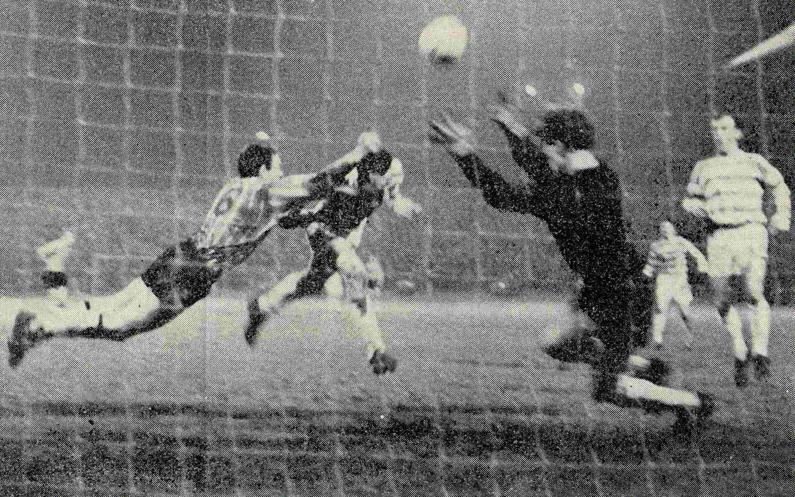 It would have to have been blatant for Wharton to give us a penalty.
East End Park looks a lot better now. Good idea to have cover running all the way from behind the goal down the side. If they joined it up it'd be like some of the English grounds I have seen on TV. We stood at the uncovered end right enough – we'd have missed the start if they had not held up the kick off again.
John now living in the Whifflet and in the St Mary's club so we went on that bus. Happy bus on the way back. John's da reckons Rangers would be sickened when they heard the actual score. They would have got the half time score of 3-2 to Dunfermline then would have heard the full time scores being read out – "Dunfermline 4" they'd be thinking "great"  then they would hear  – "Celtic 5".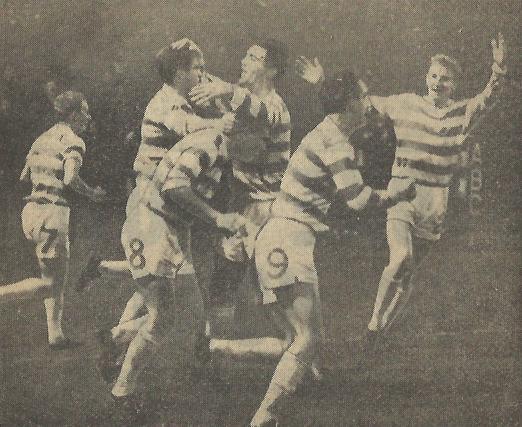 Told dad and Gerry and Jim all about it before we saw it on Scotsport. We played football with a wee ball in the hall – Me against the 2 of them. I let them go 4-2 up so I could come back and win 5-4 but we broke a light so had to stop.
3 December 1966
It was freezing the day! Rugby Park was packed.  We were on the open terracing behind the goals and it was tight but the big covered enclosure was mobbed. After about five minutes there was a big sway and a barrier collapsed. People fell onto the ground – Neilly Mochan and the Kilmarnock trainer came to help the ambulance men.  A lot of people must have got hurt. I saw Peter Dickson walking round the pitch to get to another spot. He looked all right.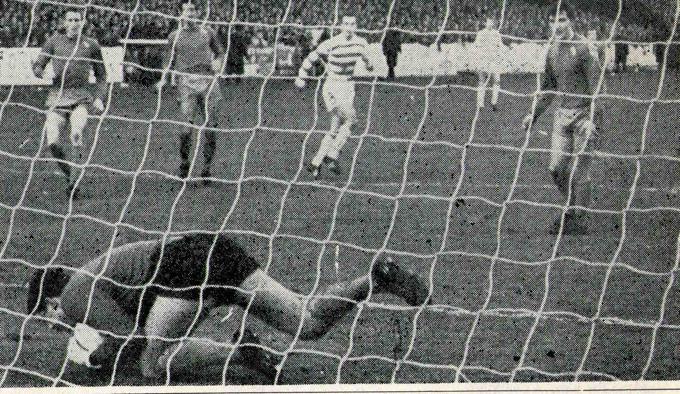 We did not score today – Bobby Ferguson had some game. But on the bus we got the other scores and Dunfermline beat Rangers 3-2 so we are a point better off. I knew Dunfermline could beat them after the way they played against us the other week.
7 December 1966
Not much of an atmosphere tonight. It was wet and hardly any of the boys from school went. I think they all thought we would have no problem as we were already 3-1 up. As Joe McCormick said they were only a French team and it would be unlikely that a French team could ever beat a Scottish team.
They scored right enough. It went really quiet then. First time a European team scored at Parkhead since Valencia. Rangers put out Borussia Dortmund in the Cup Winners Cup. We should have won that last season. That goal being disallowed against Liverpool was never right. Willie Wallace signed from Hearts. Dad reckons that is a good buy. Says he is a real professional type who will also get goals for us.
10 December 1966
A few more of the boys in the Celtic End today although some of the others were at the school fundraising Christmas Fayre.  I'd rather go to the game. Anyway I went to some of the fundraising stuff during the week. Our Gerry was in one – he played the tin whistle and some of his mates had guitars. Cost a tanner to get in to go the fund raising. It was in an upstairs class room during the dinner break and it was a good session of rebel songs. – I liked that one – "The Bold Men". Gerry was singing. He said that he was worried he might start laughing when he saw everyone looking at him. Someone said think of something sad so you won't smile so he thought about Kaj Johansen scoring in the Cup Final replay.
The start of the game was held up again to let the crowd in. I think a few were there to see how Willie Wallace would get on but it was Stevie who got a hat trick.
24 December 1966
At last I have been to Pittodrie. The final ground in the First Division I had not been to. We got the train. Because it was Christmas Eve not all the buses were going. Some combined. Uncle John works with the Railways and he gave me the train times. He used to get the train to all the games when he was younger.
There was a station at Parkhead. It is still there but not used now. John said we should get the 8.30am train in case the 11.30am was to run late.  I met Joe Haughian, Charlie McAloon and wee Eddie Boyle at the Fountain at 7.00am and we got the train from Sunnyside. It was cold.  Charlie said he had something to keep us warm. In his inside jacket pocket he had a half bottle of Lanliq.
Joe and Eddie had a wee swig on the train from Coatbridge – I had it to my lips but didn't fancy swallowing it. Charlie took a good swally. When we got to Queen St Charlie had to go to the toilet. He was away for a wee while.  Charlie was annoyed that we had sold Bent Martin to Dunfermline. He reckons we should have kept him because Ronnie Simpson is getting old. Charlie fancies himself as a goalie.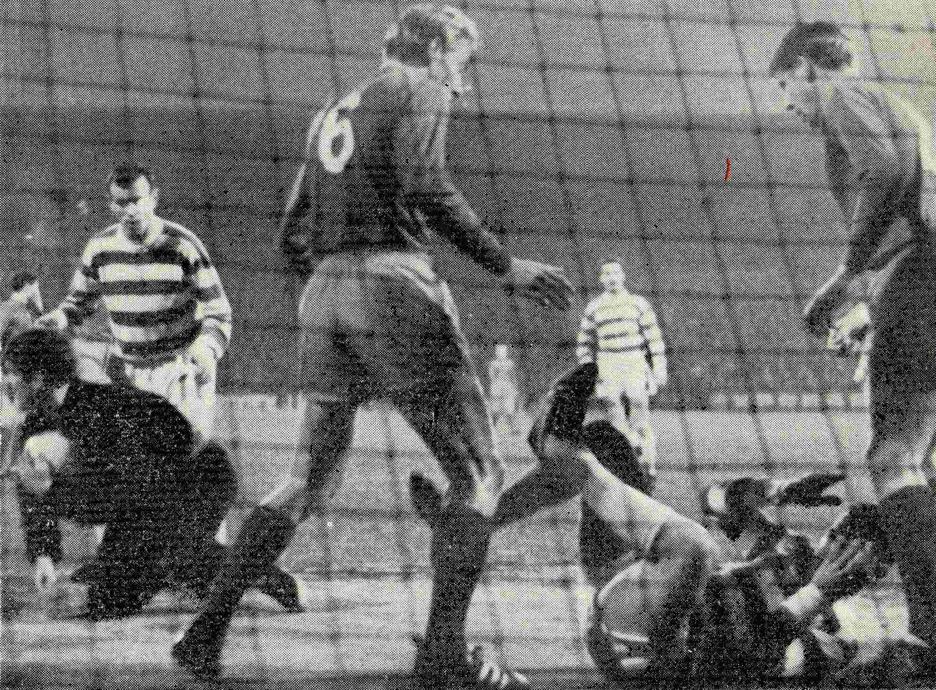 When we got Aberdeen it was really freezing but there was no snow.  The snow stopped not long after Stonehaven.  We went to a 10 pin bowling alley but just to keep warm. I have seen it on the tele but don't know much about it.  After a while somebody came up and asked why we were not playing so we left.
We went into a Chip shop for a feed. 3 Fish Suppers and a Pudding Supper.  We sat in the back and it was nice and warm.  You had to pay when you went out but the counter was a high one and wee Eddie walked underneath it without being seen so he paid nothing. He said it was fair enough as he was always getting slagged because he is wee.  Then up to the ground.
Pittodrie has a main stand and cover behind both goals. There is also another wee stand behind the goal at the beach end. A bit like an English ground. When the teams came out the cheers for Aberdeen were louder than for Celtic. That is the first time I had experienced that. Wish more games were like that. You really feel like a real supporter when there are more opposition fans.
The snow did come on through the game and the pitch was icy.  Wee Bobby scored but Harry Melrose equalised – he has scored a few goals against us.  Ronnie had some good saves in the second half which we pointed out to Charlie.  After the game we had to belt down King Street and Union Street to get to the station for the last train to Glasgow at 5.30pm.  It was mobbed. No seats left. In one of the carriages there were some empty seats and tables. But there was stickers on the windows saying "Reserved for Queens Park FC boarding at Forfar". When nobody was looking Eddie scraped off a sticker and we sat at the table. After that some more guys did the same. I felt guilty when we got to Forfar.
I went for a walk up the train. I saw Harold Davis with his QP blazer and I did not feel guilty. John and Brendan have told me he was a jungle fighter in Korea and when he played for Rangers he was a real thug. Then I noticed Malky McKay standing in the corridor. I don't think he would recognise me after a few years but I hid my face anyway. I did feel a bit guilty then.
The Celtic team were at the front of the train and I met Jock Stein. I asked him for his autograph and he said "Aye son" and signed my programme.  When we got back I thought I should do some Christmas shopping. There was a wee shop open.  That was lucky. Got a wee baby doll for Eileen, a conjurer's set thing for Jim and some chocolate stuff for mum and dad. I will gave Gerry the signed match programme. Anyway better get off now for midnight Mass.
To be continued…
Mike Maher