1 April 1967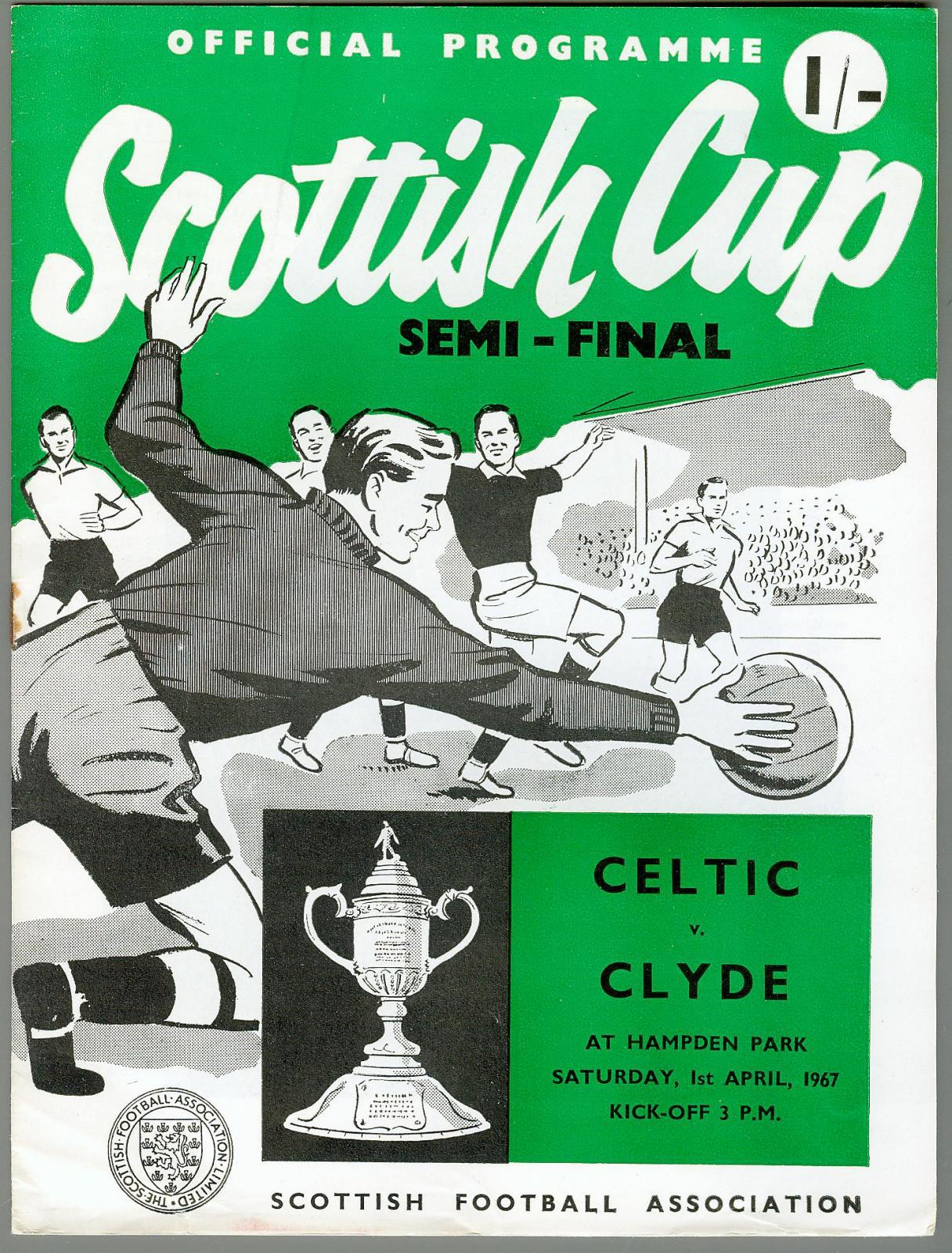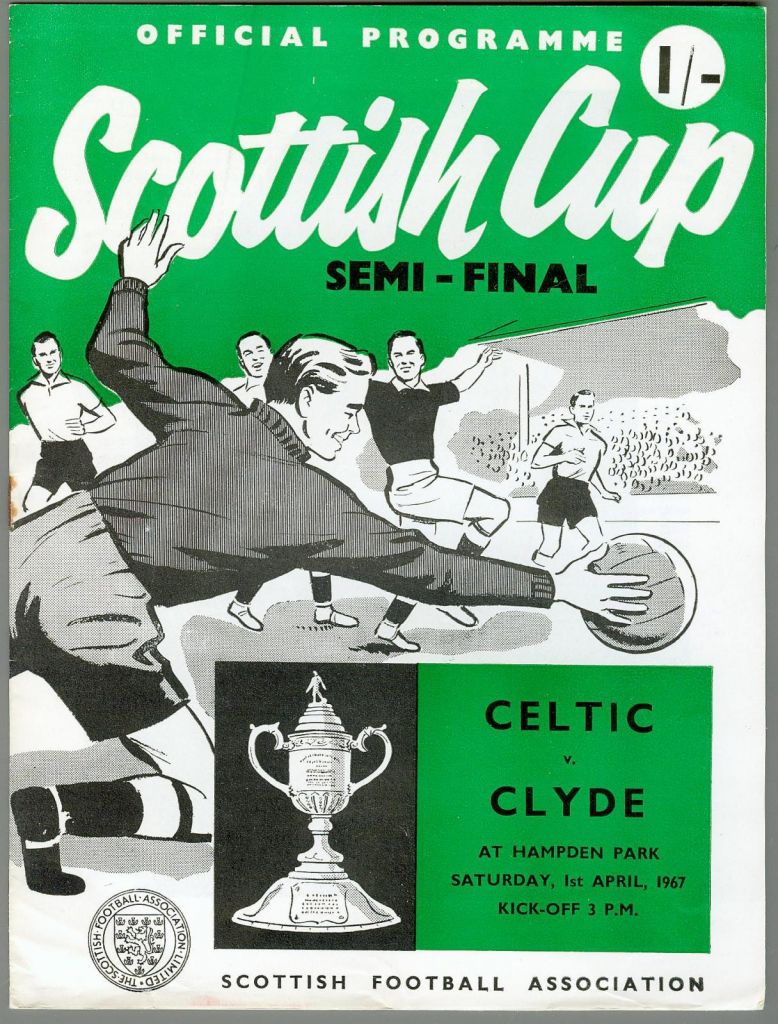 Robbed again. Missed chances then we did not get blatant penalty at the end. Ref was J R P Gordon so what do you expect. So need to go back to Hampden again on Wednesday. Clyde were not too bad but we should have won.
Went on one of Phil Cole's buses. So many going now that St Mary's making it members only for big games. And there are more of us from the school going too. Phil Coles is different. Plenty drinking and a lot more singing – some stuff I had not heard before.
"Hampden Park was crowded, the fans began to roar, the Rangers fans were singing the Sash My Father Wore but they very soon had to change their tune as the Celtic plan was set McPhail knocked it down to Wilson and the ball was in the net.

"The Celts were playing so wonderful, how they passed the ball along and way up on the terracing we are all singing the Soldiers Song with the interval approaching the Gers were really blue a whizz bang from Neil Mochan and in went number two.

"Then the second half got started, McPhail increased the score there was Neilly Mochan to bang in number four McPhail he made it 5 & 6 and pity poor auld Niven when Fernie took a penalty kick and in went number seven

"Putting on the agony, putting on the style 1, 2 3 4 5 6 7 scoring all the while you'll never see such football though you travel many a mile than watching Glasgow Celtic putting on the style "
When I first started going to the games I used to think the 7-1 game was a made up story until Frankie Reynolds showed me the article about it in his Scottish Football Book.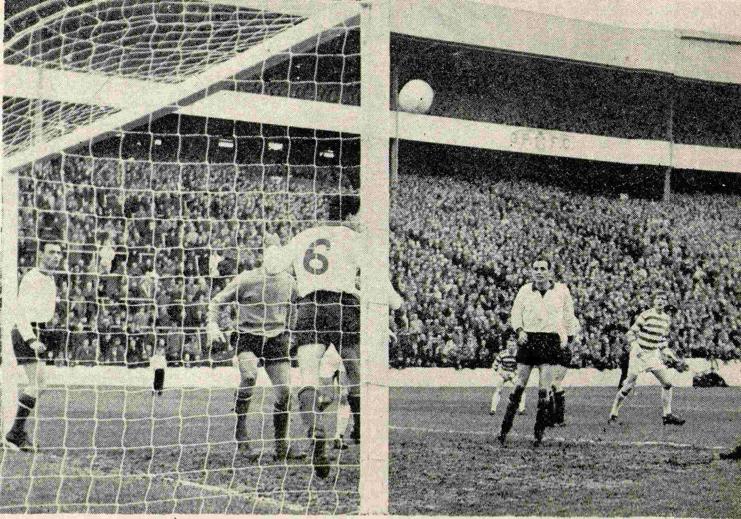 John Sharpe came with us today although he is an Albion Rovers fan. He was with me in the queue for the boys' gate. He started talking about homework and teachers. I don't want to know about that on a Saturday. Although he usually goes to watch the Rovers he knew the drill for Hampden. I went right in to the front of the turnstile and put my money down. As soon as the man released it John was in like a flash behind me so the two of us got in for the price of one. He gave me one and a tanner and said the reason he was talking about school in the queue was in case the polis stopped him for being too old for the boys' gate. He is a bit big right enough. He wouldn't get a lift over!
When we got back to Coatbridge discovered Rangers had lost to Dunfermline – great!
8 April 1967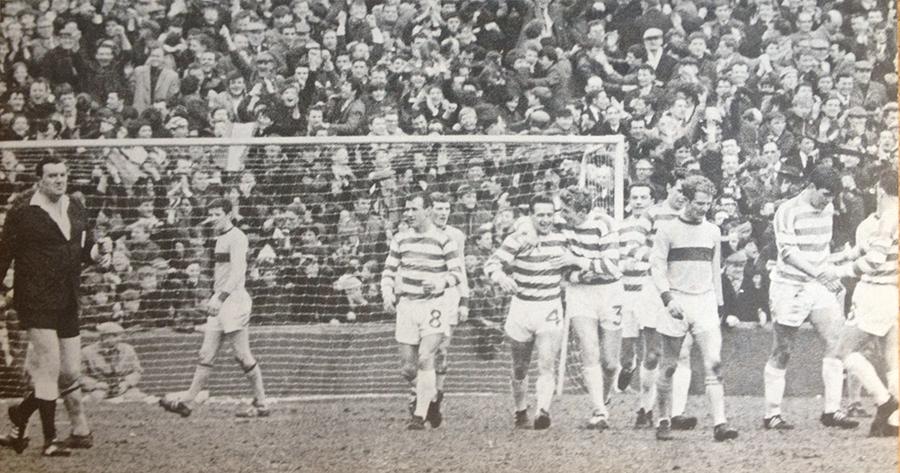 2-0 win at Fir Park today. We were right behind the goals that Celtic scored into. Thought Big Tam's penalty was going to come straight through the net and hit us in the face it was so powerful. In the first half guys behind us with transistors kept telling us of all the horses falling in the Grand National – And when we got home we saw it on the news. One bit where Michael O'Hehir was just calling out fallen horses – and then off went Foinavon to win at 100-1.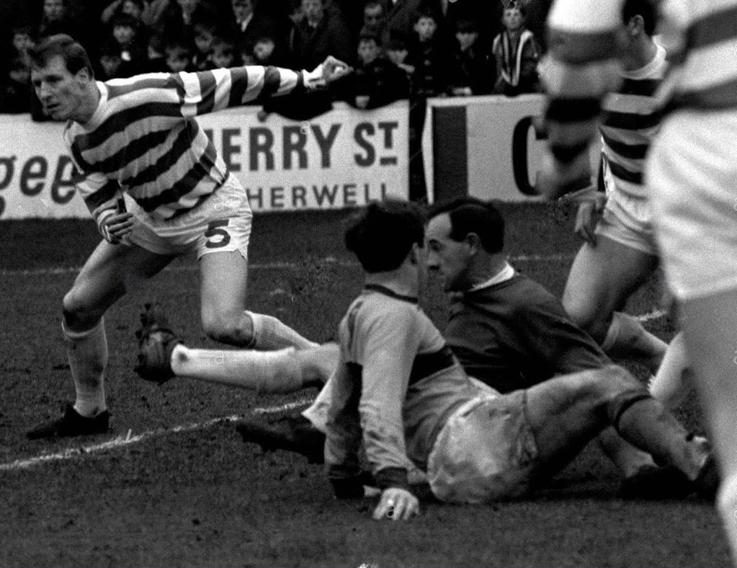 12 April 1967
It's late but not sleeping after such a day. 3-1 win over Dukla Prague in the European Cup Semi. Great crowd and singing. Well worth the hours we spent standing in the queue the other Sunday for tickets. Mind you Happy Harry nearly spoiled it.
I was in his Spanish class this afternoon. Got the passage to read and translate. I had not studied it before but I was not worried. I find Spanish not too much bother. Sailed through it until I came to "conejos". Could not recall what it meant so I stopped. Only for a few seconds but it seemed like ages. Everyone silent, not wanting to look up from their books in case they caught his eye.
He suddenly turned to the other side of the room and said "Miss Keatings – continue" "Rabbits" said Carol. Of course it was, now I remembered. Carol should have continued with the rest of the passage but before she could say the next word I jumped in fast and continued to the end of the paragraph. Wanted to show that it was only one word I forgot.
But Happy said – "so only one word you did not know – well you will not forget it – you can write out the entire passage in Spanish and English for lines and bring them to me first thing in the morning." That was so unfair.
That is one thing you learn at school. They might teach you about great philosophers and democracies and equal rights but schools are dictatorships. Did he not know that Celtic had a big game tonight? Of course he did – everyone in Scotland knows it. He was doing it deliberately to annoy me. I had enough homework without this.
Even though they had made it an 8pm kick off I'd need to rush to get to Parkhead. I took a chance and said "oh sir" with as begging a voice as I could. "You know the alternative" he said. That was the belt – and he could wield it. However sore hands would last less than having to write all those lines. So I took it. It was not too bad. Stung at the time but gone well before the game.
Dozens from the school in the Celtic end. Alex Carson was there too even though he is a Killie fan. He said he had got a carry out although I don't think he looks 18 any more than I do. He gave me a can of Tennants Lager but after a few swigs I threw it away. It had an oily taste and it was warm. Cannot see the point in drinking something that's warm.
Anyway we were too busy singing. "The Celtic Song, The Holy Ground, The Wild Rover, Sean South, The Merry Ploughboy" When they scored the silence was deafening. I have never such quiet at Parkhead.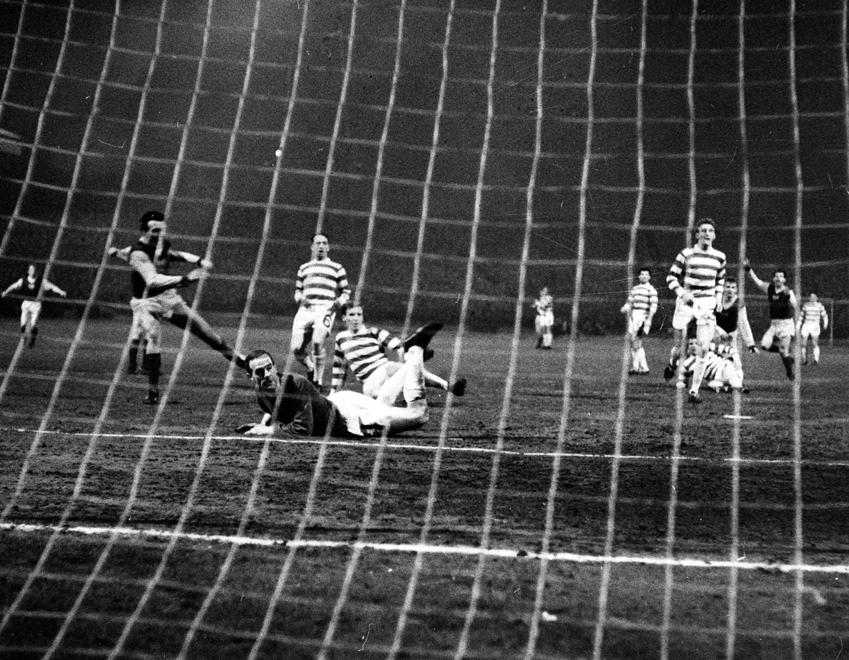 You could hear the people in their dug out cheering. But we kept singing and cheering in the second half.
And we helped score the third goal. When we got the free kick the whole Celtic End started chanting CELTIC- CELTIC – it was so loud. Just as wee Bertie bent down their goalie turned round to see what was happening behind him.
With the noise growing behind him he must have thought we were coming on the pitch. Just as he turned back Willie Wallace was belting the ball into the net. Dad did not believe me but I know, I saw it. Second leg in two weeks – Nearly in a European Cup Final. And the game has been changed – It is now on the 25th May. That is the feast of Corpus Christi and a public holiday in Portugal. It's a Holiday of Obligation here so no school. But I have my Higher Spanish on the 26th May. I want to go but I can hardly ask when that exam is the next day. I wouldn't be studying anyway and I know I can pass Spanish but how can I go?