Everyone connected with Celtic had been delighted by the results against Leeds and just like the players and management team, were looking forward eagerly to the final against Feyenoord, of Rotterdam. Unfortunately, that match turned out to be something of a disaster; it was certainly the worst experience of my time at Celtic.
Our preparation for such a crucial occasion had been abysmal. Before going to Italy to play in the final, we had gone on a trip to Peterhead to play in a benefit match to raise money for the families of lifesavers lost at sea. I won't go into details about certain incidents over the two days we were in Peterhead but let's just say they weren't related to the field of play and did little to maintain a good relationship between the players and the Boss. When we left to come home, he made his feelings clear about it all by not travelling back in the bus with us.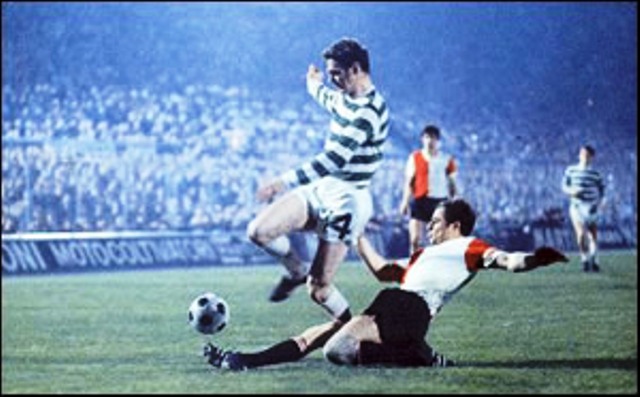 We flew to Italy two or three days before the game and stayed about 90 minutes' drive north-west of Milan, in the town of Varese. The hotel was an old, former monastery on top of a mountain, very scenic but miles from the San Siro, as we had found out when playing against AC Milan at the same venue the year before.
A round trip of three hours on the night before the vital match – merely to see the ground – was something we could all have well done without. On top of that, I think all of us were aware the atmosphere in the camp was not as relaxed as it had been in Lisbon. Not surprisingly, then, we didn't play as well as we could have during the 90 minutes of the match in the San Siro and the scoreline was level at one goal each after normal playing time.
Tommy Gemmell scored the first goal after about half an hour but Feyenoord equalised quickly. The game went to extra time but, in the end, Feyenoord finished stronger than we did and their Swedish centre-forward Ove Kindvall scored the winner not long before the end.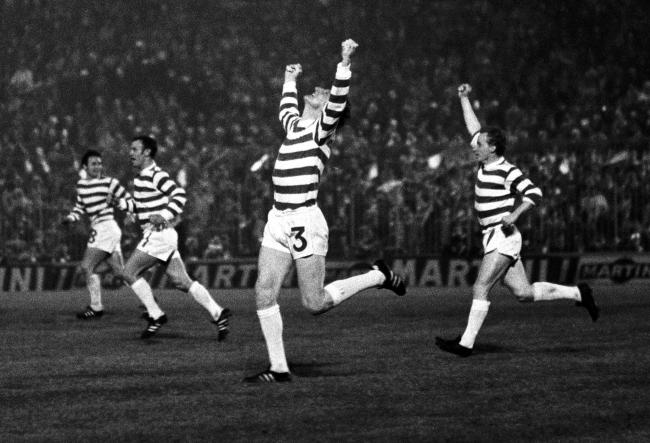 It was bitterly disappointing to lose and, when I think of the night, I can still hear the blaring of the Dutch horns as the Feyenoord supporters celebrated. After the match, we went to the hotel in Milan where our wives had been staying but after having a little too much of the amber fluid, I must have been in another world that night as I don't recall much at all until I woke up the next morning.
As I emerged from sleep, I remember noticing the bed covers seemed to be extremely high above my head and as I rolled to my right-hand side to climb out, I was blocked by someone else who, after just a few moments, I realised was one of the other players' wives. Now waking up fast and already fearful, I rolled over to the other side – my mind frantically trying to recall all at once where I might be, why I might be there and what I might have been doing there – when I struck another body! This time it was Olive's, which only multiplied the confusion flying around in my mind.
Thankfully, both ladies were fully clothed and then I found out why the sheets were so high, both were pregnant and very much soon-to-be mothers. After what seemed like minutes of panic, the two of them relieved all my early morning worries. They explained that I had taken off from where we had been drinking in the hotel to go to bed and apparently had just wandered into the first available room and collapsed in the middle of the bed. I don't know to this day whose room I was in; the girls added that the only room available for them that night had been the one I had fallen into and, since I was out for the count, they just parked themselves each side of me on the king-size bed!
Willie Wallace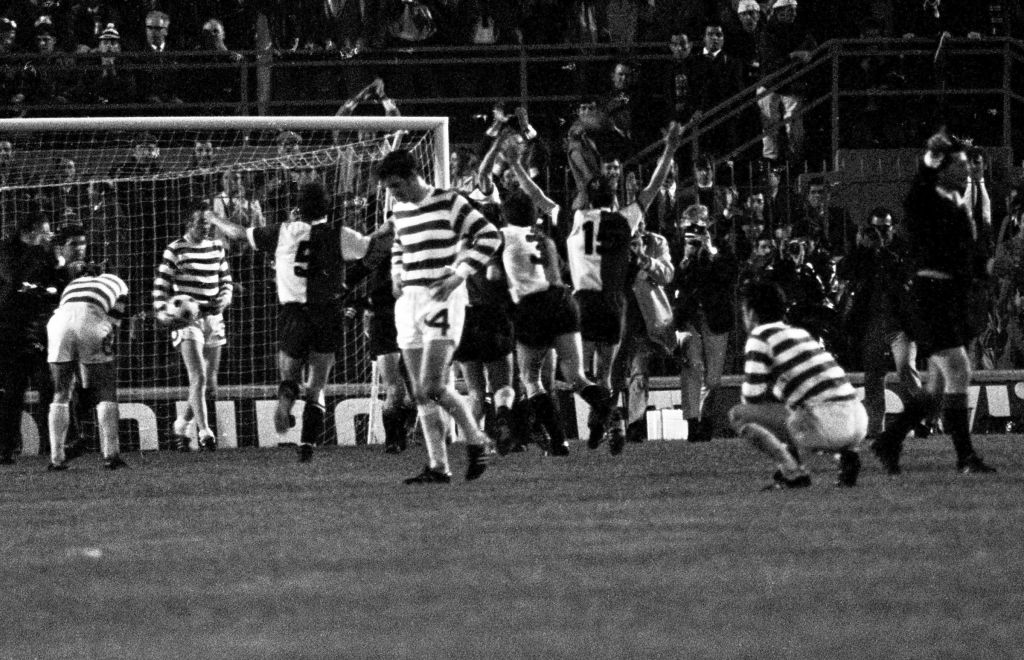 THE EUROPEAN CUP FINAL, 1970 – CELTIC V FEYENOORD
CELTIC 1–2 FEYENOORD (after extra time)

San Siro, Milan; Italy, 6 May 1970.
Scorers: Gemmell 30, Israel 32, Kindvall 116.
Referee: Concetto Lo Bello (Italy).

CELTIC: Evan Williams, David Hay, Tommy Gemmell, Bobby Murdoch, Billy McNeill (c), Jim Brogan, Jimmy Johnstone, John Hughes, Willie Wallace, Bertie Auld, Bobby Lennox. Substitute: George Connelly.
Manager: Jock Stein; Assistant Manager: Sean Fallon; Trainer: Neil Mochan.

FEYENOORD: Eddy Pieters Graafland, Pete Romeijn, Theo Laseroms, Rinus Israel, Theo van Duivenbode, Franz Hasil, Wim Jansen, Willem van Hanegem, Henk Wery, Ove Kindvall, Coen Moulijn. Substitute: Guus Haak.
Manager: Ernst Happel.
Celtic Noise: "I asked for time off work to attend that final, but was refused. A trip to the doc for a sicky and that was me sorted…..or so I thought. I was filmed along with my fellow travellers boarding the plane for Milan. It was on the STV news for all to see. Still kept my job though," Frank Owen
Celtic fans in Milan in 1970. Such a pity the team played poorly that night and left them feeling let down. Had Celtic hung on for a replay the real Hoops might have turned up but fair play to Feyenoord, the best team on the night won. pic.twitter.com/YhmsL3rPce

— Lisbon Lion (@tirnaog_09) November 17, 2020
Celtic Noise: "My first time abroad – went on my own as my mates had no money and couldn't get time off work (I was working in an office and was able to take time off – well actually, I went on the sick!)
"Wandered around central Milan during the day – was gob-smacked at the prices in the shops – went in to the Cathedral Should have said a prayer for the team but, like most fans, assumed we would 'walk it' against this unknown Dutch team! Impressed by the San Siro – just big concrete steps rather than seats – gave my new scarf away at the end to a mad Italian fan who was drooling over wee Jimmy.
"Chaos at the Airport – got my return flight but was many hours delayed – got back to Glasgow and didn't feel guilty about work because I really WAS sick – at the result!" Millsy
Saddest day of my Celtic supporting life…. pic.twitter.com/7qLz3VQX6r

— Peter Marshall (@pmarsh226) May 6, 2021
Order a signed copy below...