Feyenoord fans appreciate the Celtic story from the 1970 European Cup Final…
The 6th of May 1970 – Even now, 51 years later it is still a date that makes me shudder. The date that should have been remembered as the day Celtic won their second European Cup.
What went wrong I still ask after all these decades. Well we did not play well of course but there is also no doubt we underestimated Feyenoord who were much better than expected. Over confidence was not something that Celtic manager Jock Stein would normally allow but on this occasion it seemed that this was what had impacted on the Celtic management, players and supporters.
Mind you we did have reason to be confident. That season we won our 5th consecutive Scottish title finishing 12 points ahead of our nearest rivals. And we had performed well in Europe.
The Swiss champions Basle were routinely beaten 2-0 over 2 legs and in the first leg of the second round we put in a devastating performance that saw an excellent Benfica team demolished by 3-0. We did have a disastrous few minutes in the second leg in Lisbon which saw Benfica score 2 unexpected goals. A late goal from Benfica meant the tie finished level but we won through thanks to winning a coin toss (It was a Dutch 2 Guilder coin!).
That might have been deemed a lucky way to win such an important match but then again that is maybe the kind of luck you get when your name is destined to be on the trophy! The quarter finals saw us put in two different styles of play in each of the two legs against Fiorentina but both were efficient and professional and we advanced 3-1 on aggregate through to the semi finals.
To this day I maintain that if we had been drawn against Feyenoord at that stage we would have gone on to win the Cup. Instead we got the favourites – Leeds United.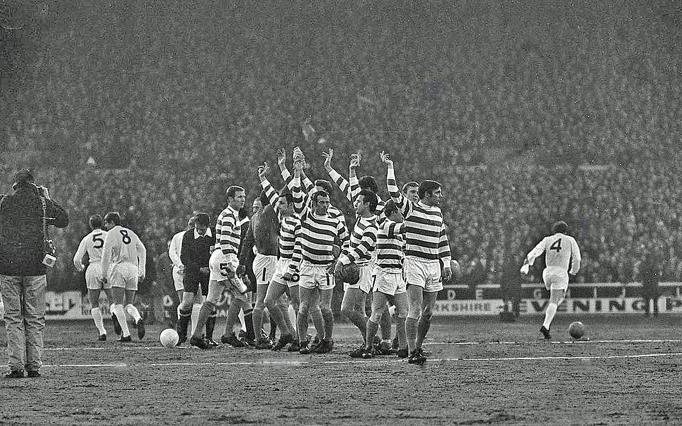 Leeds were by far the leading team in England at that time. Packed with top quality players and managed by the astute Don Revie. As is often the case the so called "British" media really means "English" media and Celtic's chances were widely written off.
The demand for tickets for both legs was incredible. Leeds' Elland Road ground only had a capacity of 46,000. Celtic fans would have taken all the spaces themselves if they had been given the chance. We only got the away end ticket allocation of 6,000 officially but Celtic fans are not the type to give up easily when it comes to watching their team and many others acquired briefs to other parts of the ground.
The exiled Scottish and Irish communities in Yorkshire rallied to the ticket call. I was there to see an early George Connelly strike give us a 1-0 win. I was also at the second leg a fortnight later. Due to the demand for tickets Celtic switched the game from Celtic Park which had a capacity of 80,000 to Hampden Park where the official capacity was 135,000. As it happened the attendance on the night was 136,505 – a European Cup record which is unlikely to ever be beaten.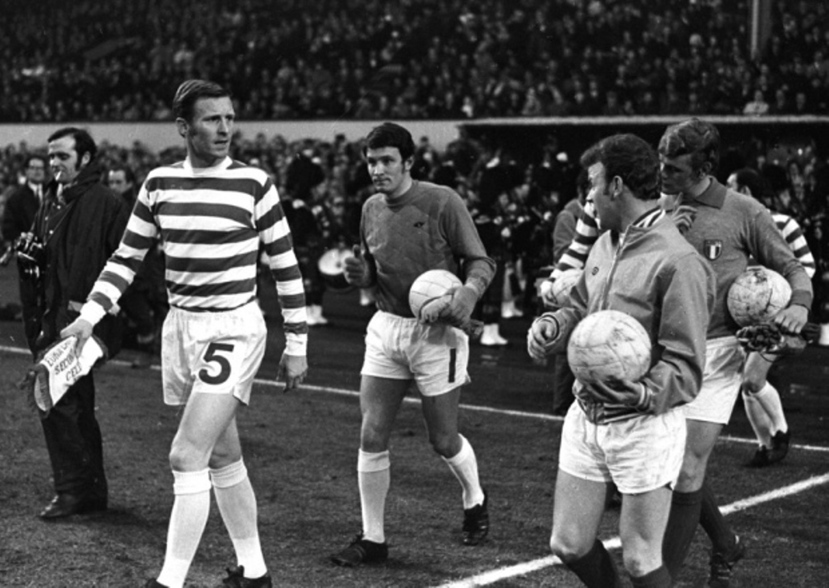 Celtic, particularly Jimmy Johnstone, put on the style and won 2-1. After the game we walked back into the city centre. On the way I noticed some travel agents had opened late so people could book their flights to Milan for the final.
The build up to this final was different from our previous one. Then we were underdogs competing in our first European Cup. There had been a sense of adventure possibly even naivety to an extent. This time we were a regular European Cup team with experinced players and fans well used to European travel. Yes it would be tough but if we could beat the the likes of Benfica, Fiorentina and Leeds then a Dutch side should not be too much of a problem.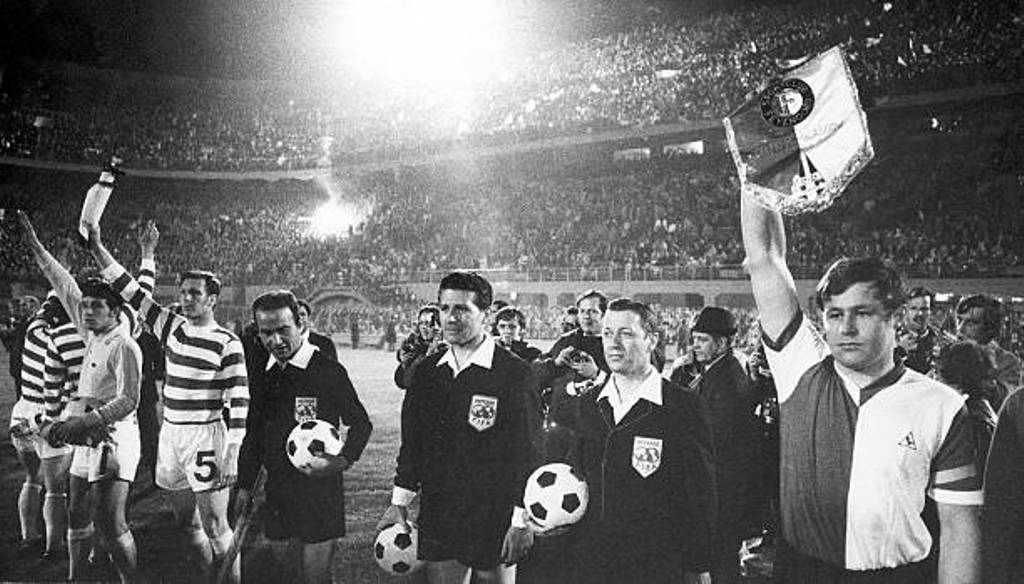 I have to admit that at that time my knowledge of Dutch football was limited. The only team from the Netherlands I had seen was Go Ahead Deventer and we had beaten them easily. Yes I was aware of Ajax. They had beaten Liverpool in the 1966/67 competition. That result was written off as a bit of a fluke by the English and although in Scotland there was quite a lot of satisfaction at seeing an English team beaten there was still not the feeling yet that this was the start of a new era in football.
Ajax of course continued to improve in Europe and had reached the Final in 1969. But they had lost 4-1 to AC Milan. In those days coverage of football outside Britain was more limited. We certainly knew of Cruyff and we realised Dutch football was no longer like that in Scandinavia. At that time a Scottish club drawing a Scandinavian side in European competition was expected to win through. The Dutch were better than that of course but they surely could not beat a top side like Celtic? As I said that way of thinking was part of our downfall.
In 1967 I had made first ever flight on a plane to see my first ever European Cup Final. By now I considered myself an experienced traveller and whereas Lisbon had been a simple one day trip this time would also be a bit of a holiday.
My friend Brian McHenery who had not made it to Lisbon joined me on the flight to Italy the morning before the game. It was a relaxed flight with a great view of the Alps and soon we touched down in Milan. From there we were bussed to the lovely wee town of Baveno on the shores of Lake Maggiore.
It was a beatiful sunny day – in keeping with our sunny, confident mood. The town was full of Celtic fans, relaxing in the bars. Brian and I had a good look around the area and then stopped at a pavement cafe for a drink. There we met an older guy who told us he had been in Italy during the war. When we ordered beer he told us we had to try a special local wine.
We were normally just beer drinkers but thought it was worth a try. It was rather thick and sickly to my taste but I had a few sips. Brian accidentally knocked over his glass spliing some of the wine over the table cloth and staining it. The older guy left a few moments later and as Brian and I supped on our beer a waiter came to clear the table. When he lifted the tablecloth we saw the stain the drink had made to the table and wondered what it had done to our stomachs?!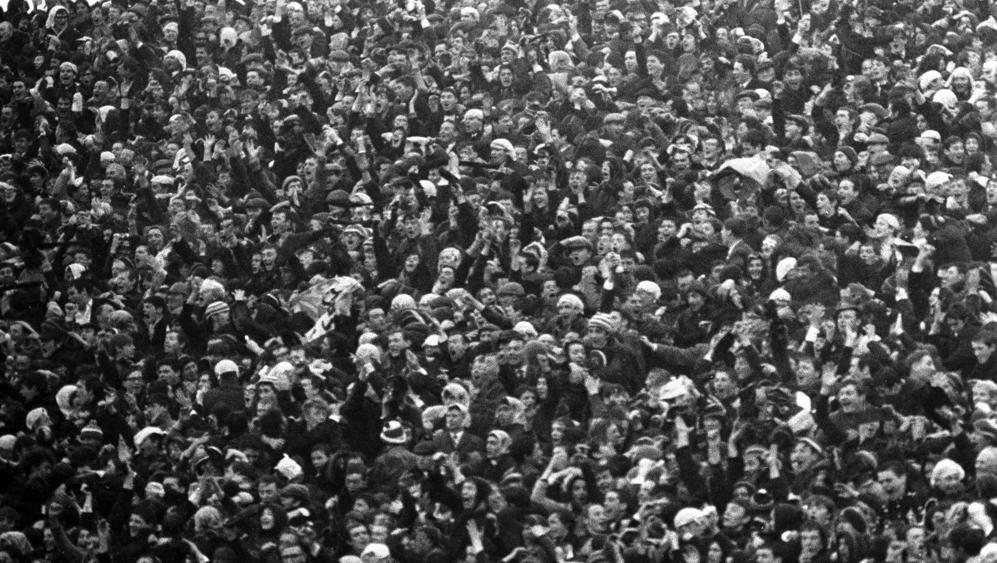 After that it was back to the hotel for our evening meal and then a night of drinking and revelry with our fellow fans. On reflection it maybe was a case or premature celebrations.
There were a few sore heads the next morning. I was fine but Brian had over imbibed and took a while to recover. In contrast with the previous day's sunshine, the day of the big game turned out to be grey and wet. in the early afternoon we boarded the bus for the journey into Milan. In the city we were given a quick tour of the sights and it was there we first saw the Feyenoord fans.
In Lisbon in 1967 there were very few Inter Milan fans. This time was different – we were certainly aware that Feyenoord would not be lacking support.
That was made so obvious when we got into the stadium. One of the stands in particular was populated by the Dutch team's supporters – and they were making a lot of noise. Celtic fans were certainly capable of giving their team great vocal backing. And we had a large repertoire of songs – Club anthems, parodies and Irish ballads. But the Feyenoord fans had something we had never encountered before- Klaxons!
It almost seemed like cheating. Even the loudest rendition of the Celtic Song or the Soldiers Song was easily drowned out by the klaxons.
It gave the game an almost eerie atmosphere. Indeed there was something about the whole setting that on reflection made me think the omens were not good. It was a grey day and a wet night. The great San Siro stadium was disappointing. Dull and basic. The Italians had not really taken to the occasion. No programmes and little colour in the city or the stadium.
And when the game started Celtic too seemed out of sorts. We just could not going. The Feyenoord midfield were in control and we were struggling to get forward in our usual fashion.
On the half hour we got a free kick about 22 yard from the Feyenoord goal. Murdoch rolled the ball to Gemmell and big Tam thundered it into the net.
Surely, I thought, we would now settle down and get into our rythm. Instead we were mentally slack and not much more than a minute later the teams were level. I was behind the goal Celtic were defending and watched in horror as a hesitant Celtic defence let Rinus Israel loop a header into the back of the net. Silence all round at first and then the explosion of noise in the stand to my left as the Feyernoord fans celebrated.
After that Feyenoord took complete control on the park and in the stands those klaxons blared out against our songs. Somehow we got to 90 minutes with no further score. The possibility of a replay arose. That was scheduled for the Friday although our flight was returning to Scotland on the Thursday.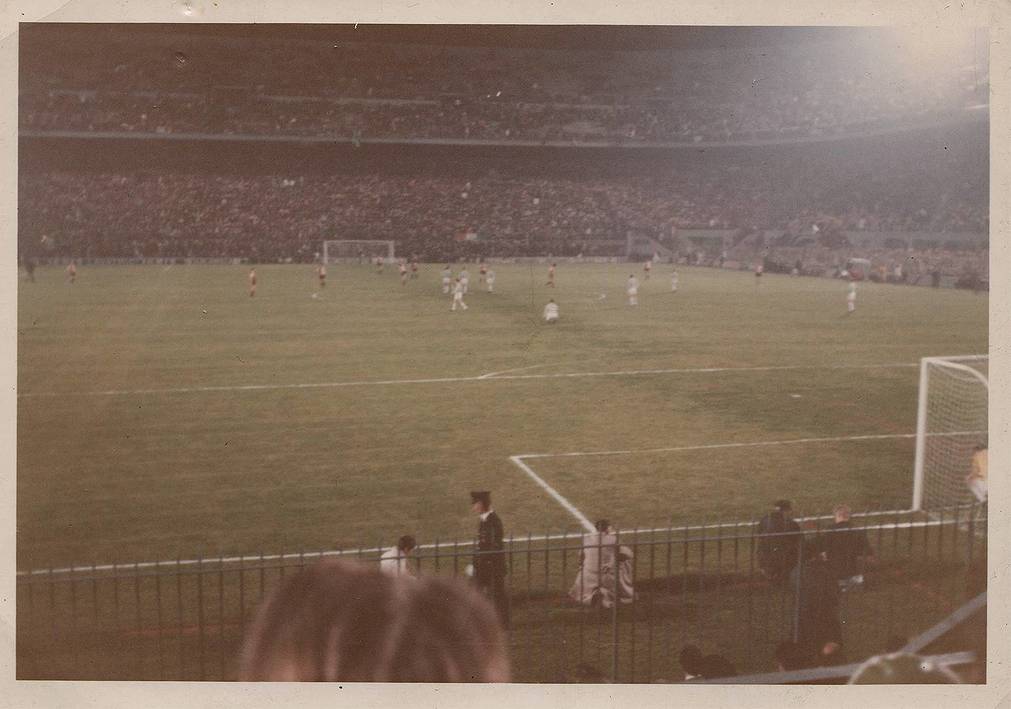 Brian and I had thought about what we would do in that event before we left Glasgow. The decision was that we would find a cheap place to stay in Milan for a few more days. We would then hitchhike through Switzerland and head for Besancon in France. My uncle Eddie Ryan lived there. He would put us up for a night and from there we would continue hitching our way home. To assist us with the journey I had torn out a map of North Italy and Switzerland from an old school atlas.
However the atlas page would not be needed. With only about 4 minutes of extra time left Ove Kindvall scored the winning goal.
With the klaxons blaring in the background we trooped dejectedly back to the buses. The journey back to Baveno was made in a dark sombre silence. Brian headed for bed as did most other people. I knew I would not be able to sleep so headed for the bar.
Compared to the previous night's raucous party there were only a few others there sitting silently drinking beer or tea. One lady tried to cheer us up by starting to sing but no one had the appetite for it. It was difficult to even have a post mortem. The possibilty of defeat had seemed so remote that we could not think of how to now come to terms with it. Eventually I headed for bed. Sleep was difficult. The noise of the klaxons still reverberating in my head.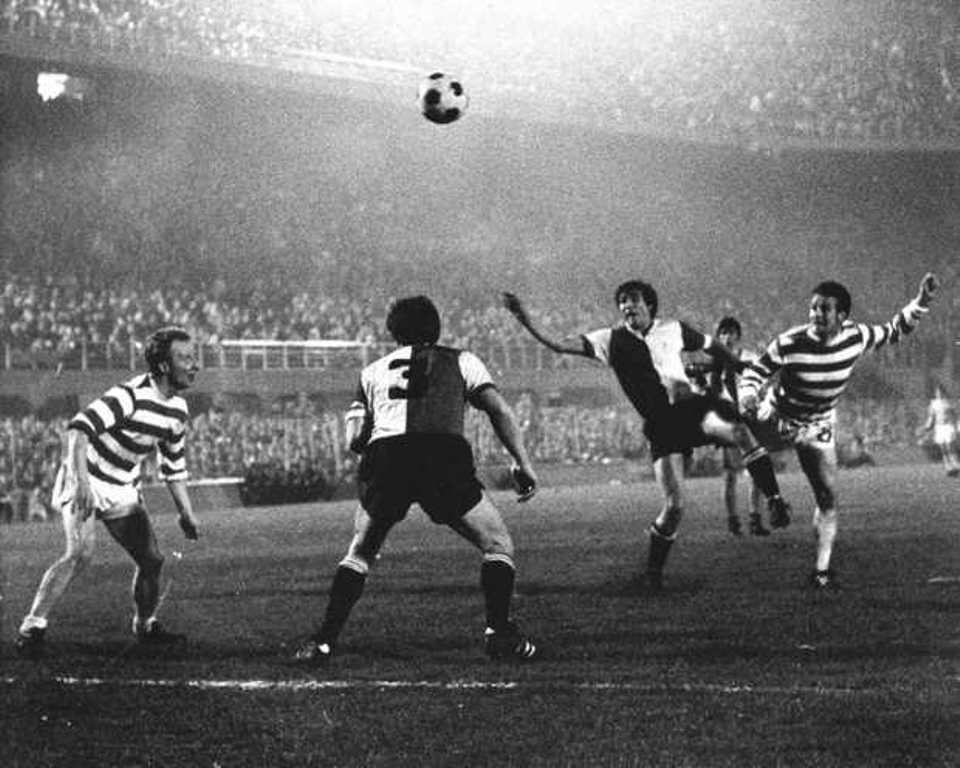 The following day was Ascension Thursday. The little church in Baveno had a packed congregation for Mass that morning. Standing room only with so many Celtic Supporters in their teams colours filling the pews and the aisles. I can still remember the looks on the faces of the men passing round the collection plates when they saw the large amounts of lire going in from fans who were ready to head back home. And the wide eyes of the young altar boys in the leaving procession as they watched and listened to all these foreigners trying to join in the final hymn.
Outside the church I bumped into my uncle John and cousin Michael. They had been seated at the opposite end of the stadium and had a clearer view of the winning goal. They also had a much better view of the chance Celtic had missed at the start of extra time. "Yogi should have scored" said Michael " and if he had we would have gone on to win". I was not so sure but even if we had held out for a replay surely we would not have been so poor again, and also we would have known how good Feyenoord were.
However no point in considering that- we had lost and now it was the long road home.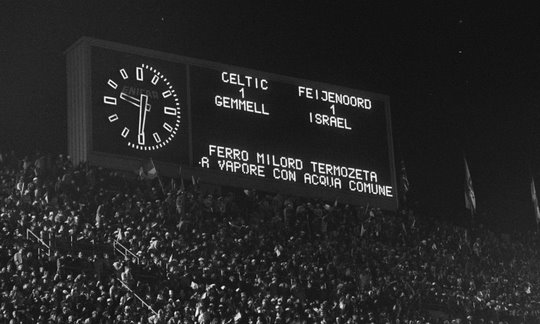 That "road" took a lot longer than expected. In the late morning we left Baveno by bus and got to Malpensa airport in time for our 2.30pm departure. In 1970 airport security was much more relaxed and arriving at an airport 45 minutes before a scheduled departure was considered reasonable enough time to catch a flight. However our departure was destined to take a lot longer.
At the time of the game lots of Italian workers were on strike and this was the case at the airport. Bars and restaurants closed and few staff were around. And of course there were plenty flight delays. For several hours no planes appeared to be taking off. The airport was crowded with people sitting and lying on the floor. We went for a stroll and came to a part of airport where it was mostly Feyenoord fans.
The two sets of fans were mixing amicably. Scarves and other souvenirs being swopped and drinks shared. Somebody had found a ball from somewhere and an impromptu kick about had started.
The hours went by and we waited. And we starved. No food was available at the airport. I actually had a bar of chocolate and was working out how long I might be able to make it last. After about 4 hours hopes were raised when a flight to Glasgow was announced. Not ours but surely a sign that things were improving.
Next announcement was a flight to Dublin. Then after that another flight to Dublin. When the 3rd flight to Dublin was announced I said to Brian maybe we should just get the next flight out no matter where it was going. If it was Dublin we could stay the night with friends there and make our to Glasgow the following day.
We were not the only ones thinking like that. It had now reached the stage where virtually everybody would surge forward to the departure door when any flight was announced. Airport staff and police would do their best to try and check who was getting through but it was impossible to check everyone. At one point a policeman pulled his pistol out of its holster and waved it in the air to try and calm down those trying to get through the narrow door. And yet there was no trouble.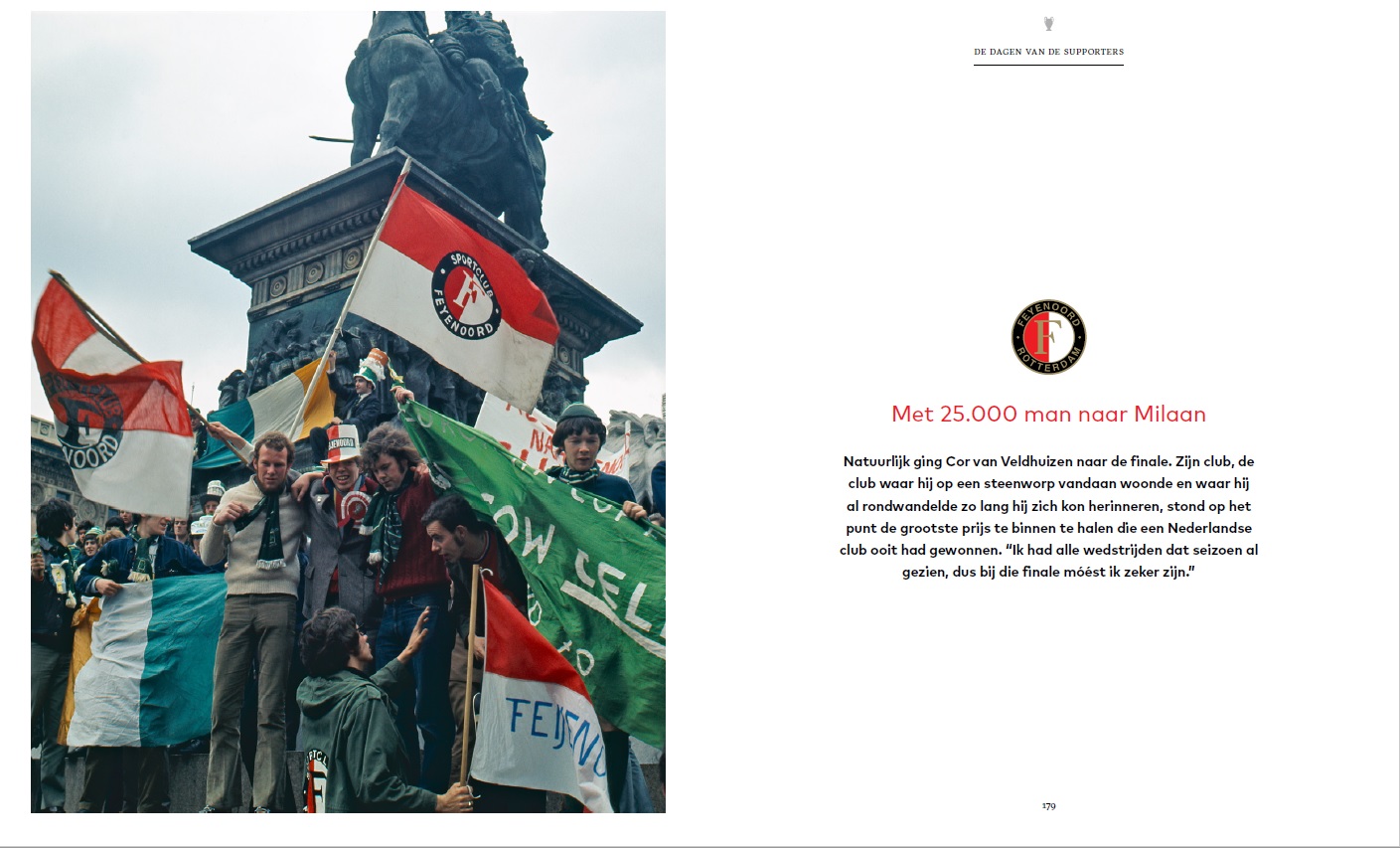 We all just wanted to get away from this place which had become a nightmare. About 9.30pm our flight was actually announced. Brian, myself and 4 people we had become particularly friendly with at the hotel hurriedly raced for the gate. We were not going to miss this flight. We pushed our way through as best we could. At one point a policeman who had been standing watching smiled and came into the group.
I thought he was trying to help but then heard one of the girls who was with us squeal. The policeman had come behind her and had groped her in pretending to help. She yelled at him and when he saw our faces he went back to his watching position. A few moments later we were through the gate and on the tarmac. It was then a dash to the stairs and boarding the plane. We grabbed seats wherever we could.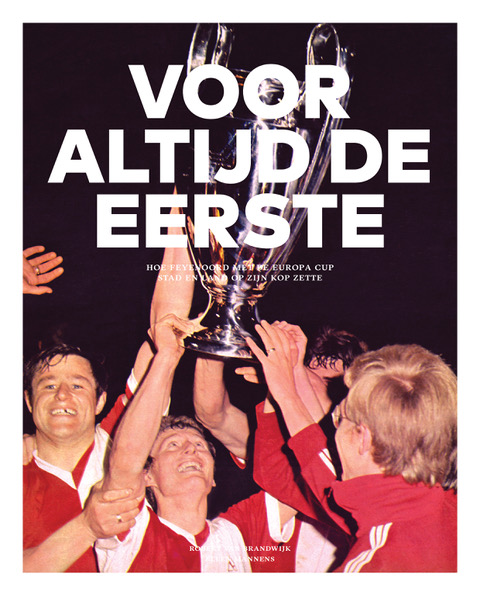 A few minutes later the doors were closed although there still appeared to be people trying to board the plane. The stewardesses did a head count and seat check while some people were complaining that friends who were meant to be on this flight were not aboard and that people who were not meant to be on this flight were. The stewardesses and captain did their best to calm everyone down and advised that due to the delays and chaos at the airport other flights would follow. (I later found out that in the confusion some Dutch fans ended up in Glasgow and that some Celtic fans found themselves touching down in Rotterdam! – Celtic themselves chartered a plane and sent it from Glasgow to Milan to pick up any stragglers).
At last our plane took off – around 8 hours behind schedule. I was glad to be leaving Italy behind. In my schoolboy Latin mind I thought of Malpensa as meaning "bad thought" Didn't know if that was true but it seemed appropriate.
After we had been in the air a short time we could smell hot food. As we had not eaten since breakfast we were desperate for nourishment. The meal was Cottage Pie. I devoured every bit of it even licking the tinfoil container before trying to settle into my seat for the rest of the journey.
We should have been back in Glasgow in the early evening. Train home, a bite to eat and a couple of pints at the pub before bed and then work the next morning. Now it would be well after midnight before we touched down and no public transport for hours. Fortunately a couple of our newly found friends had cars at the airport and kindly offered us lifts home.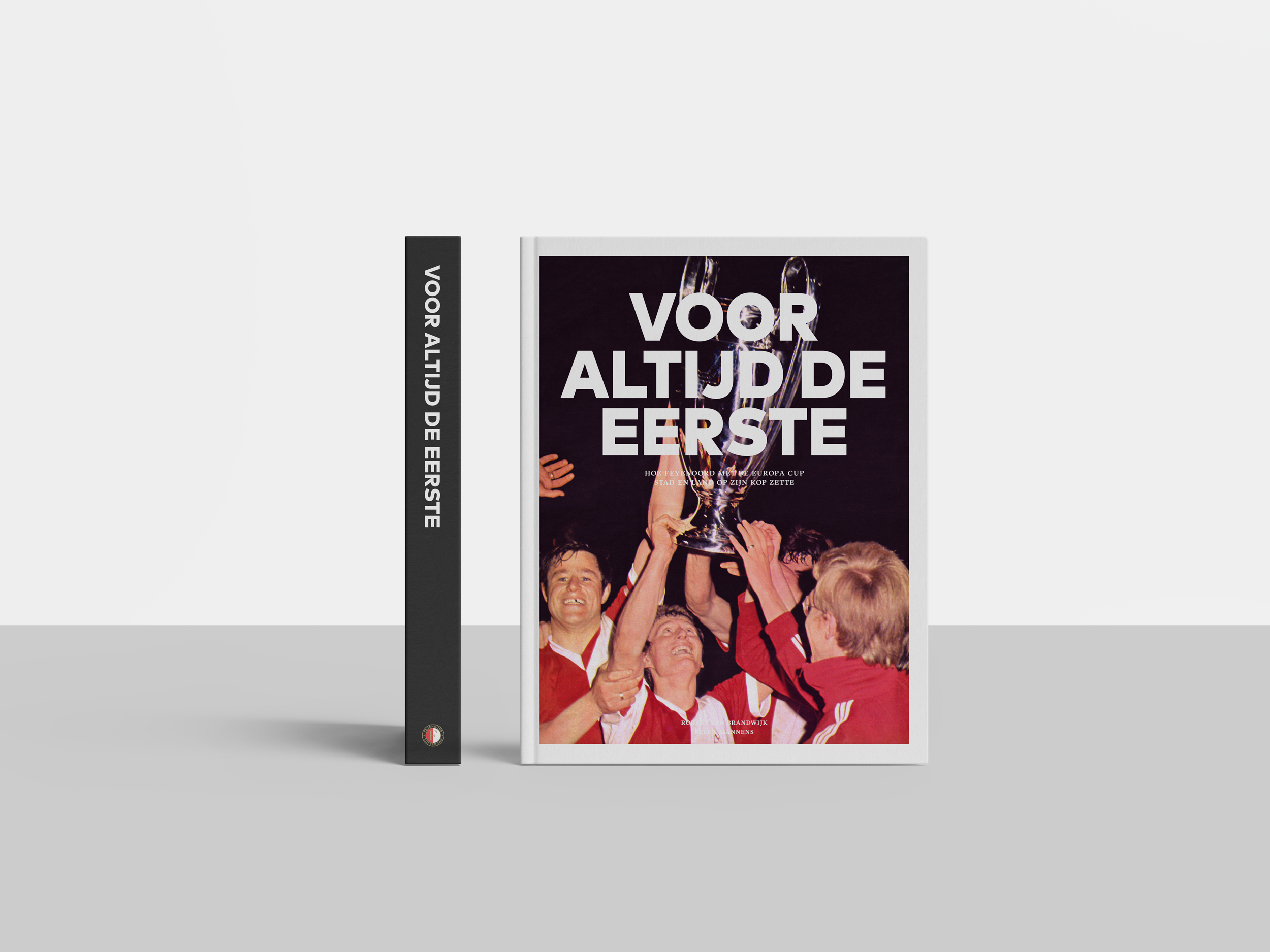 As went along Alexandra Parade in the East End we noticed a broken down vehicle with some guys standing by it. We stopped to see if we could help. Turned out to be some of the Celtic reserve players who had themselves just got back to Glasgow. We squeezed a couple of them into our car and continued on our way. I was dropped off first so managed to get into bed and get at least a few hours sleep before getting up for work in the morning.
A few days earlier I had envisaged a triumphant return to the office. Instead I was very subdued. No sympathy from the Rangers fans of course but the others were more considerate. It was a blow not just for Celtic but Scottish Football and indeed Scotland.
In the next few years Dutch football would become recognised as the best in Europe. I could possibly say I witnessed its real birth but that was no consolation. Until a couple of years ago I had never watched any pictures or footage of the game. If I came across a reference to it in a magazine or book I would skim it quickly and move on. It was something I just did not want to talk about. A sad chapter in Celtic history.
And then one day I saw a request from a Dutch journalist asking for memories of the occasion from a Celtic fans perspective and realised there are always 2 sides to every story. My Lisbon would be an Inter fan's Milan and my Milan would be a Feyenoord fan's Lisbon as it were. I had a wonderful time making the 18000 kilometre trip from Auckland to Lisbon to be there on 25 May 2017. No doubt there would have been Feyenoord fans who would have liked to have made a pilgrimage to Milan on 6 May 2020 with a different view of that date than me.
Mike Maher