Match Report

: Motherwell 0 – 8 Celtic FC Women…Fran Alonso's Ghirls complete a Beautiful Sunday for our football club!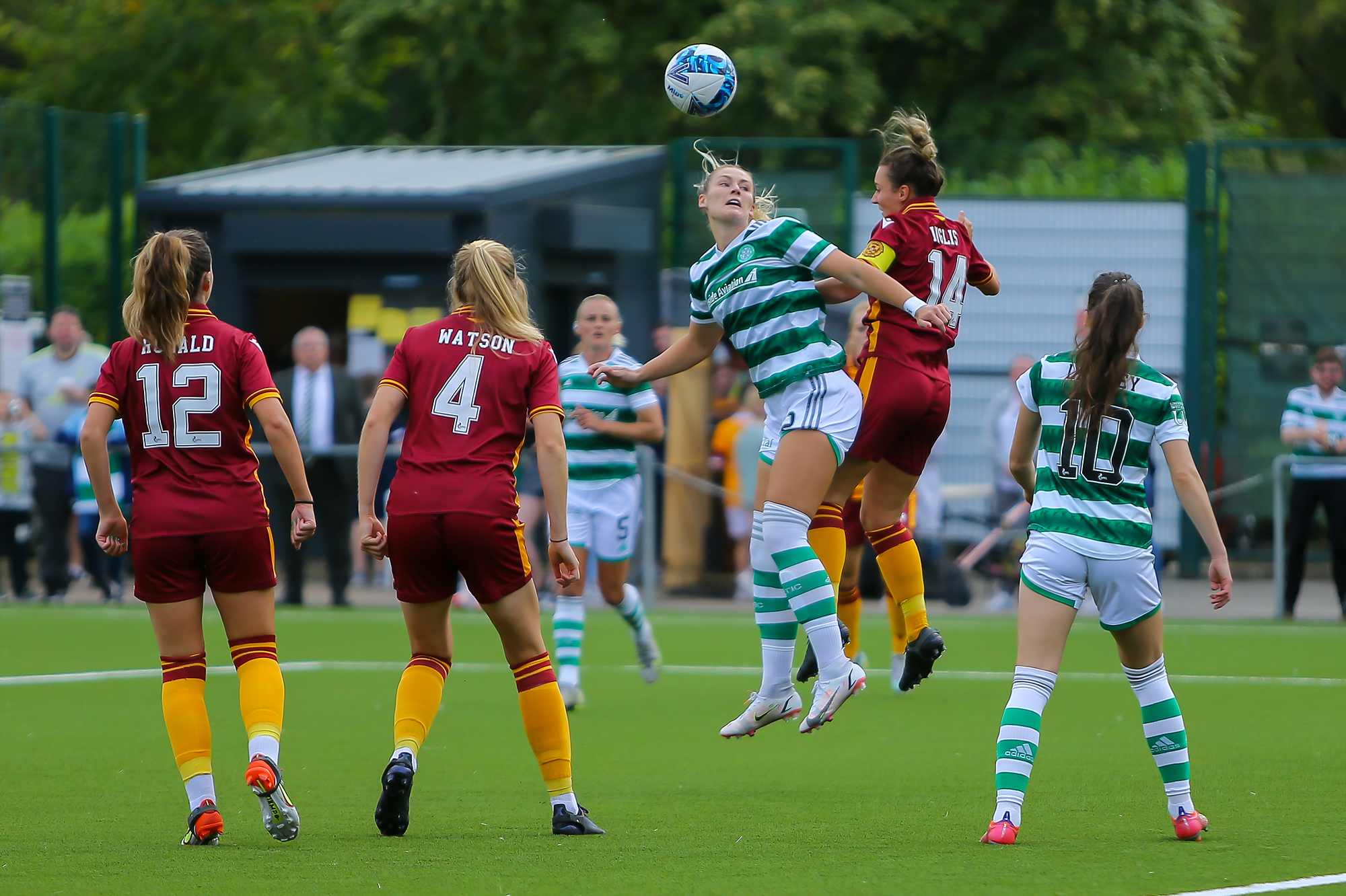 Celtic FC Women were probably wondering what all the fuss was about as Ange Postecoglou's men's team emerged from their lunchtime visit to Tannadice with a record breaking 9-0 win, after all Fran Alonso's side had already done just that on the opening day of the season.
And Alonso's free scoring Celtic almost repeated the feat today, but instead had to settle for a mere 8-0 win of their own against a Motherwell side, who must for the first quarter of this game, felt like they had a lid on things but ended up capitulating to a Celtic side who took time to break 'Well down then proceeded to rip them apart.
What a perfect Sunday to be a Celtic Fan!!

🍀9-0
🍀0-8

WE NEVER STOP!!
Mon the hoops HH pic.twitter.com/VyQBxamTNH

— Fran Alonso (@FranAlonsoFA) August 28, 2022
The thumping win made it four straight victories for Fran Alonso and his Celtic FC Women side this afternoon – with doubles for Caitlin Hayes, Clarissa Larisey and second half sub Jacynta – to maintain their magnificent 100% start to the season, with Fran Alonso's side continuing to exude the confidence and exhibit the ruthlessness of a team who believe a title win is very much a possibility this season.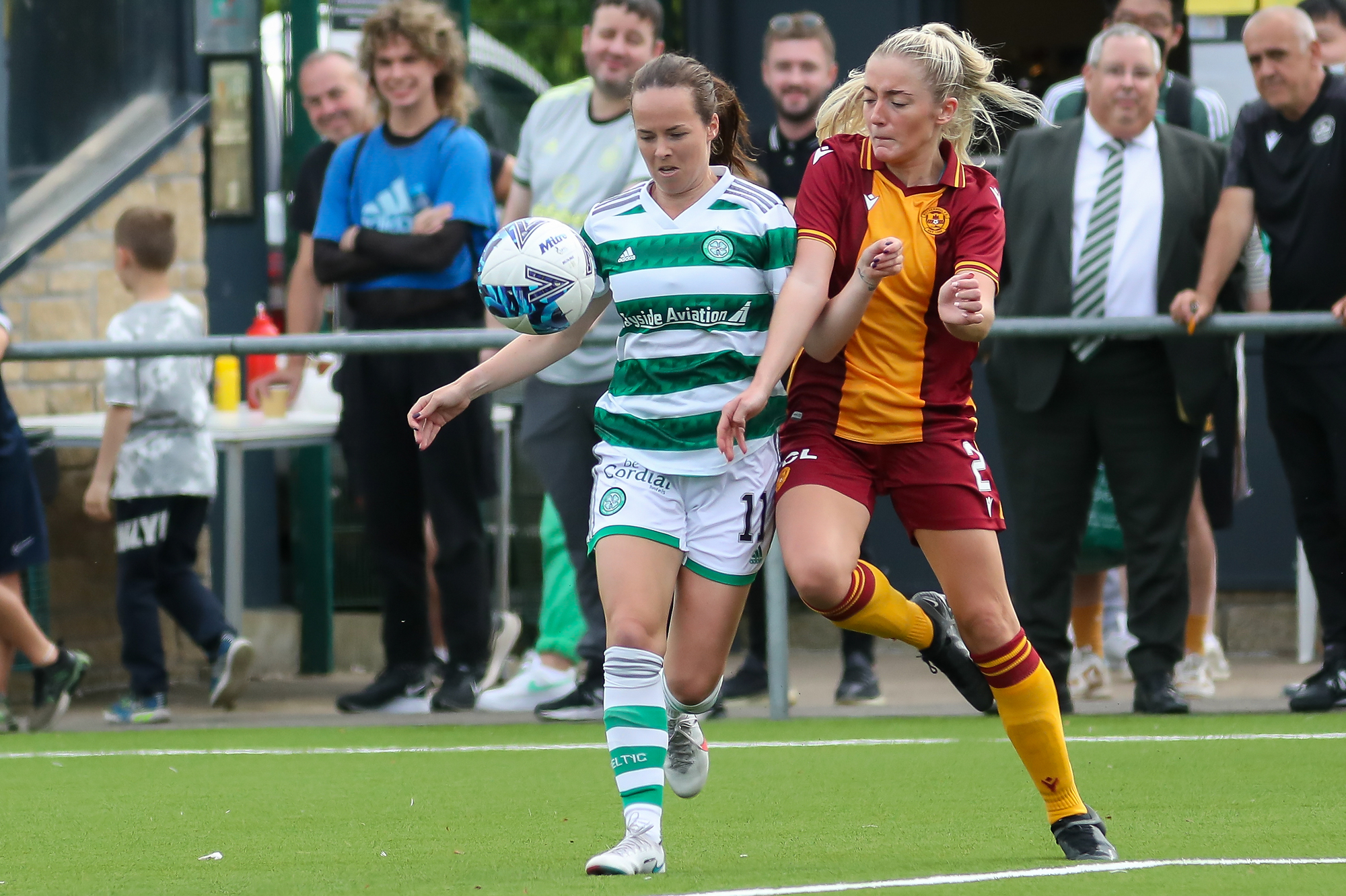 The Hoops returned to their old stomping ground of K Park East Kilbride to take on a Motherwell side who had made a good start to the season – having drawn with Dundee Utd and held title challengers Glasgow City for 97 mins, before succumbing to a late sucker-punch – and last weekend defeating Hibs away from home. But they were to be no match this afternoon for a Celtic side brimming with confidence and building up momentum.
Can it be Monday already so we can watch the highlights of that game back please? pic.twitter.com/u9gJuW1Uzw

— Cynic Women (@CynicWomen) August 28, 2022
Fran Alonso rotated the squad after three straight victories in the SWPL, and little requirement to change a winning line-up, handing Natalie Ross a first start since recovering from a longstanding injury at the tail end of last season, alongside Tegan Bowie and summer signing Claire O'Riordan, who both joined Ross in making their first starts of the season. Meanwhile Chloe Craig and Jacynta both dropped to the bench, where Amy Gallacher was a welcome sight in the match day squad after picking up what looked a bad injury in last weekend's 4-0 win over Spartans.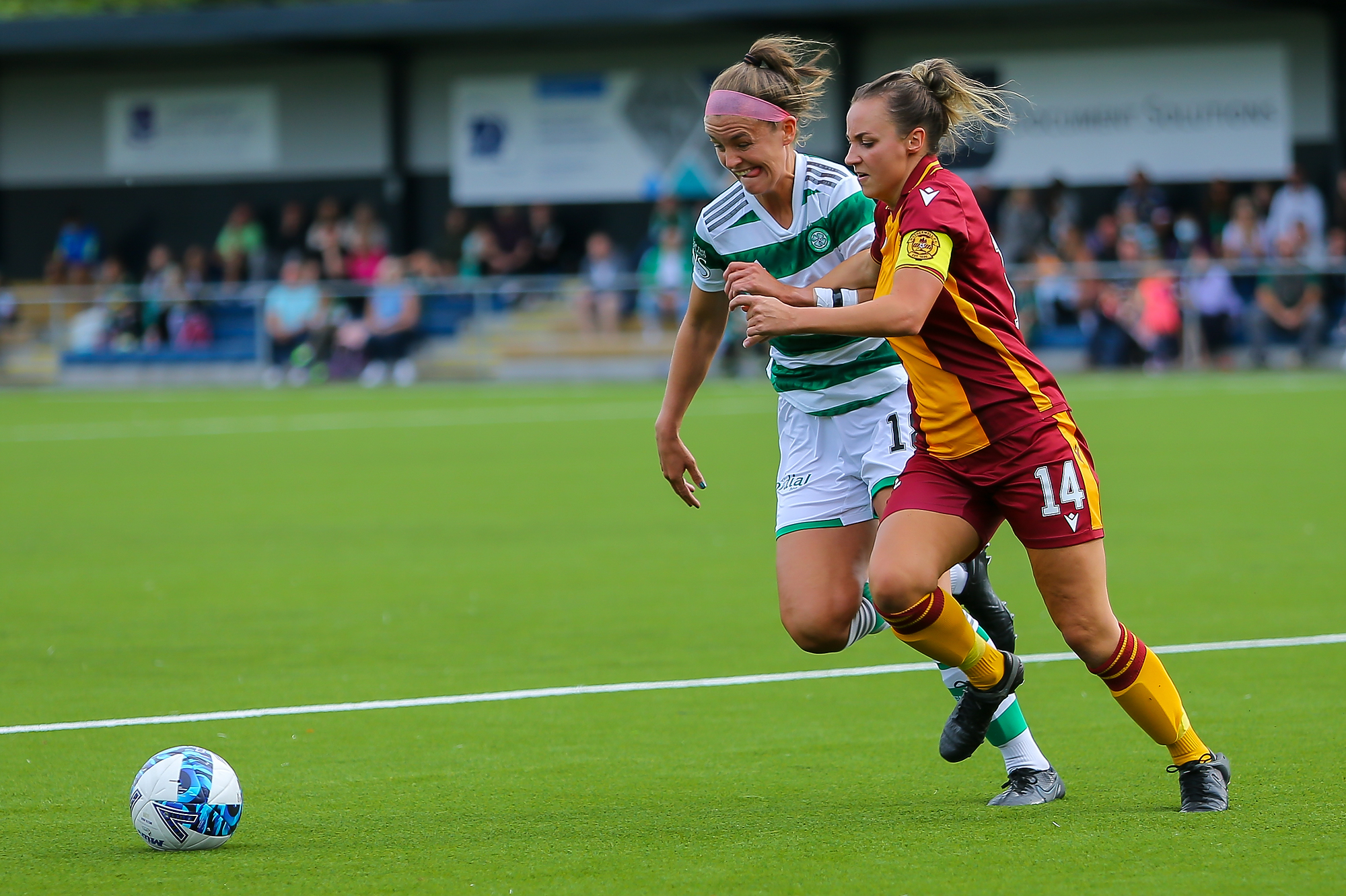 Celtic started the game like they meant business, moving the ball quickly from the outset, but it was Motherwell with the first chance of the game, when following a Tyler Otto foul 25 yards out, 'Well's Rice struck a free kick that was comfortably saved by Pam Tajonar in the Celtic goal.
Just the eight goals for the girls this afternoon ✌🏼

FT Motherwell 0-8 Celtic pic.twitter.com/SksBQPc1Mv

— Cynic Women (@CynicWomen) August 28, 2022
Celtic were on top in the opening exchanges with Bowie seeing plenty of the ball on Celtic's left-hand side and being dominant in central midfield. Yet breaking down the low Motherwell block was starting to look a tough task.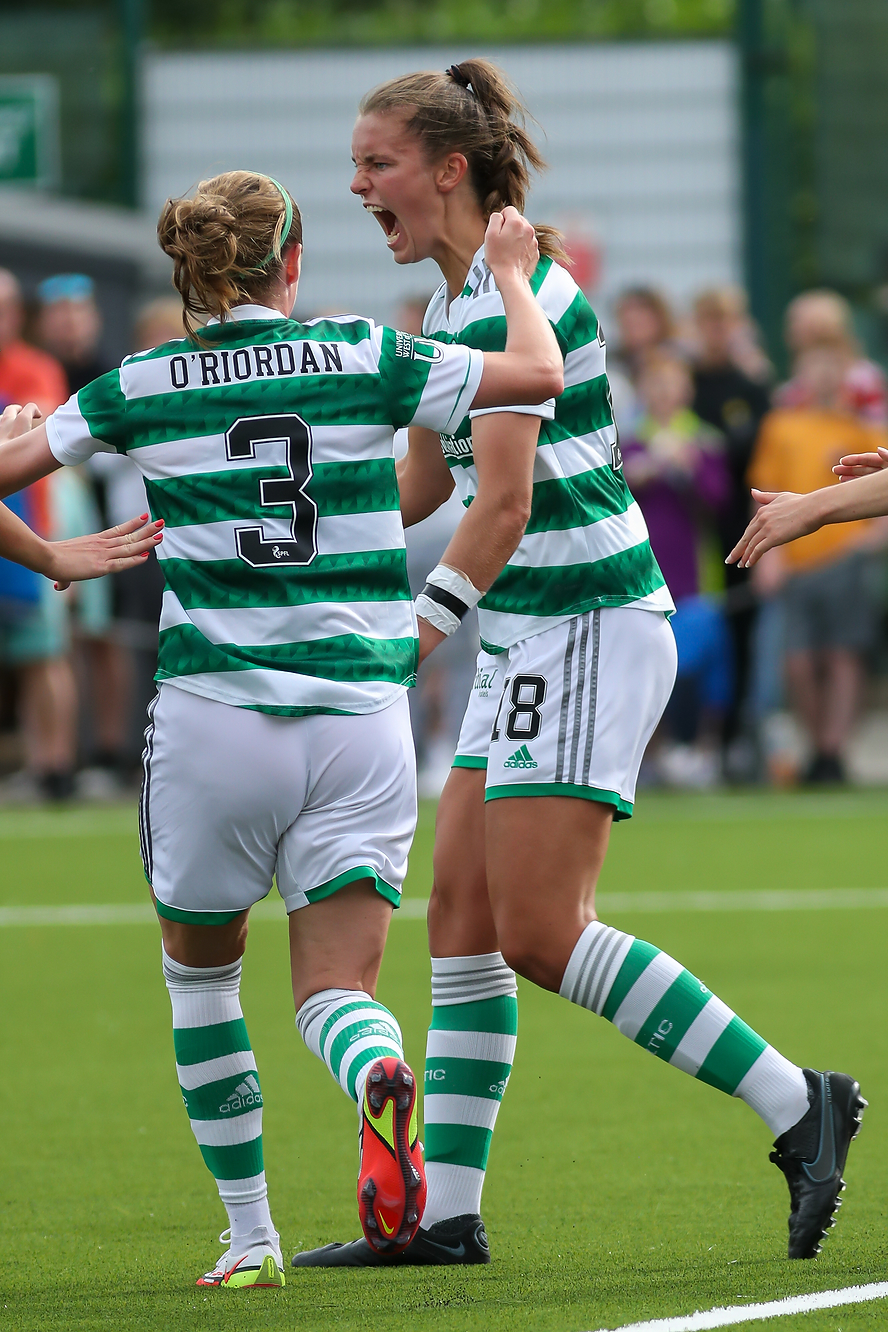 Tegan Bowie did decide to go over the opposition defence, rather than through it, with a lofted pass that had both Larisey and Chance attempting to finish, however, despite the clever intent from Bowie, Mutch in the Motherwell goal was able to collect.
Clarissa Larissey was then to come close as her shot was turned behind for a corner kick by Mutch, and it was from there Celtic were to open the scoring – as Ashworth Clifford's delivery picked out Catlin Hayes who headed home the opener.
Larisey however wasn't to be denied her goal for long, as within two minutes of Hayes opener, the Canadian striker grabbed her sixth goal of the season – and soon followed up with a seventh.
For Larisey's first and Celtic's second, Liv Chance and Larisey both had efforts saved by Mutch, however, Larisey's persistence saw the ball eventually forced home – and Celtic move into a two-goal lead.
And with Motherwell's early resistance now eroding Larisey turned the screw when she grabbed Celtic's third goal with a side footed finish from close range, as the dam constructed by a stubborn opponent burst in the space of just seven first half minutes.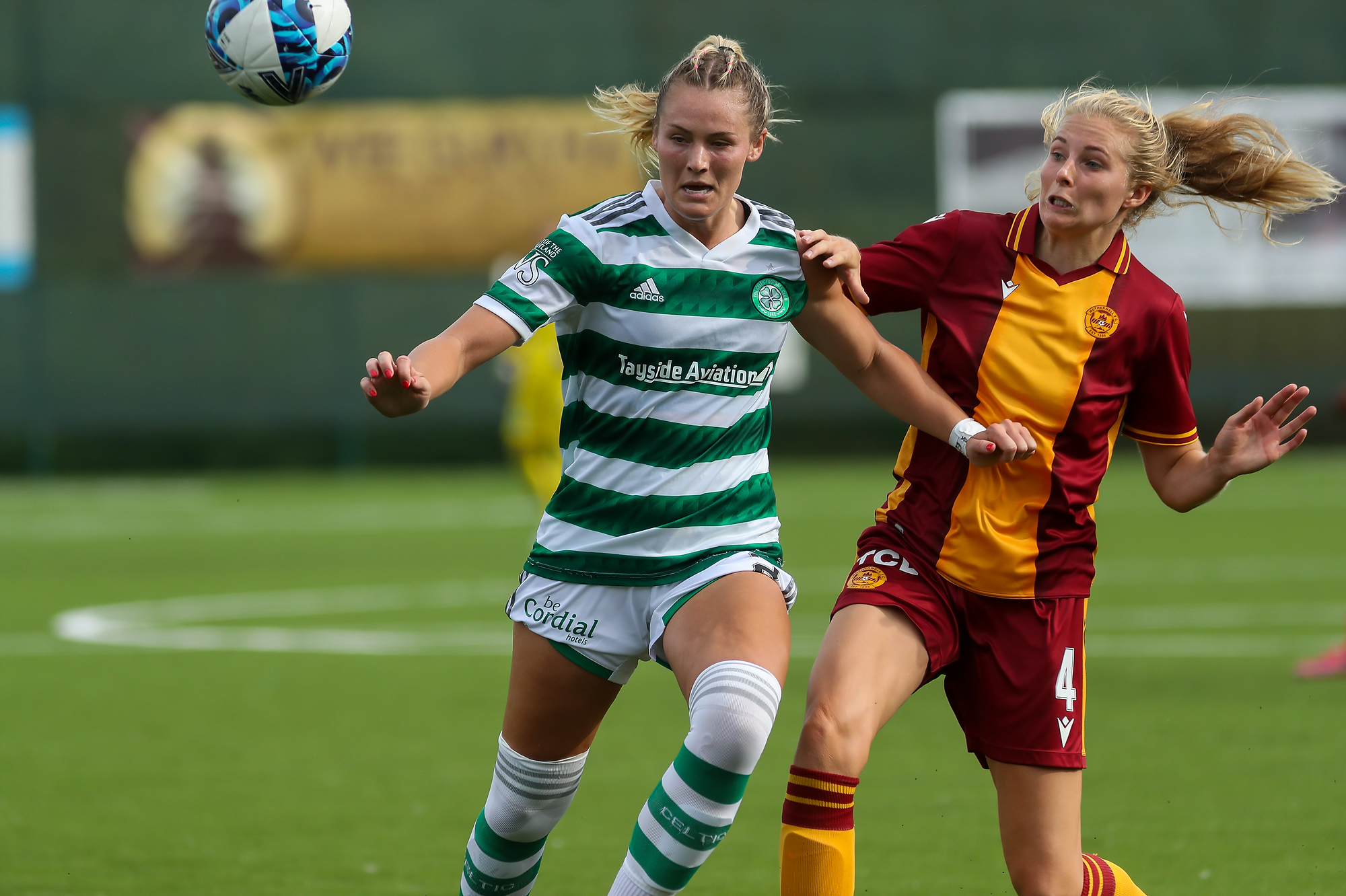 Relentless Celtic continued to push for further goals and Tyler Otto was unlucky to see her header from a corner cleared off the line, only for Caitlin Hayes to show her how it's done by joining Larisey on a first half brace with another headed goal from the resulting corner kick.
Celtic then went in at the break rewarded for their first half dominance – and the patience required to break down what was initially a stuffy opponent – with a four-goal lead and the game well and truly over as a contest.
Yet in a league where every goal matters almost as much as the points, the question was, could Celtic match that first half dominance and add more to the 'goals for' column in the second half? The answer was a resounding yes.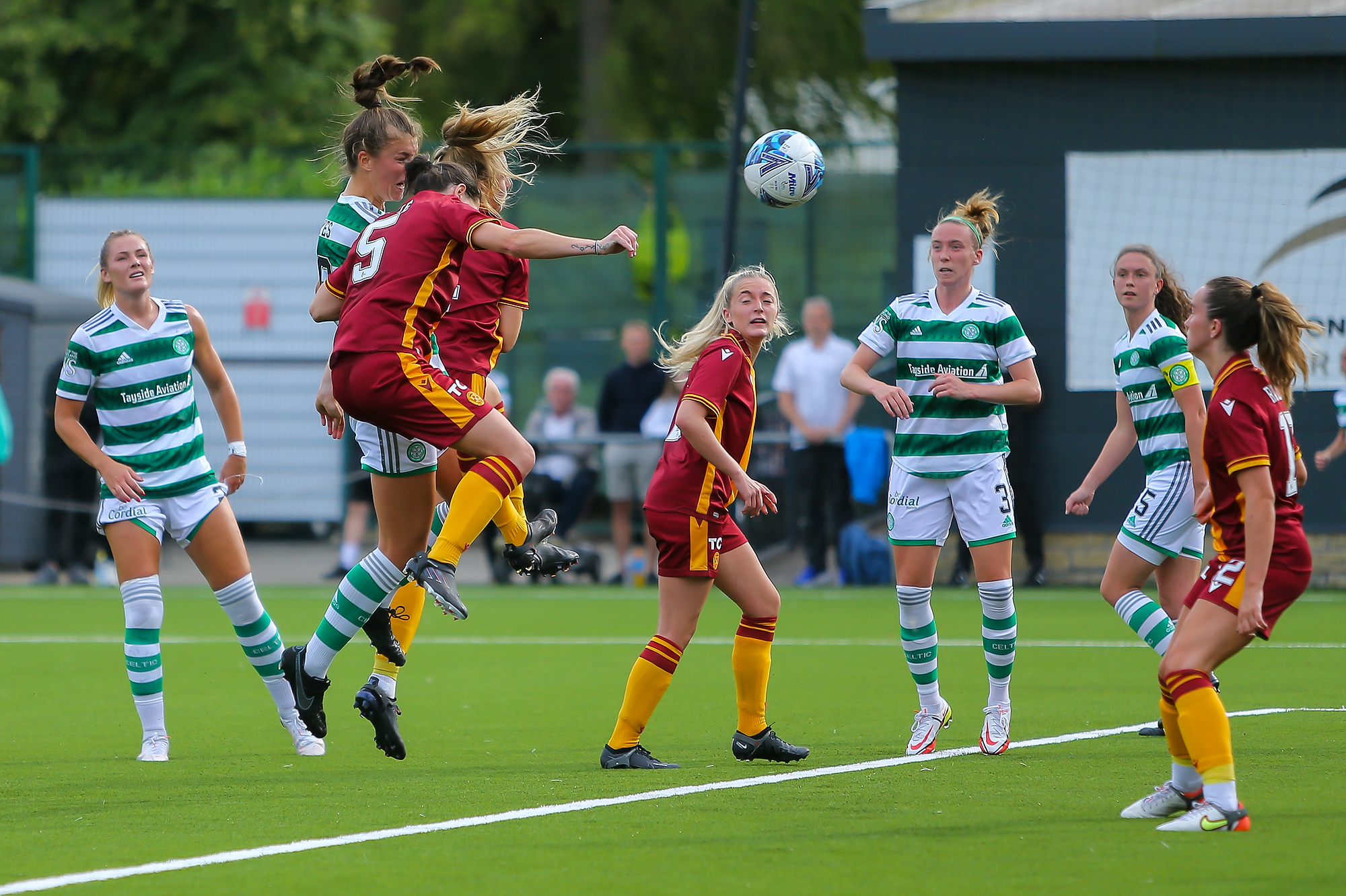 Celtic certainly started the second half strongly and continued to peg their opponents back, with Ashworth-Clifford forcing Mutch to punch from a dangerous cross ball delivery, before Liv Chance struck a low drive that just went wide of the post. Natalie Ross then managed to create a crossing opportunity; however the delivery was just too high for Tyler Otto to connect with.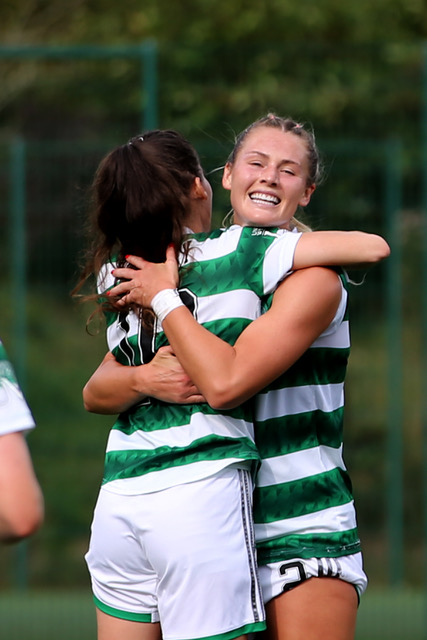 And that was Natalie Ross' last action of the day as an Alonso made changes which saw both Robertson and O'Riordan leave the game alongside Ross and replaced by Jacynta, Shen and Chloe Craig, with Alonso flashing the club's strength in depth with his triple change after 55 minutes.
🎥Double-goalscorer @caitlin5hayes spoke after a brilliant return to East Kilbride✌️

🟠0-8🍀#MOTCEL | #SWPL | #COYGIG pic.twitter.com/bqm0liVsOo

— Celtic FC Women (@CelticFCWomen) August 28, 2022
And within six minutes the decision to ring the changes looked inspired, as for the third time in the game Celtic scored from a corner kick delivery.
On this occasion it was Chloe Craig headed who home Celtic's fifth goal from an Ashworth-Clifford corner, following the first half example of Caitlin Hayes – and then fellow sub Jacynta added Celtic's sixth, with a low drive past the goalkeeper before an altogether scrappier poke over the goal-line for Celtic's seventh had Jacynta joining Hayes and Larisey on two goals apiece.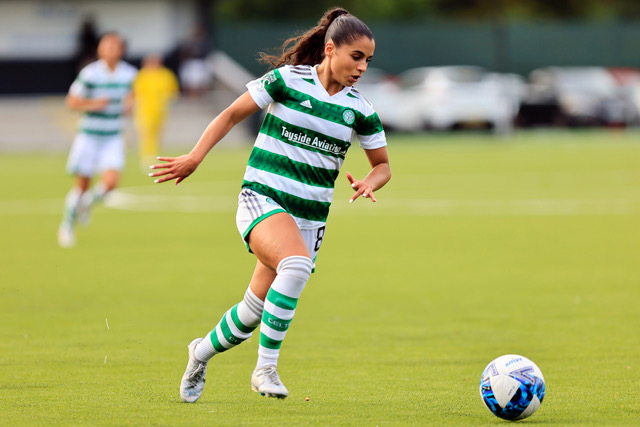 And number eight finished the scoring but was probably the most deserved goal of the game, as after a player of the match performance as a dead ball supplier, Lucy Ashworth-Clifford completed the Celtic scoring for the day with an incredible shot from distance that flew high into the net. It was a richly deserved reward for such an impactful performance.
Celtic then make it four wins from four, with no goals conceded and 23 scored, as Fran Alonso's side continue to show the sort of form that befits bona fide title contenders – and Pam Tajonar remains more concerned with cobwebs in her goalmouth than she ever is by shots on target .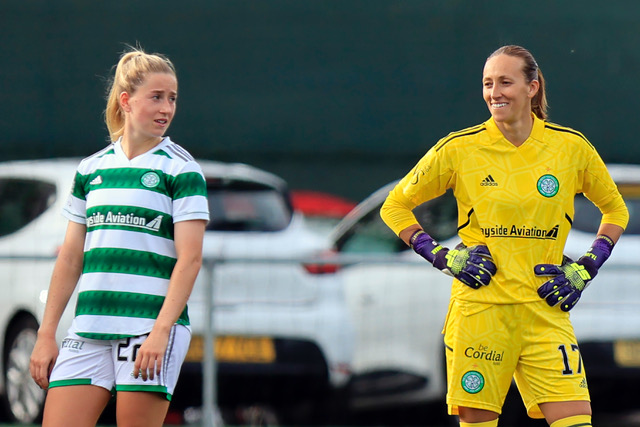 Motherwell should be credited for their early resistance, but once Celtic broke through there was only going to be one outcome. Whilst Motherwell could try and disrupt – and did so creditably at times – Celtic showed there is more in their armoury than expansive possession-based football, as they proved with a goalscoring threat from almost every set piece routine.
What a day it has been to follow Celtic, as both the men's and women's team shared an incredible seventeen goals between them and kept the back door closed in both games.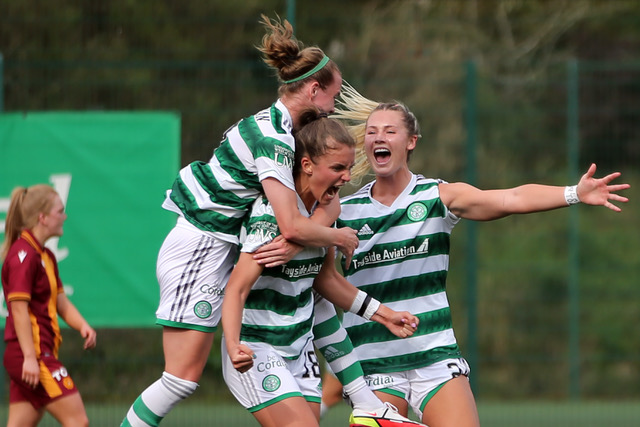 And with Celtic second only on goal difference in the SWPL, a few more performances like today will soon see this Celtic team move to the top of the pile. It's really only a matter of time.
Niall J
🗣"I'm delighted for every Celtic fan because its an incredible day with the two first teams, one winning 9-0 and the other 8-0, so it's a perfect day!"💯@franalonsofa spoke after a brilliant #MOTCEL win in the #SWPL 🍀 pic.twitter.com/QPFE6ETgzk

— Celtic FC Women (@CelticFCWomen) August 28, 2022
"𝙄𝙛 𝙮𝙤𝙪 𝙨𝙪𝙥𝙥𝙤𝙧𝙩 𝘾𝙚𝙡𝙩𝙞𝙘 𝙖𝙣𝙙 𝙮𝙤𝙪 𝙨𝙖𝙬 𝙩𝙝𝙚𝙨𝙚 𝙩𝙬𝙤 𝙜𝙖𝙢𝙚𝙨…𝙮𝙤𝙪 𝙘𝙖𝙣𝙣𝙤𝙩 𝙗𝙚 𝙖𝙣𝙮 𝙢𝙤𝙧𝙚 𝙙𝙚𝙡𝙞𝙜𝙝𝙩𝙚𝙙 "

What an afternoon of football. We spoke to manager @FranAlonsoFA after @CelticFCWomen 8-0 victory over Motherwell pic.twitter.com/FfPPsCYUeR

— Cynic Women (@CynicWomen) August 28, 2022