They say that to really enjoy the best of times, you also have to endure the worst of them. Season 1977/78 certainly comes into that category. In my previous article, I recalled the day in April 1977, when Jock Stein's Celtic regained the League Championship at Easter Road. The double soon followed, as Rangers were defeated in the Cup Final, thanks to Andy Lynch's first-half penalty. The Celtic fans who sang in the rain at Hampden that day would have little idea of the contrast in the season to follow.
The signs were ominous pre-season, as speculation mounted that Kenny Dalglish, our captain, would be heading south sooner rather than later. This only increased when Kenny did not travel with the team for a pre-season tour of Singapore and Australia, where Celtic overcame international selects from the two host countries, plus Arsenal and Red Star Belgrade, to return home with the World Soccer Trophy.
Sadly, that would pretty much be it, as far as success for this season was concerned. Our worst fears were confirmed, when following a final appearance in a friendly at East End Park, Kenny followed the trail of his Quality Street Kid team-mates Macari and Hay to the riches of the English League, this time to join Bob Paisley's European Champions, Liverpool. Whilst Kopites would see their beloved Keegan replaced by a superstar, there would be no such compensation for Celtic supporters, as a succession of journeymen made their way through Parkhead's gates in the coming months.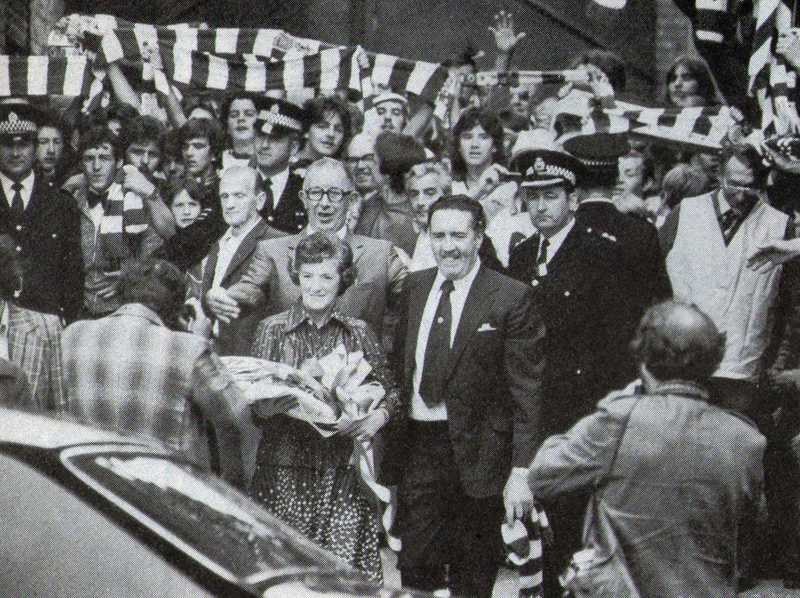 For those of us in the Jungle for the opening league fixture on the following Saturday, where Dundee United were the visitors, despite the sunshine and an attendance of more than 34,000, there was an unusually sombre atmosphere to flag day proceedings. Minus Kenny, Celtic lacked guile and the game finished scoreless.
Much more worrying, however, were the serious injuries sustained by two key players, Pat Stanton and Alfie Conn. Pat had been outstanding in his first season at Celtic, where he swept up behind a young Roddy MacDonald to form the backbone of our central defence. Following a tremendous career at Hibernian, the double-winning success of 1976/77 would be his swansong. He did not play top-class football again.
Alfie had been signed from Tottenham in one of those 'headline grabbing' transfers in which Jock was an acknowledged master. The former Rangers star provided the impetus for the title run-in when he joined in March, as well as providing the inspiration for the memorable Jungle chant, "He used to be a *** but he's alright now, Alfie, Alfie!". Whilst his injury was not career-ending, he would be missing until October, by which time the tone for the season had been well set.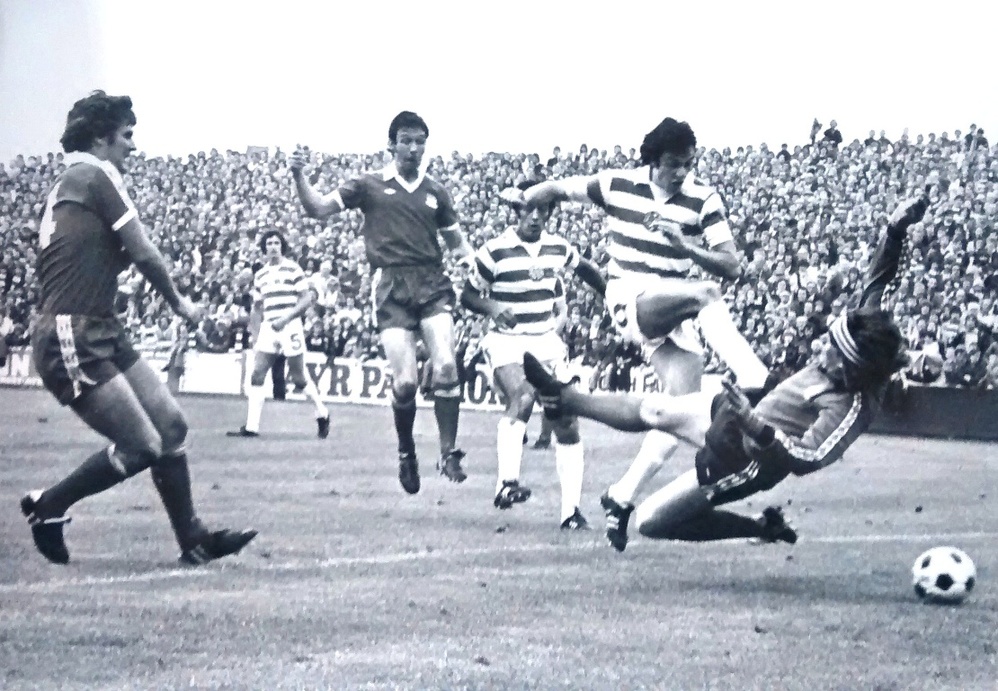 The following week was little better, with Celtic blowing a first-half lead to lose 2-1 at Somerset Park, in a game remembered for the incredible sending-off of Johnny Doyle, playing against his old side, for hitting referee Bob Cuthill in the face with a cross ball. This provoked angry scenes in the crowd, with Jock himself forced to intervene, as he had done at Annfield some six years earlier. The referee's decision was overturned by the SFA on appeal, however, the points were gone and the dreadful start to the season continued.
Before October was out, there would be home defeats to Motherwell, with another Quality Street Kid, Vic Davidson, scoring a late winner, then Alex Ferguson's young St Mirren side, where Frank Munro, signed the night before and making his debut as captain for his boyhood club, marked the occasion with an own goal. Future Celt, Billy Stark, scored the winner, following good work by another 'to be' Parkhead legend, Frank McGarvey.
Our away form was equally worrying, an Edvaldsson double half-time lead being lost at Ibrox, then another lead blown at Pittodrie to Billy McNeill's Dons, where another Celtic defender scored for the opposition on his debut. This time the unfortunate offender was giant centre-half Ian McWilliams, recently recruited from Queens Park and rumoured to have retained his amateur status at Celtic. Four successive league defeats and just a single point gained from our opening five games, meant that the defending champions' season was, in essence, over before it had really started.
A defeat at Firhill continued the trend and even when we managed a couple of home victories, against Clydebank and Hibs, serious injuries to captain Danny McGrain and Johnny Doyle literally piled on the agony for the Celts. Danny had battled back from a fractured skull at Brockville then the onset of diabetes to become the world's best full-back and he would now be ruled out for more than a year.
Thus, we had lost our two genuine world-class players within a couple of months.
In over 50 years of following Celtic, I cannot recall such a run of results and injuries to key players. This was reflected in a league placing of third-bottom by end October, with only Clydebank and Ayr United faring worse.
November saw an early exit from the European Cup, at the hands of Wacker Innsbruck. Three goals within the first half-hour in Salzburg easily overturned a slender 2-1 lead from the first leg. A late sending-off for Andy Lynch, following a bizarre off-the-ball scuffle with a substitute, pretty much summed up the season to date.
Celtic did rally in the last couple of months of 1977, with a series of good results pushing us up the table to the lofty position of fifth, some eight points behind Jock Wallace's Rangers, in the days of 'two points for a win'. However, a Hogmanay defeat at Somerset, our second that season and featuring a last-minute winner from yet another ex-Celt, the late Brian McLaughlin, saw normal service resuming in time for the Bells.
If we thought 1978 could not possibly get off to a worse start, then the football gods obviously chose to differ. Four straight league defeats, at home to Motherwell, followed by visits to Ibrox and Pittodrie then again at home to St Mirren, killed any previous momentum in its tracks.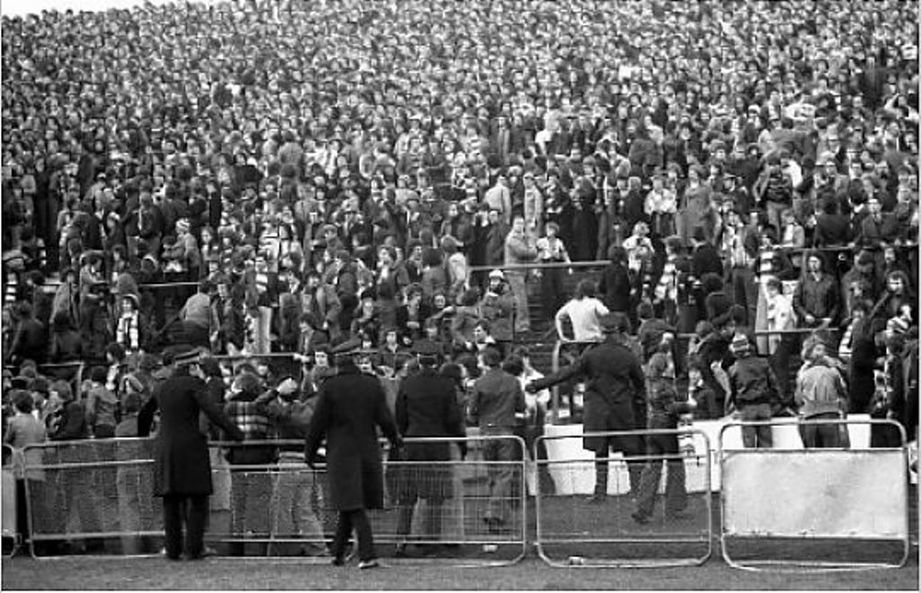 The Ibrox clash featured one of the most controversial goals I have ever witnessed. At 1-0 down, Celtic were denied a blatant penalty at the Copland Road end, when Joe Craig was pushed to the ground as he shaped to header into an empty net. Referee John Gordon thought otherwise and was immediately surrounded by Celtic players. However, play continued and Rangers literally walked the ball up the park for Greig to tap in a second goal. Bedlam ensued, with players threatening to walk off the park and Jock again pleading with fans in the Broomloan terracing to remain calm. Despite a second-half fightback, the game finished 3-1 to the home team.
Watch the incident below and judge for yourselves.
The Pittodrie game featured a rare double from yet another future Celt, Dom Sullivan, and despite a fightback to 2-1, a late Andy Lynch penalty miss perfectly highlighted the turnaround between this and the previous season. The weather then forced a six-week break in league fixtures before the visit of St Mirren. True to script, the Ghosts of Celtic Past and Future turned up again, as goals from Jimmy Bone and Frank McGarvey saw the Buddies, like Motherwell, complete a Parkhead league double.
There had been some light relief in early February in the Scottish Cup, when Tommy Gemmell's Dundee were sent packing with that famous Celtic scoreline of 7-1. A young George McCluskey hit a hat-trick to take the holders through to a home tie with Kilmarnock, like Dundee, at that time a Division One (Championship) team.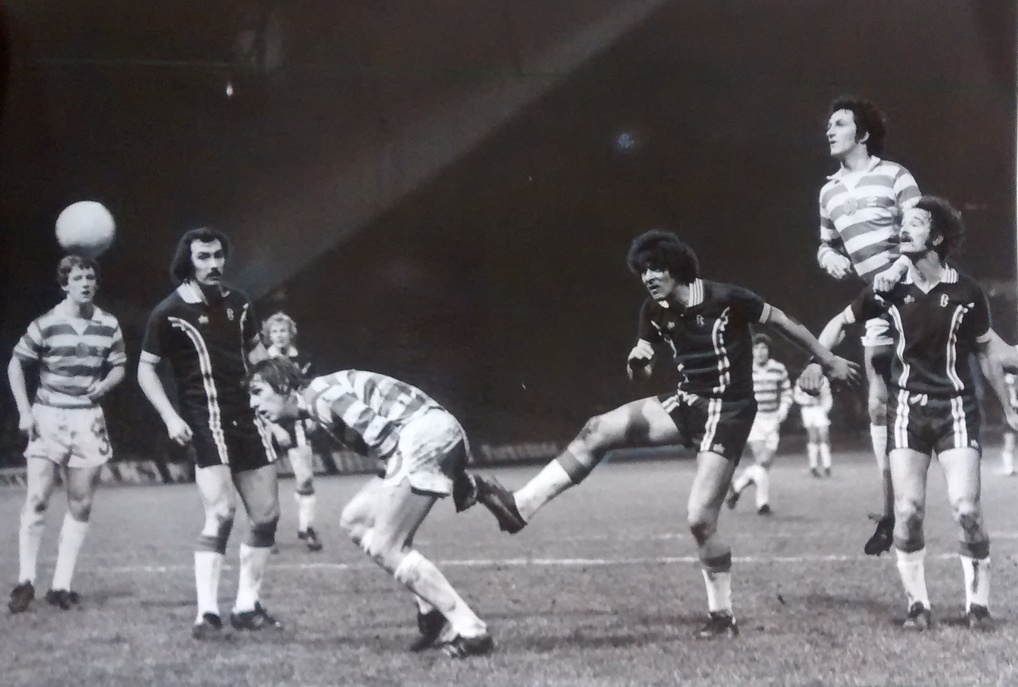 However, for once the cup cheer would be short-lived, as Celtic firstly scraped a Rugby Park replay, thanks to a late goal from Roddy MacDonald in a game dominated by young Killie winger Davie Provan, then lost their grip on the cup following an equally-late winner from defender Derrick McDicken.
Kilmarnock would finish in mid-table in their Division, a distant eighteen points behind champions Morton and below both Stirling Albion and Dumbarton. It was an indication of how far we had fallen so quickly.
Celtic's first Scottish Cup defeat to a lower-league side since Dundee in 1947, prevented a meeting with Rangers in the next round and meant that only a victory against them in the forthcoming League Cup Final would realistically prevent Wallace's second treble in three seasons. Celtic had disposed of Motherwell, Stirling Albion and St Mirren in an unusual two-leg tournament format, before beating Hearts at Hampden in the Semi-final, and so hopes were high that some salvation would be forthcoming.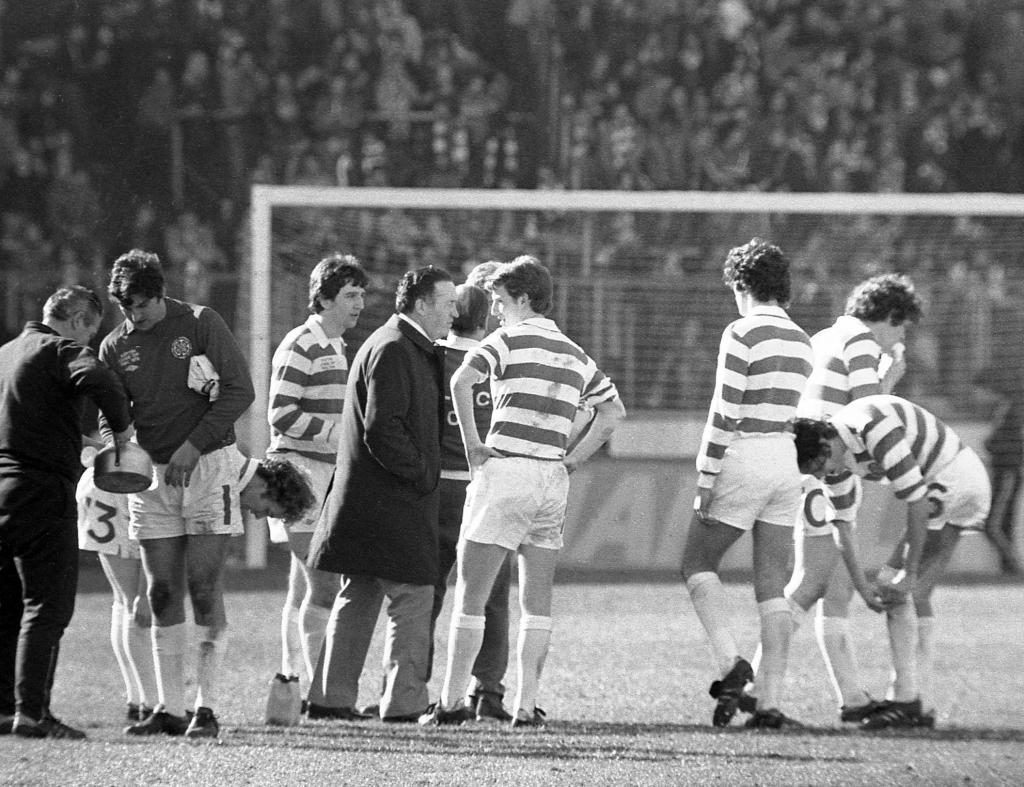 However, in keeping with the season's trend, the League Cup Final provided only more misery. A late Johannes Edvaldsson header took the game to extra-time, where in the dying moments, Latchford dropped a cross and this time 'Smith did score', despite protests for a foul on our goalkeeper. This would be the last in a world record run of fourteen successive League Cup Finals, thirteen of them under Jock Stein, with only 1974's 6-3 victory over Hibs preventing eight defeats in a row. More significantly, it would be Jock's last major final as the manager of Celtic.
The end of this particular season frankly could not come quickly enough and it petered out in much the same way as the previous months, with occasional wins outnumbered by defeats. There was a final victory for Jock over Rangers, just one week after the League Cup defeat, when goals from Glavin and MacDonald salvaged a sliver of pride for supporters and a home draw with leaders Aberdeen, with Sullivan again on the scoresheet for the Dons.
In the negative column, both Motherwell and St Mirren, our League Cup conquests, picked up third league victories over Celtic with home wins in this most bizarre of seasons. There was also the embarrassment of a first-ever defeat to already-relegated Clydebank at Kilbowie, where again a half-time lead was lost, and a 4-1 hammering at Easter Road on Mike Conroy's debut, where all hope of a UEFA Cup place evaporated amongst a pitch invasion, following a Kung Fu attack on striker Tom McAdam by the Hibs goalkeeper, which went unpunished.
The Paisley defeat on the last day of the season sealed Celtic's fate, as Hibs snatched fourth spot and the European place that went with that. It was Celtic's first failure to qualify for European football since 1961 and our lowest league finish since 1965, essentially prior to Jock's arrival. It was a sad way for the big man to finish a career which delivered so much joy to so many.
Billy McNeill had joined Aberdeen as manager in 1977, following a short spell with Clyde at Shawfield. In his first season, he had taken the title to the last day and his young Dons side to the Cup Final, where they would narrowly lose to Rangers. There was increasing speculation that he would replace his great friend and mentor at Celtic Park during the close season. Jock had one final say as the manager of Celtic, as he signed a young goalkeeper from Donegal called Pat Bonner. However, in the meantime, Celtic fans dreamt of better days and the focus of the nation turned to Argentina and the chances of Ally MacLeod's squad in the forthcoming World Cup.
Matt Corr
WOULD YOU LIKE TO WRITE FOR THE CELTIC STAR?
If you would like to write for The Celtic Star, on any Celtic related subject of your choosing – then please send your contribution to editor@thecelticstar.co.uk and we will do the rest…we'd love to hear from you!