Today we have been served up to many stories from former Celtic midfielder and assistant manager Alan Thompson about his time spent at Celtic Park in extracts from his biography 'A Geordie Bhoy' via a controversial serialisation deal with The Sun.
Thompson details his recollections on plenty of events that happened during his time in Glasgow both as a player and as part of the management set up under Neil Lennon during the Irishman's first stint in charge a decade ago. One of the incidents many will be keen to discover more about is the events surrounding the so-called 'Shame Game',  a Scottish cup fifth round replay at Celtic Park in March 2011.
Celtic advanced to the quarter final when right back Mark Wilson's excellent half volley from distance handed Celtic a 1-0 win. After the game, the Scottish Government called an emergency summit, in a huge overreaction. Lennon and McCoist were both handed touchline bans following their handbags in a match where the old Ibrox club lost its head on the park and had three players sent off. The 'Shame' came from the visitors to Celtic Park in that Scottish Cup replay.
"The Scottish Cup fifth round replay was back at ours and if the first had been ill-tempered, then this was to be known as 'the shame game' — with players almost getting locked up by the police off the pitch and a few red cards thrown in for good measure.
"Rangers defenders Madjid Bougherra and Steven Whittaker both saw red with Diouf getting up to his old tricks and he saw red also. The game from start to finish was absolute mayhem. It's not as if these games are normally good-tempered but this was extra spiteful.
"McCoist at the time pointed the finger at Lenny regarding what happened between them. He said Lenny acted over-aggressively, which wasn't the case in my opinion, and I broke them up.
Getting into what was the real cause of the problem that night not many Celtic fans will be surprised that it was mainly due to the antics of El Hadji Diouf, someone who seemed hell bent in getting involved in any sort of nonsense that would get a reaction from the opposition, often to the detriment of his own game.
"What really started it off was Diouf gave our physiotherapist a hard shoulder and it escalated from there. Brown took a few kicks and Kris Commons got clattered in front of our dugout, which sent our emotions sky high.
"All the way through the game Diouf was dishing out verbals on everyone in a hooped shirt and even directed a few to myself and Lenny on the sidelines. Don't forget it was Lenny and me opposing him exactly eight years previously when Celtic played against Liverpool in the Uefa Cup match at Parkhead — and he infamously spat at Celtic fans.
"You look at Diouf and he was pretty decent. The guy had been with some good clubs but in my opinion the only reason Rangers brought him in on loan was to wind the Celtic fans up. He was brought in by Rangers for the shock value," Thompson reckons.
As Thompson said Diouf was actually a decent footballer on his day but it really was a strange signing by Rangers and I can see where Alan gets his theory about the reasons they signed him from. It does seem that whichever entity it is playing out of Ibrox that they do love to have a certain type of player who become more famous for being a rabble rouser than a good footballer. Morelos is their current pin up boy in that respect. Novo was another one even before him.
Thompson continued "Diouf was 'on one' that night and I told him many times to 'do one' away from our area as he was constantly trying to sneak in closer to our area to noise us up.
"When the final whistle blew, and we had won the game, all the staff went over to shake hands with the opposing team as you do, and Lenny went to shake Coisty's hand.
"I was stood so close that I clearly heard Ally tell Lenny, 'And don't you be speaking to my F'n players like that', only for Lenny to tell him, 'They're not your … players, they're Walter's.
"It's never been disclosed what was actually said in over a decade now — but I'm telling you that was the spark that lit the fire and Hell was hot. Lenny was right because Walter was the gaffer and Ally was only the No 2 at that time. Ally didn't take well to that.
"The Rangers boys were all trying to say it was our fault but any team who receives three red cards in one match need to have a long hard look at themselves."
Maybe not the explosive reveal many expected after all these years but an end to the rumours all the same. Looking back it really was all a bit blown out of proportion but in Scottish football it often is.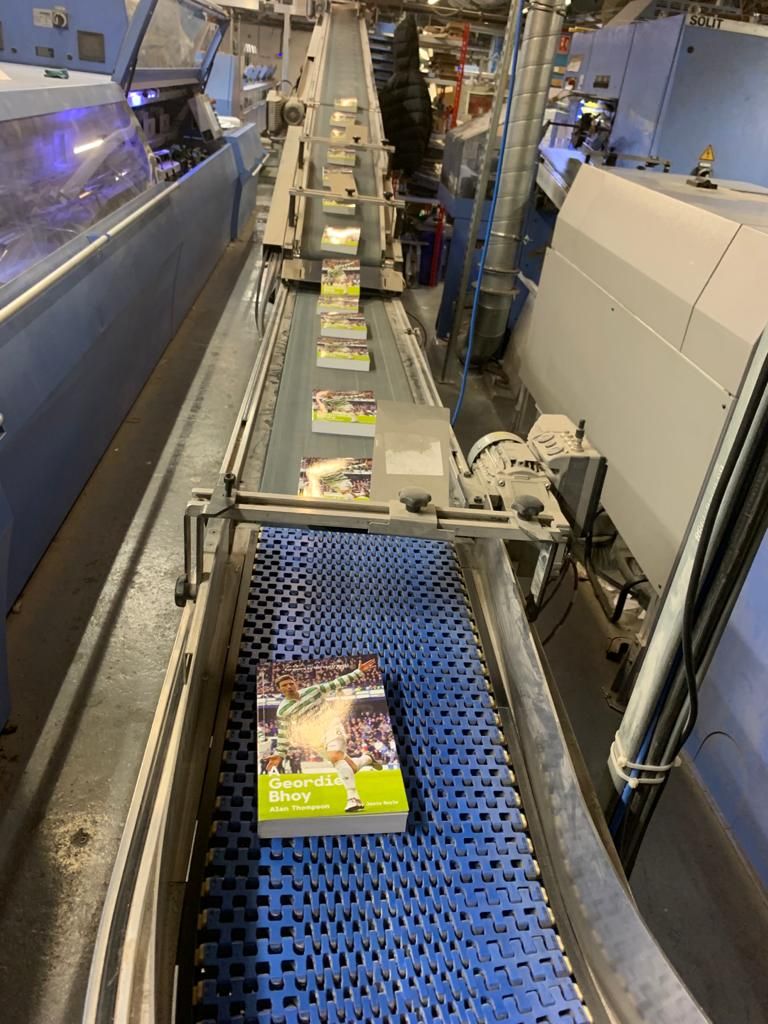 A GEORDIE BHOY with Alan Thompson is available from Amazon, eBay and Waterstones, priced £14.95 paperback, £4.95 Kindle.
Conall McGinty