The Stockholm Derby saw a record Damallsvenskan attendance of 18,537. Look at the scenes at the final whistle…
"Thousands and thousands walked through the streets of Stockholm singing and waving Hammarby flags to get there. Magical support on the stands. The players are so worth this, playing attractive football and showing real heart for the club."
Thousands and thousands walked through the streets of Stockholm singing and waving Hammarby flags to get there. Magical support on the stands. The players are so worth this, playing attractive football and showing real heart for the club.

— Johan Ekelin (@joek33) October 11, 2021
Supporters made this match programme as well…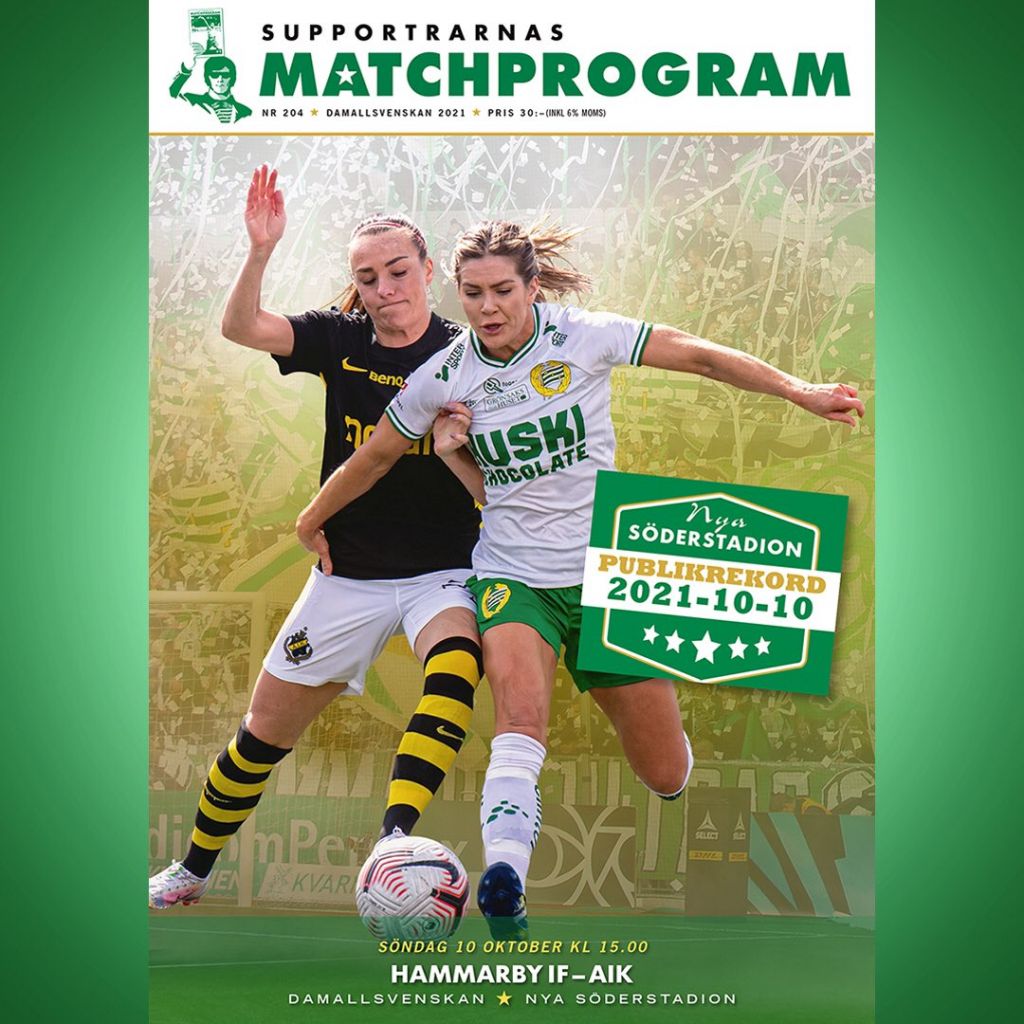 Comments: "This is amazing"…"Awesome! Football so much better with the fans in"…"This is brilliant"…"Wow, what an amazing crowd. Shows what can be done"…"Incredible scenes!"…"Seriously can't stop watching this"…"What an atmosphere"…"But but. I thought no one followed womens sports?"…"This is incredible"…
I absolutely love seeing Ultras get behind their women's teams.

— Adam Millington (@AdamGMillington) October 10, 2021
Meanwhile over in England it was the Manchester Derby at the weekend with the game ending in a 2-2 draw. "More than 1.1 million people watched the Manchester Derby on BBC One on Saturday. That's for those who still bother to comment 'nobody cares'," sports journalist Adam Millington tweeted.
What an incredible game of football. 2-2 it ends at Leigh Sports Village.

United will likely be happy with the point. City now look even more like they are out of the race for Europe before it has even properly started.https://t.co/4Ug7cNvUiz

— Adam Millington (@AdamGMillington) October 9, 2021
We mentioned the 'nobody cares' comments to Fran Alonso last week when The Celtic Star had a one-on-one media conference with the Celtic FC Women manager. "No one cares about this terrible drain on the clubs resources," is the current unapproved comment on The Celtic Star which will never see the light of day.
And look at these scenes shown above from Stockholm at the weekend. Recently Hibs attracted over 5000 supporters to the Women's SWPL1 Edinburgh Derby with Hearts.
Rekordsiffran 18.537 på plats och magiskt tryck när @Hammarbyfotboll besegrar @AIKFotbollDam med 4-1 i Stockholmsderbyt!

| #HAMAIK | #rekordmatchen | pic.twitter.com/DyMq6u7b8d

— OBOS Damallsvenskan (@_OBOSDamallsv) October 10, 2021
Fran also answered this question from The Celtic Star about attracting a record breaking crowd to a Celtic FC Women match and remember that there is at least one game to be played at Celtic Park which is included on season tickets this season. Presumably that is going to be a Glasgow Derby against theRangers. Here's the question and Fran's answer for those who missed it…
The Celtic Star: Can I ask you Fran about the game in Edinburgh in midweek between Hibs and Hearts when Hibs organised free entry for families and they got a crowd of 5512 which is a record for a Scottish women's football match (SWPL). Do you think that the possibilities and the probabilities are there for Celtic to beat this record in the not too distance future?
Hibernian Women have now set the attendance record for Scottish women's football on three straight occasions 😳

✅ 2,551 in 2016

✅ 3,123 in 2019

✅ 5,512 in 2021

Trailblazers. pic.twitter.com/RkBkryBUGs

— Hibernian Women (@HibernianWomen) September 30, 2021
Fran Alonso: I think we will do it.The plan is that we are going to play at Celtic Park, it has already been announced and our goal would be to beat not only the 5000 but also the 24,000, or 26,000 that the national team achieved for the Scottish Women's National team and we will try to beat it. We will try to convince our fans to come and support us and hopefully we will give them a good show so that they can enjoy it. But it's definitely great for the women's game that they had over 5000 fans so I am delighted for the league in general so hopefully every team is going to try to beat that record. It just means growth for the women's game which is what we all want.
Watch that media conference below…
Harry Hood – Twice as Good is out later this month and you can order your copy by clicking on the image below…