If you know the history – Celtic at birth, 50 & 100: Part 5 – June 1938
'In '38 there was a show, Glasgow was the place to go, a model of the tower was football's prize.
England sent four of the best, they didn't meet with much success, the trophy ended up in Paradise.'
Following the replayed victory over Sunderland the previous Thursday, Celtic took on Hearts in the semi-final of the Empire Exhibition Cup at Ibrox, on Friday, 3 June 1938, in front of 48,000. Neither Jimmy Delaney or Joe Carruth had recovered from injuries sustained against the Wearsiders, their places taken by Matt Lynch and Malcolm MacDonald. The Gorgie side had beaten Brentford 1-0.
Celts would miss the genius of Delaney in particular, as they struggled for long periods against a side they had pipped to the title by three points in April. It took a Johnny Crum goal with twenty minutes remaining to settle the tie, the Hoops going through to meet either Everton or Aberdeen in the final.
The Merseyside team had beaten hosts, Rangers, 2-0 at Ibrox, and on Monday, 6 June, they would dispose of the Dons by 3-2 to set up the decider with Celtic. Their famous English centre-forward, Tommy Lawton, had scored in both games, as had Crum for the Bhoys. The Empire Exhibition Cup final would allow that personal duel to be resolved also. Lawton had finished the 1937/38 season as top goalscorer in the English First Division, despite Everton trailing in a hugely disappointing 14th. He would then repeat the feat the following campaign, only this time the Blues would be champions.
On this day in 1938, Friday 10 June, there would be two significant events which would impact Celtic's history, almost thirty years apart.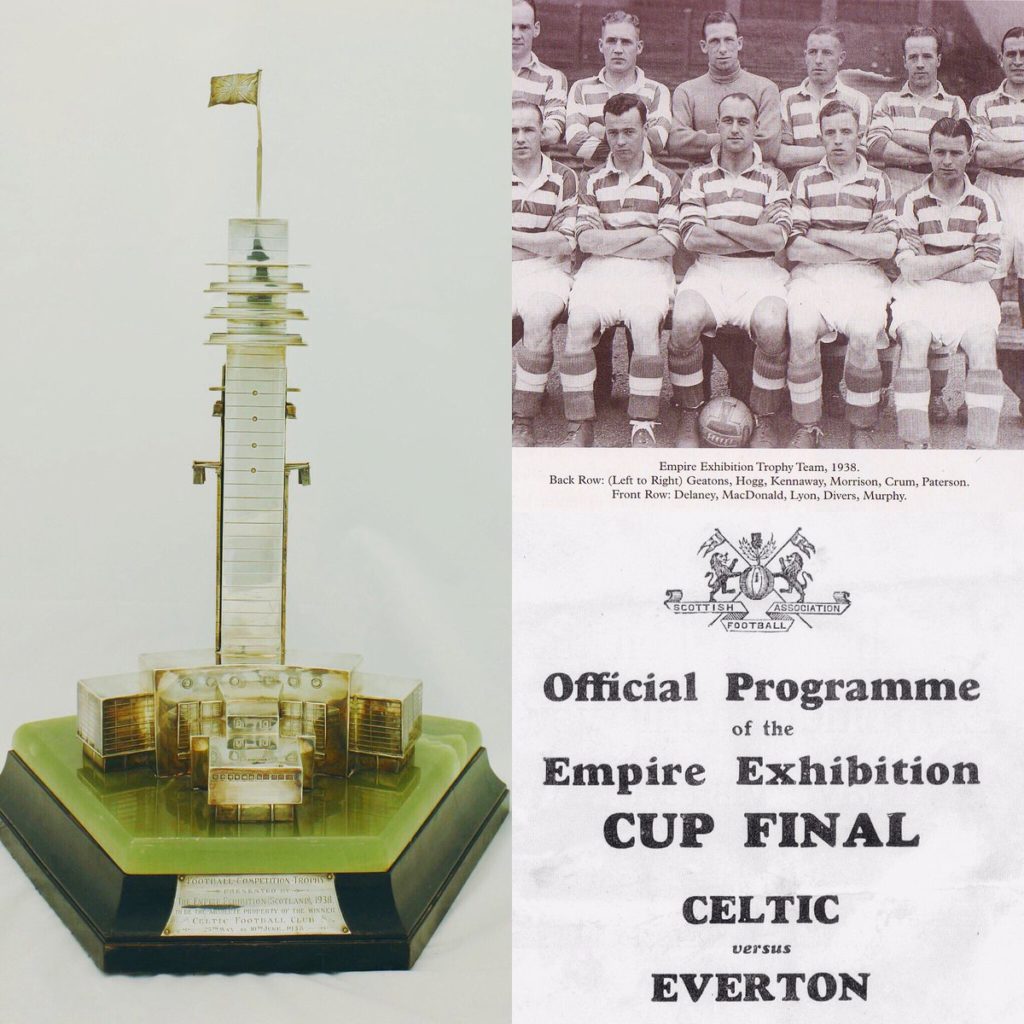 There was an incredible crowd of over 82,000 at Ibrox to watch the Hoops take on Everton in the final match of the Empire Exhibition Cup. In addition, to Lawton, the Blues featured future England and Manchester City manager, Joe Mercer, whilst former Rangers winger, Torrance 'Torry' Gillick, was part of the squad and had scored against Aberdeen but did not make the final line-up.
However, the Everton side named did feature another player who had previously plied his trade in Govan, inside-forward Alex Stevenson. Dublin-born Stevenson would be the third of only four players from the 26 counties to play his football at Ibrox, the last being former Dundee United striker, Jon Daly. Stevenson had moved to Goodison after winning the 1934 Scottish title with Rangers. He would go on to have an incredible career at Everton, scoring over 80 League goals himself, whilst supplying many more for their two legendary strikers, William Ralph 'Dixie' Dean then Tommy Lawton.
Everton's side included another Irishman who knew Ibrox well, albeit for the saddest of reasons. Coleraine-born right-back, Willie Cook had signed for Celtic in February 1930, essentially to replace the ageing Willie McStay. He made his debut immediately, becoming a fans favourite, a key part of the side which beat Motherwell in the 1931 Scottish Cup final, before taking the old trophy on a tour of Canada and the USA. Over there, Willie would come up against the man who would later stand guard behind him in the Celtic goals, as fate took a kick at the Celtic family, James 'Joe' Kennaway.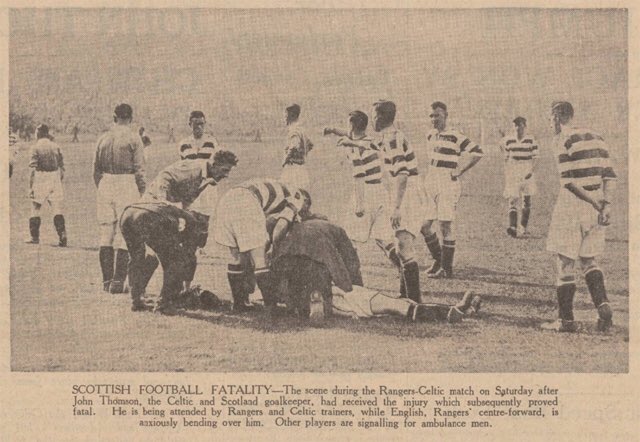 Shortly after their return from the States, on Saturday, 5 September 1931, Celtic faced Rangers in a League game at Ibrox. It would turn out to be the saddest day in Celtic's history, still guaranteed to tug the heart of every Hoops supporter, the best part of ninety years later. Dashing out from his goal to prevent Rangers centre-forward, Sam English, from scoring, Celtic's brilliant young goalkeeper, John Thomson, was badly hurt in the ensuing collision. He would never recover from those injuries, passing away later that evening. Cook was closest to that tragic incident and, in another ironic twist, had actually made his international debut representing the six counties, alongside English.
'They never die who live in the hearts of those they leave behind.'
Willie was rather surprisingly sold to current English champions, Everton, in December 1932, picking up an FA Cup medal to go with his Scottish equivalent in April the following year, as the Goodison side beat a Manchester City side featuring Matt Busby, 3-0 at Wembley. Two Scotsman played a key role in that final, the first to feature numbers on the players' shirts.
Bizarrely, Everton wore 1-11 whilst City worked backwards from 22-12. Coatbridge-born winger, Jimmy Stein, previously with Dunfermline Athletic, had the distinction of scoring Everton's first-ever goal at the Empire Stadium, just before the interval. The great Dean made it two, early in the second-half, before 1928 Wembley Wizard, Jimmy 'Ginger' Dunn, arriving at Goodison via his local junior side, Govan's St Anthony's and Hibernian, sealed the cup with a third goal with ten minutes remaining.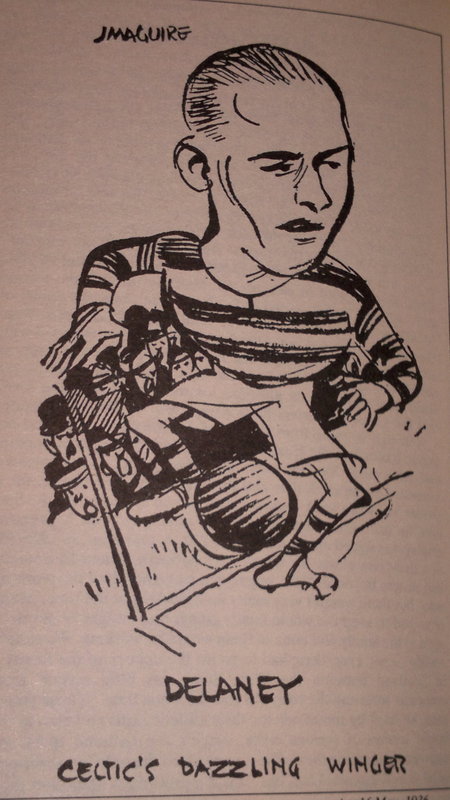 Back at the site of that horrible day, seven years later, Cook would face Kennaway and Delaney, now fully fit again as Lynch dropped out, although MacDonald continued at inside-right for Carruth. Just as Celtic had struggled and, indeed, been fortunate in their previous ties, tonight would be their best performance of the the tournament. Crum caused the English side no end of problems, whilst at the back, the defence coped well with the threat of Lawton. There was one heart-stopping moment as the Canadian Kennaway dived at the feet of the big striker. Deja-vu. Thankfully, on this occasion, the danger passed without injury, as the huge crowd took a sharp intake of breath.
With the 90 minutes failing to produce a goal, the game was finally settled in the sixth minute of extra-time, Crum's shot being saved by England's goalkeeper, Ted Sagar, who then looked on in horror as the ball trundled over the line. The bold Johnny then proceeded to perform an impromptu jig of delight, a Highland Fling perhaps, behind the goal, as the Celtic support roared their approval.
There would be one final scare for Maley's Bhoys, the ball landing in the Celtic net in the dying seconds before, thankfully, the linesman's flag came to the rescue. Shortly afterwards, Lord Elgin presented Hoops captain, William King Lyon, himself a native of Birkenhead, Merseyside, with 'football's prize, the model of the Tower', a silver replica of Tait's iconic 300-foot Art Deco structure.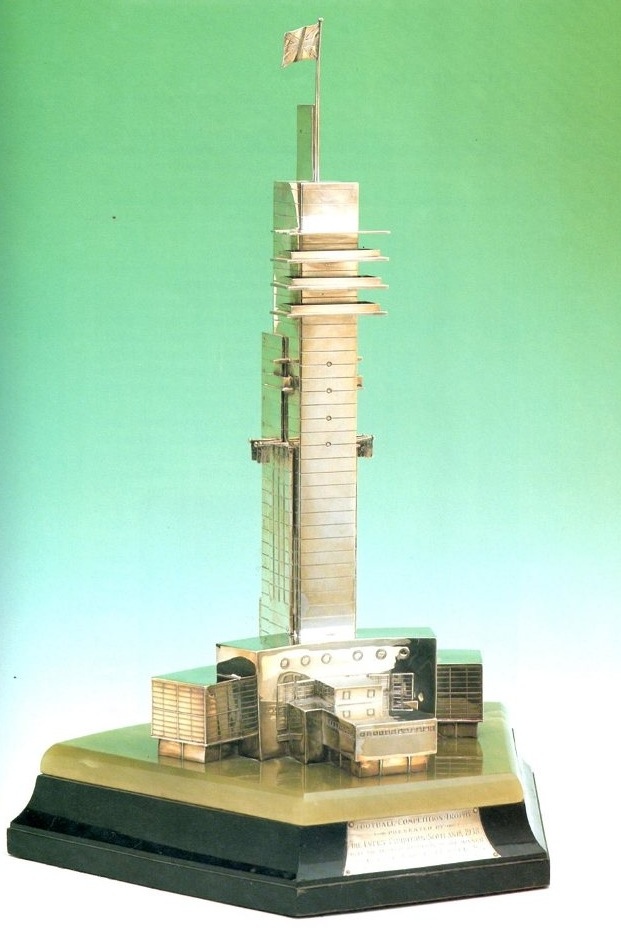 The team established to support descendants of the Great Hunger in Ireland, about to celebrate its Golden Jubilee, had won a competition set up to celebrate the achievements of the British Empire.
If only Carlsberg did irony…
As this history was unfolding in Govan, a stone's throw from there a drama of a different kind was taking place, as baby Joseph McBride was born. Joe would grow up in the area, a near-neighbour of a young Alex Ferguson, who idolised the promising footballer who lived 'up the next close'. He would attend St Gerard's school, as, five years later, would another player who would feature prominently in the Hoops' story, fellow Lisbon Lion and our Celtic Star correspondent and colleague, Jim Craig. A schoolboy team-mate of Joe's at that time was Brian Quinn, later appointed as chairman of Celtic.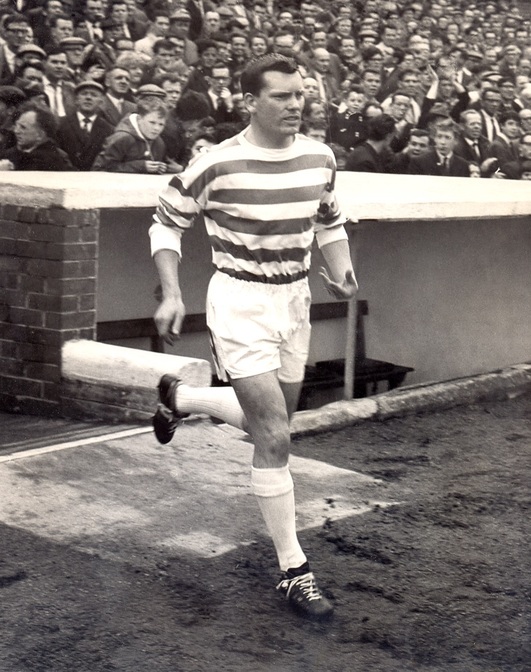 Upon leaving school, Joe played football at junior level with Shettleston and Kirkintilloch Rob Roy, being signed up for Kilmarnock in May 1956 for £200 by their manager, former Celt, Malcolm MacDonald, who in another strange quirk of fate, had played in that final at Ibrox on the very day that baby McBride was preparing to enter the world!
The young striker did well in Ayrshire, his scoring form in the reserves earning a promotion to the first-team under new manager, Willie Waddell, in 1957/58 then a £12,500 move in December 1959 to English champions, Wolverhampton Wanderers, at that time chasing a third successive First Division title under legendary international captain, Billy Wright. Joe would fail to settle in the Midlands, however, moving to Luton Town two months later for £8,000 without featuring in the Molineux first team. In his early spell at Kennilworth Road, Joe scored six goals in thirteen games in the Hatters' ultimately unsuccessful bid to remain in the top tier of English football.
After netting a further 3 League goals for Luton in the English Second Division, the next stop for the homesick McBride would be Firhill, traded for Partick Thistle winger, Jim Fleming, in November 1960. He would average a goal every two games for the Jags, before swapping Firhill for Fir Park, moving to Bobby Ancell's promising young Motherwell side in November 1962, in another £8,000 deal.
He would come to the attention of Jock Stein in the claret and amber, top scorer in each of his three seasons there, netting twice against Celtic in the new manager's first cup-tie in charge at Parkhead, the 2-2 Scottish Cup semi-final of March 1965. Celts would win the replay 3-0, going on to begin that most glorious Hoops chapter with Bertie's double and Cesar's flashing header against Dunfermline Athletic in the final. However, Joe had done enough to convince Stein to make him his first Celtic signing, Jock writing a cheque for £22,500 in June 1965. It would prove to be money well spent.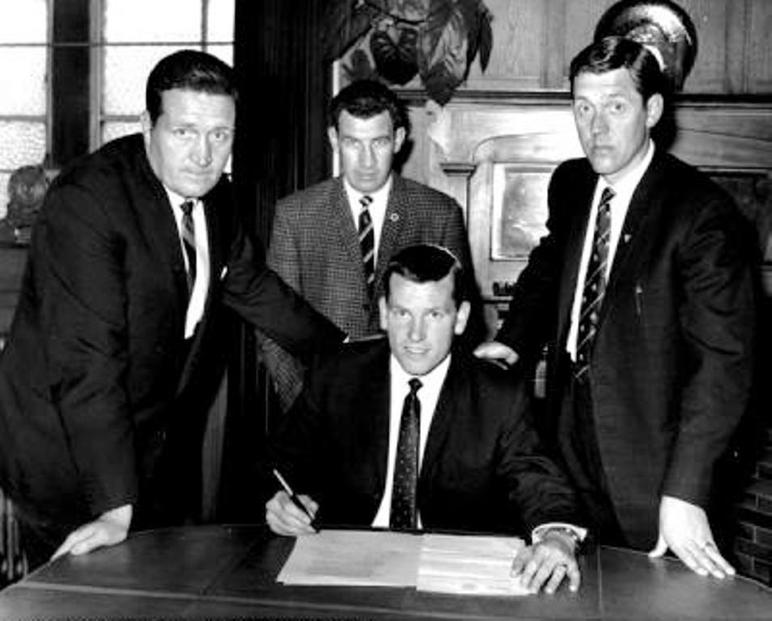 In his first season at Parkhead, 1965/66, Joe scored 31 goals in 30 League games, to finish joint top marksman in the country, an honour shared with his old Govan neighbour, Alex Ferguson, then with Dunfermline Athletic. Celts would win the League Cup with two John 'Yogi' Hughes penalties against holders, Rangers, in October, before pipping the Ibrox men in May 1966 to the first of what would be nine successive League titles, with a late Bobby Lennox winner at Joe's old Fir Park stomping ground.
The following season would see both his greatest accomplishment and his biggest disappointment. Joe was on fire from the off, hitting 36 goals before Christmas as Celtic blasted the opposition apart, gaining his only two senior caps for Scotland, against Wales and the six counties. His headed assist also set up Bobby Lennox for the only goal at Hampden in October, as the Bhoys retained the League Cup with another victory over their traditional rivals. However, a persistent knee injury finally forced him off the field at Pittodrie, just two days before Christmas. Joe would undergo surgery and be out of football completely for a full calendar year, missing much of the road to and the ecstasy of Lisbon, having contributed goals in both of the opening two rounds, against Zürich and Nantes. It was a cruel and savage blow for the player. Despite missing the entire second-half of that season, incredibly, Joe would still finish, yet again, as the leading goalscorer in the country.
On this day in 1938, Joe McBride is born. Jimmy McGrory said of him: "I have been asked to name the best Celtic centre-forward I've ever seen play and the man I choose may surprise you. He's Joe McBride." 86 goals in 94 appearances is some record. pic.twitter.com/qIeqcEPk0H

— CelticLisboa (@CelticLisboaa) June 9, 2019
Marking his return to the first team in December 1967, with a hat-trick against Morton, Joe struggled to maintain a regular spot in the side, Stein reluctantly, and perhaps regrettably, selling the striker to Hibernian in November 1968. With 84 in 96, his goals-to-game ratio with Celtic was quite incredible, McGrory-esque. Indeed, the great James Edward himself once said that McBride was the finest Celtic centre-forward he had ever seen. Considering the quality of opposition for that accolade, over a 70- year period of watching the Celtic greats from Quinn to Dalglish, that would be high praise indeed.
From Easter Road, where he became their top scorer in European football in less than three seasons, he would move to Dunfermline then Clyde, retiring in 1972 as he approached his 34th birthday. With 226 League goals, he remains the third highest post-war goalscorer in the history of Scottish football.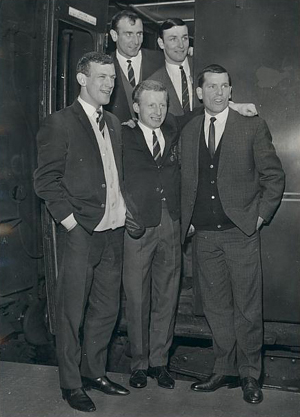 As a fellow-resident of Bishopbriggs, I had the pleasure of meeting him many times, as I watched my younger son playing for Rossvale Boys Club, where Joe's son-in-law, Brian, was the manager. Even as a man at that time in my late thirties, I was still in awe of him. Joe would stand there, observing from the touchline, occasionally pulling a young player aside to offer words of advice or support. This from a Lisbon Lion, no less. My son loved it. Me too. I recall one time I chastised my son for a bit of 'afters' during a game. Joe wandered over and quietly spoke to me, 'Just leave him, son. He needs a wee bit of that devil if he's going to make it as a striker.' I have never forgotten that moment.
Sadly, Joe passed away in July 2012, aged 74, shortly after suffering a stroke. I was genuinely cut up to hear that. God bless and keep you, Joe.
In June 1938, Joe would be the third future Lion to be born, following on from Ronnie, Stevie and Bertie. Together, they would form the senior part of that divine squad, there being a near two-year hiatus, before the future Cesar came along, in March 1940.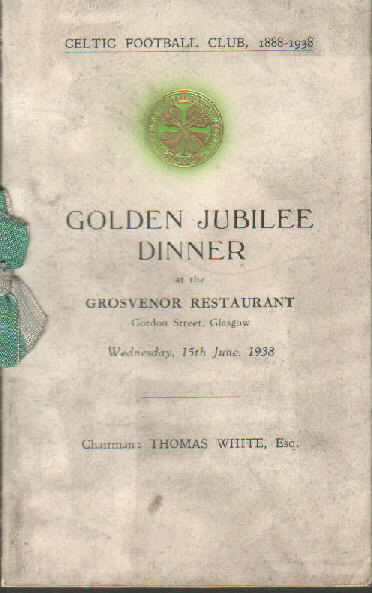 On Wednesday, 15 June 1938, five days after the glory of Ibrox, Celtic Football Club celebrated its Golden Jubilee at Glasgow's Grosvenor Restaurant, in Gordon Street. It was a highly emotional night, with many stars of the past and present in attendance and glasses raised to the memory of those who had fallen in that half-century, such as the great John Thomson, at that time less than seven years passed. In recognition of the incredible service provided by Willie Maley, since that very first game in May 1888, the manager was presented with a cheque for 2,500 Guineas by the Celtic board of directors. In his response, the by now 70-year-old Maley uttered these immortal words.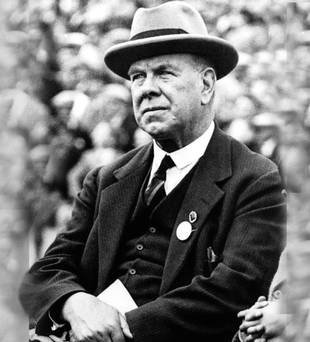 'My love for Celtic has been a craze. Without it, my existence would be empty indeed.'
Sadly, or perhaps, poignantly, the Empire Exhibition Cup would prove to be Maley's final trophy as the manager of Celtic.
It was a one-off, just as he was.
'Willie Maley was his name…'
Hail Hail,
Matt Corr
Follow Matt on Twitter @Boola_vogue
"This club has been my life and I feel without it my existence would be empty indeed" – Willie Maley ???? pic.twitter.com/GTxFgJwumN

— Kieran Tierney (@kierantierney1) November 9, 2018
Thanks and credit as always to the folk behind the wonderful Celtic Wiki, an invaluable resource for Celtic historians.