BILLY McNEILL has been been named as the winner of this year's One Club Man Award for 2019. The awards are run by Basque club Athletic Club Bilbao and they explain why they have selected Billy as their winner this year.
Sweden's Malin Moström was also named as their first ever winner in the female category.
Billy McNeill and Malin Moström, awarded by Athletic as One Club Awards – https://t.co/mjiKknSmeD #AthleticClub ????⚪️ pic.twitter.com/Gb4GblpsHN

— Athletic Club (@Athletic_en) April 16, 2019
"Athletic Club has decided to award with the One Club Man Award 2019 to the legendary Celtic FC captain William McNeill (March 2, 1940). The Scottish defender is the footballer who has played the most matches in the famous Scottish jersey, the only one he wore during his career, a total of 822 encounter during 18 seasons.
"The choice of Billy McNeill as OCM transcends the player's extraordinary individual career and links directly to the team he captained, the so-called "Lisbon Lions". That memorable Celtic won the 1967 European Cup against Helenio Herrera's Inter Milan (2-1) with a squad made up entirely of Scottish players, all born within a radius of less than 50 kilometres around Glasgow.
"The principle of territoriality, the same principle that Athletic Club has upheld throughout its history and of which it is today the only representative in the five major European leagues, is taken to its highest expression and personalised in a mythical figure for Celtic fans, Billy McNeill.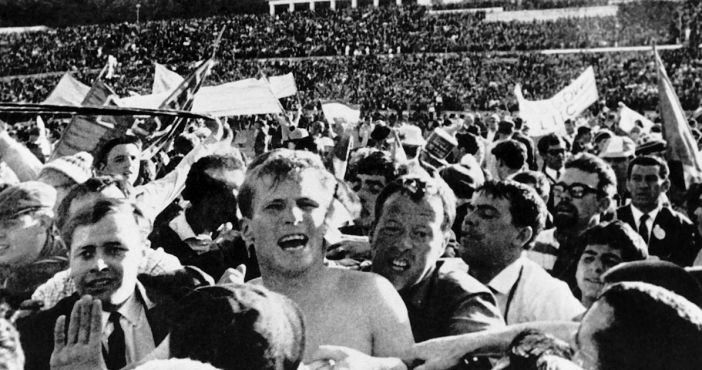 "At present, Billy McNeill suffers from dementia and is in a delicate state of health, which will prevent him from receiving the award in San Mamés personally, as has happened with the previous winners Matt Le Tissier, Paolo Maldini, Sepp Maier and Carles Puyol. Athletic Club will make public in the near future the relevant information regarding the award ceremony.
"Billy McNeill was Celtic's captain during their most glorious era in the 1960s and 1970s, winning nine consecutive league championships and 13 other Scottish tournaments, although that team will always be remembered for one of the greatest feats in the history of football, that European Cup in 1967, being also the first British team to conquer it.
"He was also 29 times international with Scotland. After retiring as a footballer, the Celtic legend led the team for nine seasons, from 1978 to 1983 and from 1987 to 1991, winning four Scottish leagues and the double in the 1987-88 season which marked the club's centenary. He also coached Clyde, Aberdeen, Manchester City and Aston Villa.
"From 2009, McNeill became Celtic's best possible ambassador, just as Iribar is Athletic's ambassador. In 2015, after more than 60 years dedicated to the club between player, coach and ambassador, Celtic decided to dedicate to him a statue of recognition next to his stadium, in which Billy McNeill is appreciated lifting the European Cup with the unmistakable horizontal striped green and white jersey."
Congratulations to Billy, once a winner always a winner. Our greatest ever captain…
Billy McNeill, legendary @CelticFC captain played 822 matches for his club and lifted his only European Cup. @UmeaIKFF Swedish star will be the first to receive the One Club Woman Award ???? #OneClubAward pic.twitter.com/afW0ePCTIx

— Athletic Club (@Athletic_en) April 16, 2019
#CelticFC's greatest ever captain, Billy McNeill, is to be given a prestigious award by @AthleticClub in recognition of his faithful service to the Hoops. ????

????⚪️ #OneClubAward

— Celtic Football Club (@CelticFC) April 16, 2019