The SPFL Chief Executive Neil Doncaster will have been a relieved man after Tuesday's EGM. The 27-13 result, with a further two abstentions appears a landslide victory and the smile would be hard to remove after a couple of weeks of intense strain.
For the time being Scottish football, you would hope can now settle down and encourage healthy debate when it is most needed. You would like to think we'll now go down the route of ensuring Scottish football across all four divisions, at least breaks even when football resumes. When it does a country that is 43% reliant on gate receipts is going to have to box clever when it comes to solutions. More social distancing solutions and less pistols drawn would help. More streaming season tickets and less greeting faces on Zoom will need to be the order of the day.
Yet while Doncaster has managed to use his get out of jail free card on this occasion, it should not get around the fact his stewardship as CEO has been an underwhelming one.
There are of course the obvious mitigating circumstances of uncharted territories in this particular debacle. It is however interesting that someone like Dave Cormack decided to mark his card. That Aberdeen backed the inquiry was not to support the proposers – there is little love lost between 'the' Rangers and the Dons – but more likely due to the ineptitude of the SPFL board and the dreadful governance exhibited.
Cormack and Ron Gordon at Hibs have brought in significant investment to two large Scottish football clubs. While Gordon is leaving Dempster to take the lead for now, Cormack it appears sees opportunity in this.
He will recognise poor governance just by looking at how the initial vote was carried. Despite no smoking gun there were enough questions in the EGM proposal to ensure confidence in administering the game being called into question.
Even prior to the Covid 19 outbreak there was no sponsor in place for the new season, with Ladbrokes pulling out. The League Cup is sponsored by Betfred, yet another gambling company. While other markets are moving away from gambling partners, in Scotland all our major trophies have been sponsored by them. This despite a series of players and club officials breaking the rules on gambling, it certainly doesn't seem progressive, just necessary.
Then with two big TV companies vying for the new contract, Doncaster went for the highest bidder. Now that's fine. Yet while promoting the Sky deal Doncaster decided that belittling the ongoing joint contract holder BT Sport was a good idea. That's not something that smacks of good stewardship. When there are only two possible partners to alienate one who had both the support of the fans and the better of the two products didn't look smart, nor was it professional. Even the value of the Sky deal at £1m more than the Setanta TV deal of 2008, looks questionable. 12 years' worth of inflation yet our broadcast deal appears to stand still. Hardly convincing.
At least it was done before the coronavirus kicked in because broadcasters are unlikely to be so generous in just about all future rights issue deals.
Coverage by media partnerships encourages strong sponsorship elsewhere. They are important and a symbol. They of course generate finance but they are also about how we are seen. The right television partner broadcasting a product well projects onto the support, customers and players. It sells the product beyond our shores. It says we believe in our game that we and our partners are willing to invest in it. I don't see much nurturing or promotion from Sky. We did appear to get it from BT Sport. Let's hope we haven't burned our bridges for future contracts.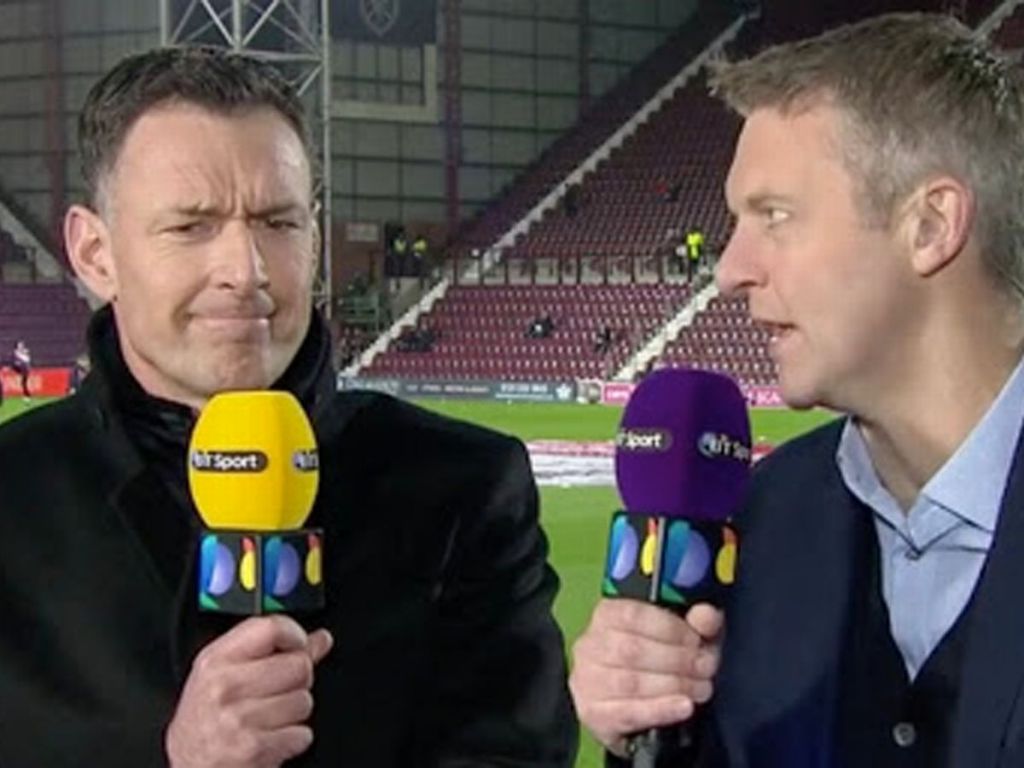 BT Sport's main Celtic pundit is Chris Sutton while Sky Sports opt for Kris Commons. There is the difference right there.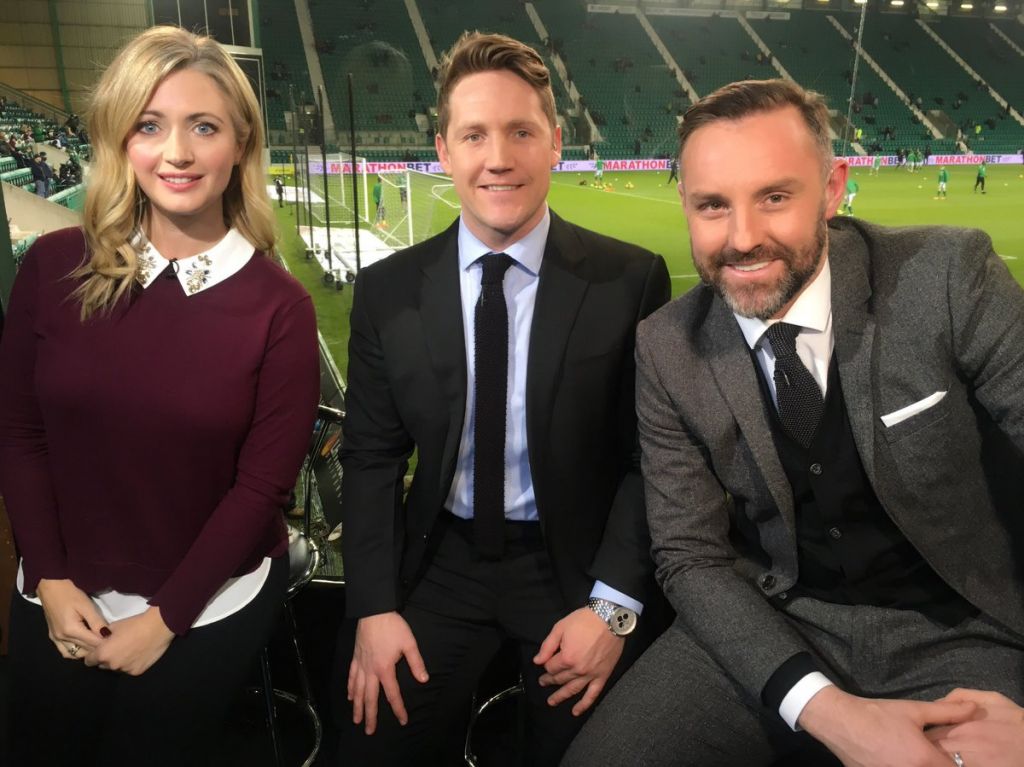 For recent performance this looks bad enough and a quick look at the history books makes for uncomfortable reading too.
Rather than instigate modernisation and change following the liquidation of the old Rangers, Doncaster joined up with Stewart Regan at the SFA to convince Scottish football that the best business model was to resort to the 'Old Firm' approach. There were attempts to engineer a top flight spot for the basket of assets and when that failed they simply waited until a form of the Ibrox club returned. Once again it's not exactly thinking outside the box. This doesn't convince as a modern progressive thinking CEO.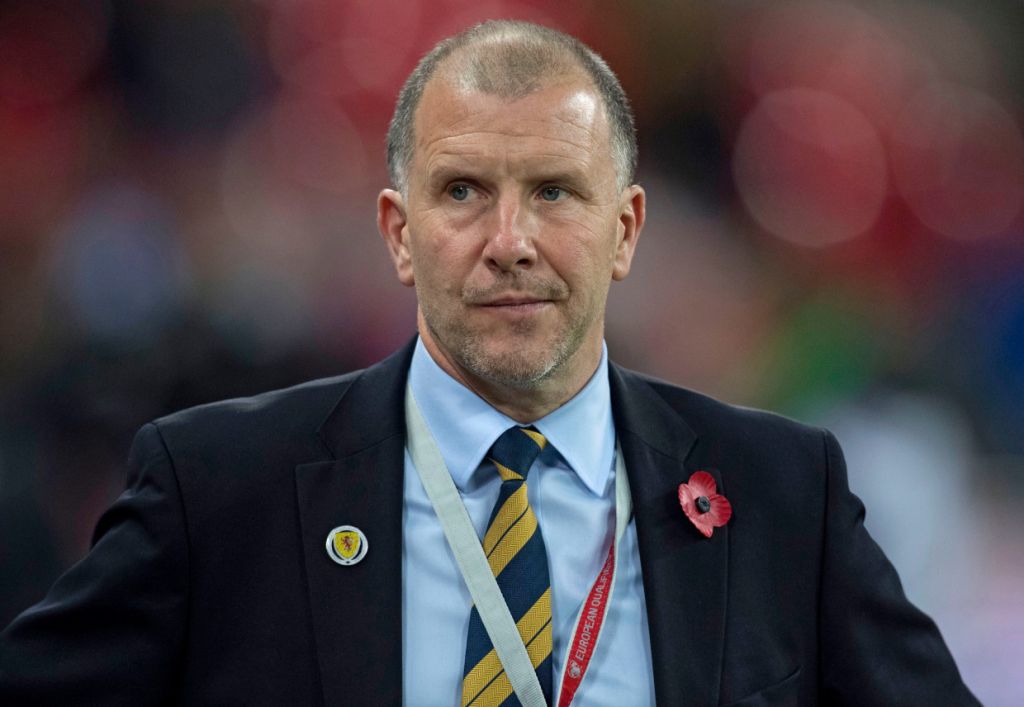 Both Doncaster and Regan were heavily criticised in 2012 following Rangers' financial collapse, with critics claiming they talked down our game while it was seeking a new TV deal. They spoke of a "financial armageddon" that faced Scottish football. Not exactly salesmen with a silver tongue.
If you owned a club and Doncaster was the CEO of the governing body you may have a look at his track record and see if there was room to edge him out.
Aberdeen's Cormack is a successful businessman. He saw an opportunity to fire a warning shot of his disgruntlement, all the while knowing the vote would lose. If others are realising the poor leadership on offer you'd assume Doncaster may not last much past this crisis. Cormack has certainly warned him to pull his socks up.
There are constraints of course. As we witnessed a voting structure agreed by the member clubs is far from democratic and any grand ideas tend to get washed away on a sea of self-interest. Yet it's the basics that are slipping. If you can't trust someone enough to carry out the ordinary tasks like a virtual show of hands, without comebacks like EGM's, are you really likely to entrust the more intricate plans? Yet it should also be in his defence that it appeared, until recently, to suit the SPFL clubs to allow Doncaster to take the heat on their behalf. Perhaps that is why he still has such support despite his obvious limitations.
This is possibly not the time to oust of course. An out of touch Rangers didn't understand that for other clubs there was a madness in their timing. The way they howled for suspensions and sat on evidence did them no favours. Though their own agenda was all encompassing for a club slipping into trouble financial waters.
But in his spare time Neil Doncaster would do well to be keeping an eye on 'situations vacant'. Under scrutiny from guys like Cormack he's coming up short when viewed by business eyes used to better. His tenure won't be plain sailing should he remain and his track record warrants little sympathy.
He has of course an ally in Peter Lawwell and he'll be well aware the Celtic CEO has his back, for now at least.
At present Doncaster is useful to the Celtic CEO yet that may not last. It is unlikely that Lawwell will hang around at Celtic Park much longer after 10-in-a-row is achieved. If it isn't, he'll also be wise enough to move on. The protective cloak around Doncaster may not last much past the conclusion of the virus and its repercussions.
There appears to be much goodwill to the SPFL's CEO from Celtic at present. He has given 'the' Rangers a hiding, yet he left himself open to an attack that threatened a fairly won title heading to Celtic Park. Chances are Lawwell is also keeping a close eye on his progress.
The SPFL CEO was also complicit in creating the same monster from the basket of assets that returned to bite the hand that fed it. Doncaster is no friend of the Celtic support, he has been slippery as an eel when it comes to dealing with Celtic. The Celtic support had a rightful distrust prior to this vote. That shouldn't change now. As the saying goes 'Those who do not learn from history are doomed to repeat it.'
There's not a lot in Neil Doncaster's back catalogue to suggest he learns at all.
Regan moved on when he had had enough of the Scottish game and Doncaster's own departure might be something that he himself is contemplating after what has been a very bruising few months for him personally.
Niall J
Neil Doncaster needs to be working on the following:
*Dealing with the Scottish Government and physicians.
*Getting a sponsor for SPFL.
*3rd party funding.
*Pro-rata payment sponsor 2019/2020 season.
*Ending 2019/2020 campaign.
*Tax relieves from the UK government.@spfl

— Celtic. Lisbon Lions (from 🏠) (@DBestseventy2) May 14, 2020
INVINCIBLE BY MATT CORR – OUT TOMORROW, FRIDAY 15 MAY
INVINCIBLE is Matt Corr's stunning debut as a published Celtic author.
INVINCIBLE has 288 pages plus a bumper 32 pages of colour courtesy of the wonderful Vagelis Georgariou at Big Lens, capturing all the action from that magical Celtic year – surely the best since season 1966-67 when Celtic also won the Treble and added the European Cup!
Our Father's Day offer is as follows. When you order INVINCIBLE from The Celtic Star Bookstore you will receive a signed copy of Matt's book plus a copy of That Season in Paradise, so Celtic's best two seasons in your dad's lifetime are covered brilliantly.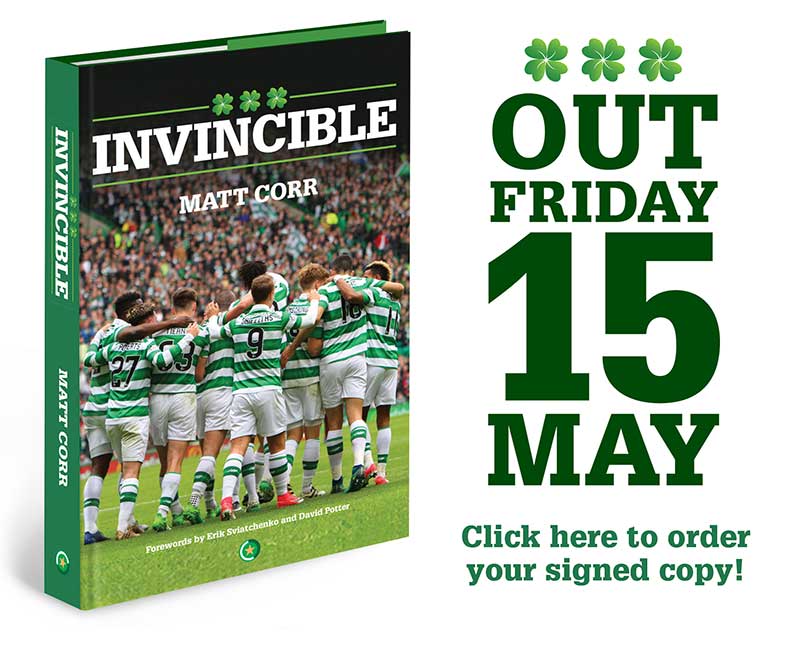 With forewords from renowned Celtic author and historian, David Potter and a star of the Invincible season ERIK SVIATCHENKO , INVINCIBLE tells the story of the grand old Glasgow club's record-breaking 2016/17 season through the perspective of a lifelong Hoops supporter, who follows the Bhoys as events unfold which could not possibly have been envisaged by the worldwide Celtic diaspora just twelve months earlier.
New heroes emerge and memories are created, to be recalled and retold by those with Celtic in their hearts long after those privileged to witness history have passed through Parkhead's gates for the last time. You will laugh and you will cry, as memories from the author's five decades of following his beloved team are woven into his record of this incredible campaign.
INVINCIBLE. That was how it felt to be Celtic.
Invincible author Matt Corr is a stadium tour guide at Celtic Park, writes for the match day programme and is a popular contributor to The Celtic Star, where he covers Celtic players from the past in great detail as well as writing about the club's European trips from the perspective of the travelling Hoops support.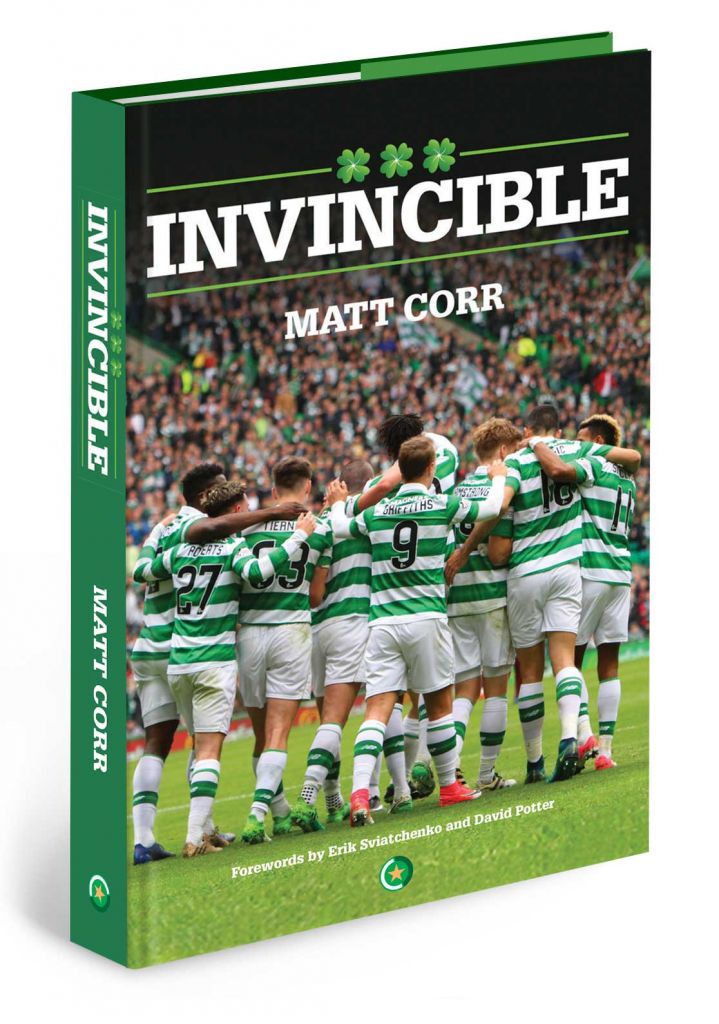 "I am in a training camp in Poland and they are there. They stand up and cheer, then start to sing. "He's magic, you know, Erik Sviatchenko." I turn to my teammates. "Listen guys. They are everywhere!" That love that you show to every player makes you unique. If I were still in Glasgow, I would walk around with a sign on my back. 'I am Invincible! Have you ever tried that?'
ERIK SVIATCHENKO, Celtic Invincible Star
"The 2016/17 INVINCIBLE season will be talked about by Celtic supporters for a long time in the same way as people still talk about 1907/08 and 1966/67. It was a tremendous season. Tremendous events need tremendous recording and recounting. Matt Corr has done just that. This is a worthy addition to the impressive panoply of writing about our great club.'
DAVID POTTER, Celtic FC author & historian
Order your signed copy today at thecelticbookstore.co.uk and we'll include a complimentary copy of That Season in Paradise.