A week is a long time in politics, it's been said, though a week must seem a helluva lot longer when you are the victim of racist and sectarian abuse and you and your family require 24-hour police protection because of death threats from Rangers-supporting bigots and loyalist paramilitary fascists, murderers and thugs.
Indeed, a week must seem like an eternity when you and your family have been forced to flee your home on police advice and move into a safe house because of death threats, and your 5-year old son requires police protection to travel to and from primary school. Can you imagine the torment for a mum and dad as they watch their five-year old son going to and from primary school with a police escort to ensure his safety? This appalling, despicable and shameful situation was endured by Neil Lennon, his partner Irene and their son Gallagher back in 2011, because Neil Lennon is an Irish Catholic and was the Celtic Manager.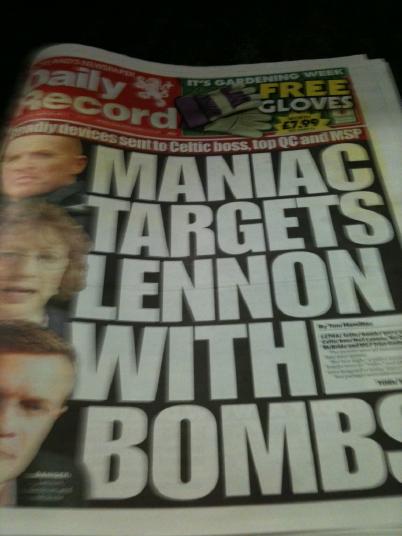 According to Johan Mjallby and Peter Lawwell, Neil Lennon is blessed with the strength of character to overcome this nightmare, which has been inflicted on him by Rangers-supporting bigots, but is Irene similarly blessed?
Up to 2011 this is THE biggest story in Scottish football for a decade – a decade during which Neil Lennon has suffered incessant racist and sectarian abuse and has been the victim of frequent death threats and numerous acts of violence. And all because he is a Catholic from Northern Ireland who was employed by Celtic Football Club.
And yet, the Scottish media (with one or two exceptions, such as Hugh Keevins) were unsympathetic to Neil Lennon's plight.
Indeed, BBC Radio Scotland preferred to provide a platform for the Rangers Supporters Trust's absurd demand for an investigation into Neil Lennon's behaviour, with Stephen Smith the RST spokesperson. This is the same Stephen Smith who called the Manchester Riot, when Rangers fans went on the rampage before, during and after the UEFA Cup Final in May 2008, "over-hyped bother."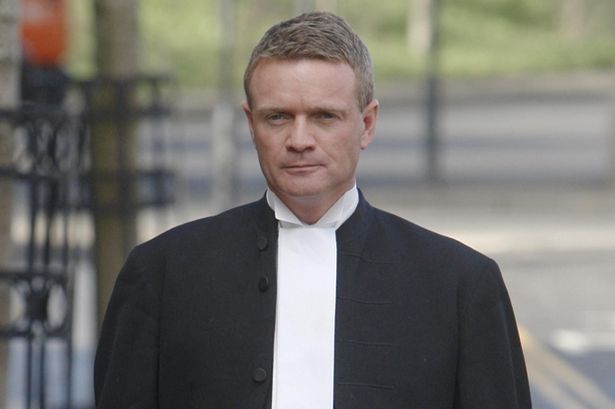 The late Paul McBride QC, Celtic's lawyer at the time, was permitted to respond to the RST's ludicrous demands.
Paul McBride said: "I really wonder if there is a Doctor in the house. I have never heard anything so bizarre in my life. We have a position where Rangers have had 3 players sent off and a further 4 booked, one player man handles the referee, and another allegedly assaults the Celtic physio. The Rangers assistant manager seems to have left his technical area 2 or 3 times, yet they demand an investigation into Celtic."
Paul McBride explained: "Frankly what they should be considering is the problems in their own back yard. And if there is to be an investigation, and I support this, then why are we not having a proper investigation by the authorities into the fact that a Celtic Manager has 24-hour security. He has a security guard following him round during the day, insults daubed down the side of his house, a nail bomb sent to him in the post. He's been the subject of threats, a vicious internet campaign and bullets sent to him and two other Celtic players. If they want an investigation that is what it should be about."
Paul McBride continued: "I don't hear the Rangers Trust calling for that part of the investigation. Can you imagine any other person in the country whether it be a politician, football manager or lawyer being subjected to that sort of campaign, virtually being a prisoner in their own home. Well, in fact, not even in their own home now – they have had to move because of threats against them and nobody from the other side of the city is calling for an investigation into that. I think it would be best they directed any comments they have in a moderate manner towards the problems they have at Rangers Football Club and leave Celtic and their Manager well alone."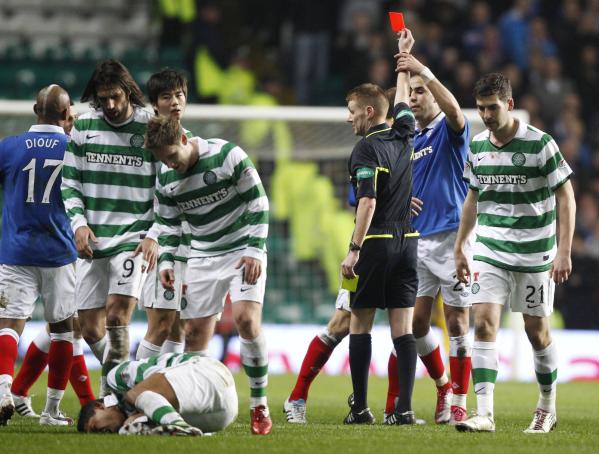 And about Stephen Smith and the RST escalating problems, Paul McBride commented: "Well if he puts out statements like that there is liable to be an escalation. If you put the matter in context there were about 30 arrests after the Old Firm game, not great to see, but the previous game had over 200 arrests so there was a reduction. On your average Saturday night in Glasgow you'll probably see 50-70 arrests so this isn't entirely football related." Paul McBride ended his destruction of the RST by saying: "To up the ante and put out statements like that keeps the pot boiling and they should be highly ashamed of themselves."
And speaking of those who should be ashamed of themselves, the esteemed President of the SFA, George Peat, who frequently has much to say about Celtic, has also remained silent about the torture of Neil Lennon and his family. Perhaps Peat considers racist and sectarian abuse, violence perpetrated on Celtic's Manager, and the necessity for 24-hour protection for Neil Lennon and his family, because of death threats, "tiresome." Perhaps Peat considers the recent intensification of the sinister and vile campaign against Neil Lennon to be even more "tiresome" than it has been for the last decade.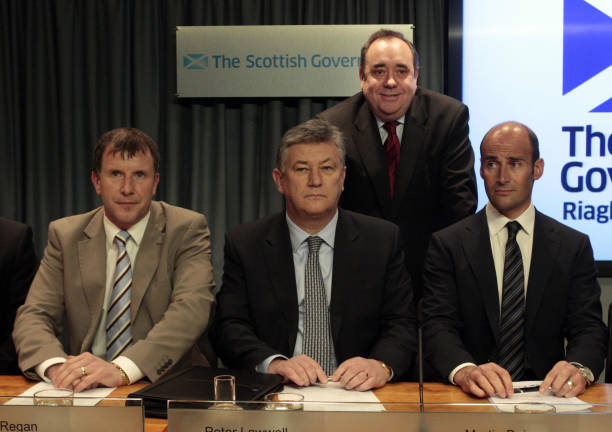 Things then moved on to First Minister Alex Salmond's hastily arranged "Summit meeting" at St Andrews House in Edinburgh. Celtic Chief Executive Peter Lawwell, Rangers chief executive Martin Bain, the SFA chief executive Stewart Regan, the SPL's chief executive Neil Doncaster, the SFL's chief executive David Longmuir, Cabinet Secretary for Justice Kenny MacAskill, Minister for Public Health and Sport Shona Robison and Chief Constable of Strathclyde Police Stephen House were summoned to discuss the social ills of Scotland.
Many Celtic fans believed that Salmond's summit was only an excuse for bandwagon-jumping, publicity-seeking and soundbite-searching, with the added benefit of photo opportunity for vote-catching with the Scottish Government election merely two months away. After all, only one ill-disciplined club and its racist and sectarian fans were responsible for the so-called "Shame Game" – Rangers, or Scotland's Shame.
However, several positives emerged from Salmond's summit. Firstly, Peter Lawwell impressively defended Celtic and, just as we have dominated Rangers on the pitch in 2011, our Chief Executive dominated his Ibrox counterpart, Martin Bain, especially when Peter Lawwell informed the press conference that Rangers had received more yellow cards than Celtic fans had been arrested at Celtic Park the previous Wednesday.
Secondly, there was the pledge to crackdown on and prosecute internet bigots and racists who peddle messages of hate and issue death threats.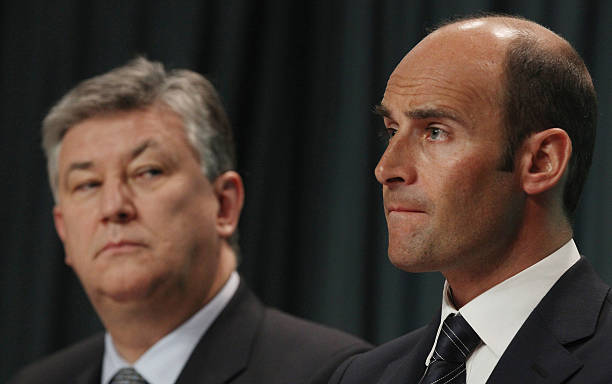 Thirdly, Scotland's First Minister Alex Salmond placed his power and influence in support of Neil Lennon when he said: "We've had reports of quite disgraceful threats against the Celtic Manager. We deprecate such behaviour and the police will trace and deal with the perpetrators through the courts."
And finally, Celtic Chief Executive Peter Lawwell seized the initiative (and back page headlines) when he explained the impact of the torment of death threats and the requirement for 24-hour protection on our Neil Lennon. Of the fact that only three Celtic players were yellow carded last week in the 1-0 victory over Rangers in the Scottish Cup replay at Celtic Park, while Rangers received ten yellow cards and three red cards, Peter Lawwell said:
"I congratulated our players in terms of their discipline and composure after Wednesday's game.
"I congratulated our supporters in terms of their positive dynamic support for our team.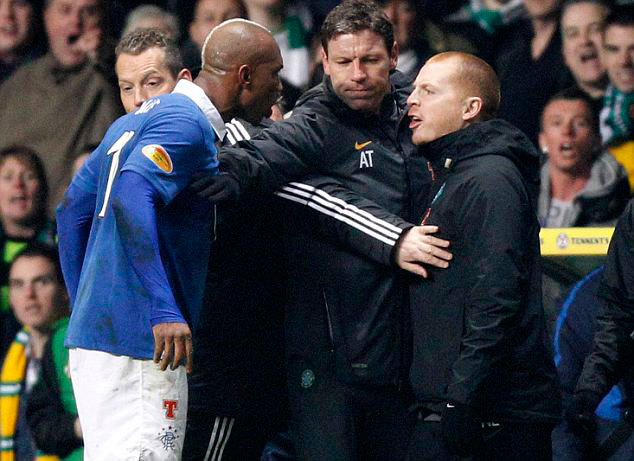 "In terms of the coach, Neil Lennon reacted to a particular situation. He did not instigate it. But he reacted in a way he regrets. He quickly apologised to the Celtic Board and the matter is closed. He also met with Ally McCoist (the instigator of the post-match touch-line confrontation) and the matter for the two is closed."
Peter Lawwell explained: "There is no way to condone Neil's behaviour and I think he'd agree with me – on that night he slipped below the very high standards we have here at Celtic. But I think in terms of mitigating factors you need to understand what is going on in his life at this moment.
"He is a man who is under enormous pressure as Celtic Manager to be successful and win games.
"But other than that he has to put up with live ammunition going through the post, the bomb threats, 24-hour surveillance, the security measures the Club and Strathclyde Police are putting in place."
Peter Lawwell added: "That's quite a lot to take on."
Written by Mal Content