If there is one thing Neil Lennon deserves it is his right to reply. The ex-Celtic manager received plenty of criticism last season and some of it became far too personal. What is a surprise in his interview with The Times today is his decision to lay the blame for his exit has landed squarely at the feet of an apparent 'new breed' of Celtic supporter.
Perhaps that's not so surprising as there is no golden handshake attached to non-disclosure agreements when it come to the Celtic support or you'd assume perhaps the Boardroom would otherwise have felt the heat, and perhaps in due time that may come. It is also worth considering a contract to cover the Euros for the newspaper he is working for this summer would likely have come with far less financial recompense had he simply discussed the merits of the respective formations when Steve Clarke and Gareth Southgate go head-to-head, as opposed to also including his last throws as a Celtic manager.
What Lennon's 'resignation' ultimately came down to was not a predominately online backlash from a disgruntled support. As with every manager it came down to the performances and subsequent results on the park. This was not simply as he stated, an 'unhealthy obsession' with ten in a row, something he himself was happy to talk up at the start of the season, it was down to an inability to manage a squad, get a consistently performing team on the park and iron out a series of repetitive errors.
Lennon's demise came due to a consistently playing of underperforming players, often with square pegs in round holes. It came about due to an aversion to blooding alternatives he had to bolster the squad until far too late – see Turnbull and Soro. It was an over reliance on asking his Captain to not only perform every week, but also to cover every blade of grass as he did so, while he himself covered for under-coached teammates who appeared clueless to the positional expectations placed on them.
Then there were Set piece horrors on repeat, dreadful positioning out of possession, a lack of a coherent press, a team largely unable to defend cross balls and a side unwilling or unable to track back effectively through a lack of fitness, an issue that saw a side struggle to perform whenever the clock hit the hour mark. There was an over reliance on individuals to break down defences, alongside shooting on sight, rather than training ground patterns designed to create space.
Lennon also struggled to find a balance when it came to communicating with the players and appeared to deflect on to those players, as he is now doing to the support, his own failings. He took to throwing them under the bus, advising publicly that some wanted away, before backtracking at the next press conference and playing those self-same players in any case.
These footballing reasons without even considering the Dubai debacle is why Neil Lennon is not the Celtic manager. This was not down to a new breed of support, indeed had fans been in the stadium both new breeds and old faces would have let Neil Lennon know it, and indeed where his own ire should be directed, the boardroom.
The post Ross County protest was indeed over the top but it was a one-off, inside a full Celtic Park no-one would have been left in any doubt that what was being served up as football from Celtic was far from acceptable in any season never mind such a historic one.
There were as Lennon said last season mitigating factors. He offers up the pandemic, and although others dealt with Covid-19 and the implications too, it has become clear over the course of the season that Celtic were often held to a higher level of both scrutiny and punishment whilst a rival appeared to be handled altogether more softly. Yet the biggest impact of the pandemic was predominately our own making as we afforded an opportunity to pounce on any error of judgment by going to Dubai in the first place, something Lennon seemed keen to take responsibility in a press conference so off message the club didn't air it.
Neil Lennon may now deflect onto the fans, yet he has chosen to defend Peter Lawwell, Dermot Desmond and a Board that exposed him far longer than he should have been and denied him the tools to do his job.
Did Neil Lennon ask for his own options for his backroom team, was he denied his requests? Did Neil Lennon have final say on every player who left and every player who was signed? Was Neil Lennon happy to wait so late in the day for transfers to arrive and did any of that impact on his ability to put a functioning team on the park? Did Neil Lennon offer his resignation earlier and did the board dissuade him and ultimately leave him twisting in the wind? Perhaps if any or all of that is relevant then the pandemic and the new breed of support are not the primary reasons for Neil Lennon's loss of employment.
Neil Lennon is more than entitled to his right of reply, it is just a shame when he chose to do so he decided to narrowly target the blame attached and to ignore more of the mitigating factors that not only more than played a part, but also played more of a part.
Niall J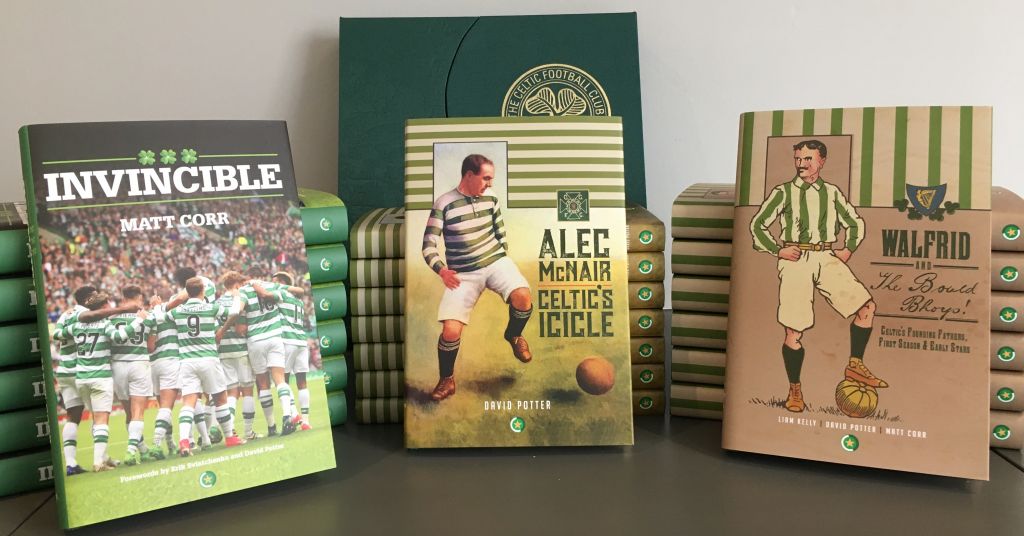 Father's Day ideas on Celticstarbooks.com….
(PROPER) Invincible by Matt Corr, get a signed copy with a personal message added by the author especially for your dad.  Then there's Walfrid & The Bould Bhoys, but hurry as we only have around a dozen copies of this wonderful book remaining – again a personal message can be added for your dad.  Then there's David Potter's new book, Alec McNair – Celtic's Icicle which has already SOLD OUT but we have a re-order arriving this coming week, in plenty of time for first class postage (guaranteed) for Father's Day on Sunday 20 June. Click on the image below to order…