Hearts boss Robbie Neilson set the deflector shields to maximum when he addressed the post-match media following Celtic's 2-0 win over the capital club at Celtic Park yesterday.
"'When you come here you need strong referees and if you don't get that it can be difficult at times. We made 11 fouls and got two red cards and five bookings. Celtic made 12 fouls and got nothing. That's the difficulty in coming to Glasgow – you need that strength and I don't think they had it today."
🔊 LISTEN: "When you come here you need strong referees… I don't think we had it today".

Hearts boss Robbie Neilson gives his thoughts on their two red cards in today's 2-0 defeat to Celtic. pic.twitter.com/7DkZ3yy9Jj

— Clyde 1 Superscoreboard (@ClydeSSB) August 21, 2022
And speaking to BBC Radio Scotland's Sportsound (they get their own, separate interview) the bitter Hearts boss said: "Until the referee sends two of our players off, we're still in the game and in a good position, but once that happens, it makes it very difficult.
"You hope that an experienced referee would recognise the situation. The first one, there's no need for a second yellow card. It's the linesman who makes the decision.

"The ball isn't in an area where it's causing problems, it's not reckless, it's not endangering a player. Sometimes, when the crowd roars you can jump on it and I think that is potentially what happened today."
Nelson came out with a show of faux frustration, as he attempted to pass the blame for Hearts 90 minutes without a shot on target on to match referee Kevin Clancy for issuing two second yellow cards to Alex Cochrane and Toby Sibbick. Yet the fault must surely lie closer to home.
Celtic, bar a 15-minute spell at the start of the second half, controlled the game entirely. And although a flurry of corner kicks – and some time to adapt to Hearts higher press at the beginning of the second period – saw the game ebb and flow momentarily, as opposed to the one-way direction of traffic we saw in the first half, Celtic soon settled back into a rhythm, regained control and ultimately scored the second goal their dominance deserved. Indeed, for the second game in a row a Kyogo first scorer and Giorgos Giakoumakis last scorer double with your bookie would have paid for your day out at Paradise. Worth bearing in mind as the season progresses!
Hearts real issue was, with the return of European football to consider, Robbie Neilson rang the changes and played a team with more than a few who could be described as squad players at best – not the four yellow cards, all of which were entirely justifiable decisions from Clancy.
With four days between games, Hearts fans would be right to ask was that really necessary?
After all, after the second leg against FC Zurich on Thursday night, the Jambos will have only three days down time before facing Killie at Tynecastle on Sunday. Did Neilson have to rest the players in advance, or could he have done so after playing Celtic and Zurich – and against a newly promoted side?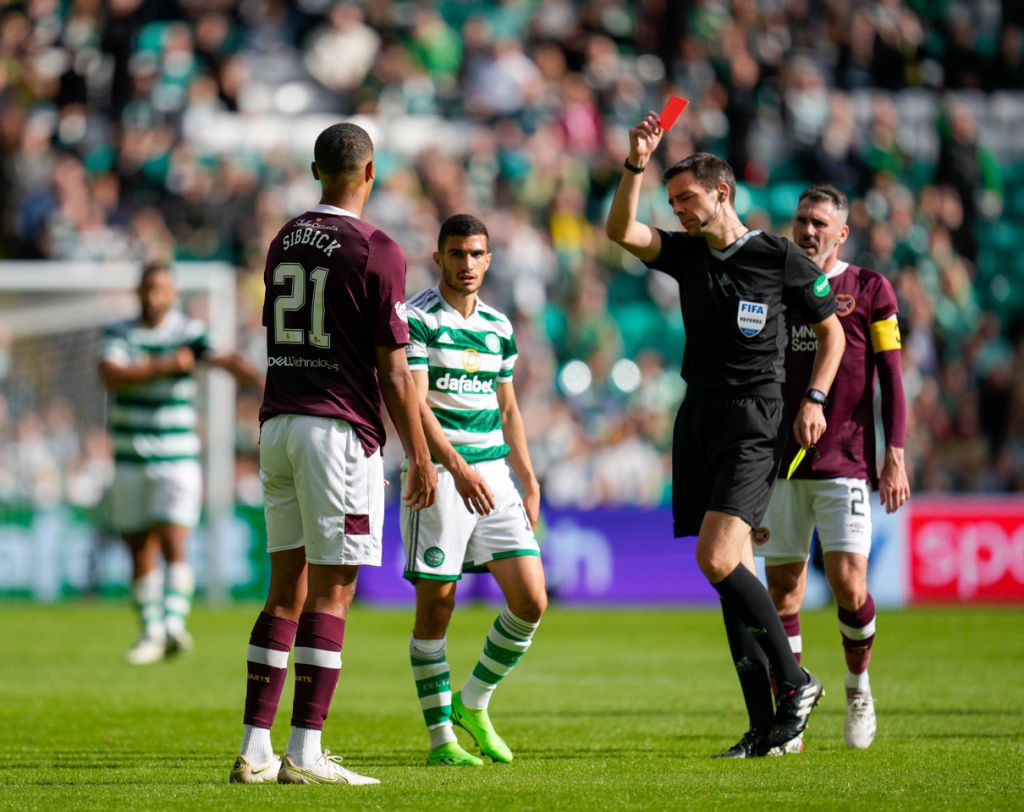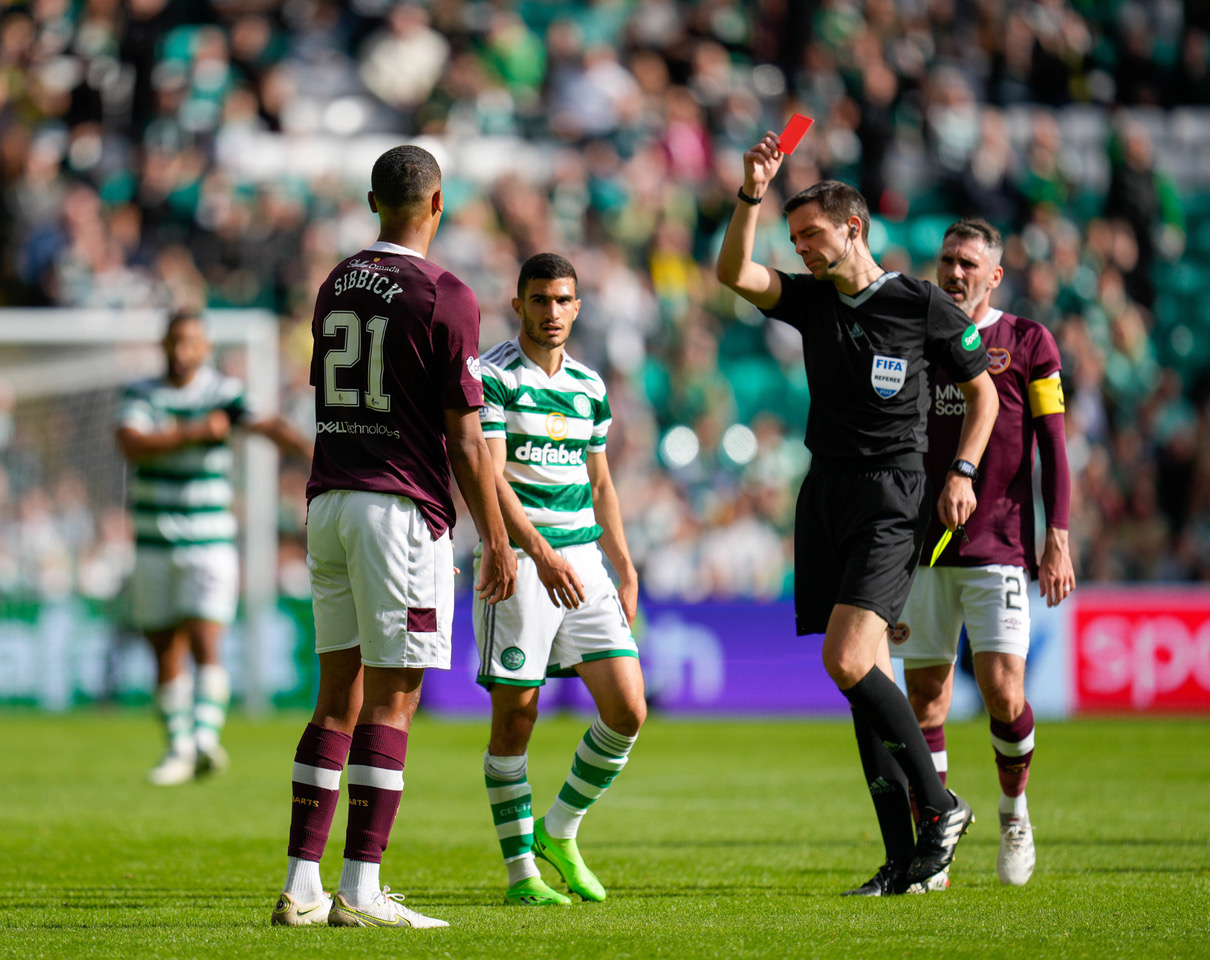 For a manager who apparently holds hopes of at least splitting the Glasgow clubs over the course of a season, it seems a meek surrender so early in the season to rotate so soon. As such although Kevin Clancy was a convenient scapegoat for defeat, Hearts had thrown in the towel with their team selection and the die was cast.
Celtic statistically speaking were as impressive in their numbers as they were on the eye. 69% possession to Hearts 31% shows, despite claims Hearts were still theoretically in the game, up to the sendings off of Sibbick and Cochrane, they rarely had the ball long enough to impact on the outcome.
Four shots at goal in 90 minutes – and Joe Hart untroubled – tells the story of where Neilson's gameplan came undone. It was all about stopping Celtic and little about being an attacking threat. Tired bodies and minds often follow the chasing of shadows for 90 minutes, and that certainly seemed to be the case for both of Hearts red cards – and that is down to decision making on the pitch and at management level.
This was given as offside 😂 pic.twitter.com/zrE3B0WxcC

— RjayBhoy (@RjayCeltic) August 21, 2022
Celtic had 15 shots at goal, seven on target, six off, with eleven shots coming from inside the box and a further four efforts from outside the area. Of all those chances five would fall into the 'big chance' variety – and three of those were missed. In truth a three or four goal win wouldn't have flattered Celtic – and little of that was down to refereeing.
But it was Celtic's passing accuracy compared to Hearts that showed Celtic dominance. Celtic completed 515 of 594 passes successfully for an 87% average, meanwhile Hearts only attempted 262 passes and completed 165. You can bleat all you want about referees but when your team complete only 63% of passes, the chances of gaining a point or winning a game die on that hill, rather than at the hands of any match official.
There would have been a great deal more honesty in Neilson's assessment of the game, had he simply admitted he had more chance of wins over Zurich then Killie, rather than Celtic and then Zurich, and as such he decided to chuck this one with his team selection.
Clancy being in some way card happy – and not his own side's naivety and ill-discipline – was attempted to be turned into a convenient excuse by Neilson, but in truth neither of those things cost Robbie Neilson or Hearts yesterday.
Instead, decisions on the team line-up, an inability to hold onto the ball, pass it with accuracy, or trouble Joe Hart enough to even dirty his gloves, is where the real blame lay – and the responsibility for that rests with Neilson, not Kevin Clancy.
Niall J
🚨💔 𝐔𝐧𝐢𝐪𝐮𝐞 𝐀𝐧𝐠𝐥𝐞 𝐓𝐢𝐦𝐞

Kyogo and Giakoumakis break some hearts again at Paradise!

Our full feature – 𝙈𝙖𝙩𝙘𝙝𝙙𝙖𝙮 𝙋𝙖𝙧𝙖𝙙𝙞𝙨𝙚 will be available later on #CelticTV!#CELHEA | #COYBIG | #cinchPrem pic.twitter.com/iwtazPY9x2

— Celtic TV (@CelticTV) August 22, 2022