This semi-final was a really rather remarkable occasion, the one-sidedness of the game and the total humiliation of the other team being something that was rather hard to parallel in recent Scottish history and certainly in the history of the three teams.
There had been times in the history of the Old Firm when one team was noticeably and visibly better than the other, but never ever to such an extent as 2018 Glasgow Derby was. If ever Nemesis, the Greek goddess who punishes the wicked for their sins, was in action in football, this was surely it as theRangers, over a period of years, paid the extreme penalty for financial mismanagement of the former club.
In this year's Scottish Cup, Celtic had defeated Brechin City, Partick Thistle and Greenock Morton (the Morton game on the weekend of the "beast from the East", the worst few days of weather that central Scotland had seen for some time) en route to the semi-final. When the semi-final draw was made and Celtic were paired with theRangers, theRangers caretaker Manager Graeme Murty, a man totally out of his depth, told the press that his players were all upbeat about it, and had cheered loudly when they heard about the draw. Confidence was rising at Ibrox.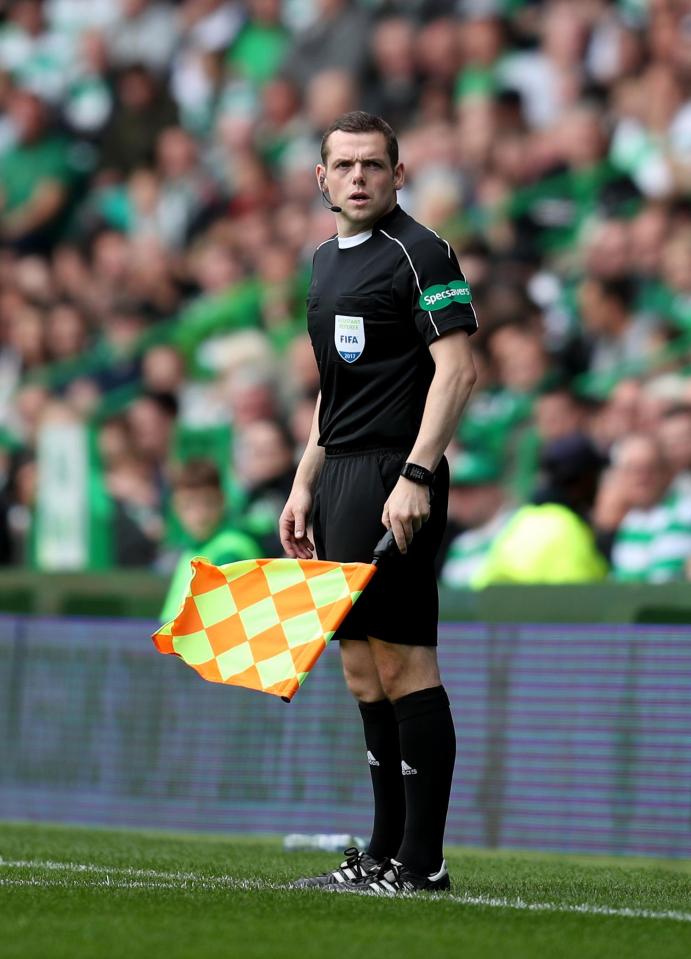 But the confidence took a knock on 11 March. In a sense this particular semi-final was won not on 15 April, but more than a month earlier at Ibrox on 11 March, when theRangers were ahead against Celtic, a hyper-enthusiastic linesman who also happened to be a Conservative MP (No kidding! You couldn't make that up! And he is now their leader!) managed single-handedly to get Jozo Simunovic sent off – but in spite of all that, Celtic still won 3-2! This had followed an intense spell of brain washing, self-delusion and wishful thinking down Ibrox way, with phrases like "the turn of the tide" and "the fightback begins now" being trotted out for the benefit of the gullible.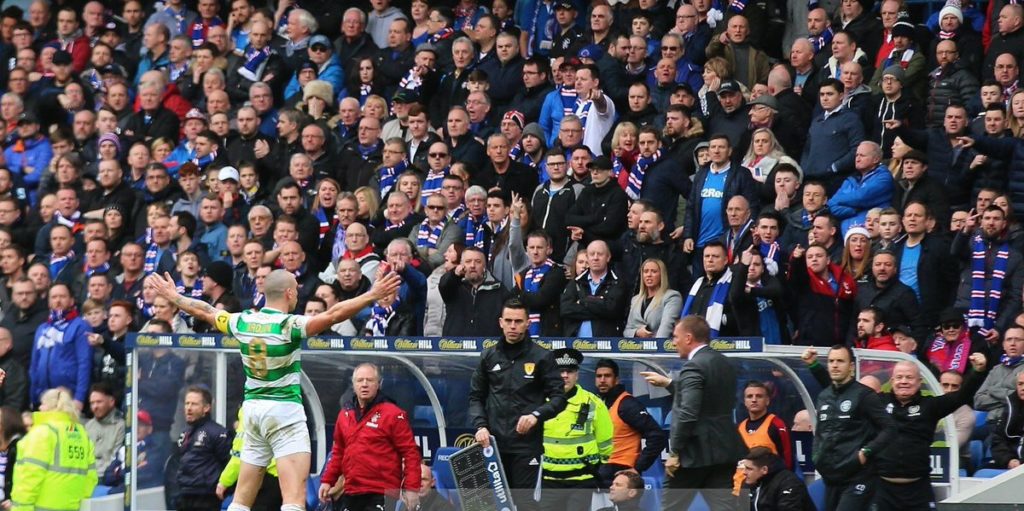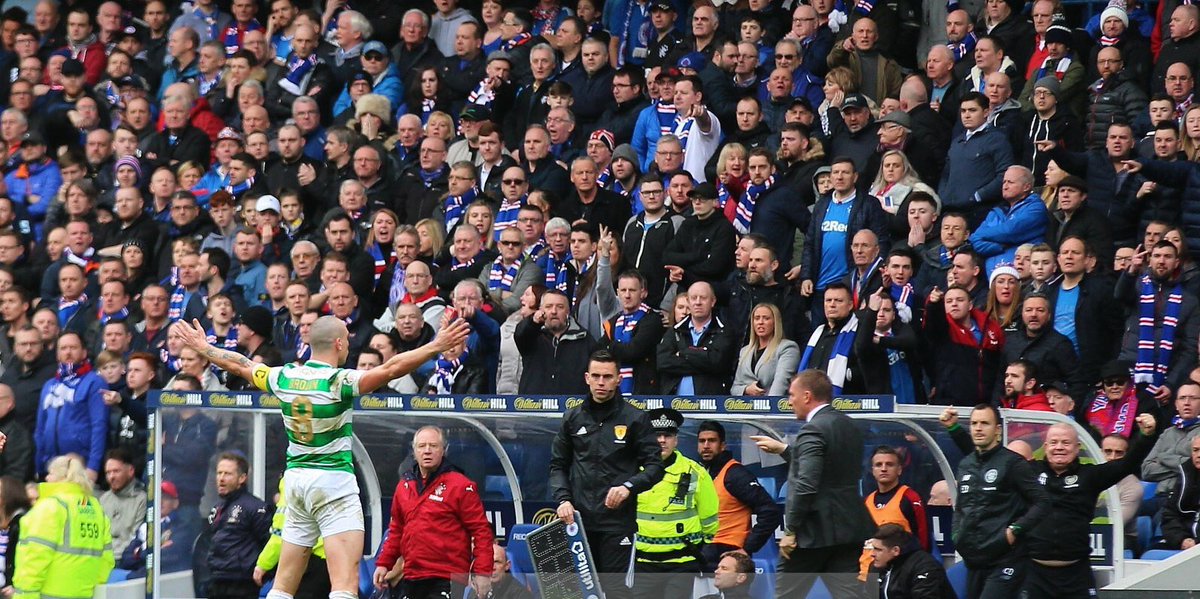 The body blow to Rangers in this one was that they really should have won. Celtic did not do particularly well but they did enough to win through, showing all the character in the world to do so. theRangers at home against ten men should have got at least a draw, one would have thought, but they blew up and theRangers TV commentary of the game and Alfredo Morelos's miss became national jokes.
Celtic's reaction to being drawn against theRangers in the semi-final of the Scottish Cup was possibly relief, for theRangers were the easiest of the three possibilities, the other two being Aberdeen and Motherwell. These two played their semi-final on the day before the Celtic v theRangers game, and Aberdeen managed yet again (as they did with monotonous regularity) to blow up at Hampden and to condemn their torn faced, unhappy, moaning fans to another miserable three or four hour journey up the road again. Motherwell, however, looked slick.
So Motherwell awaited the winners of the Glasgow Derby semi-final. The weather was bright, as was befitting mid-April, but there was still a hint of coolness to tell everyone that winter had not yet gone. The referee was Bobby Madden, a man widely believed to have strong theRangers credentials, something that has never been denied, but on this occasion, he had a good game, keeping a lid on things when necessary, awarding Celtic two penalties and sending a player off from theRangers.
Yes, he found it hard to deny his theRangers bias, but maybe he was as fed up of them as the rest of the supporters were. If anything, we even felt he was too hard on them today. Maybe he was a Celtic man after all? Or even, a genuine neutral?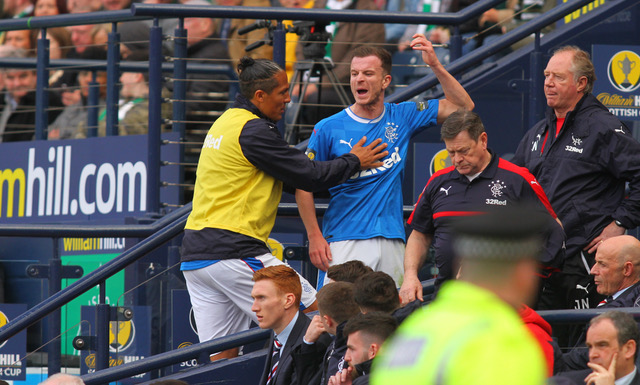 And then of course there was Andy Halliday. Andy managed to do a lot of talking and he told everyone that he was living the dream because he was a "big theRangers fan" (What incidentally is a small theRangers fan?) and that he was confident of success in this game. He was substituted before half time! He was soon on his way to Hearts, that traditional home of lost causes!
The game started with Celtic playing towards theRangers supporters at the Mount Florida end, and almost immediately Moussa Dembele hit the post. Everyone said it was "a wake-up call" for theRangers, but if that was the case, they didn't really heed it, for about half way through the first half, Tom Rogic scored for Celtic. It was a classic Celtic move. Brown to Lustig, a long ball up to Dembele who had sprung the Rangers offside trap. He then slipped the ball back to Forrest, Forrest to Rogic who went one way then another before slipping the ball past Foderingham in theRangers goal.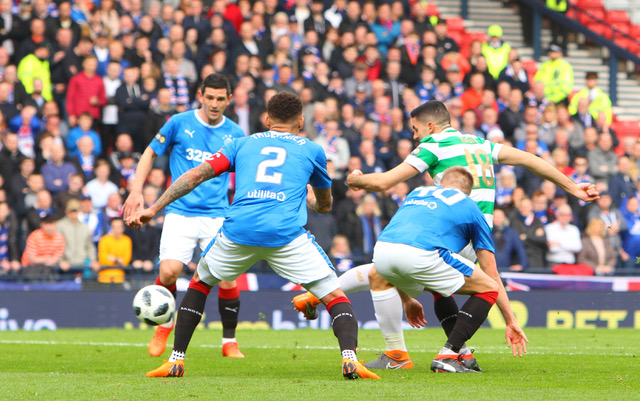 It was a marvellous piece of football, and how Rogic enjoyed scoring against theRangers! It proved (if we did not know it before) that the likeable Australian had the temperament for the big occasion. He had scored against theRangers at Ibrox a month ago, and now he had done it again. He had also, of course, scored the goal that had won the Scottish Cup against Aberdeen last May. He was a player who was not always guaranteed a place in the starting eleven, and many of the supporters often felt that he was not a 90 minute player, and that he was a better substitute. But there was now no doubt that he could take a goal!
The goal came at a time when, although Celtic were the better team, some of theRangers camp were beginning to feel that something could yet happen for them today, for they were certainly not out of it. The Rogic goal was a severe blow to their feelings of optimism, and one began to get the feeling that theRangers players were now, even at this early stage, resigned to their fate.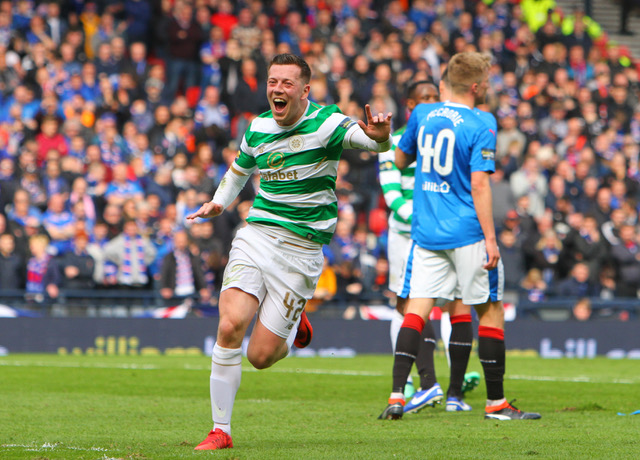 Tom then miskicked a far easier chance than the one he had scored. Not that it mattered all that much for before half-time Celtic were two ahead. This time the movement came down the left, and it was Kieran Tierney who was the instigator. The ball into the box was only partially cleared and the ball came to Callum McGregor who, with all the composure in the world, hammered home to put Celtic two up before half time. We then had the Andy Halliday tantrum. If only Andy had realised it, Mr Murty was doing him a favour by taking him off!
Half time came and went, and although there was some token defiance in the chanting from the other end, every member of the blue persuasion knew in their heart of hearts that the game was up. Although theRangers managed to create a chance or two in the second half, Craig Gordon was up to the task, and there was one crazy moment when Mikael Lustig sclaffed a clearance which hit his one bar, the ball rebounded to Alfredo Morelos who shot straight at Craig Gordon! It was as if theRangers were not meant to score!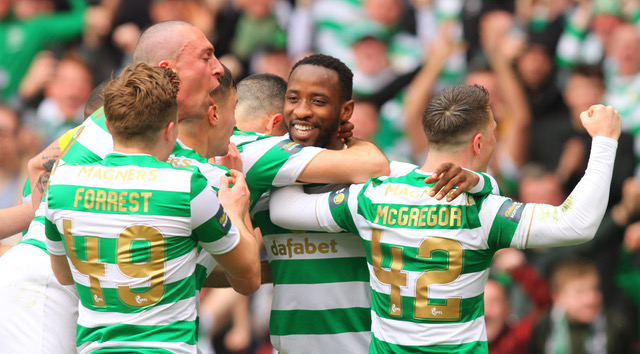 When this happened, Celtic were already 3-0 up, Moussa Dembele having scored a penalty kick after he himself had been pulled back by Ross McCrorie as he ran in on goal. By the letter of the law, young McCrorie had to be sent off, and some of us were even generous enough to say that this was just too draconian. It was not as if we needed a break today! But the law is the law and Bobby Madden is Bobby Madden, and Ross McCrorie got the red card. Moussa took a delightful curling penalty, the goalkeeper having been sent the wrong way.
A fourth goal also came from the penalty spot. Patrick Roberts had replaced James Forrest, and he was bundled to the ground by theRangers' substitute Jason Holt as he ran in on goal. Some of the Celtic fans behind that goal wanted another red card to be shown as well, but that would have been a bit too greedy. As it happened, it was Olivier Ntcham who took the penalty kick and scored.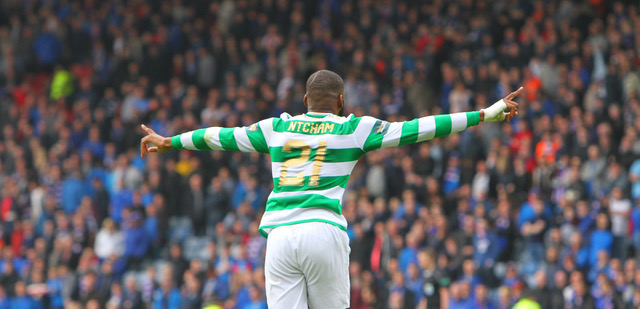 And so, Celtic were in to the Scottish Cup final to face Motherwell. The victory over theRangers was almost embarrassingly easy, but it was still a source of great celebration to Celtic. Not so to theRangers of course, and two of their players apparently indulged in fisticuffs with each other in the tunnel. Graeme Murty did not last long after that, but he hadn't expected to in any case, and it was soon after this game that we began to hear stories about the imminent arrival of Mr Gerrard from Liverpool.
As for Celtic, they beat theRangers a fortnight later to take the League, and then won the Cup itself a month after that on a marvellously sunny day at Hampden, beating Motherwell 2-0, our supporters even tearing themselves away from watching the Royal Wedding of Prince Harry and his American bride!
David Potter
Scottish Cup semi final, Hampden Park, 15 April 2018…

Celtic; Gordon, Lustig, Ayer, Boyata, Tierney, Brown, Ntcham, Forrest (Roberts), Rogic (Sinclair), McGregor, Dembele (Griffiths)

Rangers: Foderingham, Tavernier, McCrorie, Martin, John, Docherty, Halliday (Windass), Candeias,(Bruno Alves), Dorrans (Holt), Murphy, Morelos

Referee: Mr R Madden, Glasgow