Charlie Nicholas has admitted that he returned to 'Parkhead' at the weekend to watch the club he supported as a boy and came away with a very different impression about the Celtic side under Ange Postecoglou. Isn't it remarkable though that despite his weekly usually negative musings on all things Celtic, that his perspective changes after one ninety minutes at the weekend in which Celtic had to "toil to get the job done."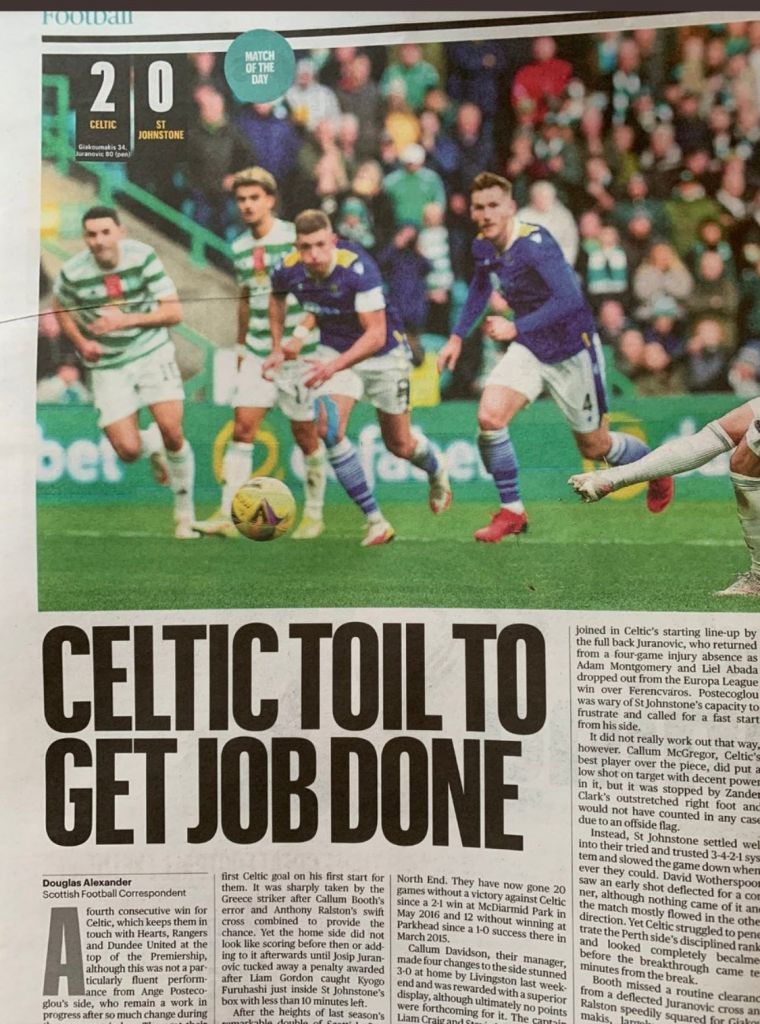 Just imagine how ecstatic Nicholas would have been had he been at Celtic Park a few days earlier for the Europa League win over the Champions of Hungary Ferencvaros or even the two big wins at the start of the season?
What the weekend shows it that Scottish premiership teams who choose to sit in against Celtic are less likely to get anything from that style of football. Ange has sussed it out and St Johnstone are probably the best in the business in Scottish football when it comes to parking the bus.
While Nicholas is now a 'supporter' of Celtic again – because they won a match he attended – he still reckons that theRangers are favourites for the title. That's fair enough, they have a lead at the minute, are champions so are the benchmark as Martin O'Neill would have said. They have a four point lead and they of course are often fortunate when it comes to on field decisions going their way.
But that's nothing new for Celtic and until our club get serious about refereeing reform in the Scottish game then nothing is going to change. Nicholas fails to mention the double booking incident at the weekend at Celtic Park, which involved putting the boot in on numerous occasions to Cameron Carter Vickers while he was decked and then a slap/punch (call it what you want angry Facebook bears) but it was hand to face and should have been a red card.
Anyway he's the view of Charlie Nicholas after attending the game at the weekend.  "I became a fully paid-up supporter of Ange Postecoglou's Celtic at the weekend," Nicholas wrote in The Express. "I was back in the Parkhead stands on Saturday with two of my brothers-in-law for the win over St Johnstone.
"It was my first time in a while after TV commitments and everything else. I have always wanted to get back to the games with all the changes that have happened at Celtic. The team is definitely heading in the right direction.
"I had always said it would be October or November before we can really judge Ange. I know Ange suggests he only has a Plan A but I do think he has other options in his head. I wanted to see his team for myself and how he is trying to piece all these new signings together.
"I really do think Celtic can squeeze (the)Rangers all the way in this Premiership race. I still think that (the)Rangers are favourites but I like what the new Celtic boss is building.
"(the)Rangers are ahead in the table and they also have key players coming back. They are more solid and because of that they have the advantage over Celtic. But I can definitely see this Celtic team clicking and challenging (the)Rangers. I saw that first-hand at the weekend.
"I admit that defensive strategies and building from the back are not things I am big into. Ange has clearly built from the front. I was at the St Johnstone game and it gave me a really good insight.
"Celtic were deserved winners and, on that him performance, you have to question how St Johnstone won two cups last season. Celtic, however, were the main focus of my visit. Jota is capturing the imagination just now but Kyogo Furuhashi is the key, even though he played on the right at the weekend. He never got into the game but he is better more centrally.
"Liel Abada started well at Celtic but has tailed away, Tom Rogic has come back into form and Giorgos Giakoumakis's first steps look encouraging. A lot of the players aren't going to fit into Ange's system but there is still a lot of encouragement there for me.
"Also, being amongst the fans you can see there is a general abundance of patience for what the manager is trying to build. You can see they like it and are prepared to stick by him. Ange has built up a respect that will buy him time."