THE Scottish FA have confirmed that Willie Collum will be the referee for the Scottish Cup final on 25 May.
"The experienced official adds the showpiece fixture between Heart of Midlothian and Celtic to what has been a busy season for the Scotsman.
"Collum has been in charge of three Scottish Cup fixtures this term, including Hearts Fourth Round win over Livingston and Celtic's Sixth Round victory over Hibernian," the Scottish FA noted on their website. Obviously they didn't mention any games he handed involving the Rangers, because the Ibrox club have effectively banned him from handling their games.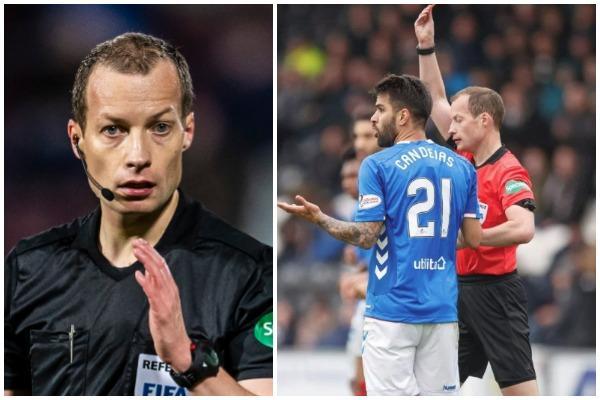 "And it won't be his first fixture in 2018/19 between the Jambos and the Hoops, after he took charge of the League Cup semi-final back in October at Murrayfield.
"It won't be Collum's first Scottish Cup final, with his previous involvement as referee coming back in 2015 between Inverness CT and Falkirk.
"He will be assisted at Hampden Park by Alan Mulvanny and Ralph Gordon, with Don Robertson on Fourth Official duties.
Kevin Clancy and Bobby Madden will be the Additional Assistant Referee's on the day as Hearts and Celtic go head-to-head for the final piece of silverware in the domestic calendar this season."
Collum has NOT refereed one single game involving the Rangers since they they launched their campaign against him for sending off a player in the latter stages of a match in which they won.
It was just one sending off in the twelve that they have had thus season and of course if Kevin Clancy would have had the balls it would have been an inglorious Thirteen after the wife-beater Flanagan lashed out at Scott Brown.
No red card and penalty proving that the intimidation works. Listen Celtic have said nothing about this – quite shamefully. Collum's background was questioned – this has horrible undercurrents that have no place in a modern Scotland. Yet anyone who thinks that the problem has gone away just had to listen to the songbook at Ibrox yesterday, hatred, bigotry, weird fascination for matters that have no place in football, disgusting chants about the Lisbon Lions.
Willie Collum should have been the referee yesterday. To keep him happy while appeasing the Rangers, he's been given the Scottish Cup Final gig.
It's not just Clancy who not got the balls. The Scottish FA and indeed Celtic fall into that category too.