STEVEN GERRARD today confirmed what we have all known anyway, that around the various clubs that have operated out of Ibrox, honour is in very short supply.
The Rangers manager told Sky Sports that there will be none shown by his Rangers team on Sunday when the newly crowned Eight in a Row Champions Celtic visit the stadium Charles Green supposedly bought from the liquidators of the original club, which was formed in 1872.
Gerrard confirmed Scotland's 8IAR Champions Celtic will not be given a guard of honour at Ibrox before Sunday's dead-rudder encounter and revealed that the decision was made above his head by the club, or perhaps the company that operates the club. That's always confusing over in the land of Govania.
Celtic's Player of the Year Callum McGregor to be fair, didn't seem too bothered by the massive insult that the Green with Envy hosts have displayed today.
"I know it is a talking point but nobody has spoken about it. Whatever they decide to do is fine," Calmac said to the media today, as reported by Sunday Post. "We will get on with it. We know we deserved to be champions and that's enough for us in that dressing room.
"We don't need anyone else to pat us on the back. We have done the hard yards and we have become the champions again, eight in a row so for us, we are not too fussed whether they do it or don't do it.
"Come kick-off all the niceties will go out the window anyway and it will be a battle for 90 minutes, so we will be prepared for that."
And the Rangers fans and players could get to witness a unique spectacle if they lose the match on Sunday. The Celtic Bhoys – players, subs and backroom staff could well be planning to create not ONE but TWO HUDDLES over towards the small group of Celtic supporters. These TWO HUDDLES joined together will of course form a massive Number EIGHT!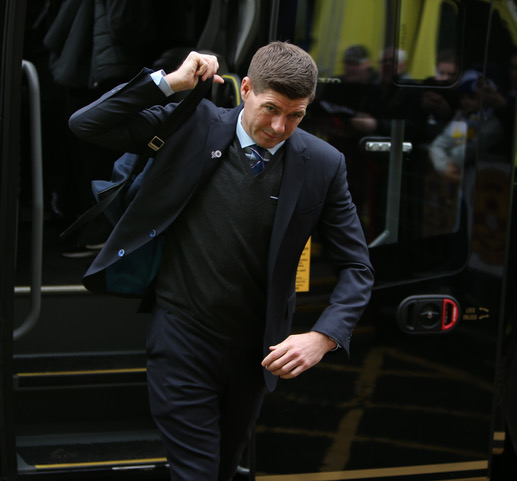 "To be honest with you my thoughts on it are not important on that subject," Gerrard said. ducking the issue on a personal level. The club (company operating the club) have made a decision on that and decided there won't be a guard of honour, so my thoughts are irrelevant. I will follow what I'm told to do by the people in charge of the club (company operating the club)," Gerrard stated.
So that's that then despite what Gerrard's captain has had to say about providing newly crowned Champions with a Guard of Honour. We first wrote about this on 1 May in an article titled 'Let's hope you practice what you preach, blue Cafu,' Tavernier's Celtic fan reminder…
James Tavernier took to social media back in April 2016 after the Rangers had finally completed their somewhat delayed journey through the lower divisions to win promotion to the Premiership by winning the 2015-16 Championship.
The Rangers penalty king wanted to talk about the Guard of Honour that 'Same Old'* Alloa
provided to the newly confirmed Championship winners at Ibrox in the first match after that lower league title was secured.
Tavernier wrote this: "Great respect to Alloa Athletic for the guard of honour today!! True sportsmanship unlike some!!
Let's hope you practice what you preach, blue Cafu. ???????? pic.twitter.com/D1OfnXKrhm

— Nikki. (@championees) May 1, 2019
With Celtic securing the title at  Pittodrie last weekend, Sunday's Glasgow Derby  had given Tavernier and his team-mates the perfect opportunity to show "true sportsmanship" by providing the EIGHT In a Row Champions with a Guard of Honour – but it's not to be. True Sportsmanship is the loser as the bitter folk who run the Ibrox club holding company thingy show themselves for what they are.
And if things go according to plan a DOUBLE HUDDLE to FORM  A MASSIVE NUMBER EIGHT on the Ibrox pitch on Sunday could be one of the most iconic Celtic images of all time!
*The Same Old Alloa video remains a firm favourite from their Banter years. Surely it deserves another outing