GORDON SMART has confirmed that Manchester City super-fan and former Oasis songwriter Noel Gallagher is 'Celtic Daft'.
In the brilliant interview with Si Ferry on Open Goal, the Radio X host and former Sun Deputy Editor spoke about his life and career; however, most interestingly, the journalist discussed his pal Gallagher's love of Celtic.
🎥⚽️| @gordonsmart recalls @NoelGallagher's reaction to meeting former @HibernianFC hero @Jasoncummings35 at a game😂

Full Interview TONIGHT & 5PM w/ @WilliamHill pic.twitter.com/HEbbNu6iVT

— Open Goal (@opengoalsport) November 25, 2019
Despite his love of Man City, Smart confirmed that the 'Don't Look Back in Anger' singer was a big Celtic fan.
Gallagher, who comes from an Irish Catholic background in Manchester is a well-known City fan; however, during Martin O'Neill's first Glasgow Derby, Gallagher watched on as Celtic beat Rangers 6-2.
It isn't the first time that the High Flying Birds frontman has declared his love for Celtic. At a U2 concert in 2017, Gallagher began singing to The Celtic Song to a fan in the crowd.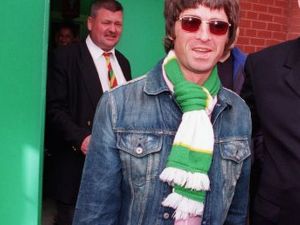 The lifelong Manchester City fan was last spotted at Celtic Park when Celtic drew 3-3 with Pep Guardiola's side in 2016.
👍 Welcome to Paradise, @NoelGallagher. #CelticvCity #UCL #COYBIG pic.twitter.com/xmj6KYjzwk

— Celtic Football Club (@CelticFC) September 28, 2016
Both Noel and his brother Liam have been rumoured to be Celtic fans in the past due to their backgrounds and connections with the club through family, although it is definitely obvious that the Scottish Champions are the second team of the feuding pair.
See the full interview here:
ALSO ON THE CELTIC STAR…
Smoke and Mirrors and this time the Smoke isn't from the Green Brigade – Niall J
That's No Flare – No Natural Justice as Celtic Partially close Standing Section 'following safety issues'