Thirty nine years ago this evening a massive Celtic support had travelled down to Nottingham to play Brian Clough's Forest in another one of those Battle of Britain affairs. It was also a battle of European Cup Winners with Celtic becoming the first British side to win the Big Cup in 1967 and much more recently at that time, was the double European Cup wins for Nottingham Forest in 1979 and 1980.
The occasion was the UEFA Cup Third Round first leg and the match finished goalless, although Celtic had the better of things and really should have won the match. They'd live to regret the missed opportunities at Celtic Park in the return.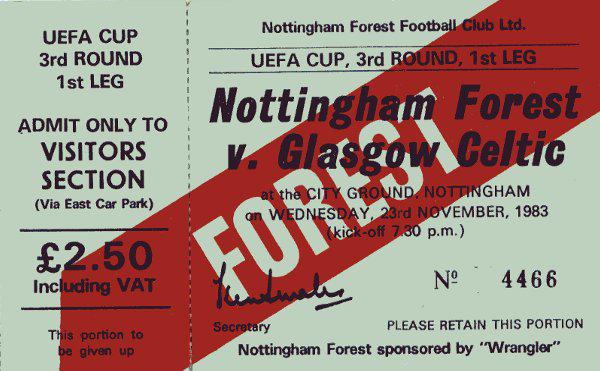 It was an absolutely freezing night and as we made our way to the City Ground what was apparent was that despite there being no sign of any trouble the Police were in full riot gear and seemed to be spoiling for the anticipate aggro to get underway. Many supporters would have left it as late as possible to accommodate as much time in the local pubs as possible before heading to the game and as the travelling support was so large there was an inevitable late surge.
Supporters also seemed to have been delayed through buses being parked up on the bridge near the ground. As kick-off approached the Nottingham Police decided to open gates so whether you had. ticket or not, no-one bothered as the support were ushered in throw open gates rather than turnstiles.
We covered this match is some detail back in 2020 but thought it's worth another look today.
37 years ago today.
Forest v Celtic at the City Ground.
Very nearly a major disaster that night.
Coldest I've ever been at a game in my life. pic.twitter.com/rAQ6FoJRYu

— John Sludden (@FACT290) November 23, 2020
Some replies to this tweet worth looking at:
"Forest and the police weren't prepared for the vast number of Celtic fans. Only a few turnstiles dealing with thousands of supporters. In the panic they opened a gate into one of the pens."
"Can't remember this one at all. It's interesting that, despite some fans obviously being in distress and requiring attention, there's still eejits stood around trying to rouse the fans. Different times. Sadly, this is not Forest's only experience of this kind of thing."
"Me and my mate dogged school for that one – 1st European away tie. Don't think Nottingham had ever seen an away support that size before – totally unprepared. The crushing was appalling – I recall the Celtic fans chanting 'we are not animals'. Very lucky there were no fatalities."
"My first ever European away game. Ended up in the crush and came home with one shoe and bus home had a window caved in. Absolutely freezing."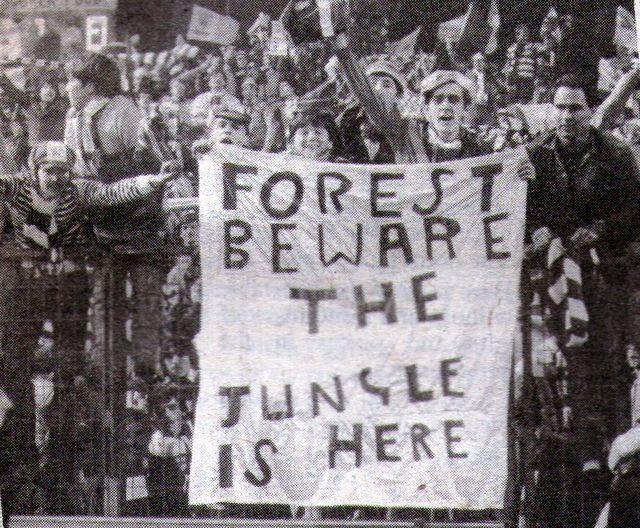 "Twelve hours to get home following day absolutely great trip can't believe it was 37 years ago we were in stand not caught up in crush thankfully."
"That end was vastly overcrowded. Opened the gates and ticket less fans rushed in. Terrifying with those pens and fences."
23rd November 1983, Nottingham Forest 0:0 Celtic in the Uefa Cup.

Crush in the packed Celtic end but thankfully no serious injuries.https://t.co/UTaUgOVCgt

— Li'l Ze (@LilZe_7) November 23, 2022
"I was there that night, got caught in a huge crush getting into the game, buses too near the turnstiles if I remember right."
"Buses parked on the bridge, right outside the ground."
"When I got home still had full ticket that was Hillsbrough moment no lessons learned!"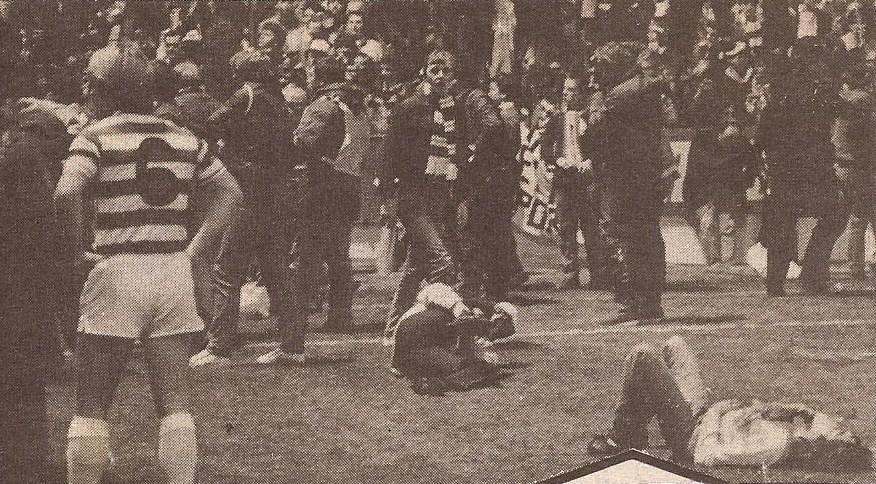 "I think there have been more near misses than we like to think about."
"It was freezing all day."
"And there were fans climbing the floodlights in just Celtic tops and shorts."
"The crush trying to get in the turnstiles was terrible."
"And Brian Clough acting like a prick blaming Celtic fans and placing a banner a david hays feet."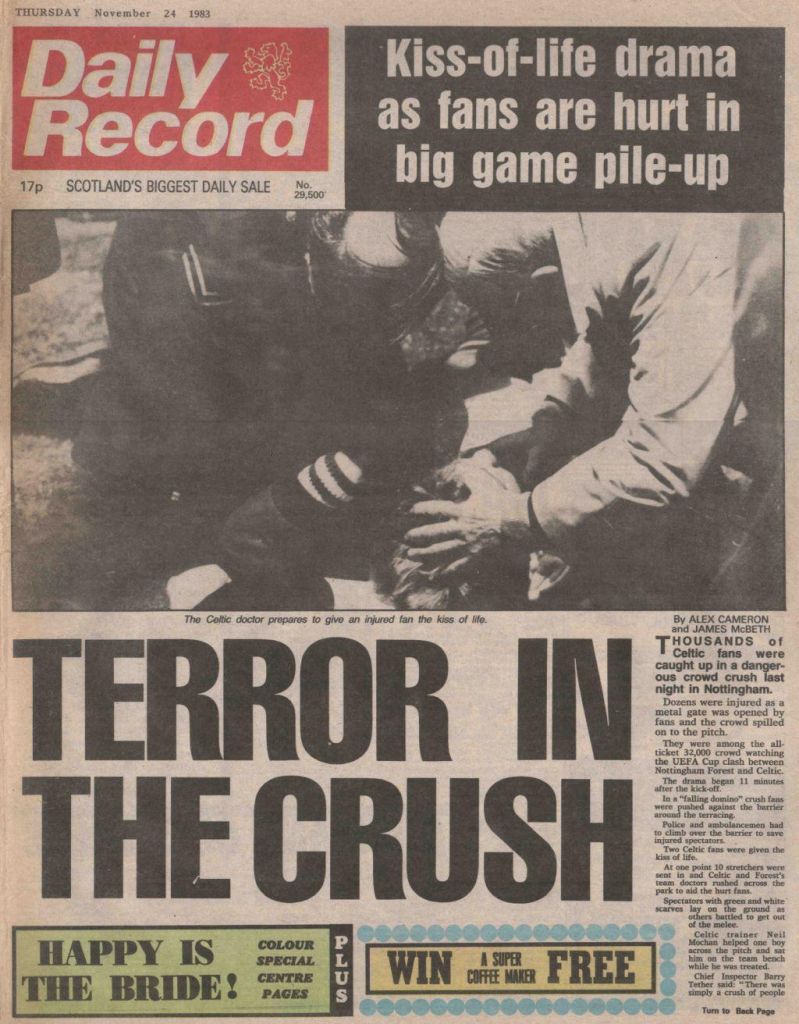 Hampden 57 was also at this game  and writes about what happened on Celtic Wiki. Here's a flavour of his longer article on this cold and dangerous night in Nottingham…
We reached the city ground just after 6 o'clock, well before the kick-off time of 7.30. Even at that early stage there were huge numbers of Celtic fans outside–it seemed much more than the 6000 or so that had been estimated would travel. Our tickets were for the end behind the goal and there were massive queues outside the main admission gate. It seemed to take forever for people to get in, and all the while the crowd was getting bigger. It was obvious at this stage that the police were not able to deal with the situation, as crushes were beginning to develop in the queues.
Finally, we got in around 15 minutes or so before the match started, but there were several hundred still outside, maybe more. I remember looking at the pitch and half of it was completely frozen and looked unplayable, with the other half, which had obviously got some sun that day, looking playable. I was surprised they let the match go on, but I suppose by that stage it too late to call it off.
What was the situation by kick-off time?
It was very bad. Many English football grounds at that time had pens, which sub-divided terraces into small, self-contained sections, divided by high fences. The pens had gates, but very few people could pass from one pen to another at any given time. We were in the corner pen, which is the one you went into after passing through the turnstyles. It was by this stage jam packed, but there didn't seem to be any awareness among stewards or the police, and no attempt to open up the gates across all of the pens to allow the fans to filter through more evenly.
So, the game kicked off–what happened next?
By kick-off time, the corner pen where I was standing was full, as was the adjoining pen. You could hardly see the park, because there were so many people in the end. But more and more people kept pouring into that corner pen. I have never been in such a packed, small, contained area with so many people. After a few minutes of the game, severe crushing had started. We were about half-way down the terrace, but were getting pushed by this mass pressure closer and closer to the front. You didn't so much walk as get swept along.
The game itself kicked off and Celtic appeared a touch nervous. Forest settled and almost scored when Gary Birtles ran onto a long ball that evaded the Celtic defence. He should have scored but Packie Bonner made a great save. However, right after this, there were some huge surges of people into the pen with the fans at the front getting trapped against the high perimeter fences. It was really terrifying, as you had absolutely no control over it. You couldn't get out of the way, or move somewhere else. It was hard to breathe, never mind move.
I had been in crush type situations before in Scotland–normally when you were leaving big matches– but nothing I had ever experienced before or after would come close to this. I saw one or two people falling and it seemed certain there would be some serious casualties. Then, all of a sudden, lots of the fans started climbing over the high fence onto the pitch. Before long it seemed that hundreds were doing this. Some where also climbing into the next pen. A few even shinnied up the floodlights. This had the effect of relieving the pressure a bit on those left in the pen. But there was no question of those fans coming back into the pens, so the game was delayed, for about 15 minutes.
What did the stewards and police do?
Very little in a constructive way at first. They seemed to just watch people pour onto the field and were not helpful. They appeared to see it as a crowd control issue, rather than a disaster in the making. I remember Brian Clough coming onto the field with a flag, presumably to please the 'rioting' Celtic fans. It was ridiculous, really, as no-one had grasped the gravity of the situation. Eventually, after what seemed an age, the police ferried fans around to different parts of the ground, and the game re-started.
WHERE YOU AT THE CITY GROUND on this night 39 years ago for the UEFA Cup game between Nottingham Forest and Celtic? If so we'd like to hear your story of what happened that night. Please post in the comments section below or email editor@thecelticstar.co.uk 
We will also publish our follow-up articles on the Nottingham Forest v Celtic match from on this day in 1983 – The Completely Ignored Hillsborough Warning…