Gabby Agbonlahor has revealed that a former Celtic player is the biggest wind-up merchant he has ever seen in the game – and it's not Scott Brown. No, despite Brown's penchant and ability to rile up the opposition team and supporters, it's not him. The ex-Aston Villa man has been talking to talkSPORT about the top men for getting under the skin of the opposition and it's an ex-Hoops ace that tops the bill.
Speaking on the radio show, he said: "I think the perfect (wind-up merchant) is a player who can wind up a fanbase. Someone who can be that annoying player who goes down a lot when you know it's going to annoy another player, talk crap to your opponent to wind him up, when you celebrate, celebrate in front of the home fans. Winding people up on the pitch and making it so someone wants to kick you, someone's going to get sent off.
"My biggest one was if I scored I'm going to the opposition fans, I'm standing right in front of your face and celebrating, I used to have the shush, which is like 'give me abuse but I've scored now, so shush'. I loved to shoulder barge full-backs and defenders into the advertising board, I'd time it so when they were running I'd shoulder barge them right by the white line into the advertising board so you know they're coming for you afterwards, screaming and shouting, then you know you've got them."
Although the former England international had spells of his own in which he could go fishing with the opposition players and fanbases up and down the country, he has reserved a special place in the history books of the dark arts to none other than one-time Celtic striker Craig Bellamy. The Welshman arrived at Celtic Park in the January of 2005 and had a few short months at the club and provided us with some very good performances.
It wouldn't be enough as we unfortunately lost the League title that year under Martin O'Neill to our bitter rivals on Black Sunday. Bellamy would return to Newcastle and we didn't ever see him back in a Celtic shirt, despite recurrent rumours throughout the years that he might come back to the Scottish Premiership with the Bhoys. However, he will always have a special bond with the fans and his famous rejection of signing a Rangers top will live on forever in the hearts and minds of the Hoops faithful.
Agbonlahor, speaking on the ex-Manchester City man, said: "Number one is Craig Bellamy. I've never seen anything like it. He's so, so chirpy. He would hammer his own team, the opposition, I remember [former centre-back]Carlos Cuellar – he cashed him off about money asking 'what do you earn, I earn loads more than you' – he's that sort of player. He'd say anything he could to get under the skin of a defender. I remember Gareth Barry telling a story that when he got to Man City he was on his case. He was small but stocky and could take care of himself, he was definitely the biggest."
Paul Gillespie
THE BOULD BHOYS! 'GLORY TO THEIR NAME' BY MATTHEW MARR IS OUT NOW ON CELTIC STAR BOOKS…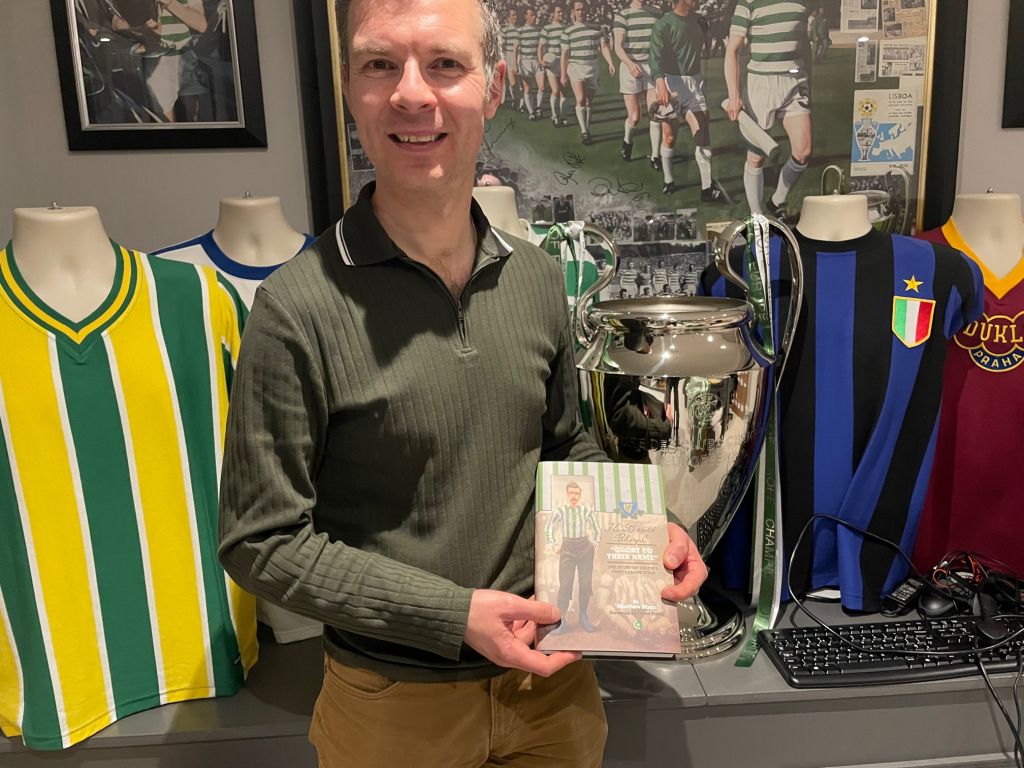 Matthew Marr's outstanding debut as a published Celtic author is available now in hardback and also on Amazon kindle with links for both below. The Bould Bhoys! "Glory to their name" tells the story of Celtic's first ever title success becoming Champions of Scotland for the first time 130 years ago. It's a remarkable story  and a brilliant achievement in Celtic's unbroken history and it's a superb debut from Matthew, who is of course also know as @hailhailhistory on social media.
Last night Matthew signed hundreds of books and all pre-ordered copies will be sent out this morning so expect your copy early next week if you have already ordered. If you would like a signed copy of this brilliant Celtic book in hardback then order from Celtic Star Books below. The book will also be on sale at Celtic stores from next week and we have also launched the book on Amazon kindle again with the link below.