Disappointing result yesterday but at least we finally scored against them. The Celtic Star this morning asked for European stories well this wasn't my first game or even away trip but it was my most adventurous.
It was the summer of 1983, big Billy McNeill had left us to go manage Manchester City and Davie Hay had been brought in to replace him.
The pre-season tour this year was Switzerland and Germany so as usual I checked the supporters notes in the Evening Times and saw that the Lisbon lions club were running a bus to the two German games which were Nuremberg and FC Kaiserslautern. I thought that this sounded like a good idea so I booked up, if memory serves me right, it was £75 for the bus and hotel.
The bus was leaving from George Square on the Thursday morning and a certain ex-director and Lord Provost of Glasgow actually waved us away. The supporters on the bus were a mixture of bhoys and ghirls of all walks of life but as I was on my own I soon made some new friends.
We had one Wolfe Tones tape between us so it was a great way to learn every word of every song! It took around 24 hours to reach Nuremberg and we arrived roughly around lunchtime on the Friday and the first game was scheduled for that night in a stadium which held many war connotations.
We assembled outside the hotel all decked out in our colours and we set of for the stadium which was so big you could see from the hotel so we decided to walk there then a local guy told us quickest way was through a huge public park and we should follow him so there we are 50 odd Celtic Supporters following a guy on a bike through the park.
We reached the stadium and soon we were inside and we were singing our hearts out when we realised all wasn't what it should be as unknown to us Celtic had re-arranged the game to be played in their base camp in Switzerland and that we were in the stadium where an athletics meeting for deaf people was taking place!
So as you can imagine our presence caused much bemusement to all competitors and spectators so we all decided to head back to our hotel and make something out of what had been a bit of a let down. Next day was Saturday and no game was scheduled so we took a trip to Munich and got a tour of their magnificent stadium then we headed back to our base as we were leaving early next morning to head to Kaiserlautern for the game.
As you can imagine a lot of frustration and anger was being directed towards Celtic as they knew that we were travelling to the games so when we got inside the ground we were met with Kevin Kelly and Davie Hay who tried to explain that the club had no way of letting us know that the venue had been switched and the club were sorry.
We lost the game 1-0 so we had been through all that without even seeing the Bhoys score a goal but the club did invite the entire bus to the pre season game v Spurs at Celtic Park and we got to to meet the players who thought it was very funny! However the new players got to see that how dedicated the fans of Celtic were.
Hail Hail
Jim O'Rourke
From The Celtic Wiki…
"Yes, I was on that bus. Left George Square, drove all the way the Nurnberg only to be told be a steward that the Celtic game was in Switzerland (Constance? I think). We had a rare old night then piled back on the bus still steamboats for the journey from hell in 100 degree heat all the way to Kaiserslautern where if I remember correctly, we got a 1-1 draw and young John Buckley gave German international full back Hansi Brieigel an absolute roasting. Then it was back on the bus and home to Glasgow. I still have the T-shirt." Spikebhoy of KDS Forum (Looks like we lost 1-0, as Jim says above, see below, clippings courtesy of the wonderful Celtic Wiki).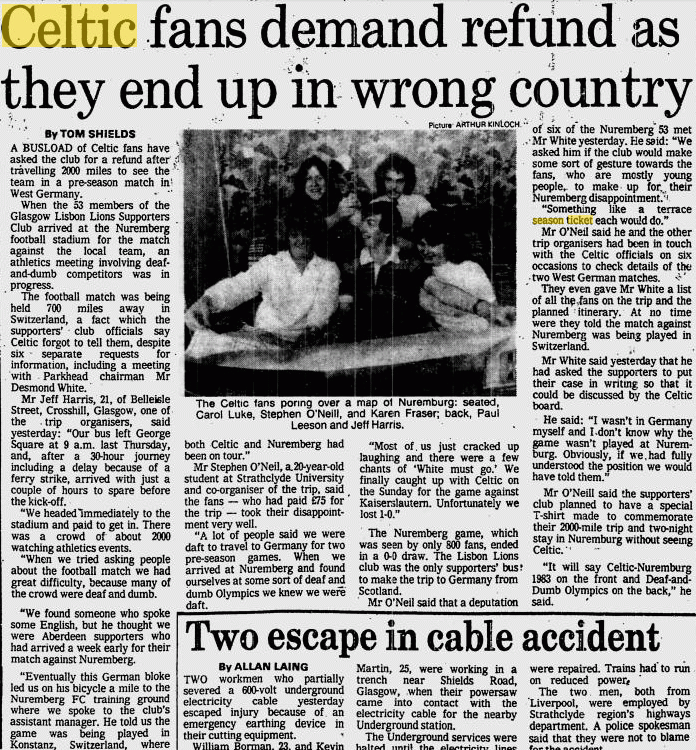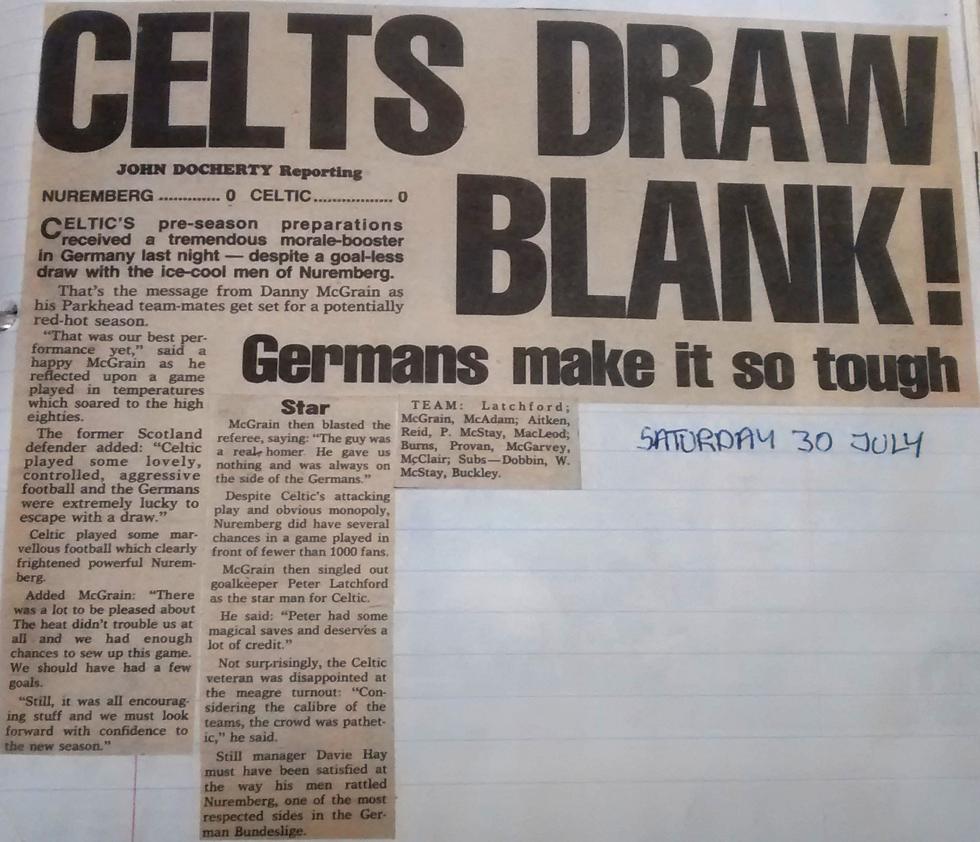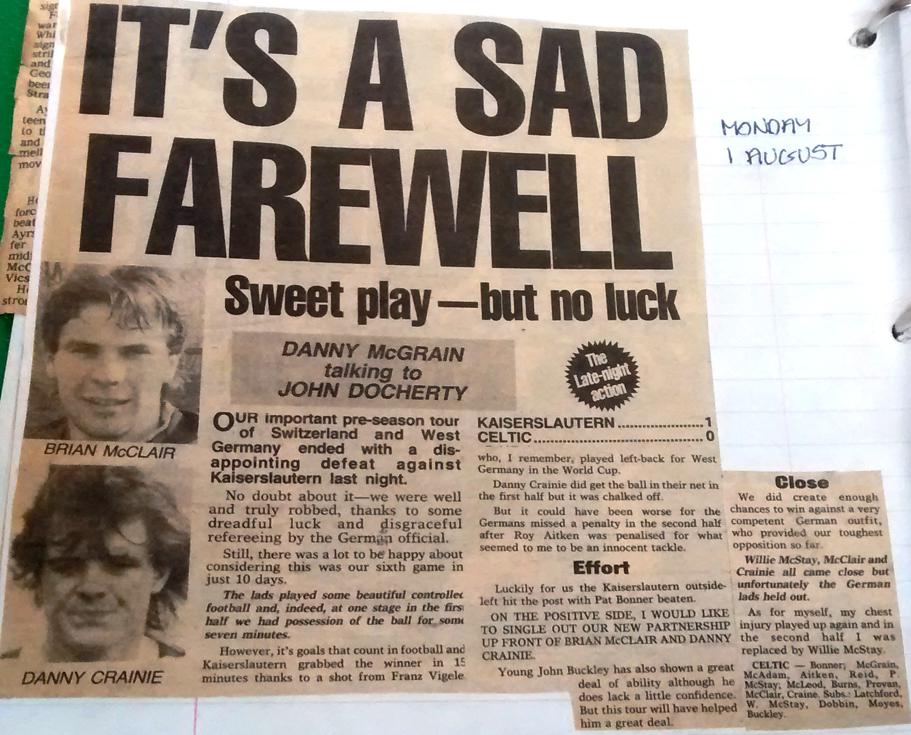 We want you to share your stories of watching Celtic in European action. Please email editor@thecelticstar.co.uk and we'll publish on the site.
COMING SOON…