Kia Ora from Aotearoa…
As you may have heard Corona Virus has re-appeared in New Zealand. Auckland has gone to a level 3 lockdown while the rest of the country is slightly more relaxed in level 2. My son was supposed to be coming up from Hawkes Bay this weekend to celebrate his birthday but that plan was scuppered. At least he can still go out for pint down there. Police roadblocks on the motorways at the northern and Southern ends of the greater Auckland area.
Even before the Aberdeen 8 and Bolingoligate Affairs, I had big doubts about the football season being played out. Latest developments here increase my concerns. If a remote place like New Zealand cannot avoid a second wave then what chance is there in Europe.
So back to life stuck at home. It is not too bad though. Today is a beautiful winter day. Warm and sunny with blue skies. Sat outside in the sunshine this morning.
Eight. Bayern Munich scored eight. Rome was bad. Anfield was worse. But for Barcelona, this Barcelona, Lisbon will always be the end. https://t.co/EnmCgMG8ei

— Rory Smith (@RorySmith) August 15, 2020
Also watched the Barca v Bayern game. Some great stuff from the German side. That 5th goal! That transcended football. Should be shown as a piece of art in a museum. It seems quite a jump from Bayern to Billy Price but I did enjoy your article on this former Celt. My era too.
Billy Price joined when I was starting to become a real regular at Celtic Park and I would have seen most of his home performances. Reliable, steady and dependable. Never flamboyant but always worked for the team.
The story about the Shamrock shirt intrigued me. I have never heard anything about that before. And it is one of those stories that even if it is not true it ought to be!
Celtic's Billy Price and the 'political shirt' -A Shamrock 'too prominent', rescued from the flames…https://t.co/hwEv6xM2mR

— The Celtic Star Editor – INVINCIBLE (@CelticStarMag) August 13, 2020
The complaint would have certainly have had to have to come after a reserve game as Celtic never wore a change shirt in a first team game against Rangers. Considering it had been our change jersey through the 1950's I am surprised that nobody had complained before. Or maybe they did? Is there any evidence of it being mentioned at the time of the "Irish Flag Incident"?
I recall that at that time Celtic were told to refrain from displaying any flag or emblem that had no association with the country or the sport.
In those less commercial days teams only wore a change shirt when absolutely necessary. In Celtic's case that was usually the home game v Kilmarnock as the visitors wore blue and white hoops.
My main memories of the shirt come from the pre-season public trial game. At that time clubs were very restricted in playing pre-season games so the public trial game a week or so before the season began was the opportunity for fans to see who might be breaking through into the first team.
Admission was by charity donation and the game featured the hoops (first team) v Shamrocks (reserves). My recollection is that the reserves also wore the shamrock strip in league games that would not necessarily have involved a colour clash.
The first time I saw Jimmy Johnstone was in a reserve game where I am sure the shamrock strip was worn. It was a midweek game and we actually went to the main stand. Reserve games were better attended in those days and carried more weight with the fans. I remember my mate's father telling us about this incredible wee red headed guy in the reserves and he took us along that night to see for ourselves. The strip always looked a bit big for Jinky, especially the sleeves.
The article mentioned the strip burning incident being in the 1961/62 season but the shamrock shirt was worn after that. The last time I am aware of it being worn was against Kilmarnock in the 1965 Scottish Cup quarter final. I have heard Big Jock was not too keen on it and at the public trial game at the at start of the 1965/66 season the "B" side wore an all green shirt.
I would appreciate if you keep me posted on anything that might be found in connection with this story.
In the meantime keep safe.
Slainte
Mike Maher
Hi again
Just remembered some photos I had that sort of relate to my earlier article. The first is a reserve game v Motherwell that shows what kind of crowds these games could get.The second is from a public trial game. I think it is from 1964 as wee Jimmy is in the hoops as an established first team player. Don't know who is in the Shamrock shirt.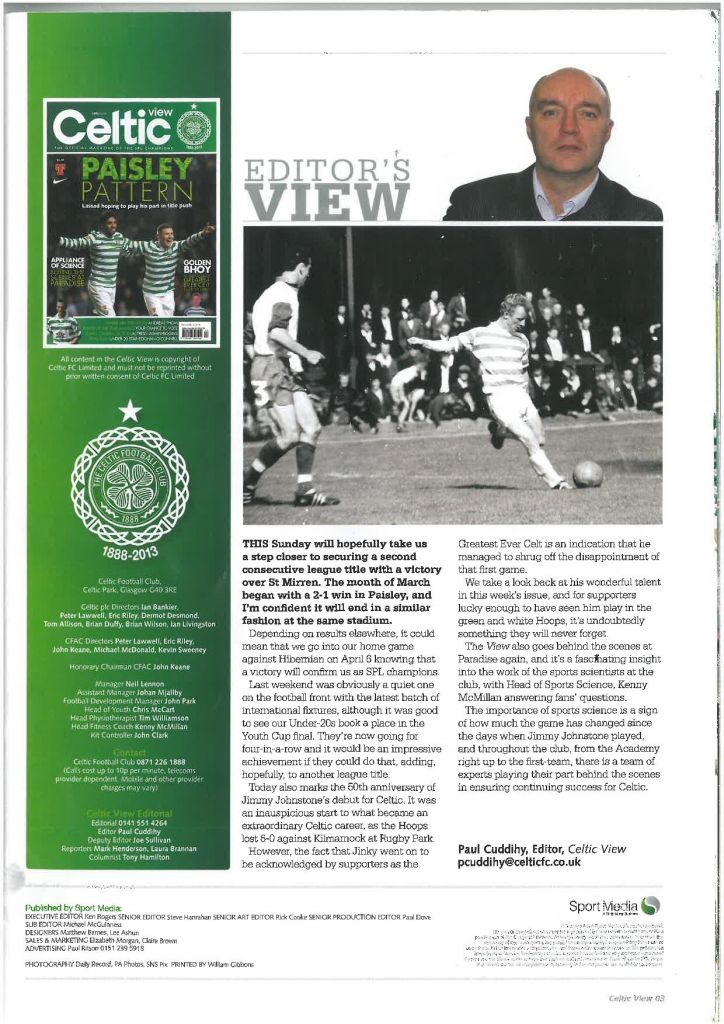 Also on Celtic's Shamrock Too Prominent shirt…
I saw Celtic wear this against Kilmarnock in November1963. A wonderful 5-0 win in constant rain. My brother and I had seen Jimmy Johnstone arrived at the ground and a lady had asked him to score a goal. We were happy at 4-0 but even better when Jimmy scored the fifth. In those days the home team changed and Killie wore their usual blue and white.
I had thought that the shamrock jerseys had been gifted by the government in the Irish Republic because I thought I had read it in the Robert Kelly book, "Celtic". I must dig it out sometime.
All the best
Ian MacPhail