With no midweek football because of frost, the main topics of conversation were how long the 90-year-old Sir Winston Churchill was going to last, and Labour's loss of a by-election in Leyton, something that they could ill afford with their thin majority. Saturday came round again with many postponements because of the bad weather, but Greenock, being Greenock and very wet, managed to escape the worst of the frost, and their game with Celtic was never really in much danger. The ground was naturally heavy but playable.
Morton were respectable. Last season they had won the Scottish Second Division by some distance and were in the middle of the First Division this year, not far away from Celtic in fact! Games between Morton and Celtic had not been without trouble in the past, not least a year ago when Celtic had beaten them 3-0 in the Scottish Cup, and today, in what seemed to be a deliberate act of provocation, they came out wearing blue jerseys and orange stockings. The Evening Times tries tactfully to describe the stockings as "tangerine" but anyone with the slightest knowledge of the nuances of west of Scotland football knew exactly why they were wearing orange socks.
The game was actually an all-ticket occasion following the crushing at the Scottish Cup game the previous year, but not all the tickets had been sold. Nevertheless, there was a goodly crowd at Cappielow as Celtic ran out with two changes from last week and the team reading;
John Fallon, Ian Young and Tommy Gemmell; Jim Brogan, Billy McNeill and John Clark;
Jimmy Johnstone, Bobby Murdoch, John Hughes, Bobby Lennox and Bertie Auld.
Jim Kennedy and Charlie Gallagher were the two men who were dropped.
Whether it was the sight of the orange stockings or (more likely) the influence of Bertie Auld, or indeed whether it was because the players knew something that we as yet didn't, the team came out looking confident and began to play with no little skill, and the thinly-populated Celtic ranks forgot the cold and reacted with enthusiasm to what they saw.
They were particularly impressed by the new left wing of Lennox and Auld, with both players feeding off each other, and the more perceptive noticing a subtle change in Celtic's team formation with Auld playing slightly behind Lennox and the latter moving out to the wing. It was no coincidence that a confusion now developed, with some newspapers talking about the left wing "Lennox and Auld" and others talking about "Auld and Lennox."
Both Jimmy Johnstone and John Hughes, those two glorious unpredictables, were also responding to the new set-up and it was a matter of some surprise that it took 30 minutes for Celtic to take the lead, as Lennox jumped high to reach an Auld cross and head home. Then before half-time, a visionary pass from Auld was threaded through the Morton defence, and Hughes scored Celtic's second.
The team went in at half-time to the unfamiliar noise of loud cheering from the Celtic faithful, and a new optimism from the support as the teams re-appeared. Twenty minutes into the second half, Celtic went 3-0 ahead, this time from Tommy Gemmell, who having clearly been given licence to attack, picked up a pass from Auld in the aftermath of a Johnstone corner-kick, and hammered home.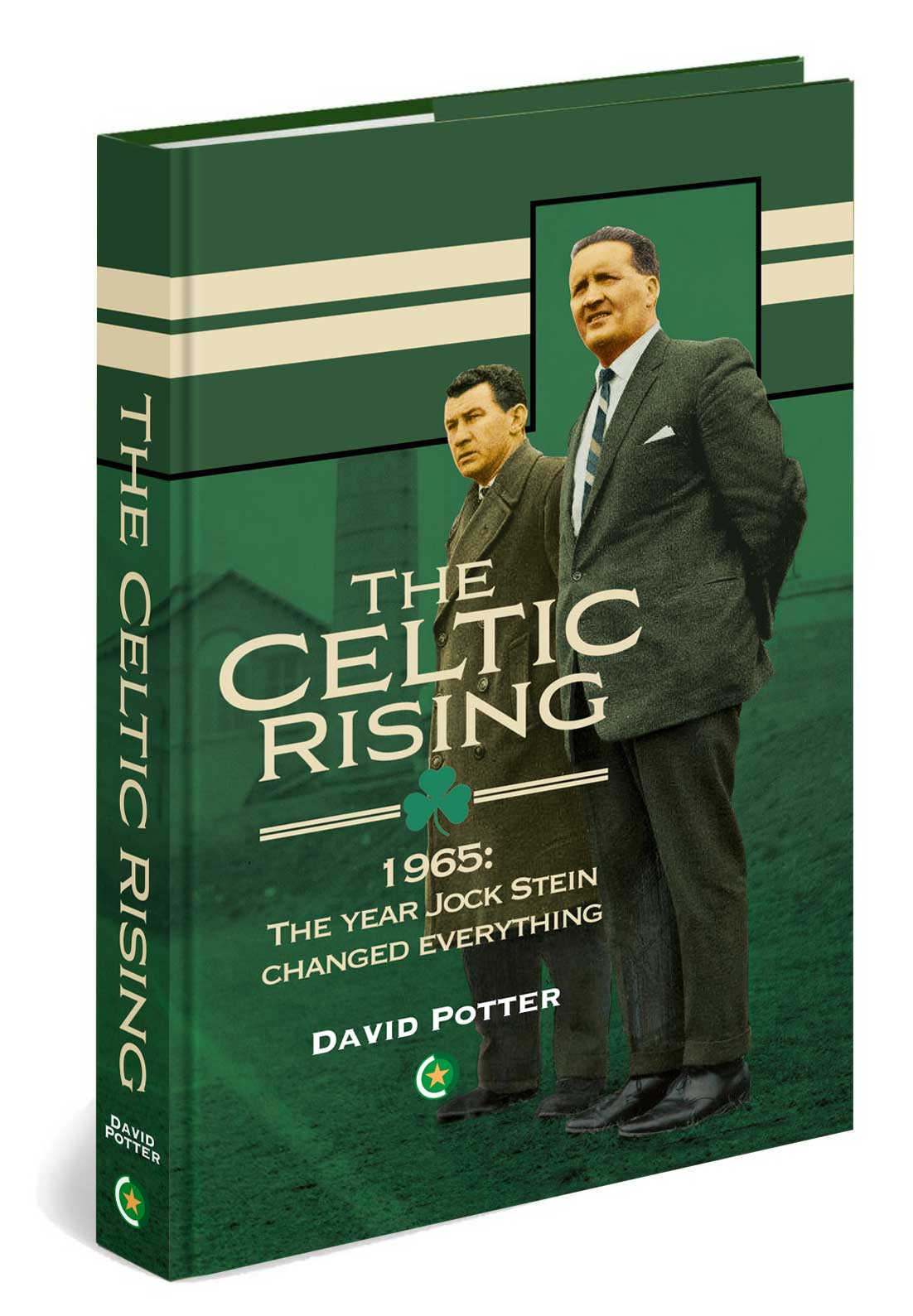 Compared with recent performances, this was dreamland, and yet Celtic's display, although impressive, was fragile. Twenty-five minutes remained, and the constant fast pace and furious commitment on the heavy pitch had taken its toll, as once again Celtic were paid back for the inadequacy of their training regime and the lack of any real strategy or "game management" skills.
Too many players were simply tired. Suddenly and incredibly, within 10 minutes, Morton equalised all three goals, as so many Celtic players simply disappeared out of the game, while Bertelsen, Strachan then Bertelsen (again) equalised. Quite a few Celtic players of the time will admit to the fact that the training at Parkhead wasn't very good, and that other teams always seemed to have more energy at the end of the game than Celtic did. They clearly had a point.
This was jaw-dropping, not to say heart-wrenching stuff. The euphoria of the majority of the match evaporated with astonishing suddenness – and it could have been a lot worse! Morton scored what would have been a winner, but Celtic were saved by the referee Mr Stewart of Paisley, who ruled that full-time had been reached when the ball was actually in mid-air! Morton fans obviously disagreed and one or two of them made this point somewhat strongly to the referee as he left the field.
So, what were we to make of all this? Celtic had still not won a game in 1965. And the collapse in the last quarter of an hour had been woeful. Yet, there was a certain something about the team that Bertie Auld had brought, and a feeling grew that something else was going to happen soon – more new players, perhaps, or even the change at the top that everyone now perceived as necessary. The Scottish Cup draw on Monday, 25 January 1965 put Celtic at the difficult ground of St Mirren on 6 February. Something, we hoped, might happen before then.
There was even a school of thought that believed that it might be the best thing if Celtic went out of the Scottish Cup at an early stage. That would certainly bring a change, including perhaps even the resignation of Mr Kelly and all those who had led us into this catastrophe. Maybe a complete and total change was necessary. At this stage, Celtic were no longer going nowhere as they had been doing for the last few years – they were now going somewhere with the speed of an express train, and that was to oblivion – unless something happened!
David Potter
An extract from The Celtic Rising ~ 1965: The Year Jock Stein Changed Everything by David Potter, published on Celtic Star Books and available now on hardback and on Amazon kindle…