"Proudly the note of the trumpet is sounding…" – so begins the stirring song of Hugh O'Donnell, the "dauntless red Hugh" of the 16th century who did not like the Saxons or Queen Elizabeth 1 very much.
Celtic once had a Hugh O'Donnell as well, and his brother Frank. They were both fine forwards, although they had the misfortune to be around at the time of the mid 1930s, between the two great Celtic sides of the early 1930s and of the late 1930s. But they both made their mark on Scottish and English football, playing, as they did, symmetrically and more or less in tandem, for Celtic, Preston North End and Blackpool.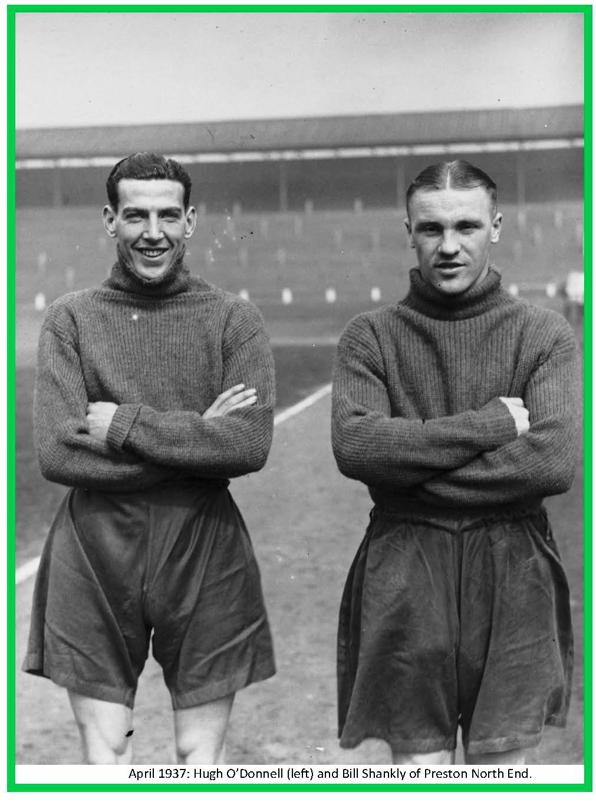 They came from Buckhaven in Fife, having played for Wellesley Juniors like the two Fife Thomsons, John and Alec. Frank was the elder brother born in 1911 and Hugh the younger in 1913. It was Hugh who impressed the first, and he earned a place in the team which won the Scottish Cup in 1933 not looking in any way out of place in a forward line which read R Thomson, A Thomson, McGrory, Napier and O'Donnell. Effectively he was taking the place of Peter Scarff, now very ill with tuberculosis in the Bridge of Weir Sanatorium. On the Sunday after the Cup final win, Maley took the Scottish Cup draped with green and white ribbons to let Scarff and the other patients see it.
Frank who had joined Celtic earlier was less successful in breaking through. He was mainly a centre forward (though he could play at inside right and inside left as well) and that position was commandeered by Jimmy McGrory.
Frank tended therefore to play only when McGrory was injured, and not unnaturally was compared unfavourably with him! Unfortunately, too, 1934 and 1935 were poor barren years for Celtic, and Frank tended to attract the boo boys who unfairly blamed him for all Celtic's woes.(In this respect, in similar circumstances, Bobby Murdoch, John Hughes and Steve Chalmers would all suffer in the early 1960s). Barracking never helps a player, and when Preston North End made an offer for Frank in May 1935, he was only too willing to go, even though to his dying day he remained a Celt at heart. Hugh might have been more willing to stay, but when Preston showed interest in him as well, he went, possibly more out of loyalty to his elder brother Frank than any desire to leave Celtic.
The transfer was beneficial to everyone. Celtic now took off and won the Scottish League in 1936. The O'Donnells thrived at Preston, working for Manager, ex Rangers Tommy Muirhead, and enjoying the company of other Scotsmen like Bill Shankly and ex-Celt Willie Fagan. "Proud Preston", winners of the first ever English League and Cup double in 1889, now enjoyed a revival after a long period of disappointment, and reached the final of the English Cup Final in two successive years 1937 and 1938, both O'Donnells clearly enjoying the less rarified atmosphere of Deepdale, but readily confessing to looking for Celtic's result first when they bought the Saturday evening paper. "Once a Celt, always a Celt!"
In 1937 Preston North End lost to Sunderland 1-3 on May 1 at Wembley. Celtic's players were there to see that game, hoping that Preston could emulate their own feat of winning the Scottish Cup a week before. They travelled down on the overnight sleeper, having played at Motherwell on the Friday night before catching the train. It might be better not to dwell on that particular game, for Motherwell won 8-0! Not that it really mattered in this case, but it was a blow. Disappointment was also the order of the day for the O'Donnell brothers, particularly as Frank had put Preston 1-0 up before half time before Raich Carter's Sunderland turned it on in the second half.
Hugh had more luck the following year in 1938, but Frank, who had now moved to Blackpool, didn't. Preston won the Cup beating Huddersfield 1-0 with an extra time penalty sunk by Scotsman George Mutch. This meant that Hugh became one of the very few players to have a Scottish Cup and an English Cup winner's medal.
But it was Frank who won the Scottish caps, six in all. His International debut was April 17 1937, a 3-1 victory in front of the famous record crowd of 149,547 and it was O'Donnell who got Scotland back in the game with an early second half goal before Bob McPhail of Rangers scored twice. He also played the following year at Wembley when Scotland won 1-0, and the previous summer he had played in Austria and Czechoslovakia on whom Hitler was already casting covetous eyes.
Both died young, Frank a few days after his 41st birthday in 1952 and Hugh at the age of 52 in May 1965 not long after Celtic beat Dunfermline in the Scottish Cup final of that year.
It was a great pity that they did not stay longer and do better at Celtic Park, because they were both very fine players.
"Many a heart shall quail, Under each coat of mail, Deeply the merciless foeman shall rue, When on his ears shall ring, Born of the breezes' wing, The Tirconnell's dread war cry, O'Donnell Abu!"