The long journey down the A9 will have been a little sweeter, one feels, thanks to Anthony Ralston! It was a goal that frankly did not really look like coming and I, for one, was just getting used to the thought of being six points behind. As it is, we are still only four, but we are now more or less at the half way point of the campaign. We still need to make up some ground on 2 January.
The euphoria of the victory must not however blind us to the glaring deficiencies of tonight's performance. Callum McGregor has had many better games and David Turnbull in particular looked right off with a tendency to shoot the ball, both from set pieces and from open play right into the defenders. Josip Juranovic was played out of position (as indeed was Adam Montgomery, I felt) and let the side down badly on many occasions in the first half where we really needed to score more goals and to be out of sight. At 1-0, accidents can happen – and they did. A moment's slackness lost us a goal and could have lost us three points.
There is reason for feeling badly done by in the sending off of Carl Starfelt. The second booking didn't really look all that bad, and the first booking was caused by too much mouth. Carl really has to learn the noble art of holding his tongue, which is never a bad option. But apart from that, all our troubles tonight were of our own making with some poor passing and a lack of slick movement that we have seen of late. We were short of a few players but that should have given more players the opportunity to step up to the mark.
Once again Tommy Rogic, when he came on, made a huge difference. What a season this man is having! We will need a huge contribution from him for the rest of the season, but we really have to hope that some at least of our injured players will be back by Sunday.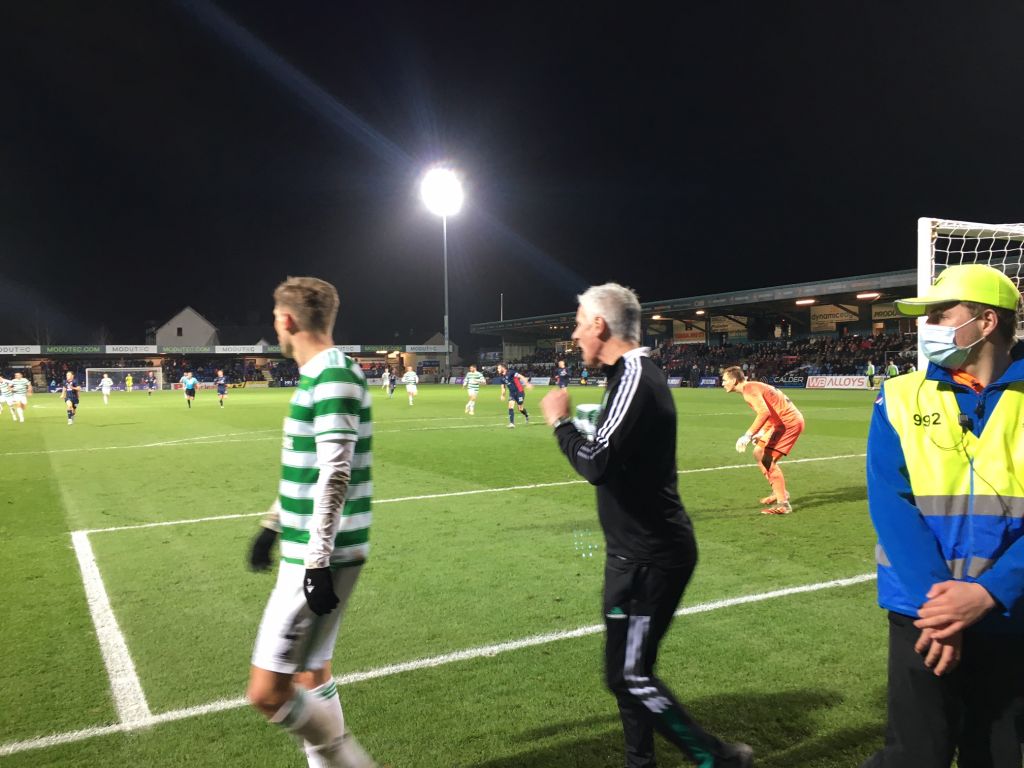 I have always admired Ross County, and one has to give them credit for the way they played the game. I hope Malky Mackay avoids relegation, for Dingwall is a nice place to go, albeit not in December! A point would not have flattered them tonight, and although their TV station is a bit amateurish on occasion, the game was well worth £15 – but I would not have been saying that if it hadn't been for Anthony Ralston!
And so to Sunday for the first Cup final of the season. Where stand we? Difficult to say, but we must not allow ourselves to the distracted by all the talk of managerless Hibs being at 6s and 7s. Sometimes teams like that can rise to the occasion. We must concentrate on our own play. We need to take better free kicks, we need to convert a fraction of the chances that we will create, and we need to stop hitting the ball straight at defenders – and we need to keep up 100% concentration at the back. If we can do all that, we will win, but tonight's performance didn't always fill me with confidence!
David Potter
YAAAAAASSSSS!!!
2-1!!!🍀
90+7 Ma brickie Tony Ralston!!!🍀
The refs can try their best but we'll always prevail 🍀#CelticFC #ROSCEL #COYBIG pic.twitter.com/9p21hYG8VZ

— CelticGoals (@GoalsCeltic88) December 15, 2021
"Anthony wasn't even 100% fit tonight with his ankle. But he's a Warrior – a Soldier and he loves this football club," Ange Postecoglou speaking to Celtic TV, see below…
Post-match reaction from Ange Postecoglou.#cinchPrem | #ROSCEL pic.twitter.com/KmVbXHDL98

— Celtic Football Club (@CelticFC) December 15, 2021
⚽️ Post-match reaction from the goal-scorer @anthonyralston8 in 97th minute 🧱🤩#cinchPrem | #ROSCEL | #COYBIG 🍀 pic.twitter.com/4aMGL2jwOk

— Celtic Football Club (@CelticFC) December 15, 2021
Note to the Scottish media: A few dozen fans celebrating on the pitch after a 97th minute winner while down to ten men are not "worrying scenes". It's joy, passion and football.

— Liam O'Hare (@Liam_O_Hare) December 15, 2021
Enjoying the very best of the Celtic Fan Media? Meanwhile over at the Mainstream Media….