"Oh Harry, Harry…Oh Harry Hood": Part 28: A glorious era ends in Athens
Scottish Double-winners Celtic ended the 1973/74 season by beating English FA Cup-winners Liverpool 4-1 on their own Anfield turf, the testimonial match for the Reds' former Dundee United centre-half, Ron Yeats, memorable for the sight of Bobby Charlton in the Hoops, and thrilling the 10,000 travelling supporters by opening the scoring early in the match.
Harry Hood would follow up his Hampden strike with the last of Celtic's goals, eight minutes after the break, Vic Davidson and Bobby Lennox having scored in the interim. Liverpool substitute Tommy Tynan would net a late consolation goal for Liverpool just before the final whistle.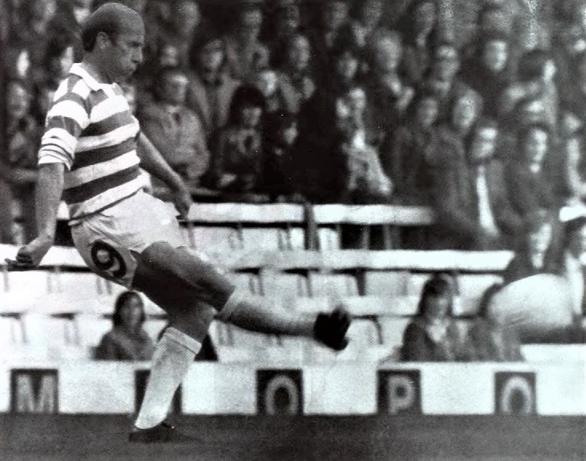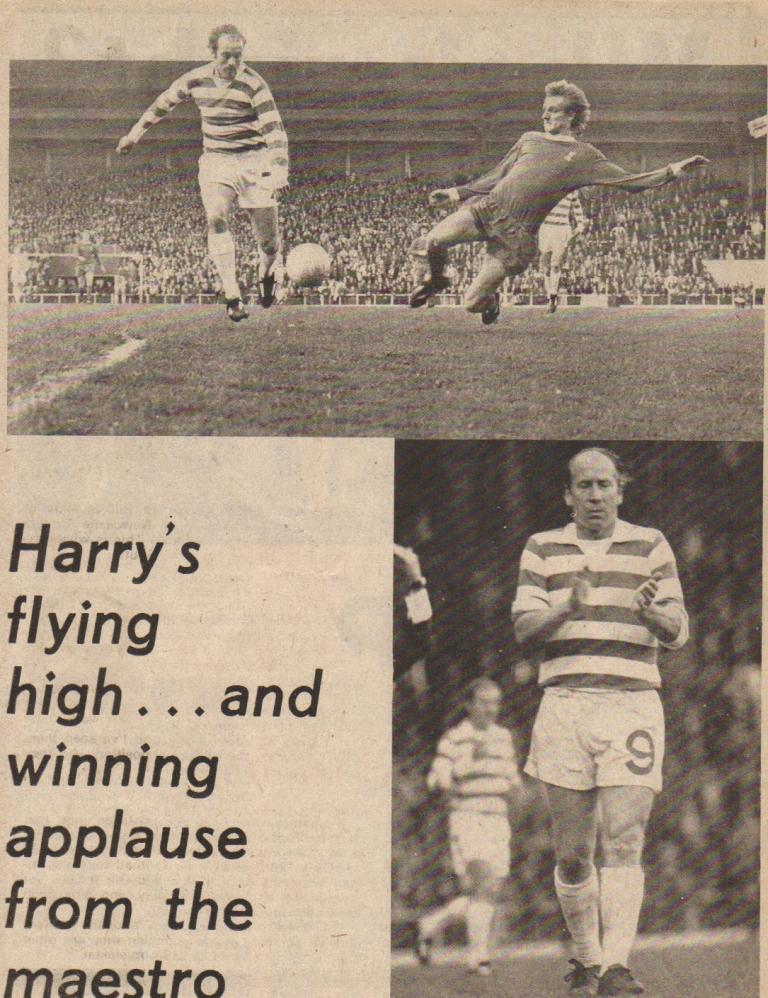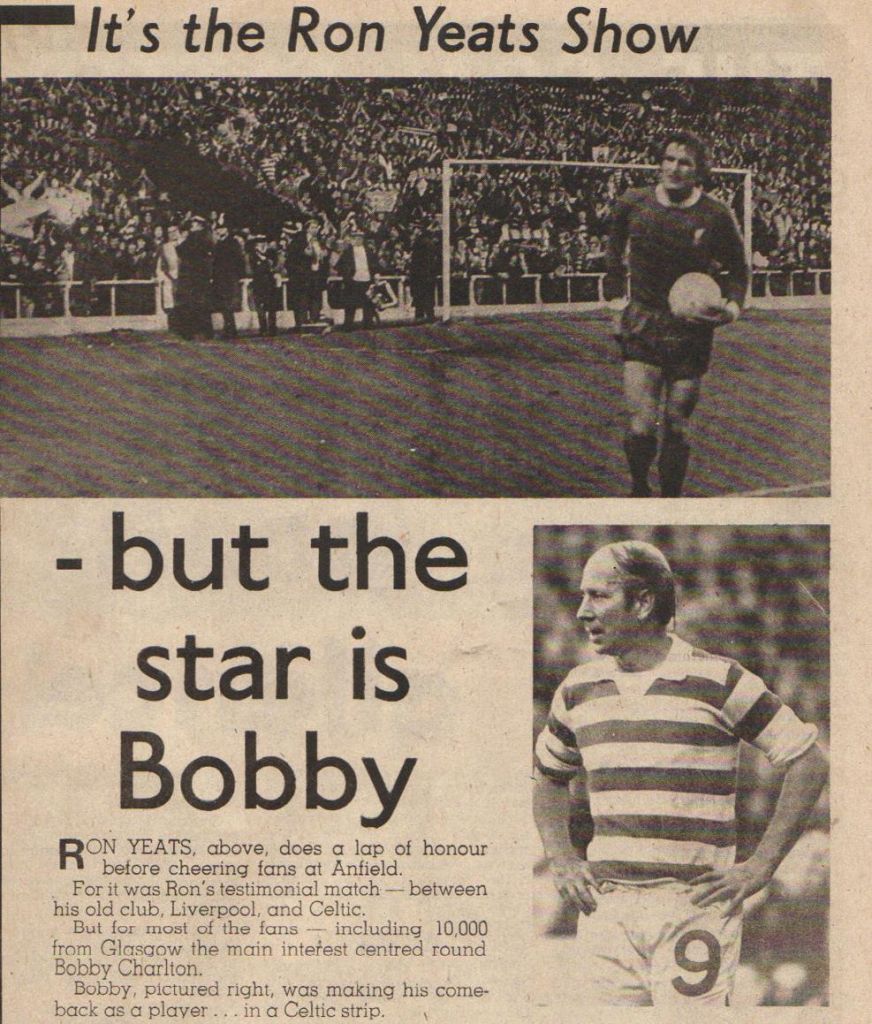 The close-season saw the departure of two players who had won a host of medals over the past five years at Parkhead. Goalkeeper Evan Williams had managed just one first-team appearance in 18 months, and sadly he was at fault for all three goals that night as Celtic slumped to defeat in Basel. He was released and would later join Clyde, against whom, co-incidentally, I had seen him make his debut in a Glasgow Cup-tie back in October 1969.
A week or so after that game, Tommy Gemmell's ordering off whilst on Scotland duty in Hamburg would see the first big opportunity for young full-back David Hay, replacing the Lisbon Lion for the League Cup final victory over St Johnstone. By the summer of 1974, Hay was one of the finest midfield players on this island, tipped by many as the natural successor to Billy McNeill as captain at Celtic.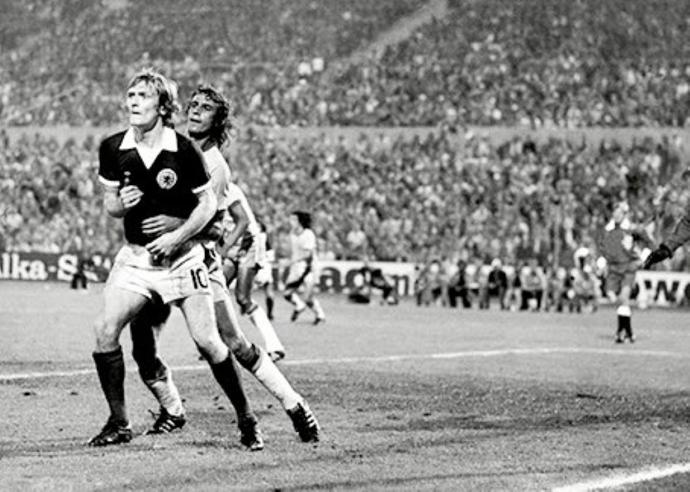 There had been ongoing contractual issues between Hay and the club for some months now, triggering rumours of a 'big-money' move to England, which refused to go away. He had excelled in the World Cup finals tournament for Scotland and on his return, a cheque for £225,000 saw him start a new career at Stamford Bridge. The club would effectively lose two players in that deal, as his close friend George Connelly would never really be the same again once David had left Glasgow. More on George to follow.
The season would get underway with yet more silverware for Celtic. After three failed attempts, the Drybrough Cup would be won following a penalty shootout victory over Rangers at Hampden, on Saturday, 3 August 1974. Celts had looked to have secured victory, after Paul Wilson's header early in extra-time gave them a 2-1 lead, a late Pat McCluskey own goal then ensuring the trophy would be decided on that most nerve-wracking of finales.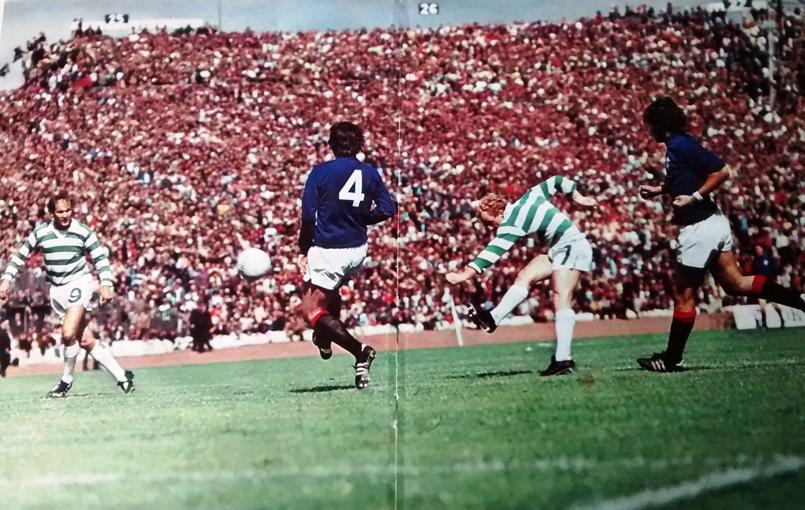 Harry Hood had earlier been replaced by Jackie McNamara, robbing the Hoops of an expert penalty-taker, and when Bobby Lennox saw his first effort saved by new Ibrox keeper Stewart Kennedy before Sandy Jardine converted his, things looked ominous for the Hoops. Denis Connaghan had contrived to throw the ball into his own net at Broomfield in the opening tie, Jock Stein presumably looking for Evan Williams' phone number at that point, however, the big keeper would now be the hero, saving from Derek Parlane then Tommy McLean.
One by one, the remaining Celts would step up to beat Kennedy, McCluskey, then Steve Murray, then Tom Callaghan. All of a sudden, it was down to Jimmy Johnstone, score and win. Jinky made a career out of netting against Rangers, and he would do so again, thrashing the ball into the net as Harry added a Drybrough Cup medal to the list of honours he had achieved at Celtic.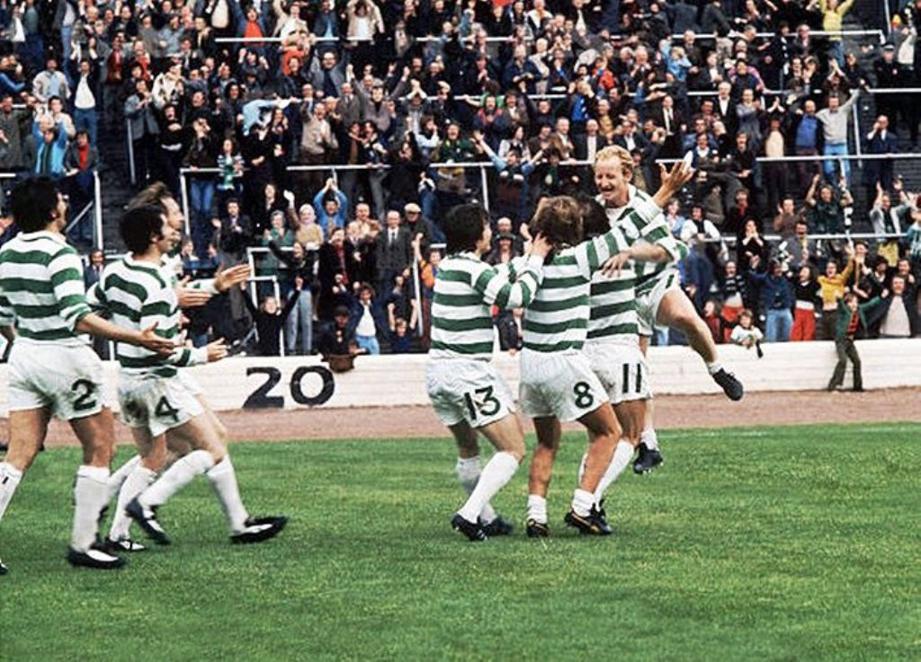 Nine days later, Hood would start on the bench as Billy McNeill's testimonial season kicked off with a glamour match against Liverpool at Celtic Park, 60,000 supporters paying tribute to the club's greatest-ever skipper as the Hoops drew 1-1 with the FA Cup-holders, playing under their own legend, manager Bill Shankly, for the final time. Harry would replace Bobby Lennox as a second-half Paul Wilson equaliser cancelled out John Toshack's early strike.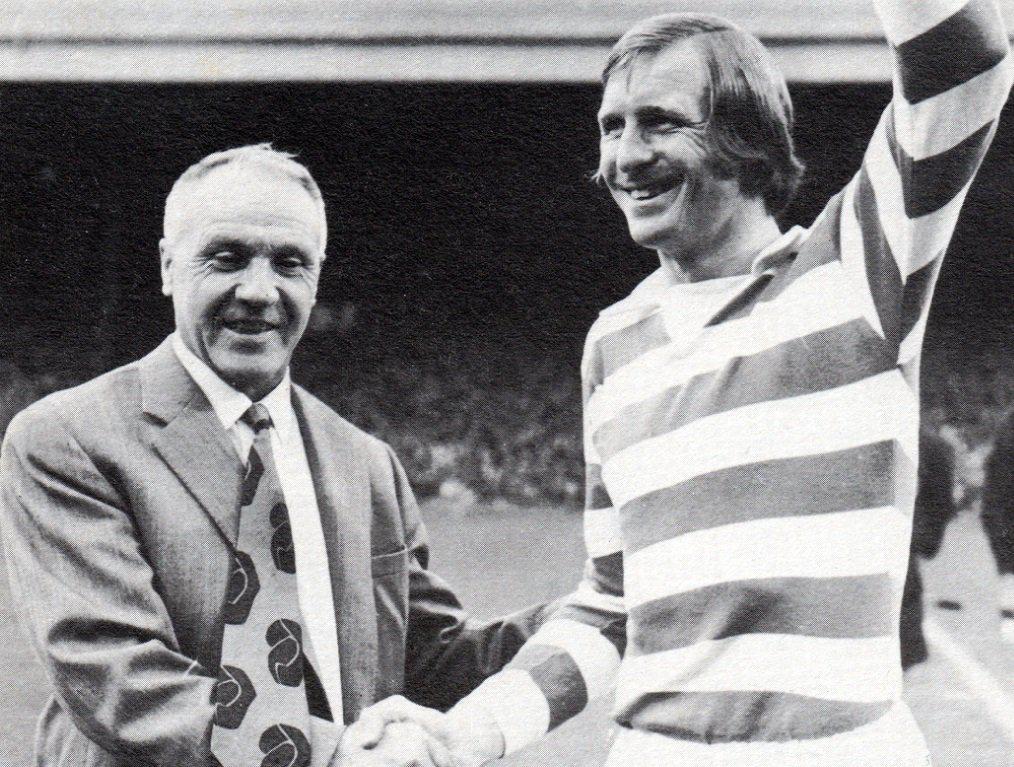 The path to an 11th successive League Cup final began with a section which included Dundee United, Motherwell and Ayr United, Harry featuring in five of the six games as Celts qualified from the group with a game to spare despite an early defeat at Somerset Park. The strongest group saw Hibernian emerge ahead of cup-holders Dundee and League runner's-up Rangers.
Hood would get off the mark for the season with a double over Hamilton Academical in the first leg of the quarter-final at Celtic Park on Wednesday, 11 September 1974, his first a quite exquisite lob over keeper Rikki Ferguson on the half-hour. If that was down to accuracy and touch then his second just after the restart was all about power, Harry blasting home after Jimmy Johnstone had worked his usual magic down the right wing.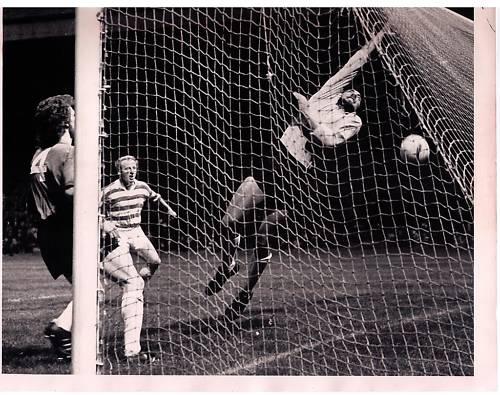 The last day in August had seen the League campaign open with a 5-0 home victory over Willie Fernie's Kilmarnock. Scottish Cup final heroes Harry Hood and Dixie Deans received a painful reminder that there is often little sentimentality in football, both surprisingly on reserve team duty at Rugby Park as Jock Stein opted for Paul Wilson and Vic Davidson alongside Kenny Dalglish and Jimmy Johnstone up front, with Bobby Lennox on the bench. Their case wouldn't be helped much that day as all four forwards scored before Steve Murray converted a last-minute penalty.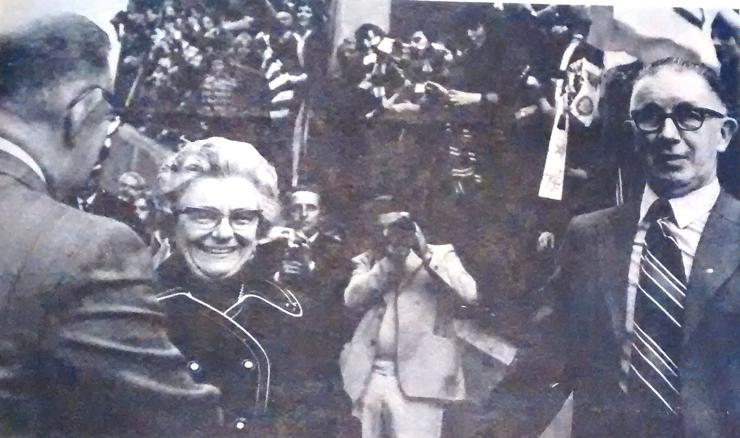 They were again missing seven days later, as Celts made the short trip to Shawfield, to face a Clyde team with Evan Williams between the posts, having swapped clubs in the summer. Stein was still struggling to choose an established number one, Denis Connaghan having literally 'thrown one in' at Broomfield whilst Ally Hunter's gaffe in the Somerset defeat had seen him quickly hand the gloves back to the former St Mirren man. Wouldn't you just know that the bold Evan would play a blinder in the first half, by which time his Clyde team were two goals to the good, thanks mainly to future Celtic midfielder, Dom Sullivan, who set up both.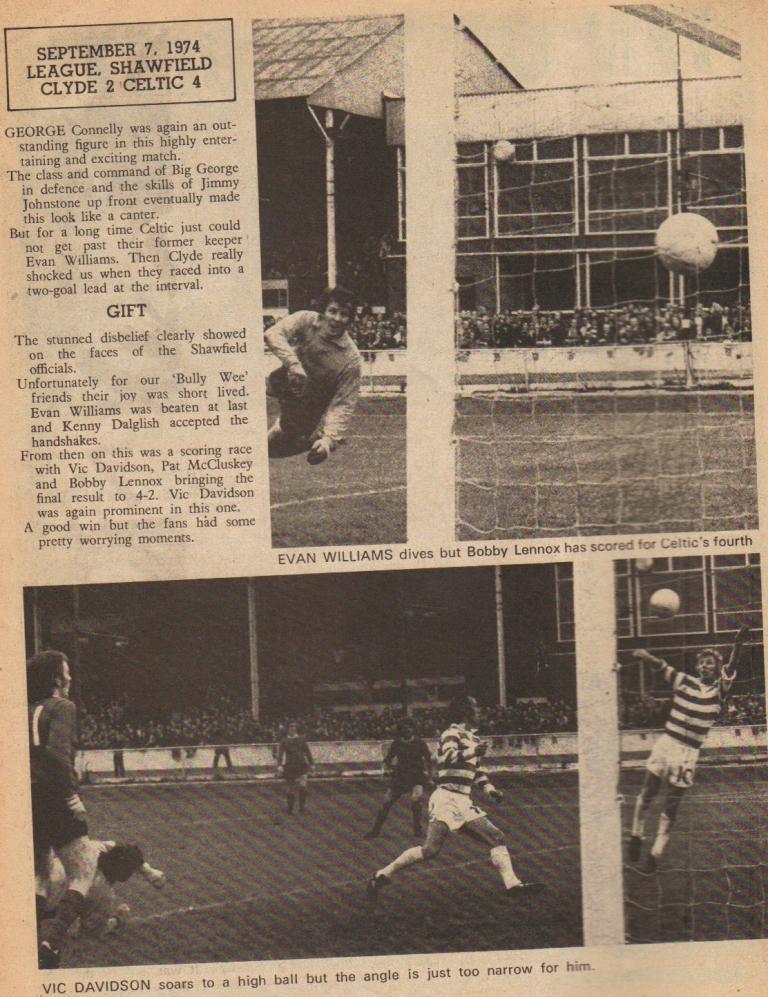 Jock's alterations, with George Connelly and Pat McCluskey swapping roles, would quickly pay dividends, the latter scoring Celtic's third from his new midfield beat, after Kenny Dalglish and Vic Davidson had levelled the match. Substitute Bobby Lennox would make it 4-2 late on.
Harry's League Cup double against Hamilton Academical saw him return to the League squad for the visit of Rangers three days later, a rite of passage day for yours truly, as I attended my first of these fixtures. Dad still wasn't too comfortable about me going to these matches, so it was left to my older brother, now in his late teens, to do the needful.
I can recall clearly walking along Janefield Street and, for the first time ever, hearing chants ringing out from our ground which were not the ones I had grown up to love. Once inside, tingling with excitement, we took our place much further back in the traditional Celtic End than normal. In those days, my recollection is that most of the singing started back there. There was plenty of that going on just after the half hour as King Kenny blasted a shot over Stewart Kennedy which flew into the net off the crossbar to give the Hoops the lead.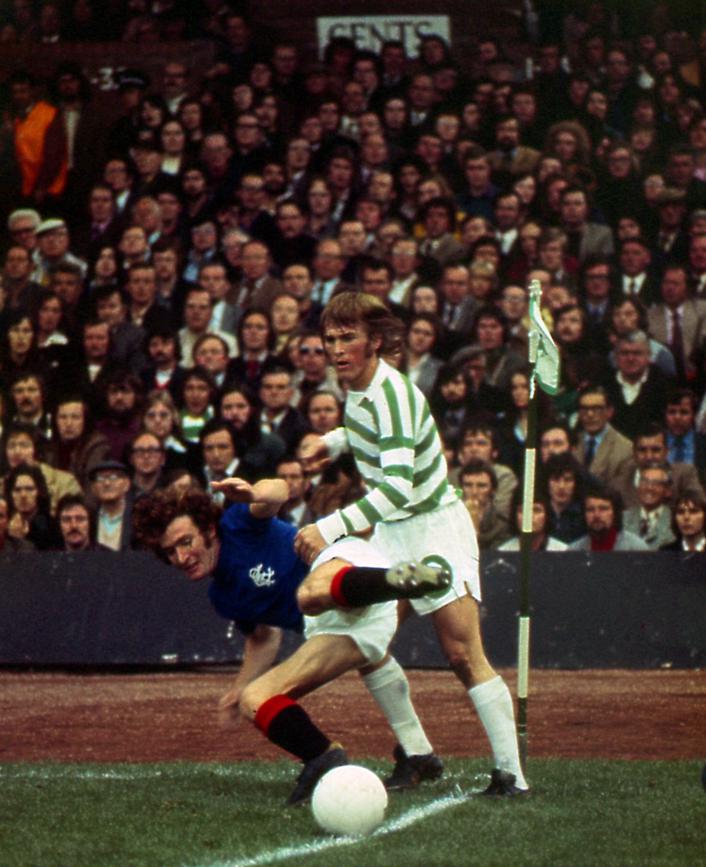 At that point, my brother leaned over to say something along the lines of, "that's the first of many," however, sadly, those adoption papers would soon be getting wheeled out again, as the second half proceeded to go downhill rapidly. A young and largely unknown Ian McDougall equalised out of the blue before a clash between Jim Brogan and Derek Parlane saw the Celt sent off but the Ibrox striker, remarkably, remain on the pitch.
The goalkeeping problems then once again came back to haunt the 10-man Celts, as Denis Connaghan lost a cross allowing Colin Jackson a free header for 2-1 with 15 minutes remaining. As the niggles continued all over the pitch, Jimmy Johnstone's booking saw him immediately replaced by Harry Hood, and by the time Parlane had finally been given his marching orders, in the dying seconds, the loss of an unbeaten home run against Rangers, which had stretched back six years to the autumn of 1968, would sadly be the legacy of my first major Glasgow derby.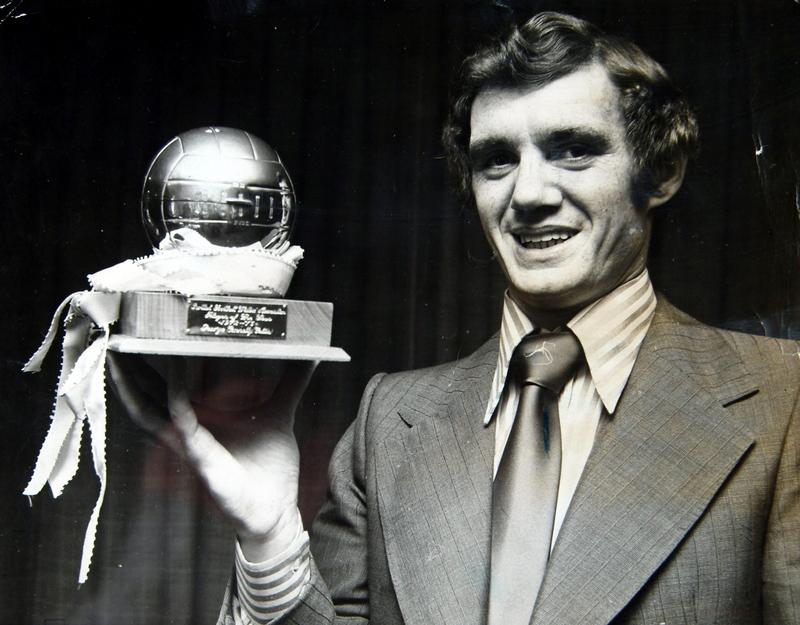 The mystery of George Connelly's non-appearance in that game would be cleared up in the immediate aftermath, reports indicating that the brilliant but troubled Celt had not turned up at the scheduled time and place and had basically had enough of the limelight he attracted by playing football at that level.
Between that and the defeat, it would be fair to say that preparations could have gone better for the midweek European Cup first-round tie with Olympiakos, the reigning Greek champions. This would begin Celtic's 10th consecutive assault on European football's blue riband competition under Jock Stein, whilst on only two of those occasions, in 1967 and 1973, had his team failed to reach at least the quarter-final, Dynamo Kiev and Ujpest Dosza, respectively, the two clubs to breach that proud record.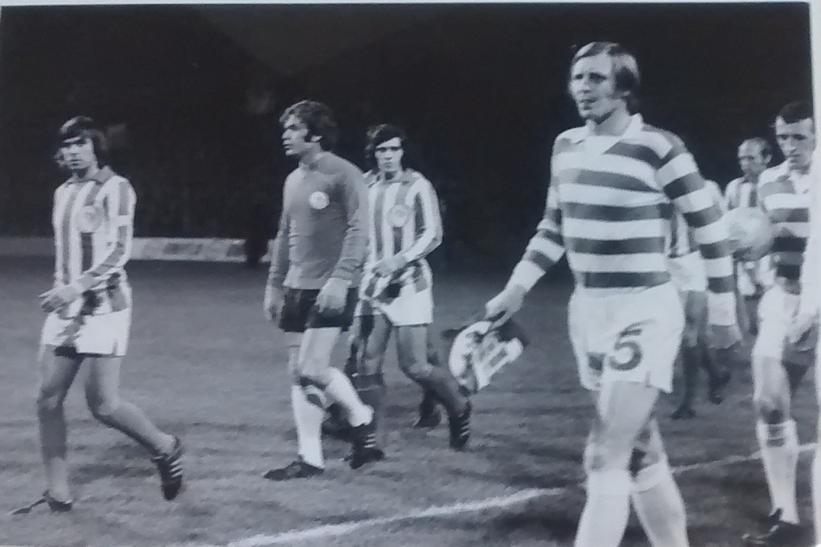 That record would be seriously under threat after a frustrating and ultimately disappointing night at Celtic Park, on Wednesday, 18 September 1974. I remember the headlines after a heavy defeat endured by Scotland in Portugal under Andy Roxburgh, "the night a team died," or something similar. I always equate the Olympiakos tie with a similar feeling about the great Celtic sides under Jock Stein. Just over two years previously, I had witnessed perhaps the last truly wonderful performance by a Hoops team in a major match, the 1972 Scottish Cup final, a 6-1 demolition over the finest Hibernian team of my lifetime, a side who would have been champions in any other era. Perhaps symbolically, it was the last time we would wear that Lisbon crew-neck jersey, a decade after it had replaced the old rugby-collared Hoops.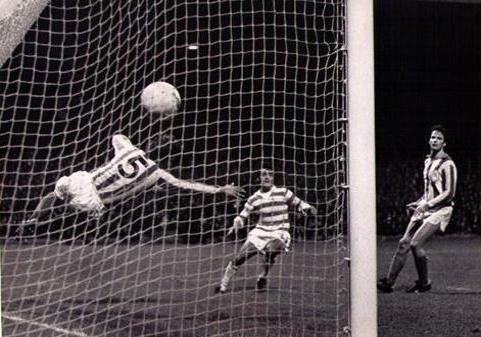 From that fabulous afternoon, whilst two further League titles had been secured plus, indeed, a recent Double, it was hard to escape the possibility that we were watching a side in decline, and it was not difficult to fathom why. The genius of Bobby Murdoch had peaked, then left the following season, with the three remaining Lions, Billy McNeill, Jimmy Johnstone and Bobby Lennox, all now the wrong side of 30. Of those, only Cesar was an automatic pick, Jinky disappearing from the team for long periods, sometimes unexplained, leading to unhelpful speculation.
Stein had planned and, in many cases, proactively created the space for their successors to follow, however, the changing world of football had seen Lou Macari then Davie Hay move to England, whilst George Connelly was now also lost to the Celtic manager. These were top-class players, whose individual and collective loss would have been felt by any team. The career of the next young hope, Brian McLaughlin, was effectively ended after a horrific challenge in September 1973, whilst the goalkeeping position had never been adequately filled since Ronnie Simpson's injury, some five years ago now. Ally Hunter could and should have been the answer, however, ironically, the first Celtic keeper since 'Faither' to play at international level lost his confidence after losing a goal for Scotland. He was never the same.
Then there was the curious case of Dixie Deans, hat-trick hero at Hampden in 1972, following that up with 33 goals in each of the two following campaigns. He had been a peripheral figure since his excellent performance in the most recent Scottish Cup final – where he had scored one and made the other two as Celts beat Dundee United 3-0 – starting just twice this season. He would return to the Celtic bench for the visit of Olympiakos, as Stein went with this team.
Denis Connaghan; Danny McGrain & Jim Brogan; Steve Murray, Billy McNeill & Pat McCluskey;

Jimmy Johnstone, Harry Hood, Kenny Dalglish, Tom Callaghan & Paul Wilson.

 Substitutes; Ally Hunter, Jackie McNamara, Roddie MacDonald, Dixie Deans & Bobby Lennox.
Celtic's first-ever meeting with Greek opposition followed on perfectly from their previous tie in the competition, against Atletico Madrid, as a South American was booked within a minute for a foul on Jimmy Johnstone. In fairness, the chap concerned, Uruguayan midfielder Milton Viera, was a player. Barely out of his teens, he had featured in all three of his country's group games in London at the 1966 World Cup finals, as unbeaten Uruguay progressed with England to the quarter-final, before missing out on the 4-0 defeat by West Germany at Hillsborough.
At that time, he played his club football at Nacional, and he could very well have faced Celtic the following year. In August 1967, after two goalless draws in the two-legged final of the Copa Libertadores, Viera's Nacional would lose 2-1 to Racing Club in the Santiago play-off. It would thus be the Argentinians who would progress for their infamous clashes with Celtic.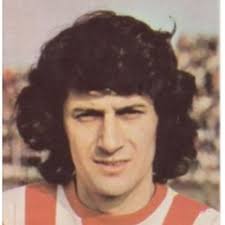 After a brief spell with Boca Juniors, Viera would return to Uruguay to sign for new champions Penarol in 1968, suffering defeat once again in the final of the Copa Libertadores in May 1970 with his new club, this time to another Argentinian side, Estudiantes. After a trophy-laden decade in his native Uruguay, he would head for Europe to sign for Olympiakos in 1972, as would Penarol teammate Julio Losada, the duo having added two Greek championships and a Greek Cup medal to their tally before lining up in Glasgow in September 1974.
That would be an eventful night for Viera, following up his early booking by putting Olympiakos ahead 10 minutes before the interval after playing a delicious one-two with Losada, then becoming the fourth player to see red against Celtic in two European matches at Parkhead by tugging Harry Hood's shirt as the Celt sought an equaliser. He would merely delay that goal by 60 seconds, Paul Wilson volleying a Bobby Lennox cut-back past keeper Panagiotis Kelesidis. There would be much for Celts to do in Athens in a fortnight to avoid the old "Greek Tragedy" headlines.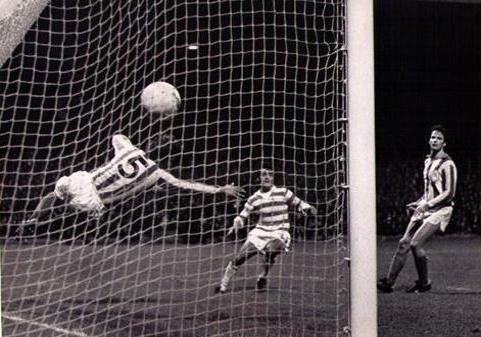 As a footnote to this match, a section of the Celtic support had grown restless as the second half had progressed with no sign of a breakthrough, eventually breaking into the inevitable chants for Dixie Deans. This was a common occurrence at that time, with Jimmy Johnstone often the player involved. My dad would just as inevitably turn to me and say, "well, we won't be getting him then," in reference to Jock's alleged stubbornness in bowing to the demands of the crowd if it didn't suit him. As always, Dad was correct, and Dixie stayed on the bench, Stein introducing Bobby Lennox for Jim Brogan instead.
There was still no sign of the prolific Deans at his old Fir Park stomping ground, three days later, two Lennox penalties seeing the Hoops bounce back from European disappointment with a 2-1 win, however, Dixie would be in the shadow team which qualified for the last four of the League Cup at nearby Douglas Park the following midweek, the striker drawing Celtic level late in the first half after an early Billy McNeill own goal had reduced the aggregate deficit to 2-1. Second-half goals from Tom Callaghan, Jackie McNamara and Bobby Lennox sealed a 4-2 win.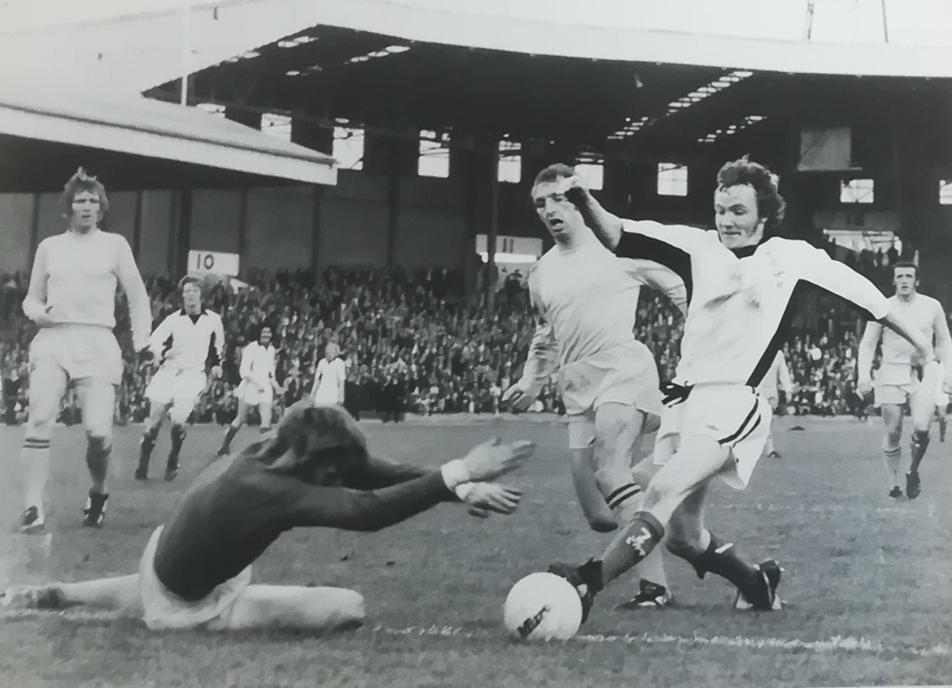 Deans would start the home game against bottom-dogs Ayr United on the final Saturday of September, opening the scoring in the 20th minute before setting Paul Wilson up to head the Bhoys into a 2-0 lead by the half-hour. Doug Somner would reply for the visitors before Kenny Dalglish sent Celts in 3-1 ahead at the interval, following which two sensational strikes by Wilson then Harry Hood ended the contest at 5-1 with 40 minutes still remaining. No doubt Jock Stein would have been annoyed at the loss of further goals to Dickson and Filippi, which ended the scoring at 5-3. Such slackness at the back could be fatal in Athens in midweek.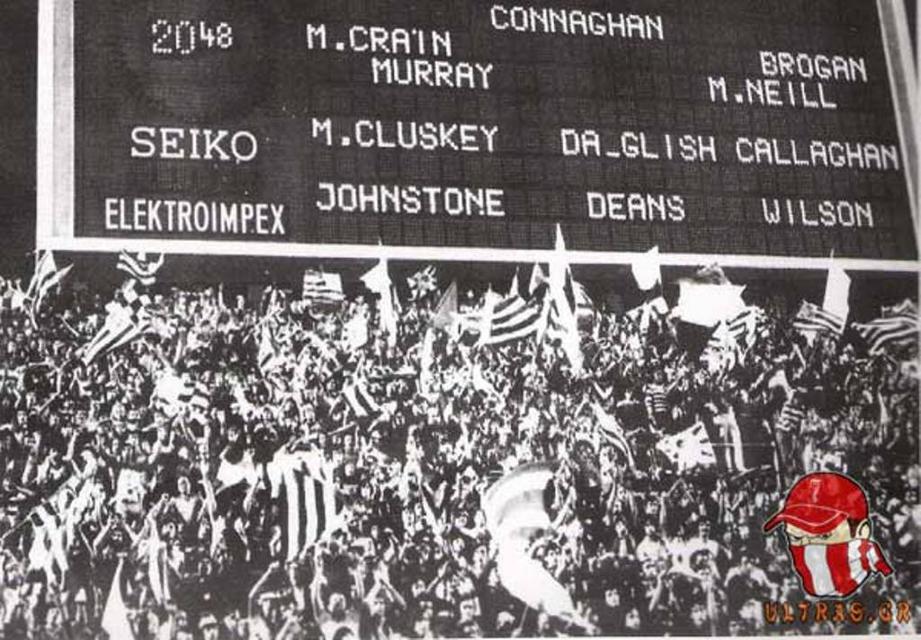 The squad which left for Greece 48 hours later would not include the long-serving duo of Jimmy Quinn and Vic Davidson, or the much more recent signings Andy Lynch and Jimmy Bone, all of whom found themselves on the transfer list, as Stein looked to revamp his team.
Despite Olympiakos missing their suspended talisman Viera, the Celtic manager must have feared the worst when he saw the state of the Karaiskakis pitch, described in one newspaper report as a "patchwork quilt" and by Stein himself as the poorest he had ever encountered in Europe. With Celts needing to score at least once to qualify after the disappointing home draw, he fielded an attack-minded formation with Jimmy Johnstone and Paul Wilson either side of Dixie Deans, the trio supported by Steve Murray, Kenny Dalglish and Tom Callaghan.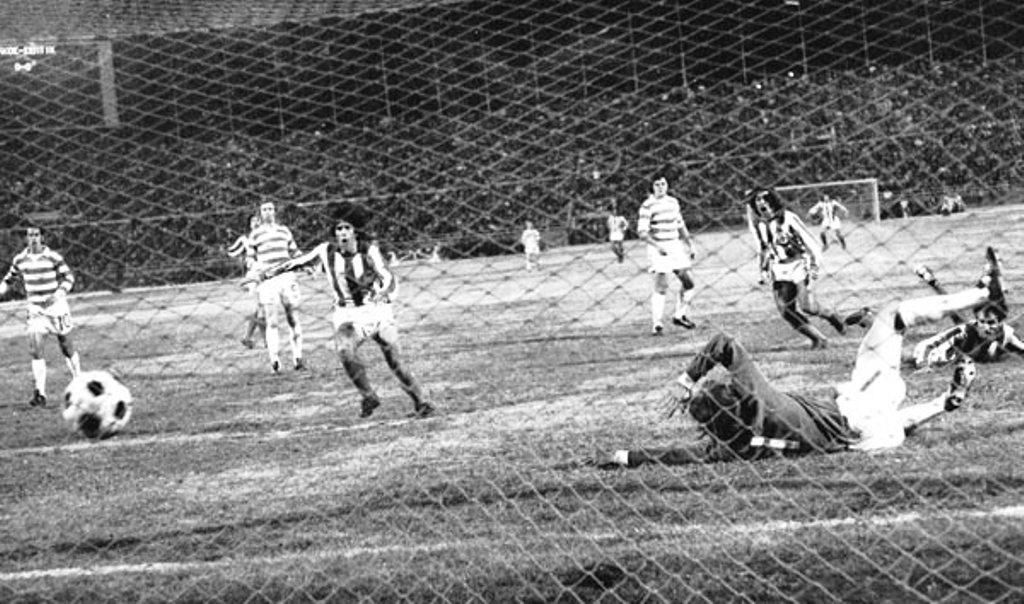 The Hoops would get off to the worst possible start, as Kritikopoulos wandered unchallenged into the Celtic box to head a free-kick under Denis Connaghan within two minutes, and midway through the first half, the tie had gone, this time a cruel deflection sending another dead-ball effort from Stavropoulos into the opposite corner, with the Hoops keeper stranded, both goals sparking a pitch invasion by the local photography corps. Quite bizarre scenes.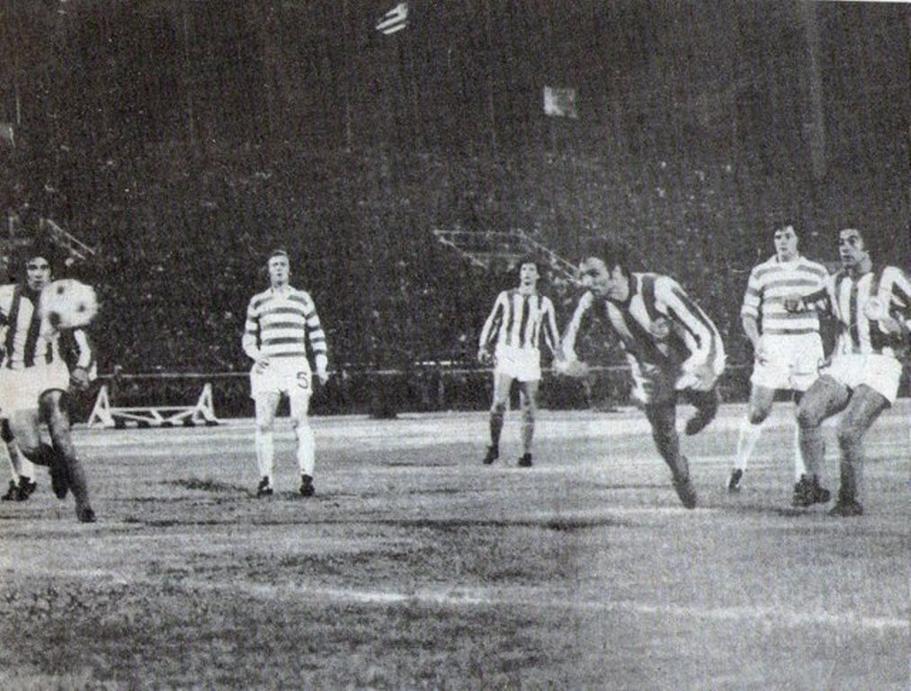 On the hour, Stein's last throw of the dice was to introduce Harry Hood and Bobby Lennox for Kenny Dalglish and Jimmy Johnstone, however, the hopelessness of the night was perhaps summed up perfectly as the mild-mannered Lisbon Lion was sent off by East German referee Rudi Gloeckner in the most ridiculous circumstances. He received a yellow card for pointing out to the bungling official that the Greeks were trying to make a substitution, then saw his match ended following a 'nothing' challenge late on.
The 40,000 Greek supporters would have no interest in any of that, as they claimed the biggest scalp in their history. More than 40 years later, I would visit the stadium whilst in Athens for the Champions League qualifier with AEK, to be greeted with various celebratory images of that night. As an aside, that was also the case in Atletico Madrid's new stadium, in which I also took a tour a couple of years back. It's perhaps difficult to imagine nowadays just how huge Celtic were back then in European terms, however, sadly that night in the port of Piraeus would be a watershed for the club. We would not know it then, but we had just seen Billy McNeill's last European match as a player.
As a final word on this tie, Milton Viera would return to score from the penalty spot as Olympiakos' next European Cup game ended in a 5-1 defeat by Anderlecht in Brussels. For some reason, perhaps the condition of the pitch or as ordered by UEFA, the second leg of that second-round tie was played in Patras, 150 miles from Athens, a hat-trick from Maik Galakos taking the Greek champions to within one goal of a stunning comeback against the Belgians.
Thanks, as always, to the wonderful Celtic Wiki.
Hail Hail!
Matt Corr
Follow Matt on Twitter @Boola_vogue