"Oh Harry, Harry…Oh Harry Hood": Part 39: A magnificent seven seasons at Celtic ends for Harry
Still boiling with a sense of injustice following the midweek events in East Germany, the Celtic party took the road and the miles to Dundee on Saturday, 20 March 1976 for a vital League match at Dens Park. Included in the squad was new club record signing Johnny Doyle, whilst there was no sign of midfielder Jimmy Smith, a seemingly somewhat reluctant loanee from Newcastle United who had finally arrived that week.
Both men had featured in a reserve team which beat their Dundee counterparts 4-0 at Celtic Park 24 hours after the defeat in Zwickau. The unfortunate Smith would quickly return to Newcastle with a recurrence of the knee injury which had dogged his career and without playing a first-team match for Celtic, leaving Sean Fallon still short of creative options. On the flip side, no doubt lifelong supporter Doyle would have loved the fact that he had scored in his first match wearing those scared Hoops.
Two days later, Johnny would make his senior Celtic debut against a Dundee side captained by Lisbon Lion Tommy Gemmell and with future Parkhead boss Gordon Strachan on the bench. Fallon's side was again decimated by a combination of flu and injuries, Ronnie Glavin having recovered from the former then struck by the latter against Sachsenring in midweek. That would mean defender Roddie MacDonald again adopting a central striking role at Dens, as Celts went with the following line-up.
Peter Latchford; Danny McGrain & Andy Lynch; Pat McCluskey, Roy Aitken & Johannes Edvaldsson;
Johnny Doyle, Kenny Dalglish, Roddie MacDonald, Jackie McNamara & Harry Hood.

Substitutes; Paul Wilson & Tom Callaghan.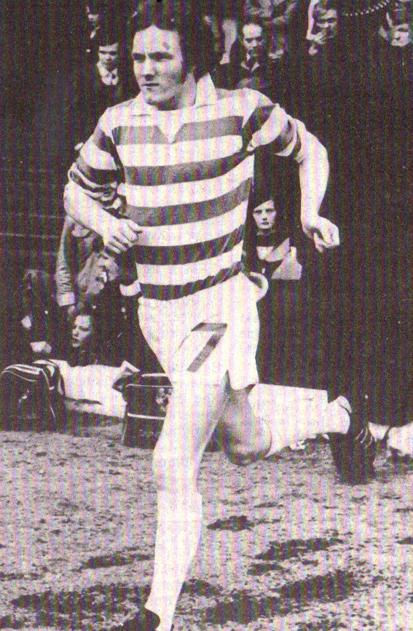 I recall being one of the 15,000 inside the ground, standing with my dad and some of the older Cairn CSC guys and their sons, in the covered enclosure opposite the main stand as the teams ran out that afternoon, Johnny proudly wearing those number seven shorts.
Irishman Frank Dolan, a friend of my dad's, proclaimed to one and all that "we had signed the new Jinky", before being roundly scorned for such sacrilege. Johnny was a great talent, with the heart of a lion and is still revered by Celtic supporters to this day, however, there was only one Jinky.
Sadly, Doyle's Bhoyhood dream lasted only half-an-hour, the winger carried off after one crunching Dundee tackle too many just before the interval, having gamely tried to carry on. The crude challenge by home defender Dave Johnston had cost him a booking from referee Davidson of Airdrie but it would rule Johnny out of action for the next month, the latest in a series of blows for Sean Fallon.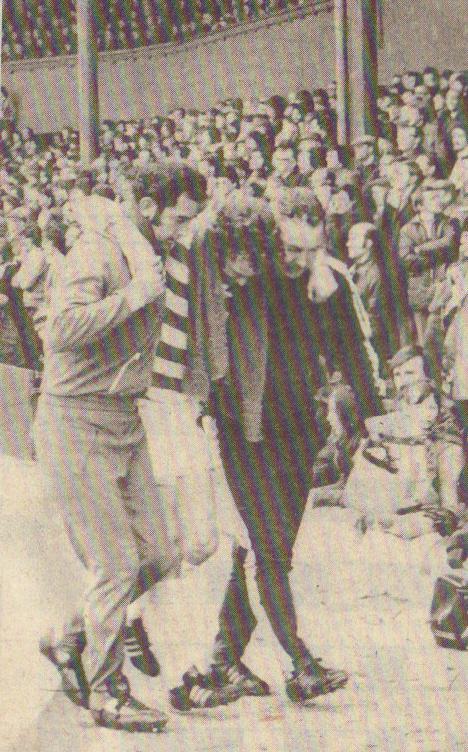 The one shining light at the end of the tunnel was the form of captain Kenny Dalglish. Yet again, he would step up to secure the points for Celtic, this time with the aid of a subtle assist from emergency striker Roddie MacDonald. As we approached the hour still goalless, a swivel of King Kenny's hips would take him clear of Thomson Allan in the home goal, opening up the target for an unerring finish. Thus, another difficult fixture had been ticked off with Celts still clear at the top of the table, and now just nine games remained.
Those matches would commence with the visit of Motherwell to Celtic Park on Saturday, 27 March 1976. There would be revenge in the air, the visitors chasing a third successive victory at Celtic Park for surely the first time ever, Willie Pettigrew having grabbed doubles in each of the last two games in Glasgow's east end, followed by the winner as the Steelmen knocked the holders out of the Scottish Cup just two months earlier.
Sean Fallon would make two changes from the team which had narrowly won at Dundee the previous week, Bobby Lennox replacing the injured Johnny Doyle whilst Harry Hood made way for the return of Dixie Deans.
Celtic had inexplicably blown a two-goal interval lead at Motherwell in that January cup-tie, however, there was never any danger of history repeating itself on an afternoon where the match was won in a blistering first-half display, the Bhoys scoring four without reply, despite playing against a strong wind. Tormentor-in-chief once again was Kenny Dalglish, the skipper opening the scoring after 15 minutes with a low shot then making it 3-0 on the half-hour with a sublime goal, the King weaving his way along the byeline to leave two defenders for dead before curling the ball past Motherwell keeper Stewart Rennie from an impossible angle. In between those strikes, Dixie Deans would help himself to his usual goal against his old team by rifling a Pat McCluskey pass past Rennie, albeit with some suggestion of handball in the build-up.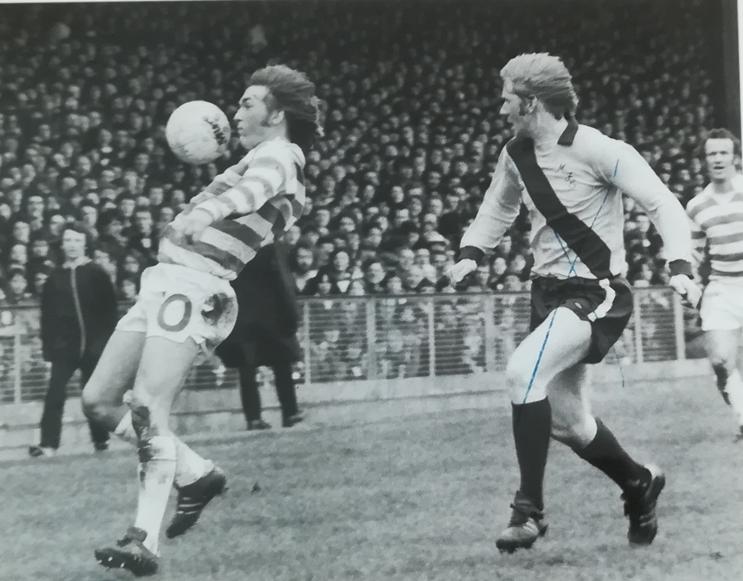 The wonderful Danny McGrain then capped his first-half masterclass of full-back play by setting up Bobby Lennox for a fourth five minutes from the break. Perhaps the only surprise was that the second half did not provide the same excitement for the 30,000 spectators, Paul Wilson replacing makeshift forward Roddie MacDonald for the closing 15 minutes as Celts coasted to a 4-0 victory which few would have envisaged at kick-off. That result would see the Hoops maintain their single-point advantage at the top of the table, with Rangers winning 3-0 against relegation-haunted St Johnstone up in Perth. Eight games to go.
Saints' cause was hardly helped by a fixture schedule which sent them next to Celtic Park, the following Saturday. Once again, Celtic's plans to play the outstanding fixture with Ayr United in midweek had had to be shelved, with the Somerset Park pitch waterlogged, another valuable opportunity to get points on the board wasted. For the weekend visit of St Johnstone, Sean Fallon named an unchanged starting 11, the Celtic boss introducing young Robert Hannah to the bench in place of Tom Callaghan. A disappointing crowd of just 16,000 watched the Hoops maintain the push for the title by beating the Perth side by the odd goal for the fourth time that season.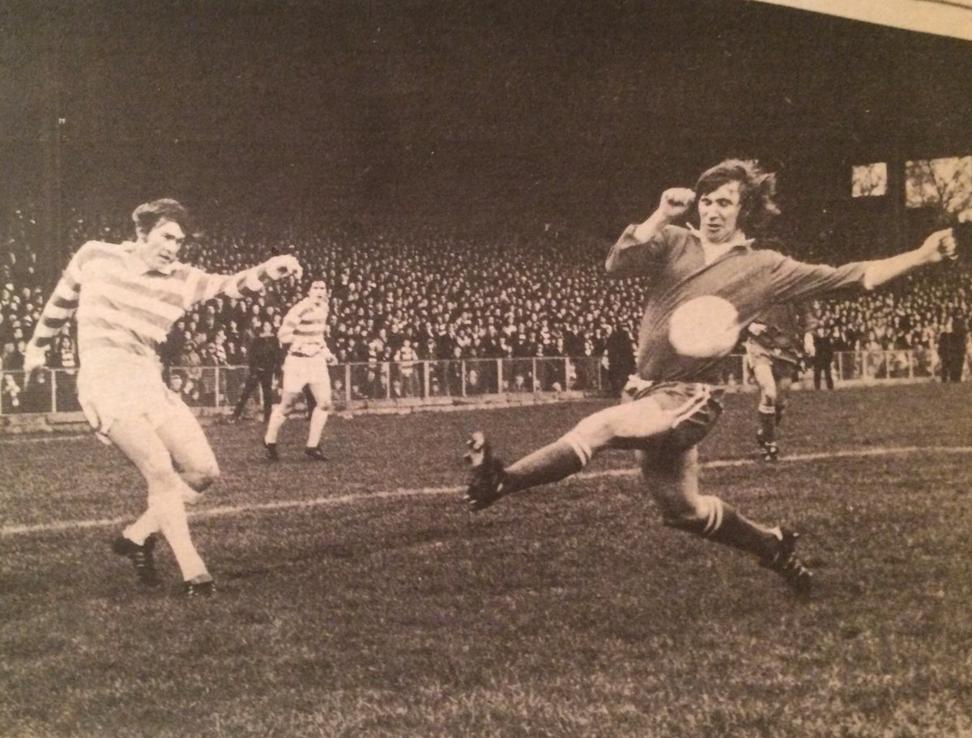 At Muirton Park back in January, it had required a last-gasp header from Johannes Edvaldsson to edge a seven-goal thriller. This time the key moment came just 20 minutes in, and once again it would be Kenny Dalglish who would make the difference. The Celtic captain sent Dixie Deans down the left flank before racing into the box in expectation of a return pass. Deans would duly do the honours to allow Dalglish to beat Davie Nicol at the far post for the only goal of the game. The news from Easter Road would reinforce just how vital that solitary strike had been, Rangers winning one of their most difficult fixtures in Leith by 3-0 to remain hard on Celtic's heels.
The title would start to tilt away from Celtic following a damaging defeat at Tannadice seven days later, Saturday, 10 April 1976. This was also a significant day in the wonderful football career of Harry Hood, as he was recalled after a three-week absence to make his 325th and final appearance wearing his beloved Hoops. Just over seven years earlier, on Saturday, 29 March 1969, the 24-year-old Hood had made a scoring debut at Love Street, Paisley two weeks after signing from Clyde, as part of this team chosen by Jock Stein ahead of a month where he would win a second Treble.
John Fallon; Jim Craig & Tommy Gemmell; Bobby Murdoch, Billy McNeill & Jim Brogan;
Jimmy Johnstone, Harry Hood, Willie Wallace, Bobby Lennox & John Hughes.

Substitute; Tom Callaghan
Only Bobby Lennox of that starting line-up would be beside him on Tayside as Harry drew a line under that part of his life, with the evolution then dissolution of that team making for interesting reading. The group would remain intact for the next two seasons before October 1971 saw the departure of Willie Wallace and John Hughes to Crystal Palace, the duo quickly followed by Tommy Gemmell as he headed to Nottingham Forest just before Christmas. Goalkeeper John Fallon signed for Motherwell in March 1972 and Celtic's 6-1 victory over Hibernian in the Scottish Cup final two months later was the final hurrah for Jim Craig before leaving to start a new life with his family in South Africa. Bobby Murdoch joined Jack Charlton at Middlesbrough in September 1973, however, the close-season of 1975 would perhaps be the most significant of all, as Billy McNeill, Celtic's greatest-ever captain, Jimmy Johnstone, the genius voted our best-ever player, and that wonderful servant Jim Brogan all left the club.
The class of '76 selected by Sean Fallon to keep the title dream going against a Dundee United side fighting for their Premier League lives at Tannadice was as follows.
Peter Latchford; Danny McGrain & Andy Lynch; Pat McCluskey, Roy Aitken & Johannes Edvaldsson;
Harry Hood, Kenny Dalglish, Dixie Deans, Ronnie Glavin & Bobby Lennox.

Substitutes; Paul Wilson & Roddie MacDonald.
A tense match played in difficult conditions appeared to be heading towards a goalless first half before that scourge of Celtic, Tom McAdam, threw the flag race wide open by hooking the ball over Peter Latchford to make it 1-0 to United seconds from the interval. A below-par Hoops side would find the strength to fight back, and once again it was the skipper to the rescue, Kenny Dalglish taking aim from 25 yards to beat Hamish McAlpine with a low shot on the hour. Within two minutes, the hosts had regained their advantage, George Fleming on the end of a slick passing move to head past Latchford. With Harry Hood making way for Paul Wilson, his last act as a first-team Celt, the saviour Dalglish would see another excellent effort crash off McAlpine's crossbar before Jim McLean's men sealed the two vital points with five minutes to play, McAdam again on target with a diving header at the far post to push a dagger through the hearts of the huge travelling support.
Kenny Dalglish would have the last word with a close-range finish to give Celts a flicker of hope at 3-2, however, the news of Rangers 3-0 victory over United's city and relegation rivals Dundee at Ibrox would complete a great afternoon's entertainment for the home fans, whilst we would pour out onto Sandeman Street with heavy hearts, a lead at the top of the table which Celtic had held since November gone in a flash. It felt like we had seen this particular movie before, 12 months earlier, in fact.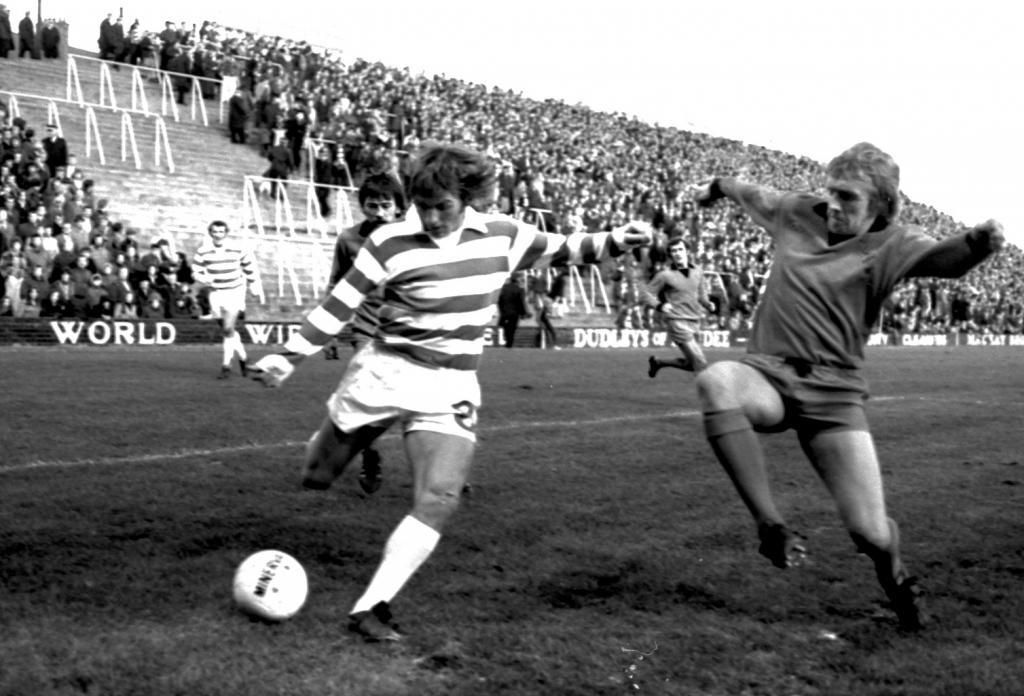 The fixture calendar would once again conspire to hurt Celtic in midweek, as Hearts Scottish Cup replay with second-tier Dumbarton meant the Hoops would be idle as all other Top 10 clubs played League matches. Rangers would drop a point in a goalless draw at Pittodrie and then find themselves further out in front, rather than see their hard-fought lead disappear immediately. As I mentioned in an earlier chapter, sometimes timing in football is everything.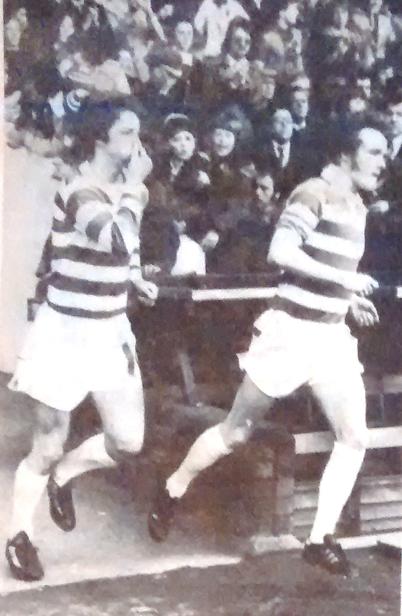 Celtic would then compound the situation at the weekend with a little help from our old friend JRP Gordon, as Aberdeen faced a second title challenger in four days. Like Dundee United the previous Saturday, the Dons were fighting for survival in this first Premier League season. With St Johnstone already all but down, the second team to face the trapdoor would come from Aberdeen and the two Dundee clubs.
There was another selection headache for Sean Fallon following the demoralising defeat at Tannadice. Andy Lynch and Pat McCluskey had accumulated a level of bookings which saw both suspended for the visit of Aberdeen, Tom Callaghan recalled from a spell on the sidelines to cover at left-back, whilst young Tommy Burns came in for his starting debut in midfield. Better news for the Celtic boss was the return of Johnny Doyle, the winger now recovered from that injury sustained at Dundee to make his first home appearance in the Hoops, albeit that would come to the exclusion of Harry Hood. I had never appreciated before that those two great friends and Celts, Tommy and Johnny, had made their first Parkhead starts together. Somehow, that just feels right.
In front of 29,000 nervous but excited supporters, Sean Fallon named the following men to keep Celtic in the hunt for the League Championship.
Peter Latchford; Danny McGrain & Tom Callaghan; Ronnie Glavin, Roy Aitken & Johannes Edvaldsson;
Johnny Doyle, Kenny Dalglish, Dixie Deans, Tommy Burns & Bobby Lennox.

Substitutes; Paul Wilson & Andy Ritchie.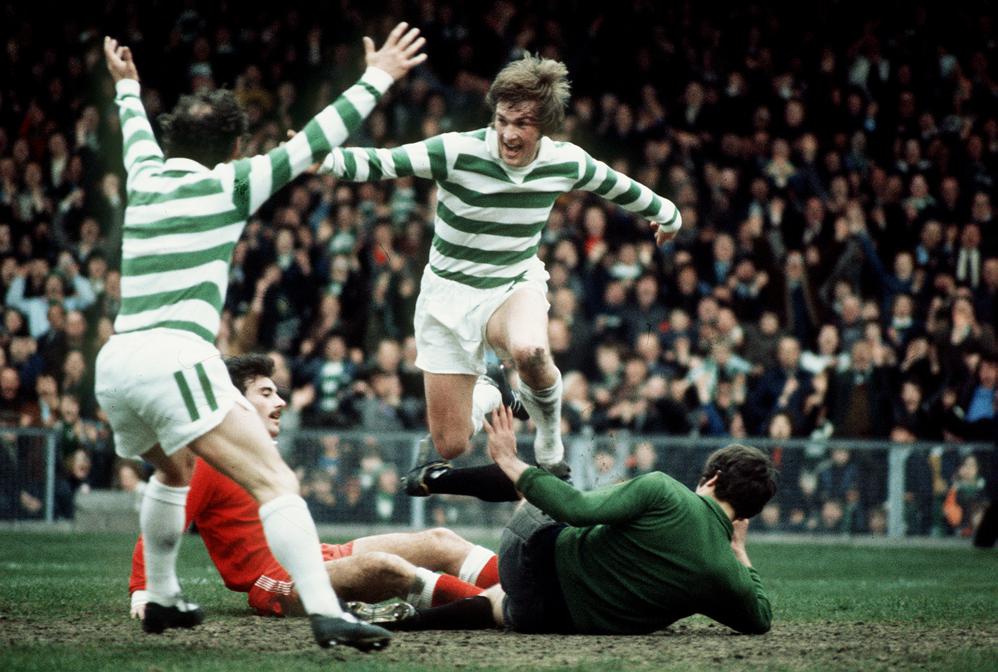 As he had done so often this season, Kenny Dalglish would open the scoring for Celtic, the Hoops skipper following up to beat Bobby Clark after the Dons keeper had parried his close-range header midway through the first half. Seconds before the interval, there was dreadful misfortune for Celtic defender Johannes Edvaldsson, a man enjoying a wonderful first season in Scottish football. His attempted clearance from an Aberdeen free-kick would slice horribly past Peter Latchford to bring the visitors most unexpectedly level at the break.
The drama would then continue immediately after the restart, with a first coming together of those two warriors Roy Aitken and Willie Miller. The young Celt found himself running in on goal before Miller illegally brought that to an end, a challenge which produced a red card from referee Gordon. Celts would then lay siege on the 10-man Dons and, with seconds remaining, it appeared they had secured the vital two points which would have left the advantage with them. Bobby Clark inadvertently played the ball yards too far in front of him as he prepared to clear upfield, the ever-alert Dalglish pouncing to win the race and force the ball home.
As Parkhead erupted and the linesman sprinted to the halfway line to signal the goal, referee Gordon, from his position 40 yards up the pitch, incredibly charged back into the box to award a free-kick to Aberdeen. It was a scandalous decision, a sliding doors moment which would have huge consequences at both ends of the Premier League. The Dons would eventually pip relegated Dundee only on goal difference, whilst the dropped point meant that Celtic's fate was once again out of their own hands. Such are the fine margins in football. It was a monumental call in the context of season 1975/76.
The feeling that the title odds had now swung towards Ibrox was confirmed by two dreadful results in the week which followed. In midweek, Celtic travelled to Easter Road for the latest 'must win' encounter. The suspended duo of Andy Lynch and Pat McCluskey returned to the starting line-up with Tom Callaghan dropping out and young Tommy Burns moving on to the bench where he would be joined by George McCluskey.
Johnny Doyle's unfortunate start to his Parkhead career continued as illness forced him to miss out, Paul Wilson stepping in. It would be a night of abject misery for Celtic supporters in the 20,000 crowd, a Hibernian goal in each half leaving hopes of reclaiming our League crown hanging by a thread. Bobby Smith opened the scoring directly from a free-kick midway through the first half, following a challenge by Johannes Edvaldsson which may have merited the award of a penalty kick. The hosts would get a spot kick just after the hour, the big Icelander again involved, this time Ally McLeod converting for 2-0, Celts never really threatening to pull that lead back at any time. A late Rangers winner at home to Motherwell would now leave them tantalisingly close to a second consecutive title, five points clear with just four games remaining.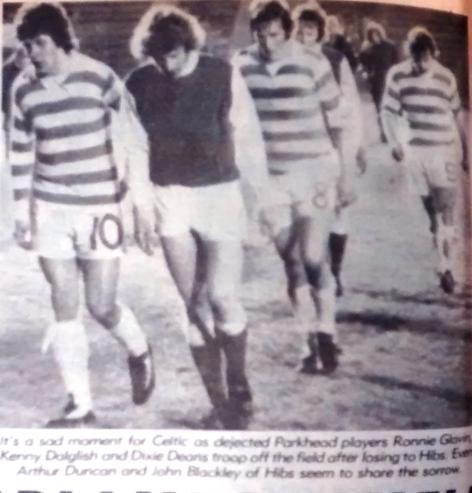 That fate would be sealed three days later, Saturday, 24 April 1976. Harry Hood would line up for the reserves at Somerset Park, Ayr, as goals from Andy Ritchie and Paul Wilson secured a 3-1 win. Thirty or so miles away, the first team would not fare so well at Parkhead, a double from Malcolm Robertson giving Ayr United a shock 2-1 win, with the only home counter coming on the hour from a Dixie Deans penalty, a final Celtic goal for the wonderful striker as it turned out.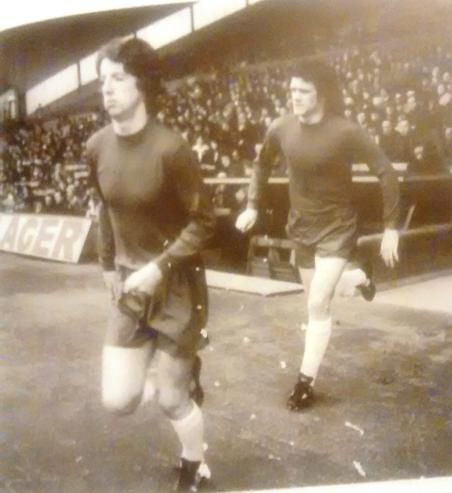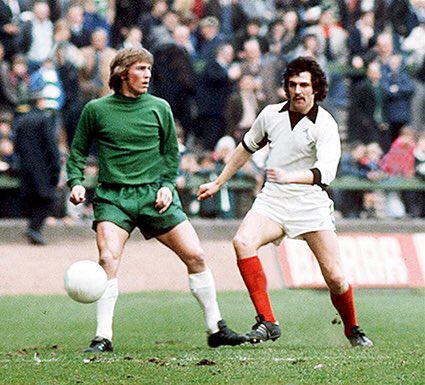 The Bhoys defeat, combined with a 1-0 Rangers victory at Tannadice, ensured there would be no major trophy in the Celtic Park boardroom for the first time in 12 years. Just three weeks earlier, the title advantage had still remained with Celtic, despite a series of really bad breaks. One point in four games had put paid to that, with horrific consequences.
So, it was with a sense of trepidation combined with youthful defiance that we made our way along the Gallowgate again 48 hours later, the evening of Monday, 26 April 1976. The Football Gods had decided to inflict an additional insult to our injury, as the March fixture with Rangers deferred due to the flu outbreak would now take place with the Ibrox club crowned Scottish champions. Talk about rubbing it in. The goalless match is best remembered for an excellent performance from Tommy Burns, which gave us at least some hope for the future, following a season where the Hoops had failed to register a win over the Ibrox club in five attempts.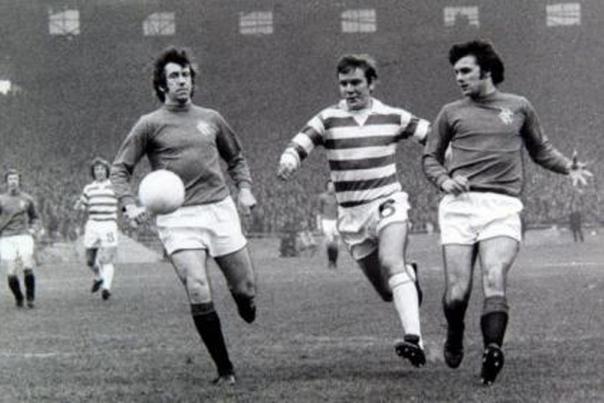 Three nights later, Thursday, 29 April 1976, there would inevitably be a degree of sadness in many Celtic hearts as Harry Hood's magnificent seven-year career in the Hoops formally came to an end with news of his release on a free transfer. He had packed more into that period than most players can even dream about, with a glittering array of silverware the tangible reward for some fabulous personal and team achievements. Since signing in March 1969, Harry had played his part in Celtic winning the League Championship in each of his first six seasons at the club, a brief cameo role in the spring of that year followed by star performances in the first five titles of the 1970's, including the early goal at Pittodrie in April 1971 which pretty much ensured that a record-equalling sixth Scottish Championship would be heading for Paradise. He would then be a key man as that six became a world record nine-in-a-row.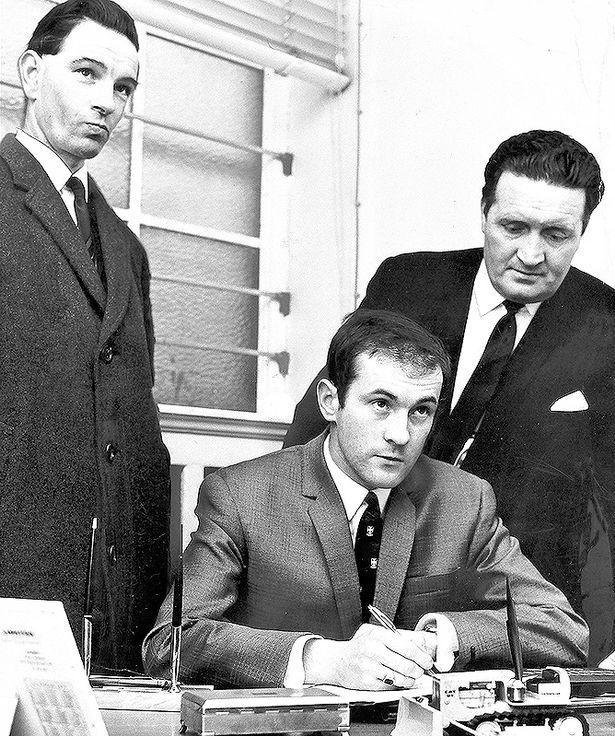 Cup-tied with Clyde, and thus ineligible for the Scottish and League Cup finals of April 1969, Harry Hood would go on to enjoy a 100% winning record in Scottish Cup finals, featuring in the major showpiece occasions of 1971, 1974 and 1975, and scoring in two of those Hampden finals to secure League and Cup Doubles. As for all Celts of that period, the League Cup would prove more elusive, Harry enduring the pain of defeat five times in the final, as the club struggled to repeat the dominance of the 1960's, nevertheless, he played in the two winning finals Celts managed for which he was eligible, the victories over St Johnstone and Hibernian in the autumns of 1969 and 1974.
And whilst the 1973 League Cup would end in farce, Hood's hat-trick against Rangers in the Hampden semi-final would be the first in that particular derby fixture by a Celtic player in more than seven years, and the last ever achieved by a Parkhead player before the liquidation of the Ibrox club in 2012, almost 40 years later. And he was cruelly robbed of a fourth goal that night which would have made his achievement even more unique.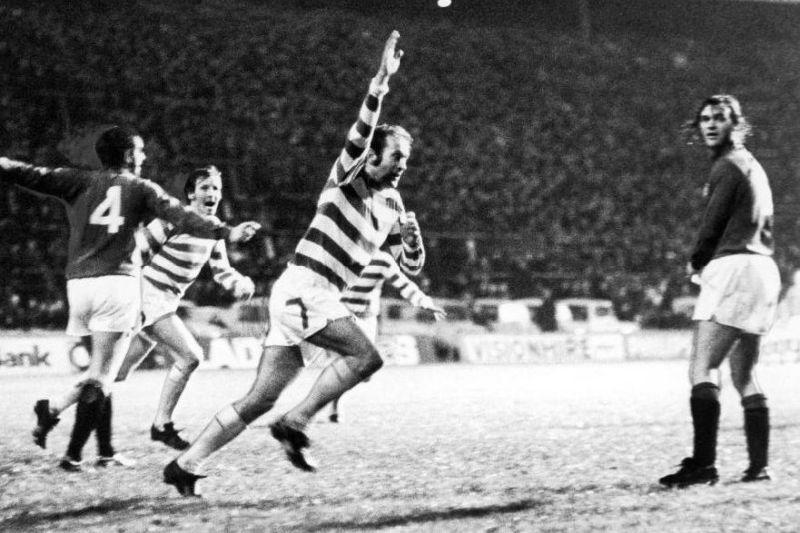 There would be major highlights in European football to sit alongside Harry's domestic success, a goal within a minute of his home continental debut against Basle in October 1969, followed by the vital third against Benfica the next month which ultimately allowed Celtic to progress towards a second European Cup final, after a 3-0 second-leg defeat in Lisbon. Injury would prevent an appearance by Harry in the final stages that season, the matches with Leeds United and Feyenoord, and the semi-final with Inter Milan two years later, however, he would be in the last Celtic teams to play in the last four of the European Cup, Hood featuring in both of the infamous matches against Atletico Madrid in April 1974.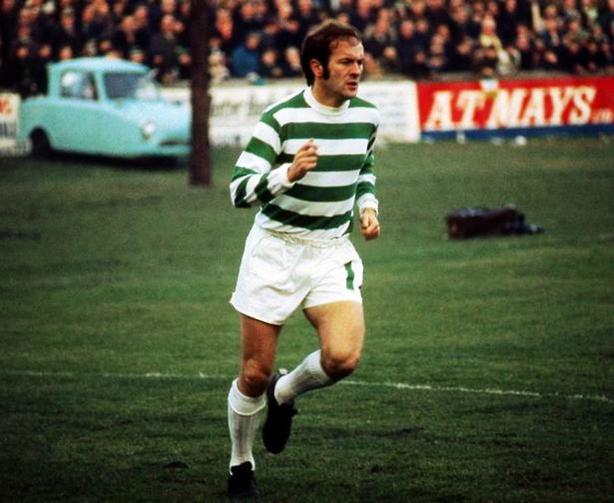 Harry would end his spell at his boyhood club having scored 125 goals in 325 appearances, his finest season statistically being that 1970/71 campaign, where his 33 goals included the highest League tally in the country – 22 – a virtual title decider against Aberdeen plus the winner in the Scottish Cup final replay against Rangers which secured another double for Celtic.
By any standards, his was a remarkable career, bringing pleasure to many thousands of us who hold the club so dear to our hearts.
Thank you for those magical memories, Harry.
Now altogether…
"Oh Harry, Harry,
Harry, Harry,
Harry, Harry,
Oh Harry Hood."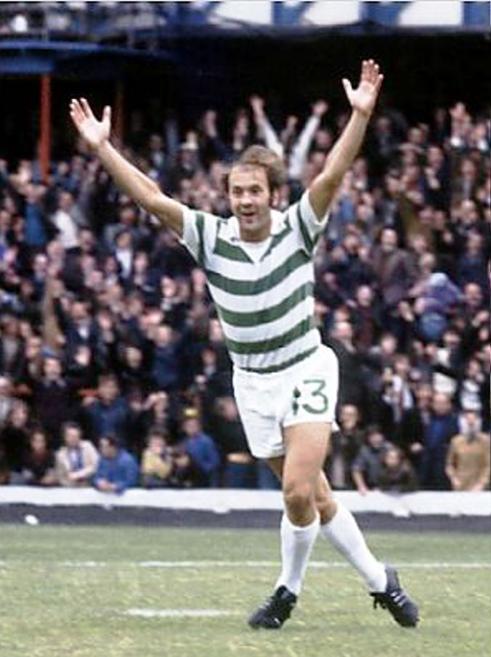 Thanks, as always, to the wonderful Celtic Wiki.
Hail Hail!
Matt Corr
Follow Matt on Twitter @Boola_vogue