"Oh Harry, Harry…Oh Harry Hood": Part 14: A record-breaking yet heartbreaking season's end for Celtic
The walking wounded Celtic party flew out to Milan on Monday, 3 April 1972 for the first leg of their European Cup semi-final clash with Inter in the San Siro, the 20-man squad including Harry Hood, Jimmy Johnstone and the injured full-back trio of Davie Hay, Jim Brogan and Jimmy Quinn, all struggling to be fit for midweek. The fourth defensive casualty, young Danny McGrain, would continue his recovery from the fractured skull suffered at Brockville at home.
The years following their defeat by Celtic in Lisbon had been challenging for the former world club champions, Internazionale, the Nerazzurri failing to qualify for European football in either of the next two seasons. A fourth-place finish in the 1968/69 Serie A, won by Fiorentina, would give them entry into the Inter-Cities Fairs Cup the following season, however, as Celtic were beating Leeds United at Hampden, having already disposed of Italy's best in the quarter-final, Inter were blowing a 1-0 victory in Brussels by losing 2-0 to Anderlecht in that same San Siro where the Hoops would come up short against Feyenoord just three weeks later. Inter would then lose in the first round of the following year's competition to Newcastle United.
The goals of Roberto Boninsegna had then taken Inter Milan to the Italian title in 1971, and he would be a key figure in this season's European Cup campaign. The international striker would be on target in both legs of the first-round clash with AEK Athens, as Inter won 6-4 on aggregate, however, the major controversy took place in Monchengladbach on Wednesday, 20 October 1971. The club claimed that he had been struck by a can of Coca-Cola thrown from the crowd shortly after he had equalised against Borussia, a game the West Germans would go on to win 7-1.
UEFA would then render that incredible result invalid and order the game to be replayed at a neutral venue, hence Jock Stein's visit to Berlin in December, as mentioned in an earlier part of this story. Boninsegna would score for the fourth successive game as Inter won 4-2 in the San Siro in the scheduled second leg, before that run and Borussia's European involvement ended in a goalless draw in the Olympiastadion. Like most football supporters as I recall, I felt that Monchengladbach had been very harshly treated at the time, and I still do.
The quarter-final would see the Italians progress on away goals following a 2-2 tie with Belgian champions Standard Liege, thus setting up the last-four reunion with Jock Stein's Celtic. Surely, their good fortune could not continue much longer.
Boninsegna would not score against Celtic. Neither Harry Hood nor Jimmy Quinn was deemed fit enough even for the bench, Davie Hay named as a substitute whilst old warriors Jim Brogan and Jimmy Johnstone were patched up and included in the starting line-up, albeit obviously not in the greatest condition. Indeed, Brogan would last only an hour, Hay's condition clearly forcing Stein to choose teenager Pat McCluskey as the replacement.
This would be a real baptism of fire, the Kilsyth-born defender having enjoyed only 55 minutes of competitive first-team football, spread over a home Scottish Cup-tie with Albion Rovers then a trip to Somerset Park earlier in the year. Pat would come through with flying colours, Stein's young Lions matching the performance of his 1969 vintage, by emerging from the cauldron of the Giuseppe Meazza and its 85,000 fanatical supporters with a hard-fought goalless draw. Italian Job – half-done.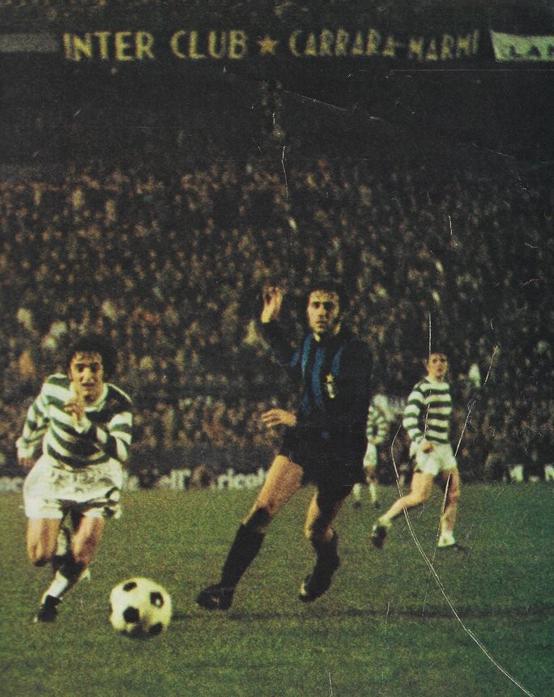 As an aside, I wrote a piece for The Celtic Star as a tribute to Pat, following his sad passing in August. A Hoops supporter who lived the dream. He came of age in the San Siro that evening. Rest in peace, Pat.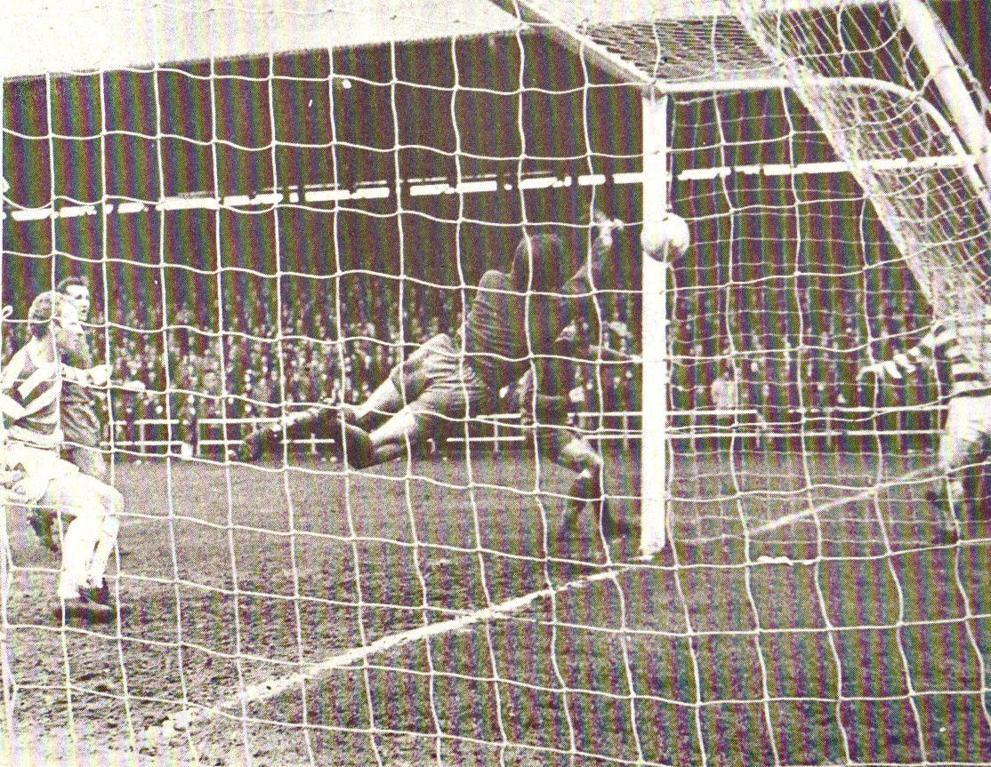 McCluskey would get his first Celtic start as the double-header with Kilmarnock commenced at Rugby Park three days later, partnering Jim Craig as goals from Dixie Deans, Vic Davidson and Paul Wilson saw a makeshift Hoops team close to within two points of the League title. And he would retain the number three shorts as that 3-1 scoreline was replicated in the Scottish Cup semi-final at Hampden on Wednesday, 12 April 1972, this time a Dixie double and Lou Macari doing the damage as Celts marched through to a seventh final in eight years.
Deans would grab another brace that weekend as Jock Stein's men finally broke the Scottish record for consecutive Scottish League Championship wins which had been held by Willie Maley's first truly great side back in 1910, the current crop of Hoops extending the sequence to seven by beating East Fife 3-0 at Bayview. Harry Hood and Jimmy Quinn would return to the team, with Pat McCluskey dropping to the bench, the former Clyde and Sunderland man heading home Celtic's second goal just before the break then setting Dixie up for a late third.
This is the team who made football history on Saturday, 15 April 1972.

Evan Williams; Jim Craig & Jimmy Quinn; Bobby Murdoch, Billy McNeill & George Connelly;
Harry Hood, Kenny Dalglish, Dixie Deans, Tommy Callaghan & Lou Macari.

Substitute; Pat McCluskey.
With the title secured and one cup final place already booked, it was time for the toughest test of all against Inter Milan four nights later. It would be the biggest night of my life, albeit it very nearly wasn't, my dad sensibly deciding that it would be too busy to take me and only forced to relent after I had locked myself in the bathroom to break my heart, ridiculous behaviour for a 37-year-old father of four! Thus, dry-eyed and perched on my stanchion in the Celtic End to take in the spectacular scene an hour or so later, I would watch as the Hoops attempted to reach a third European Cup final in six years.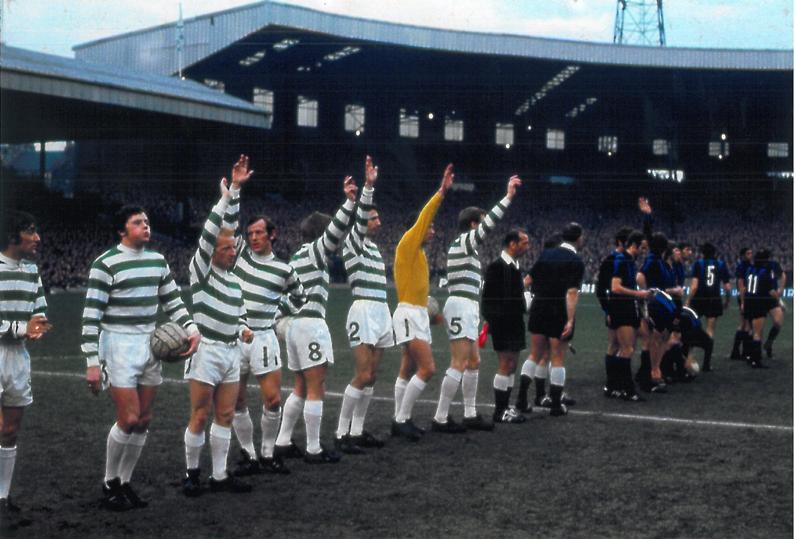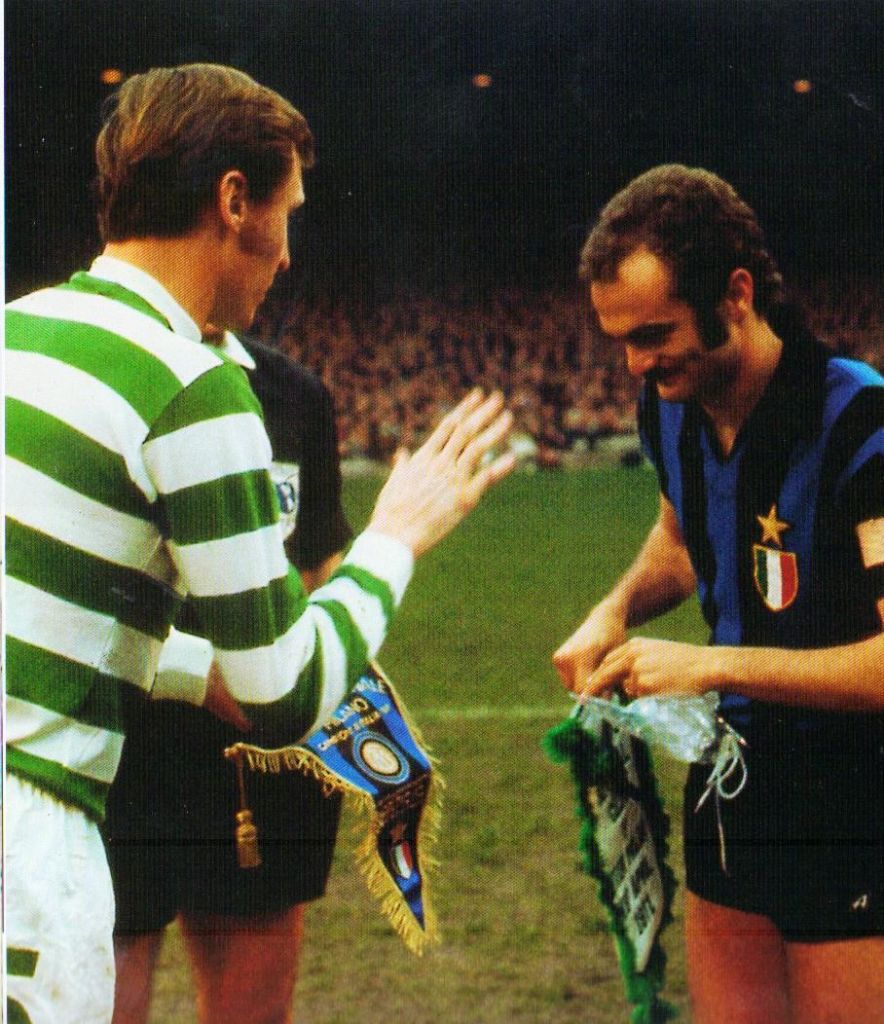 They would have to do so without Harry Hood, who had completed the 90 minutes at Methil but was clearly still not 100% fit, his place going to Jimmy Johnstone. Two other changes from Methil saw Jimmy Quinn and Dixie Deans drop to the bench, whilst Pat McCluskey and Bobby Lennox came into the team.
As 75,000 Celtic voices roared them on, Inter's game plan was evident from the kick-off, delay, spoil and defend with your life, then hit on the break or take your chances in a shootout. The Italians were and are past masters at it. Three years earlier, another goalless draw in the San Siro had been negated by a single slip in the home leg, as AC Milan and not Celtic went through to the last four. And it would, agonisingly, come down once again to one misjudgement. Dixie Deans had replaced Kenny Dalglish on the hour to receive his first taste of the European big-time as a Celt, however, he would probably rather have not.
With 120 minutes in Glasgow and 90 in Milan failing to produce a goal, and Sandro Mazzola repeating his Lisbon trick by scoring the first goal of the night from the penalty spot, Deans stepped up to level things off with the first shootout penalty for the Hoops at the far end. He would no doubt be full of confidence, having been knocking them in for fun during the week as Stein's men practised them at Seamill…just in case. There are career-defining moments, and this was one, Dixie and the huge Celtic support looking on in anguish as his shot sailed over the crossbar in the general direction of Mount Vernon.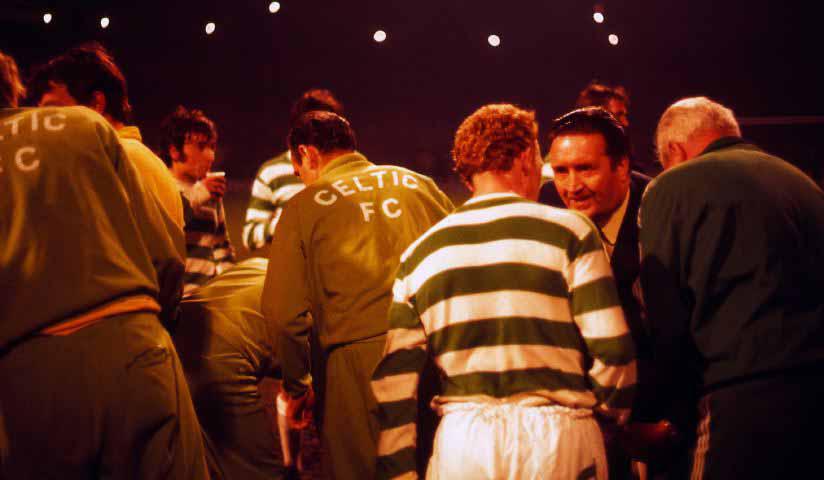 One by one the remaining players walked from the halfway line, jeered then cheered as appropriate, and one-by-one they found the net, Jim Craig, Jimmy Johnstone and young Pat McCluskey keeping home hopes alive until the Brazilian veteran Jair, an absentee in Lisbon, pierced a dagger through our hearts with a fifth successful strike for Inter, rendering Bobby Murdoch's subsequent conversion irrelevant.
The Football Gods can be an unforgiving bunch and so, of course, the next game would see Dixie Deans at the heart of the action with penalties to the fore, as his old Motherwell pals made the short trip along the old London Road, possibly bringing the ball back from midweek if newspaper cartoons of the time were to be believed. The 20,000 crowd gave the striker a huge ovation as he ran out at Celtic Park, as they did for visiting keeper John Fallon, one of our own whatever colours he was wearing that afternoon. Deans had replaced Lou Macari, whilst Harry Hood and Jim Brogan continued their recovery in the reserves at Fir Park.
With Celts a goal down as the half-hour mark passed, they were awarded a penalty, sections of the crowd immediately chanting for Deans to take the kick. Instead, it would be Bobby Murdoch who stepped up to rifle the ball past his old colleague Fallon in the Well goal. Deans did get his goal within minutes, before Bobby Lennox made it 3-1 on the stroke of half-time.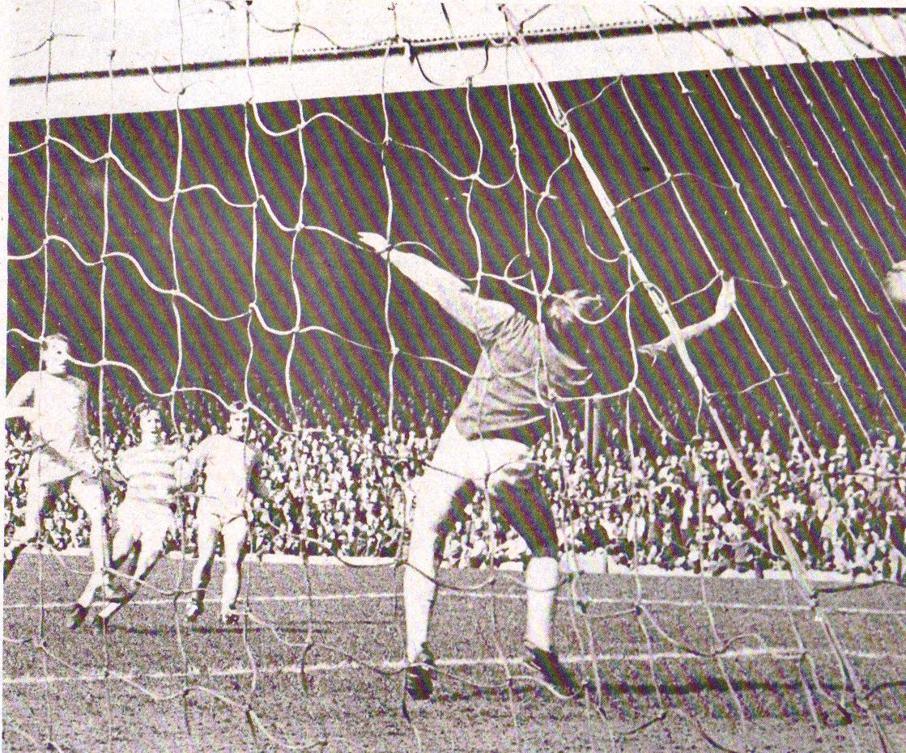 Jackie McInally – father of future Celt and Bayern Munich, in Munchen, striker, Alan McInally – pulled one back for the Steelmen on the hour, before referee Wilson awarded a second spot kick of the afternoon to Celtic. Again, the cries went up for Deans, again Murdoch obliged and again Dixie immediately followed up with a goal from open play, as the match ended at 5-2.
The home League campaign was completed with a 3-0 win over Dundee United on Tuesday, 25 April 1972, second-half goals from Jimmy Johnstone, Bobby Lennox and Dixie Deans. Celts finally welcomed Harry Hood and Davie Hay back to the first team for the visit to Tynecastle, the following Saturday, however, this would prove to be a bizarre afternoon in the capital. Tired and weary of their treatment in Gorgie, the recent Scottish Cup clash the final straw, many Celtic supporters took part in a boycott of the match, helping to reduce the attendance by a remarkable 30,000 from that March midweek replay to just over the five-figure mark.
Even Jock Stein gave it a miss, preferring to take in England's defeat by West Germany at Wembley for whatever reason. A strong Hoops team took the pre-match ovation from their hosts then the lead with another Bobby Murdoch penalty within 10 minutes, however, that was as good as it got. By full-time, the hosts had scored four, missed a penalty and had another goal ruled out for offside. The 4-1 defeat was the first domestic loss on their travels all season, and was the biggest League hammering I could ever recall as a Celtic supporter, dating back to Jock Stein's first season.
There would be one final away day before the Scottish Cup final, a trip to Dens Park to face Dundee on Monday, 1 May 1972. Harry Hood dropped to the bench as a Lou Macari equaliser on the hour stretched Celtic's final advantage at the top of the table to a round 10 points over Aberdeen, following a low-key 1-1 draw. Now it was all about Hampden, five days later.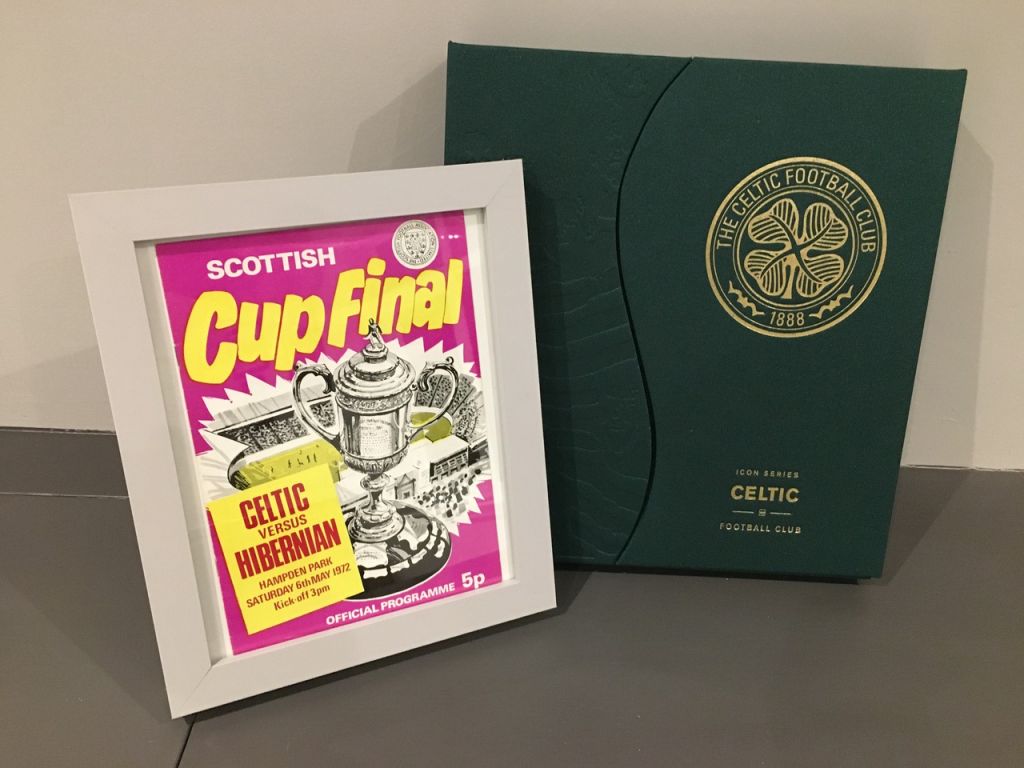 Having scored the goal which clinched the Double in the Scottish Cup final win over Rangers 12 months earlier, it would no doubt be a disappointed Harry Hood who learned he would miss out on the opportunity to win another trophy, as would Davie Hay, injuries bringing a sad end to the season for two of Celtic's most influential players.
Together with the crowd of 106,102, they would watch history being made on the best afternoon of my Celtic-supporting life pre-adulthood, as Jock Stein chose the following team to secure back-to-back Doubles.

Evan Williams; Jim Craig & Jim Brogan; Bobby Murdoch, Billy McNeill & George Connelly;
Jimmy Johnstone, Dixie Deans, Lou Macari, Kenny Dalglish & Tommy Callaghan.

Substitute; Bobby Lennox.
Billy McNeill opened the scoring within 90 seconds with his THIRD goal in the showpiece event in eight years, quite a record for a centre-half. And records would be the watchword of this magical day, Dixie Deans becoming the first player to score a Scottish Cup final hat-trick since the Bhoy from Croy, Jimmy Quinn, had overturned a 0-2 deficit against Rangers in the first such final to take place at the third and present Hampden, back in April 1904, an incredible personal turnaround and finale to his first season as a Celt after the misery of that penalty miss against Inter Milan just weeks earlier.
Then two late goals from Lou Macari following assists from Jim Craig taking the final tally to 6-1, equalling the record margin achieved by Renton over Cambuslang in the final of February 1888, just three months before their captain James Kelly and double-goalscorer Neil McCallum appeared in the first-ever Celtic line-up.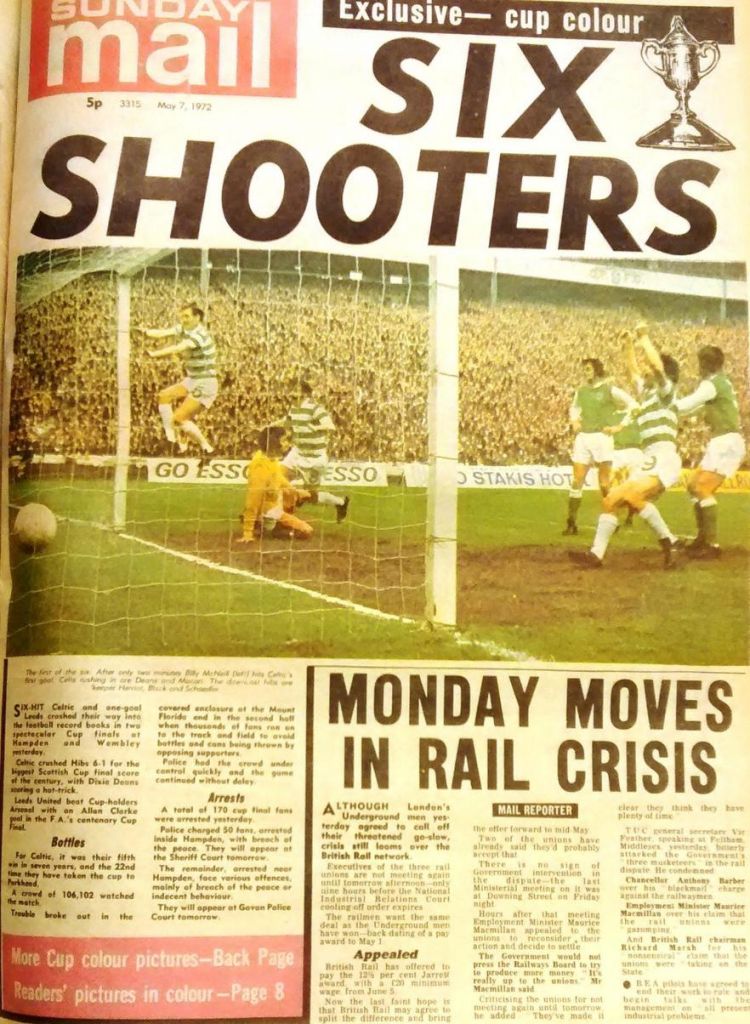 As Craig became the latest Lisbon Lion to announce his departure from Parkhead, the big full-back emigrating with his family for a new life in South Africa, there would be mixed emotions for those with Celtic in their hearts. An excellent domestic campaign had been soured only by the inexplicable defeat to Partick Thistle in October's League Cup final, whilst the heartbreak of that shootout defeat to Inter, who many folk believe should have been out of the European Cup after their 7-1 humiliation in Monchengladbach, would live long in the memory.
We would go again with renewed hopes and expectations after the summer break.
Thanks, as always, to the wonderful Celtic Wiki.
Hail Hail!
Matt Corr
Follow Matt on Twitter @Boola_vogue