"Oh Harry, Harry…Oh Harry Hood": Part 10:

An embarrassment of riches and another at Hampden
The Drybrough Cup final defeat at the hands of Aberdeen had to be put quickly to one side as Celtic sought to continue the most incredible domestic cup run of the modern era. Not since August 1963 and home and away 0-3 reverses against Rangers in the sectional fixtures had the Hoops been eliminated from the League Cup prior to the final itself, with five trophy wins following their loss to the Ibrox side at Hampden in October 1964. The goals that afternoon had been scored by Jim Forrest and Jimmy Johnstone, who had faced each other in that title decider at Pittodrie in April 1971, the Garngad man by now wearing the red of Aberdeen.
Harry Hood and Clyde had come as close as anyone to ending that record, succumbing only to a late strike from substitute George Connelly at Hampden in the semi-final of Wednesday, 9 October 1968, Jock Stein's men going on to complete a second treble in three seasons with a 6-2 thrashing of Hibernian the following April, the final deferred after a fire in the South Stand of the national stadium. Hood would be wearing Hoops by the time the next season's campaign got underway a few months later, and he had already enjoyed the glory of a win and the pain of defeat, Bertie Auld's goal beating St Johnstone in October 1969 before a Derek Johnstone header ended the run at five-in-a-row 12 months later.
Celts would find themselves drawn yet again in a section with Rangers in the summer of 1971, for the fourth time in five years, an added issue introduced this time around as the Celtic Park stand was still undergoing major refurbishment. Desmond White had taken over as Celtic chairman in April – as Bob Kelly's health deteriorated and he was made honorary club president – and he made the offer to play both fixtures at Ibrox, a decision eventually agreed on after some initial pushback from Rangers.
So it was then that Celtic 'hosted' Rangers at Ibrox on Saturday, 14 August 1971, with young Kenny Dalglish famously stopping to calmly tie his bootlaces in front of 73,000 spectators before sending Peter McCloy the wrong way, opening his competitive account for the club with the Hoops second goal of the afternoon, three minutes after Jimmy Johnstone had added yet another strike against Rangers to his tally.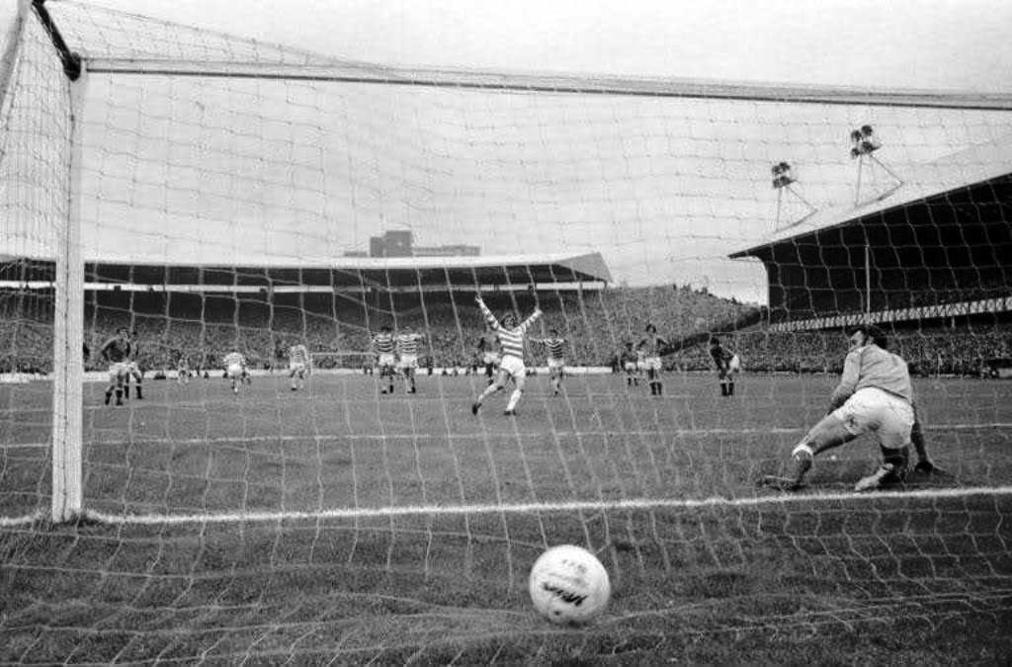 Harry had missed the visit to Ibrox through injury and he would remain on the sidelines as Celts won at Greenock and Ayr before losing to Morton at Celtic Park on the night the newly completed stand was opened for the first time. He would then take a seat on the bench for the second visit to Govan, on Saturday, 28 August 1971, replacing Bobby Murdoch shortly after the Bhoy King had struck his second successive goal in the shadow of the high-rise flats he had been brought up in.
Tommy Callaghan and Bobby Lennox then added superb goals as the Hoops emerged from the very real threat of elimination to put themselves in pole position to qualify from the section with an excellent 3-0 victory. They would duly do so two nights later against Ayr United at Celtic Park, Celts two goals up before visiting winger Johnny Doyle scored the goal of the game just before the interval, beating man after man before slipping the ball past Evan Williams for 2-1. Kenny Dalglish would secure the points early in the second half before making way for Harry Hood, Davie Hay ending the scoring at 4-1 on 85 minutes.
The embarrassment of attacking riches available to Jock Stein was highlighted by the fact that Celtic beat South American champions, Nacional, then opened their defence of their Scottish title by scoring nine against Clyde with last season's leading goalscorer, Harry Hood, unable to command even a seat on the bench following his recovery from injury. He would finally get an outing and a first competitive strike of the season in midweek, against Second Division Clydebank at New Kilbowie, as the Hoops won their League Cup quarter-final first-leg 5-0, then miss out again as Celts made it three wins at Ibrox in 28 days with a 3-2 victory in the League clash, thanks to a last-minute header from – yes, you've guessed it – Jimmy Johnstone.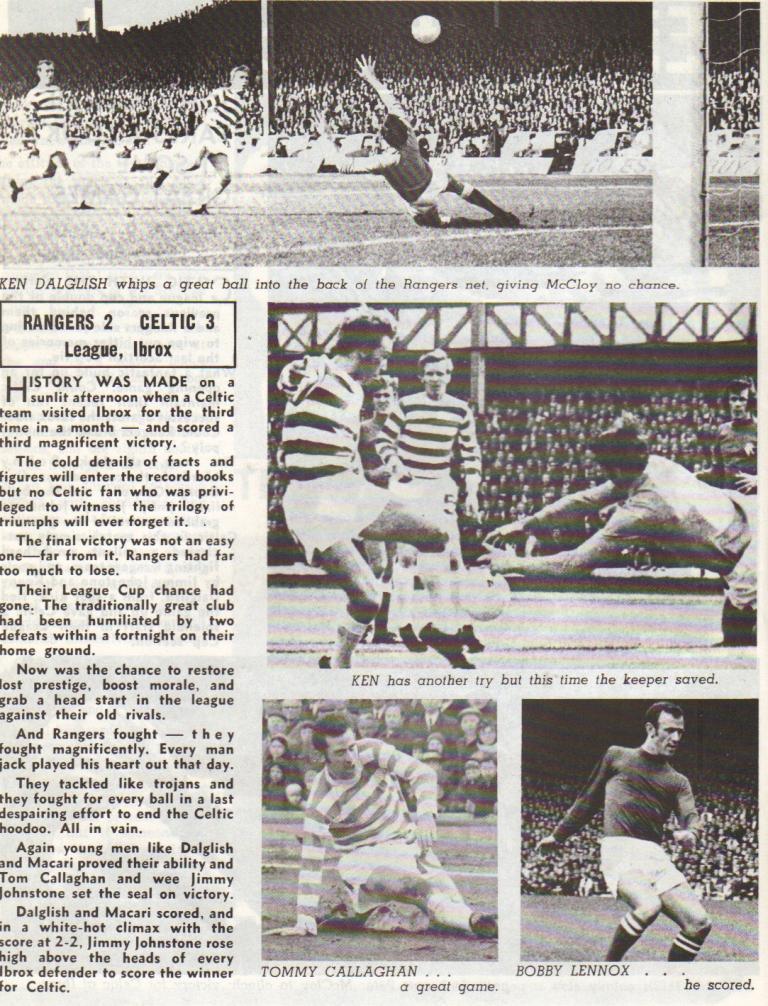 Harry returned to League action for the home clash with Morton, a surreal experience to see John Clark and Stevie Chalmers in the blue-and-white version of the Hoops, whilst Celts wore a strange combo consisting of green shirts, white shorts and yellow socks. It was not a happy homecoming for either Lion. Poor Stevie was injured within five minutes whilst John took it too far by scoring Celtic's second goal, a cruel deflection from a Lou Macari shot beating Evan Williams, restored after Gordon Marshall had played his second and final game for the Bhoys in the shock midweek European Cup defeat in Copenhagen.
By contrast, Hood was having a field day, missing the target by inches before having a goal disallowed due to Lou Macari straying into an offside position. He then added a sensational late third goal for Celtic, a flick and volley past Erik Sorensen described as "the best goal you will see all season" in one newspaper, within a minute of Morton pulling one back, as the match ended in a 3-1 win. This would be the final time that John Hughes, another hero of that great Stein team, would start a match for Celtic.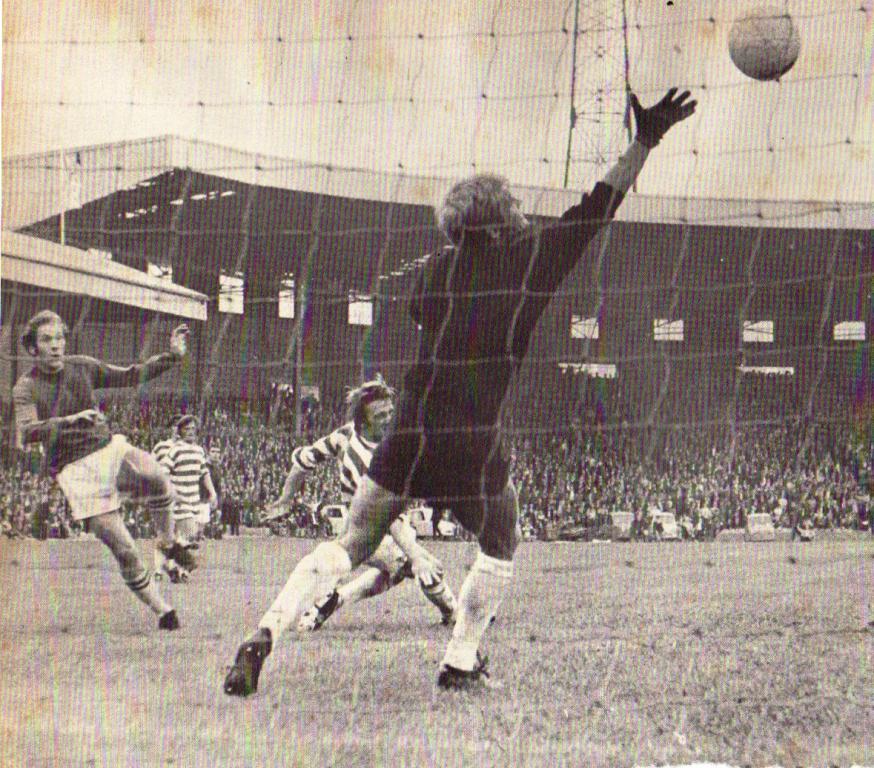 Celtic Park was in mourning three days later, Tuesday, 21 September 1971, when Bob Kelly lost his battle with illness at the age of 68. The son of Celtic's first captain and superstar, James Kelly, he had served on the Board since the death of his father in 1932 and had been club chairman between 1947 and the spring of 1971.
Kelly was a divisive character in many ways – a hero to supporters during the 1952 Tricolour 'Flag Crisis' and the man credited with the introduction of the youth policy dubbed as 'The Kelly Kids' which would come to such fabulous fruition in Lisbon but, conversely, frequently accused of interfering with team selections to the detriment of results. He was, nevertheless, in my opinion a man with Celtic in his blood. I'll leave the final word on Bob Kelly to the man he hired in March 1965, Jock Stein.
"No man has done more for the club in every way than Sir Robert Kelly."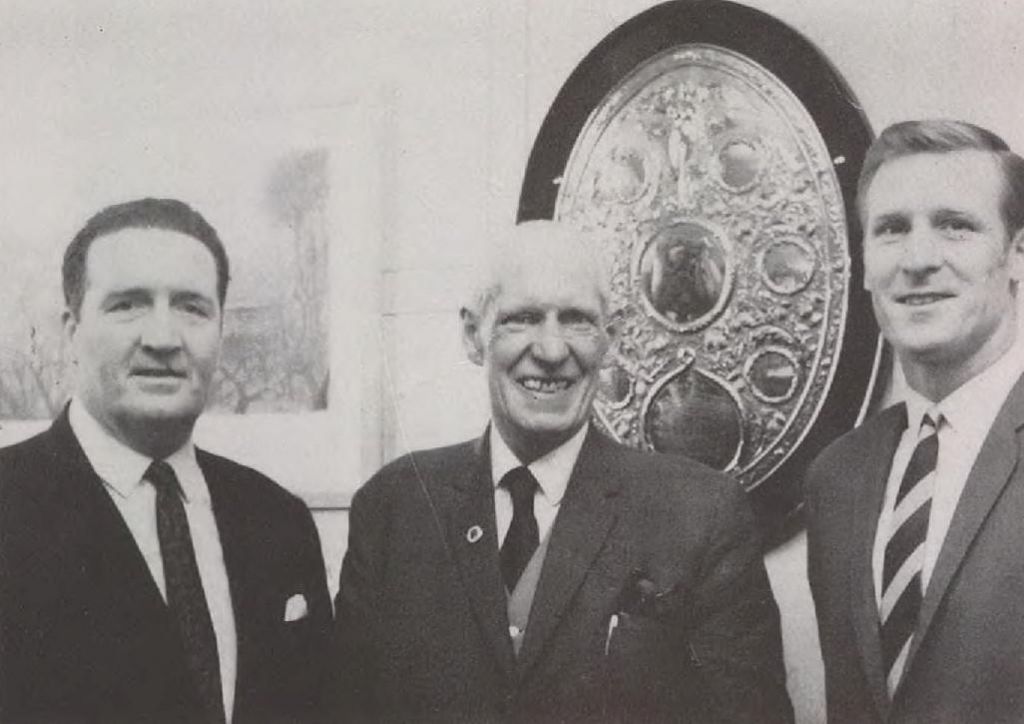 Jock introduced the latest from his conveyor belt of young prodigies 24 hours later, for the return leg with Clydebank in the last eight of the League Cup. I remember being excited at the prospect of seeing 16-year-old Brian McLaughlin making his debut, and he certainly did not let himself down, however, the star of the night was Harry Hood, his latest hat-trick consisting of a goal within three minutes then one at the end of each half, his second another thing of beauty. A Lou Macari double and Denis Ruddy own goal completed the scoring as Celts added to their 5-0 lead with a 6-2 win on the night, to march through to the semi-final.
Hood's reward for that performance was to be omitted from the squad which travelled to Broomfield three days later, my first visit there made memorable by Lou Macari's first Celtic hat-trick in a 5-0 win over Airdrieonians. And whilst he would no doubt be concerned about his lack of first-team action, that scenario was about to get much worse for two of the remaining Lions. Willie Wallace would score twice against the Danish amateurs BK1903 Copenhagen, as 53,000 supporters turned out to watch Celts overturn a 2-1 deficit from the first leg, either side of a Tommy Callaghan header, the normally placid big Fifer a shade lucky to still be on the field after a retaliatory kick out at a defender in the first half.
Wallace's late third had been set up by second-half substitute John Hughes, in pretty much his last act as a Celtic player. Yogi would not be seen again in the Hoops, whilst Wispy would shortly join him at Crystal Palace, having just scored his final goals for the club in that European Cup-tie.

Harry would get a recall after Celts suffered a second home defeat of the season on Saturday, 2 October 1971, this time to St Johnstone. He would return together with Tommy Gemmell as Stein's men attempted to reach an eighth successive League Cup final by beating Second Division St Mirren at Hampden, four nights later, Hood grabbing Celtic's second goal in the middle of an incredible three-minute spell around the hour mark, with Davie Hay and Bobby Lennox also on target as they eased through 3-0.
The Saints defence included keeper Denis Connaghan, who had been on Celtic's books as a youngster, and centre-half Gordon McQueen. Neither would be in Paisley the next season, Connaghan soon to become Jock's latest attempt at finding a permanent replacement for Ronnie Simpson, whilst McQueen would be the successor to another 60's great at Leeds, future Ireland manager Jack Charlton.
Saturday saw another 'rite of passage' moment as I attended a match at Easter Road for the first time, perched on the front boundary wall of that massive terrace opposite the main stand to watch Lou Macari score the only goal of the game late on in front of 41,000 spectators, Harry and the other Celts up against Bertie Auld for the first time in the green of Hibernian.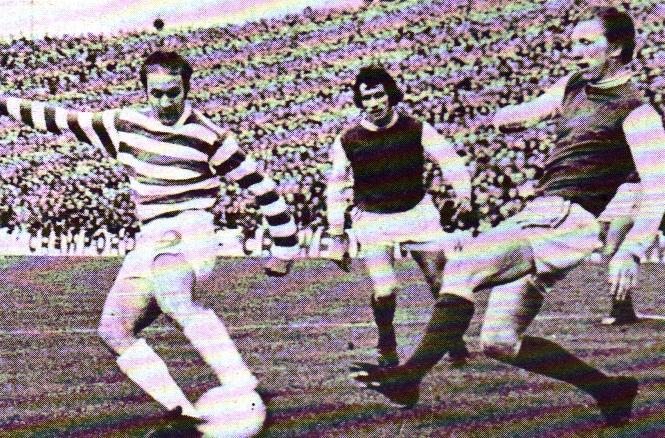 Seven days later, Saturday, 16 October 1971, it was Dundee's turn to take on the champions, a front four of Jimmy Johnstone, Harry Hood, Kenny Dalglish and Lou Macari – how good does that sound? – proving far too powerful as the Hoops won 3-1 at Celtic Park. Star of the show was the young Dalglish, netting a hat-trick in a 15-minute spell either side of the interval and being brought down for a penalty, Tommy Gemmell seeing his effort saved by Mike Hewitt.
Celtic's preparations for the home midweek European cup-tie with Maltese champions Sliema Wanderers were overshadowed by the sale of Lisbon Lions John Hughes and Willie Wallace to Crystal Palace. Wispy would later recall that he was summoned to a breakfast meeting with Jock Stein at Seamill to be told that the English club's representatives were already en route to meet him at Parkhead. This was the first he had heard about any transfer!
Tommy Gemmell would open the scoring within three minutes with what would transpire to be his 67th and final goal for Celtic. Harry Hood would add a double before the break with Jim Brogan then Lou Macari rendering the trip to Malta a formality at 5-0.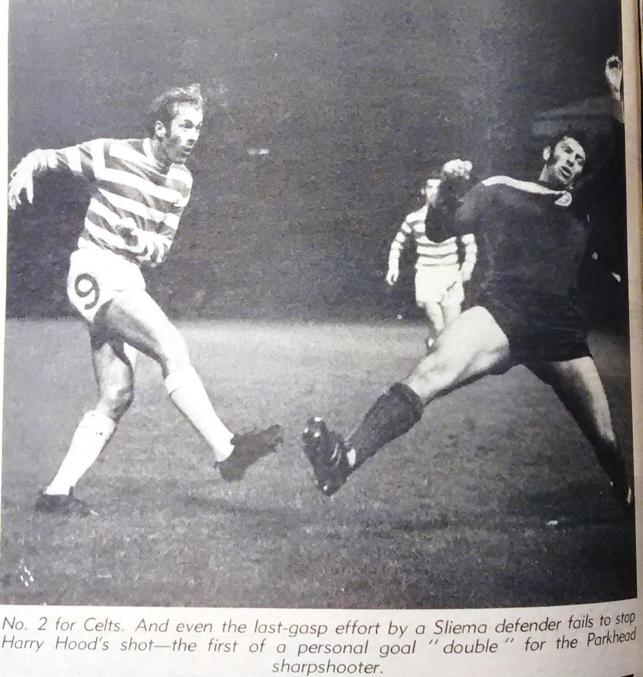 Three days later, Saturday, 23 October 1971, I made my way excitedly in the rain to Hampden to see Celtic win the League Cup for the first time. Well, that was the plan, anyway. There was a certain symmetry in that the club's first victory in the final of this tournament had been against the Jags some 15 years earlier. I would finally be able to write that 3-1 defeat by Aberdeen in my only previous cup final from the memory bank, thus avoiding a trip to the adoption agency on the Monday morning. It was written in the stars. I waved goodbye to my mum at the door with a confident "6-2" prediction. I was very nearly right, albeit not quite in the way I had anticipated.
In the absence of injured skipper Billy McNeill, Jock Stein named the following team.
Evan Williams; Davie Hay & Tommy Gemmell, Bobby Murdoch, George Connelly & Jim Brogan;
Jimmy Johnstone, Kenny Dalglish, Harry Hood, Tommy Callaghan & Lou Macari.

Substitute; Jim Craig.
I guess we'll never really understand what happened in that first 45 minutes. From my perch high up on a barrier in the Celtic End, I can clearly recall the shock of seeing Alex Rae's dipping shot nestling in the back of those huge Hampden nets, then feeling that pretty much everything else Thistle hit in that first half seemed to end up in the same place.
I don't recall that Ronnie Glavin's tackle ended Jimmy Johnstone's final at 2-0, or why Celtic with such an embarrassment of attacking riches had Jim Craig as the only available substitute. Of course, my piece de resistance at half-time was advising my dad that "it was ok, we just needed five in the second half to win the cup." If looks could kill.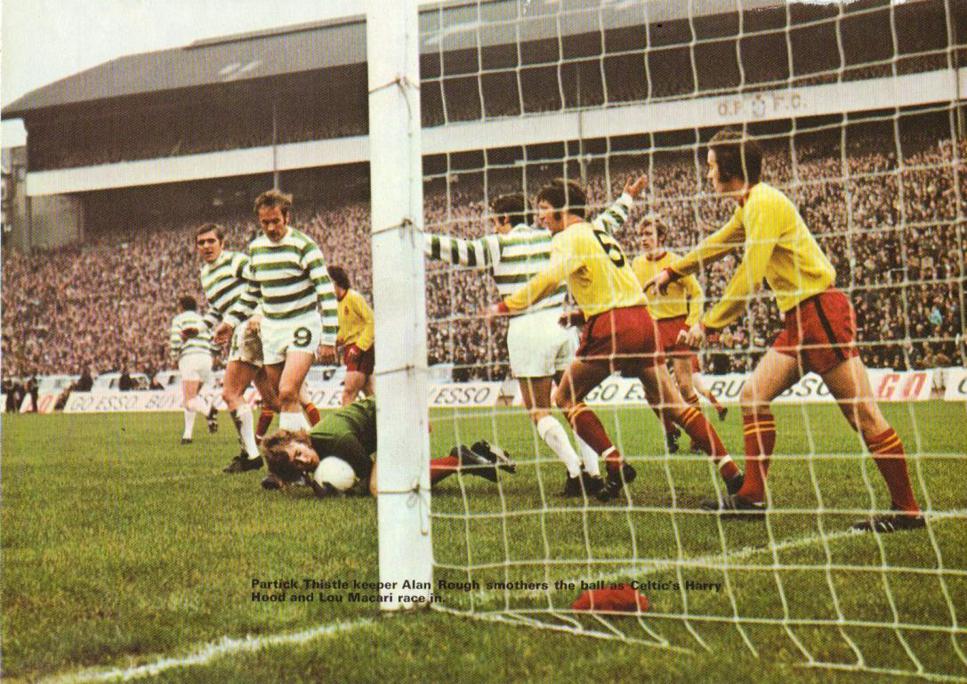 As it transpired, like a certain night against Artmedia Bratislava in future years, we actually had enough chances in the second period to score five and them some. Sadly, we would only get one, with 20 minutes remaining, Kenny Dalglish scoring the first of his cup final goals which all ended with the same outcome, a Celtic defeat. Incredible statistic that is for me.
The defeat and the extent of it remains one of the most sensational stories in Scottish football.
So, two cup finals in the first three months of season 1971/72 had both ended in defeat. Things could only get better.
"Is that right, Dad?"
"Dad?"
Thanks, as always, to the wonderful Celtic Wiki.
Hail Hail!
Matt Corr
Follow Matt on Twitter @Boola_vogue