"Oh Harry, Harry…Oh Harry Hood": Part 33: Feed the Bears
There would be further arrivals and departures at Celtic Park as September 1975 progressed. Wednesday 10th of that month would be the saddest of days a decade later, however, in this particular year it marked the club's first visit to Stenhousemuir's Ochilview Park since January 1937, the previous Hoops goalscorer at that venue being a certain James Edward McGrory. In the interests of pure, unashamed Celtic nostalgia, this was the side that day in 1937, which began the path to a Hampden Scottish Cup final with Aberdeen in April which would attract the largest football crowd ever to watch a club match outside Brazil, just short of 148,000 officially.
Joe Kennaway; Bobby Hogg & Jock Morrison; Chic Geatons, Willie Lyon & George Paterson;
Joe Carruth, Willie Buchan, Jimmy McGrory, Johnny Crum & Frank Murphy.
The 1975 vintage would have some way to go to match the achievements of that wonderful team, however, the 5,000 or so diehards who attended the first leg of the League Cup quarter-final at Ochilview would witness the first sighting of Celtic's latest young hope, 16-year-old Ayrshire schoolboy Robert Syme Aitken handed a spot on the bench next to Harry Hood.
The Bhoy known as Roy would become a legend in his own right wearing the number four shorts, his rampaging runs often accompanied by chants of "Feed the Bear," in a throwback to the support given to winger John 'Yogi' Hughes, a decade earlier. Co-incidentally, the younger brother of Yogi's teammate, Bobby Murdoch, perhaps our greatest-ever right-half, would be lining up against the Hoops that night in that same position, former Bristol City midfielder Billy. In the absence of the injured Roddie MacDonald, George Connelly returned to partner Johannes Edvaldsson in central defence, with Jackie McNamara, Ronnie Glavin and Tom Callaghan supporting a potent strike force of Paul Wilson, Kenny Dalglish and Bobby Lennox.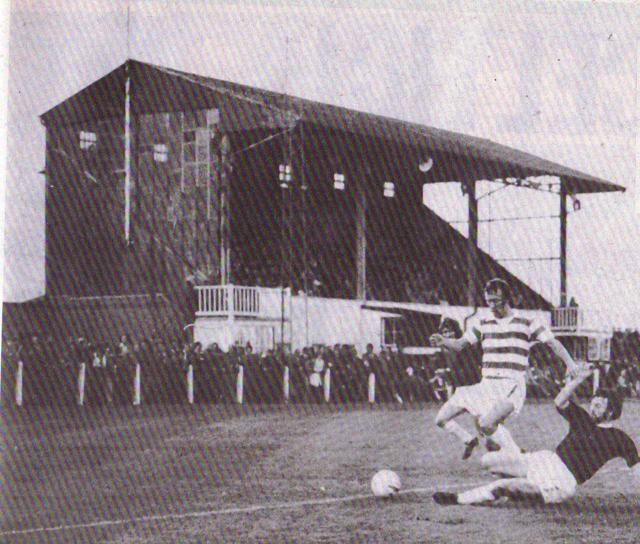 After a goalless first half, Lennox would continue where he left off against Dundee, nodding Tom Callaghan's corner past Ray Dunlop in the home goal 10 minutes after the break, the big Fifer then making way for Harry Hood. The highlight of the evening arrived in the 80th minute, the majestic Dalglish, in the form of his life, producing another magnificent shot from the edge of the box to tie things up at 2-0. That was the cue for the young cub, Roy Aitken, to replace Edvaldsson and commence his own wonderful career in the famous Hoops.
Three days later, the League match at Fir Park, would mark the end of the road for another fabulous Celtic player, George Connelly playing what would prove to be his final 90 minutes for the club. It was a strange old day all round, as Vic Davidson, just four months after leaving Parkhead on a free transfer to join Motherwell, beat Peter Latchford to put his new club ahead against his former employers in the 10th minute, with his old sparring partner Dalglish equalising for Celts just before the interval.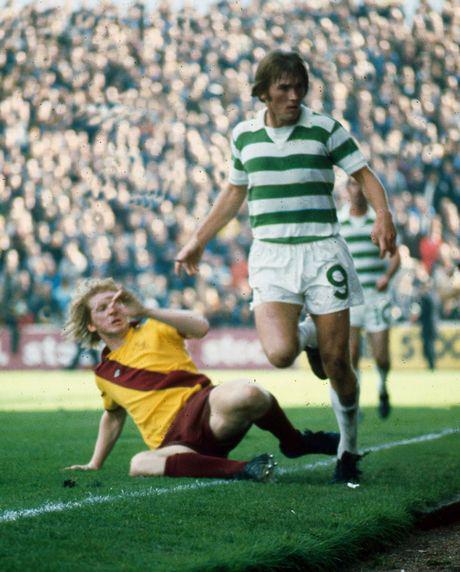 The crucial moment in the match came on the hour, Stewart McLaren punching a Bobby Lennox shot off the line to concede a penalty. With Pat McCluskey dropped from the team following the infamous nightclub incident in Copenhagen whilst on Scotland duty, and Lennox himself having seen his previous attempt saved at Tynecastle, it fell to Tom Callaghan to win the match for Celtic. In fairness, his kick was struck well, low and hard, however, home keeper Stewart Rennie produced a fabulous save to keep his side level, Celts, with Hood replacing Paul Wilson, unable to find a winner.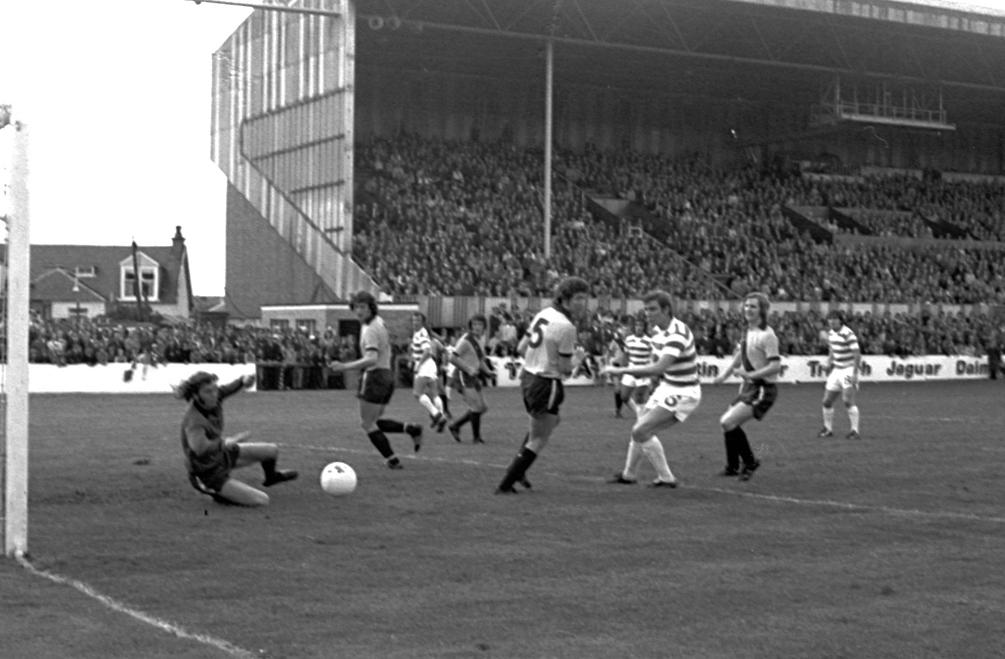 The following midweek saw Johannes Edvaldsson back on home soil within a month of joining Celtic, the Hoops drawn against his old club Valur in the first round of the 1975/76 European Cup Winners' Cup, a first match in that competition since the controversial defeat at Anfield a decade earlier. Sean Fallon's first European match as Celtic manager, played on Tuesday, 16 September 1975 at Reykjavik's national stadium, Laugardalsvoller, would be an emotional occasion for the Edvaldsson family, the Icelandic Cup-winners featuring younger brother Atli whilst Johannes was wearing the captain's armband for the Bhoys.
There would also be a nice reunion for Harry Hood, with his former Clyde teammate, Joe Gilroy, now managing Valur. With Bobby Lennox suspended, following his ridiculous ordering off against Olympiakos in Piraeus 12 months earlier, the first Celtic team to play on Icelandic soil lined up as follows.
Peter Latchford; Danny McGrain & Andy Lynch; Pat McCluskey, Roddie MacDonald & Johannes Edvaldsson;
Harry Hood, Jackie McNamara, Kenny Dalglish, Tom Callaghan & Paul Wilson.

Substitutes; Ally Hunter, George Connelly, Jim Casey, Ronnie Glavin & Andy Ritchie.
It would be an ultimately successful evening as Celts won 2-0, an early goal from Paul Wilson following good work by Kenny Dalglish settling any nerves then Roddie MacDonald heading a fine second from Harry Hood's corner just after the hour. The only sour note on the night was a twice-taken, twice-missed penalty with 20 minutes remaining, after Wilson had been fouled in the box.
The script was set up perfectly for Johannes Edvaldsson's happy homecoming, only for the Celtic skipper to blast the ball over the crossbar then watch his retaken effort saved brilliantly by Valur keeper Sigi Dagsson, a third successive miss from the spot for Celtic.
Four days later, domestic duties resumed with a trip to Perth to face St Johnstone, always a tricky fixture for Celtic. Dixie Deans would finally be free of the lengthy suspension carried forward from the previous season, a hat-trick in the reserves convincing Sean Fallon that he was ready for a return to first-team action. Bobby Lennox was also restored from the naughty corner with Harry Hood moving to the bench and the injured Jackie McNamara dropping out.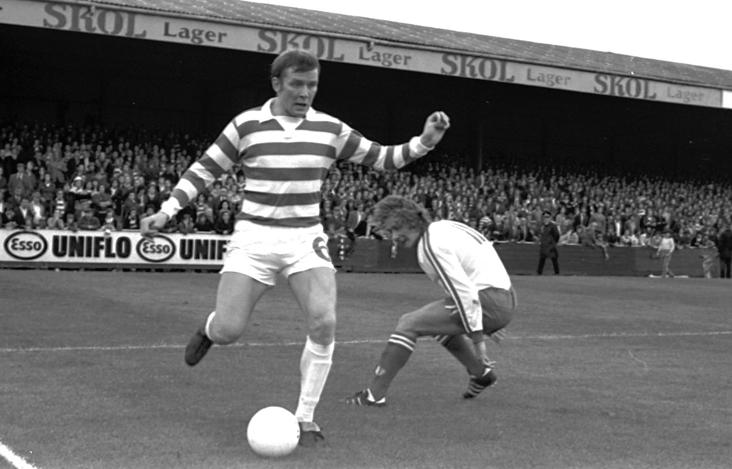 It would be a memorable afternoon for another Celt recently in the doghouse. With Celtic having missed their three previous penalty kicks, Sod's Law determined that they would be awarded two at Muirton Park, both times the driving runs of Paul Wilson forcing a mistake from the Saints defence and both times Pat McCluskey showing how it should be done by calmly placing the ball beyond home keeper Derek Robertson. McCluskey would then lay claim to a rather unique hat-trick by adding St Johnstone's goal in a 2-1 win for Celtic just 60 seconds after completing his double at the right end, the big defender unable to prevent an attempted clearance from Andy Lynch from bouncing back off him past Peter Latchford.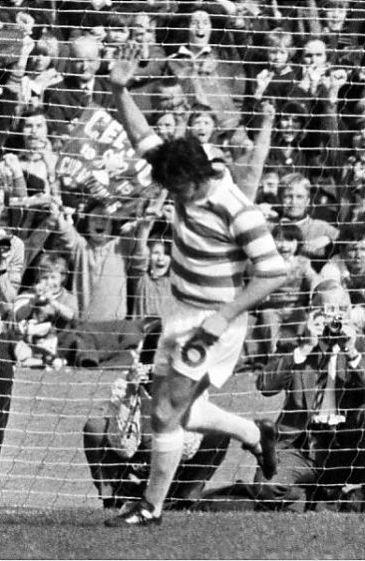 There was a huge double-blow in the lead-up to the midweek League Cup return with Stenhousemuir at Celtic Park. Firstly, Steve Murray's severe toe injuries forced the midfielder to announce his early retirement from football, just before his 31st birthday. Murray would reconsider and would briefly return to action early in the new year, however, he would not be a first-team regular again.
George Connelly was five years younger, and his challenges were perhaps more emotional than physical in nature, whatever troubled him it would be enough for George to yet again walk away from Celtic and professional football, this time for good. Rated by many as one of the greatest players of his generation, on the planet never mind Scotland, to this day I still regret that Connelly was lost to Celtic and to football so young and with so much still to give and to enjoy. He was a wonderful player, and he could have been anything, but he was George. He had decided that he had enough, and it was his life after all.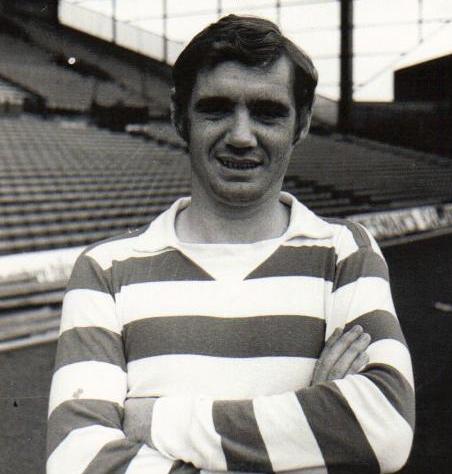 With all that going on, at least there was good news for two other young Celts. Danny McGrain had been replaced by Harry Hood at Muirton with a badly-cut leg and he would not be fit to face Stenhousemuir, Roy Aitken receiving his first start at right-back in his absence. And young midfielder Jim Casey would come off the bench in the closing stages to sample first-team action for the first time, replacing Johannes Edvaldsson.
Celtic's dreadful record from the penalty spot continued, Pat McCluskey fresh from his Perth double blasting the ball wide of the post after Kenny Dalglish had been brought down midway through the first half. The only goal of a low-key encounter came 10 minutes into the second half, Andy Lynch playing a one-two with Dalglish before beating Warriors' keeper Ray Dunlop with a tidy finish to seal a spot in the last-four draw for the cup-holders.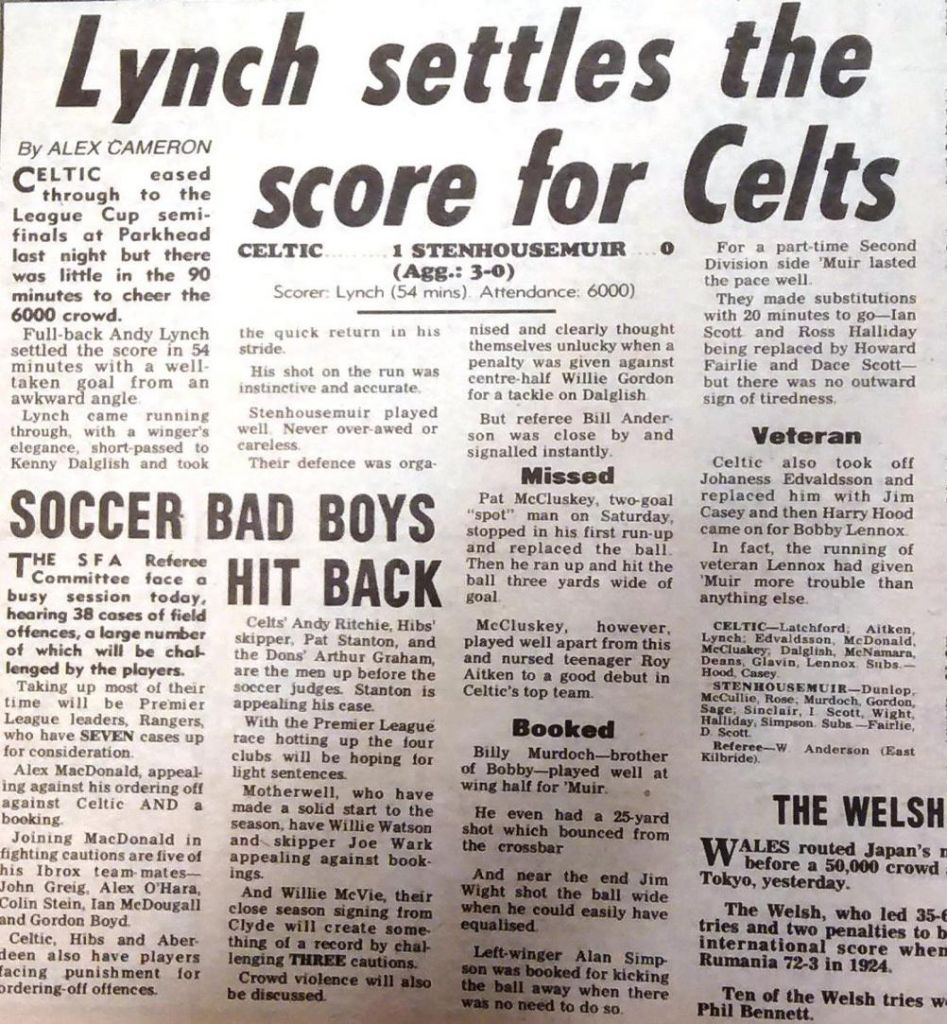 The last fixture of the month was a home League game with Dundee United on Saturday, 27 September 1975. This time it was the visitors who would be saying goodbye to a key player, star striker Andy Gray sold to Aston Villa for a six-figure fee on the morning of the match. On the sort of damp, dark, dreich day Dundee media man Dick Donald would have dreamed of, Celts would secure the points thanks to second-half headers from Kenny Dalglish and Roddie MacDonald, both from deadly deliveries from Bobby Lennox, sadly not Dixie Deans!
Of course, there would have to be more penalty drama, although perhaps fortunately the award would go to the visitors rather than ruining someone else's day in the Hoops, Graeme Payne doing the needful in the 73rd minute to complete the scoring at 2-1.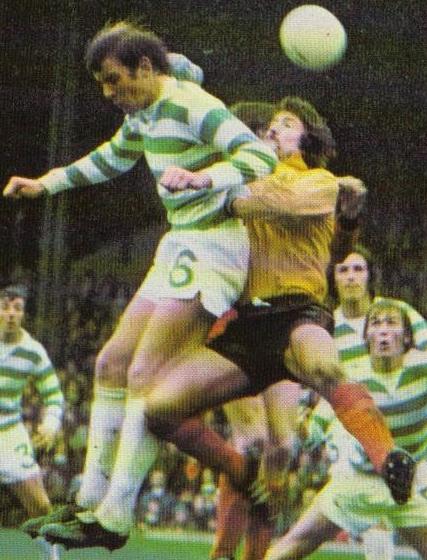 October opened with the return leg of the European Cup Winners' Cup tie with Valur, Sean Fallon showing the appropriate respect for his part-time opponents by fielding a strong side, with returns for Harry Hood and Dixie Deans.
Johannes Edvaldsson had passed up the chance to score on native soil two weeks earlier, however, he did find the net in Glasgow, the powerful Icelandic star opening the scoring from a Deans centre within seven minutes.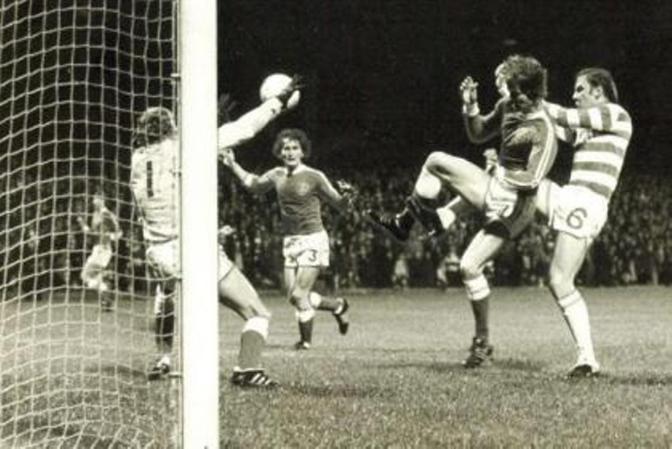 Other goals would quickly follow as the Bhoys romped to a 7-0 win, Hood setting up Kenny Dalglish to double the early lead on 12 minutes before Pat McCluskey broke both the penalty bogey and his European duck by making it 3-0 from the spot on the half-hour, after Sigi Dagsson had brought down Deans.
The former Motherwell striker was involved in most of the good things on the night, providing a third assist for Hood to fire home Celtic's fourth 10 minutes from the break, before making it 5-0 himself soon afterwards. Fallon would take the opportunity to blood another youngster for the second half, as 18-year-old striker George McCluskey was introduced for Paul Wilson. Tom Callaghan took Celtic's tally to six shortly after the break, before making way for Jim Casey, and the latest substitute would raise his profile with 10 minutes remaining when his strong running set up a second goal of the evening for Hood.
This victory allowed Celtic to win one of its most unusual pieces, the Polar Bear Trophy,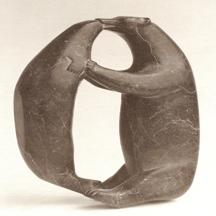 a stone image which I prefer to think of as a bear getting friendly with a seal, rather than eating it.
This chapter is dedicated to the memory of Johannes Edvaldsson, another wonderful Celt, who sadly passed away this week.
Rest in peace, Johannes.
Thanks, as always, to the wonderful Celtic Wiki.
Hail Hail!
Matt Corr
Follow Matt on Twitter @Boola_vogue