"Oh Harry, Harry…Oh Harry Hood": Part 36: It's anyone's title in a four-way race
Two days after the victory at Tannadice, Harry Hood and his Celtic teammates were back on Tayside for a match 200 yards along the street at Dens Park. Dundee's long-serving full-back Bobby Wilson had been granted a well-deserved testimonial and, as was often the case, it would be Jock Stein's Celts who were invited to provide the opposition.
Technically, it was a Celtic select, with current stars Harry and Paul Wilson lining up alongside legends Tommy Gemmell, Billy McNeill, Davie Hay and Bertie Auld, together with a couple of guest players who would later represent the club with very different results, Pat Stanton and Frank Munro. This game, played on Monday, 1 December 1975, is also worthy of note as it would be the only occasion where future Parkhead manager Gordon Strachan would ever wear the Hoops.
The performances of the talented, diminutive redhead Strachan on the right flank for Dundee were drawing inevitable comparisons with the recently-departed Jimmy Johnstone, who had made his debut for former Celt Jimmy Sirrel's Sheffield United just 10 days earlier, after a brief spell in the USA with San Jose Earthquakes.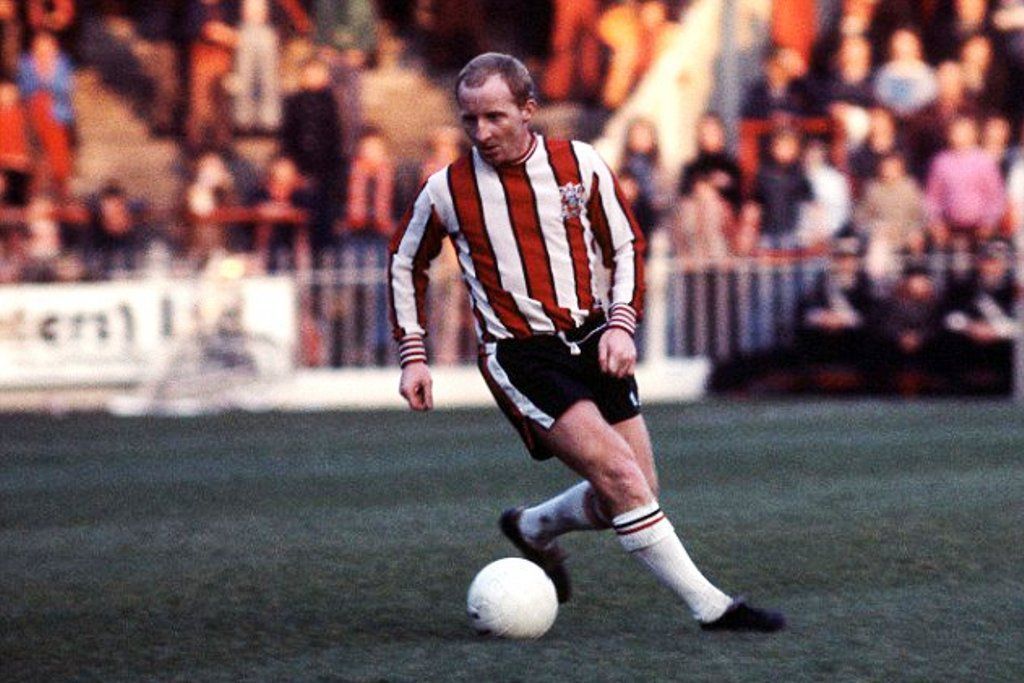 As an aside, Jinky's first match for the Blades was against a Stoke City side featuring England internationalists Peter Shilton and Mike Pejic, whom he had tormented for Scotland at Hampden just 18 months earlier, whilst still at the peak of his powers. How quickly things change in football. There were strong rumours that 18-year-old Strachan was on the radar of Sean Fallon, managing the Parkhead first team whilst Jock Stein recovered from his injuries, as well as talk of a potential return for David Hay. Sadly, neither signing would come to pass, albeit both wore the green-and-white Hoops as the following men represented Celtic at Dens Park on the first day of December 1975.
 Thomson Allan (Dundee); Tommy Gemmell (Dundee) & Jim Hermiston (ex-Aberdeen);

Pat Stanton (Hibernian), Billy McNeill & Frank Munro (Wolverhampton Wanderers);

Harry Hood, Davie Hay (Chelsea), Paul Wilson, Bertie Auld & Rab Prentice (Hearts).

 Substitutes; Gordon Strachan & Bobby Ford (both Dundee).
The game, of course, was much more about fun and honouring Bobby Wilson than the result, however, in the interests of completeness, Pat Stanton would give the Hoops the lead midway through the first half before the hosts recovered to win 5-1.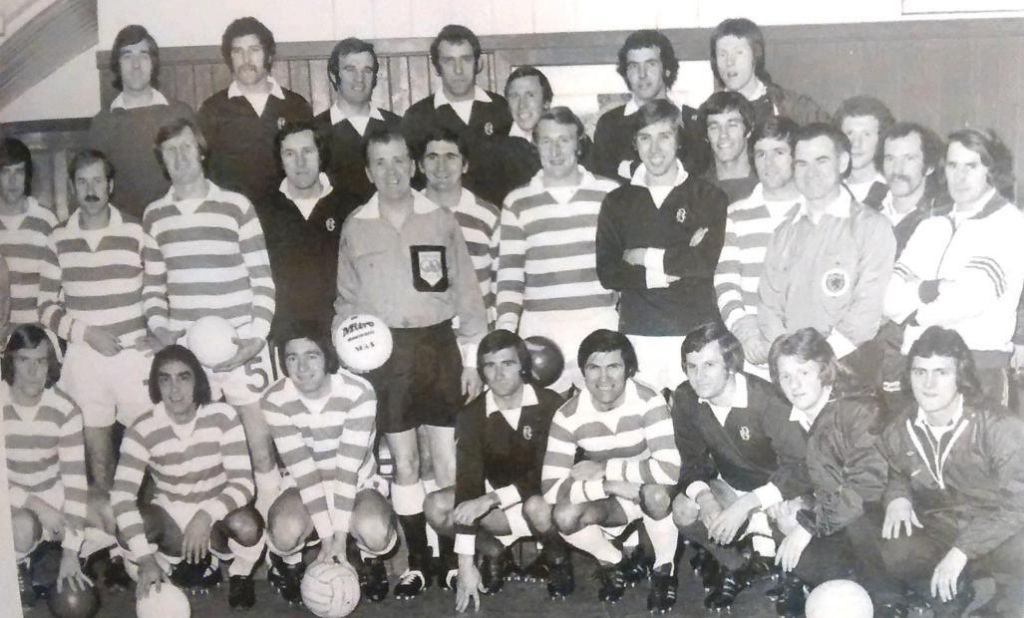 Harry Hood would line up with the Class of '75 five days later, as Celts won a tricky fixture at Tynecastle to remain at the top of the table on goal difference, thanks to a late strike from Dixie Deans.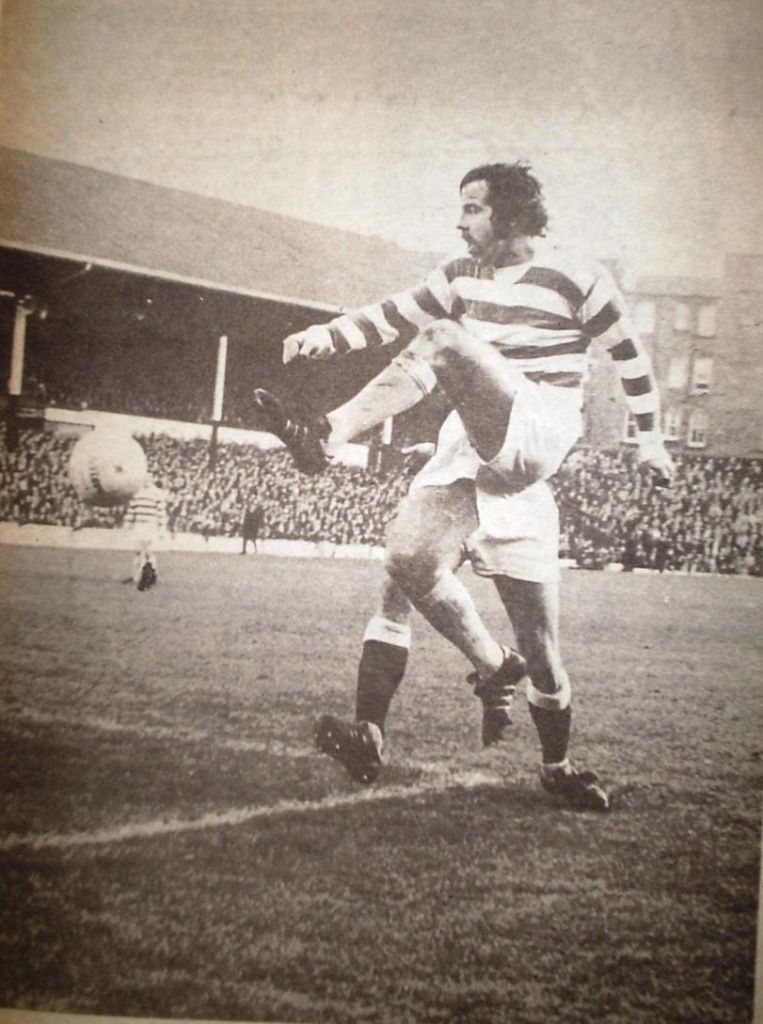 That would set them up well for the visit of Hibernian in midweek, the replay of the October match controversially cancelled due to fog with the visitors leading 2-0 in the dying minutes. Things looked promising for the majority of the 33,000 spectators in the old ground as Deans yet again plundered a goal against the Leith men on the hour, however, Joe Harper enjoyed scoring against Celtic every bit as much, and he levelled things off with 18 minutes remaining.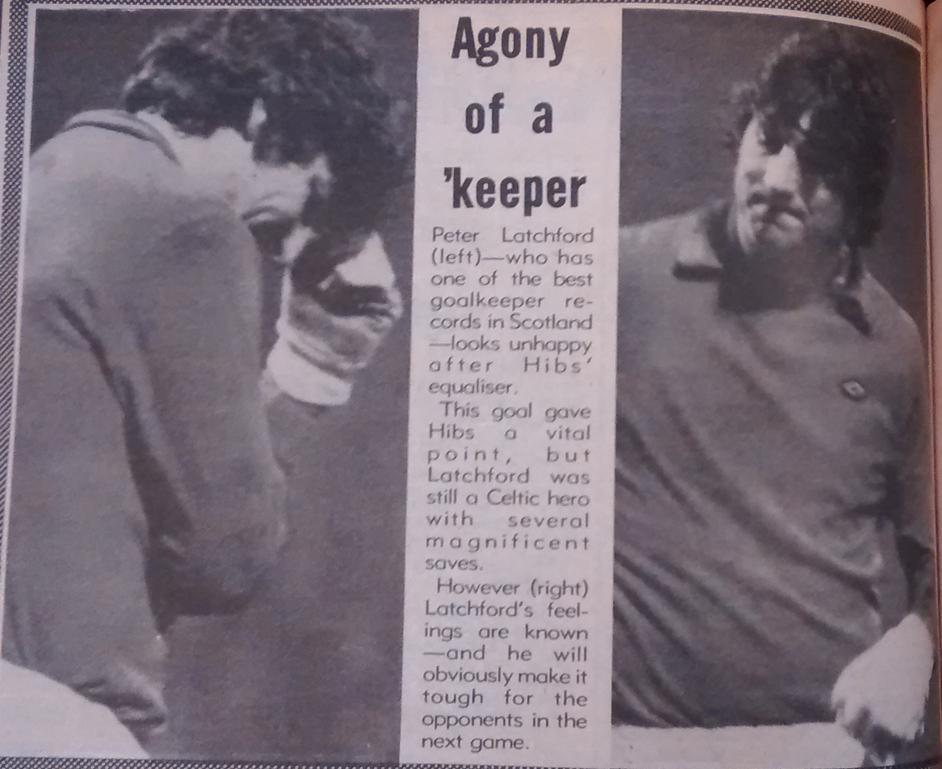 In normal circumstances, a draw at Celtic Park would be considered a point dropped. Like most folk, I suspect, I was more than happy to accept that particular draw, which enabled the Bhoys to move one point clear of Motherwell at the top of the table, with Hibernian one further back, all of the top sides now having completed 15 League fixtures.
That would all change on Saturday, 13 December 1975, as new Aberdeen manager Ally MacLeod brought his team to Glasgow. Paul Wilson would come in for Harry Hood in the only change from the midweek line-up, Harry joined by young Roy Aitken on the bench. Two goals in the opening half-hour from Drew Jarvie and Arthur Graham would give Celts a mountain to climb, and despite pushing the influential Johannes Edvaldsson into midfield from his sweeper role then introducing Hood for Wilson, the Hoops would draw a rare blank at Parkhead. Hibernian's home win over Motherwell the same afternoon would see them leapfrog the Steelmen to join Celtic on points at the top, ahead of their meeting seven days later.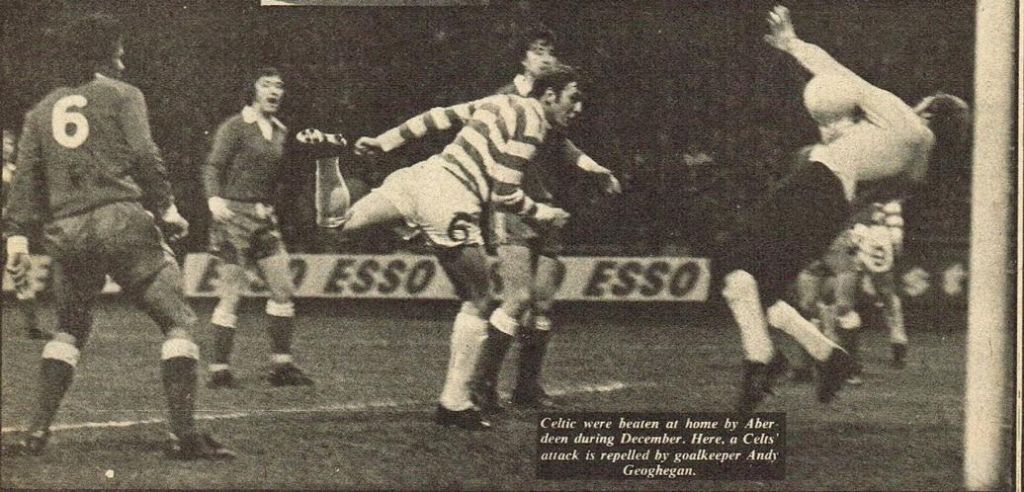 The latest Battle of the Greens, which took place at Easter Road on Saturday, 20 December 1975, drew only 21,000 to Leith, perhaps a combination of changing times and the dreaded 'Saturday before Christmas' to blame for an attendance less than half what those great teams of just a few years earlier would have attracted.
Nevertheless, it would prove to be another occasion when the Hoops rose to the challenge, with an excellent 3-1 win in perhaps their finest display of the season. With Jock Stein looking on from the stand, Sean Fallon opted for the more defensive Jackie McNamara to either Paul Wilson or Harry Hood, his only change, and the midfielder would seal victory with a delightful lob in the final minute, after Dixie Deans had created the opening.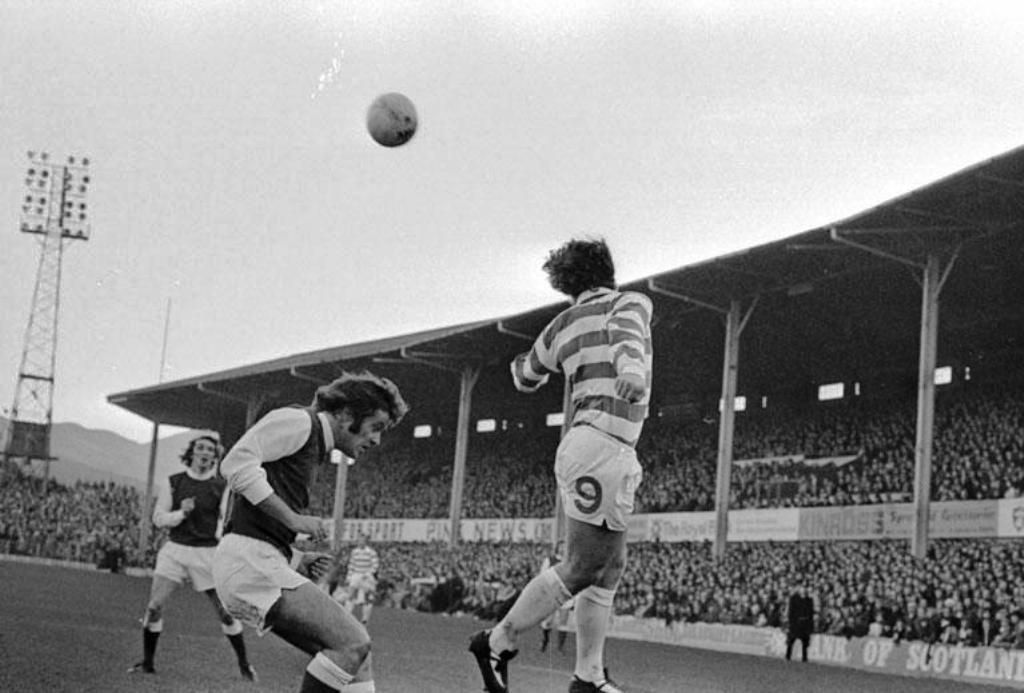 Dixie, of course, had opened the scoring early on with one of his trademark headers, before two goals in a minute midway through the first half saw Celts emerge with that lead intact. Arthur Duncan's equaliser for Hibernian was cancelled out by Johannes Edvaldsson seconds later, the big Icelander following up to knock the ball home after yet another Deans header had been touched onto the crossbar by keeper Jim McArthur. Some 50 miles to the west, Motherwell's defeat at Ibrox would see some daylight between the previous leaders, albeit Rangers were now making their own charge in the background.
Harry Hood had been an unused substitute at Easter Road, and the following Saturday he had travelled with the reserve squad for a match at Somerset Park against Ayr United. The team would include Steve Murray, now attempting a comeback having earlier announced his retiral from football, plus future Celtic stalwarts Roy Aitken, Tommy Burns and George McCluskey. Murray and McCluskey would grab the goals in a 2-1 win. Through in Glasgow, an unchanged first team had secured two vital points by beating the Honest Men 3-1, Johannes Edvaldsson fresh from his Christmas trip home to Iceland the key man with a headed double either side of the interval to put the Bhoys 2-1 up.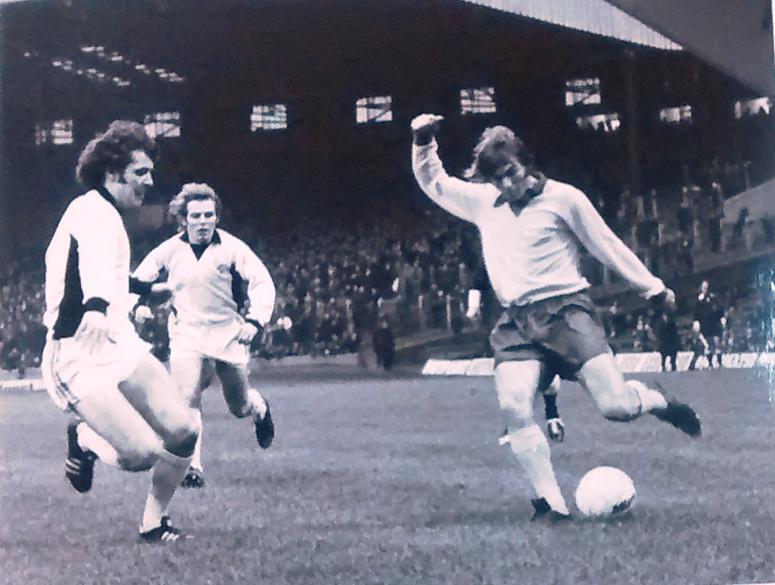 The visitors would then be reduced to 10 men, as Johnny Doyle, who had excelled in the recent clash between the clubs at Somerset, despite the 7-2 scoreline, finally had enough of the Andy Lynch treatment to give some of that back. Edvaldsson then rounded off a man-of-the-match performance by setting up Kenny Dalglish for Celtic's third with six minutes remaining. Results elsewhere would see the year end on a happy note, Hibernian and Rangers both drawing with only Motherwell of the leading pack matching the Hoops with a victory.
There would be some final football action of 1975 for Harry Hood, as once again he turned out for the reserves on Tuesday, 30 December, as a Rangers' second string made the short journey across the city to face Celtic. A strong attacking Hoops line-up, which also included Ronnie Glavin and Paul Wilson, would prevail, Harry adding to Alex O'Hara's own goal to give Celts a morale-boosting 2-1 ahead of the main clash two days later.
Thursday, 1 January 1976 would be another rite of passage day for yours truly, a first Ne'erday derby involving my first visit to Ibrox. Harry Hood and Paul Wilson had both done enough in the reserve fixture 48 hours earlier to merit inclusion on the bench, as Sean Fallon named the following team.
Peter Latchford; Danny McGrain & Andy Lynch; Pat McCluskey, Roddie MacDonald & Johannes Edvaldsson;

Jackie McNamara, Kenny Dalglish, Dixie Deans, Tom Callaghan & Bobby Lennox.

 Substitutes; Harry Hood & Paul Wilson.
With the hosts three points behind the League leaders at the 2pm kick-off, it was pretty much a must-win game for them, whilst any sort of positive result would see Celtic remain in pole position for the second half of the season. What was not in the Hoops favour was a second consecutive New Year visit to Ibrox, a fixture they had not won since a Joe Cassidy double secured the points on the opening day of 1921, an unhappy consequence of the move to four fixtures per season between the clubs.
Jock Stein's hopes of a cherished 10-in-a-row had been dashed on the Ibrox rocks 12 months earlier, with that painful 3-0 defeat, and sadly today would be another significant moment in the first Premier League title race. The only goal of the game would come on the half-hour via that familiar Rangers tactic of a lofted Tommy McLean free-kick towards the head of Derek Johnstone. Once again, the burly striker would win the aerial battle, to beat Peter Latchford from close range, and despite the second-half bombardment of the Rangers goal following the introduction of Paul Wilson and Harry Hood for Dixie Deans and Bobby Lennox, the hosts would stretch their unbeaten run against Celtic to seven games.
Both Motherwell and Hibernian would open 1976 with home wins, all three main challengers now lurking just a single point behind the table-topping Hoops with 17 of the 36 games remaining. Game on.
That defeat would be compounded two days later as Gordon Strachan swapped his Hoops for the navy jersey of Dundee to make his first senior appearance at Celtic Park. Like many of those to follow, the skilful midfielder would cause Celtic no end of damage as a 3-1 lead early in the second half had disappeared before the final whistle.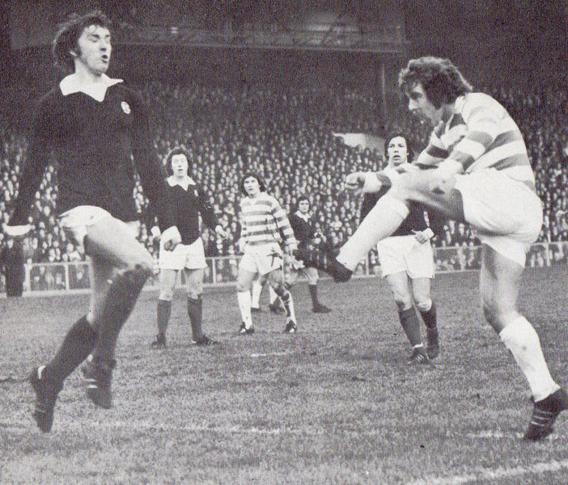 With Paul Wilson in for Bobby Lennox and Steve Murray making his comeback from retiral on the bench at the expense of Harry Hood, the Bhoys had recovered from the setback of an early Andy Lynch own goal to take a winning lead, Dixie Deans' quick equaliser followed by a Kenny Dalglish double, the Celtic captain looking a bit more like himself after, by his own exceptional standards, a disappointing spell of form.
The alarm bells which sounded upon Wilson Hoggan's goal for Dundee on the hour were set aside as the stadium rose to welcome Murray's introduction for Roddie MacDonald with 15 minutes remaining, Johannes Edvaldsson stepping back into central defence. We were into the final minutes when Gordon Strachan's corner was met by the head of visiting full-back David McIntosh, Peter Latchford helpless as the ball floated over him to steal away a precious point. With Motherwell drawing at Pittodrie and Hibernian's visit to Tannadice falling victim to the weather, a narrow win for Rangers at Tynecastle enabled the Ibrox club to join Celtic at the top of the table, only a superior goal difference now keeping Parkhead noses in front.
With the pressure now truly on, Sean Fallon's men would produce two fighting performances to take maximum points from the difficult visits to Motherwell and Perth. The match at Fir Park on Saturday, 10 January 1976 brings back memories for me, as I was approached outside the main stand and invited to be the featured 'Celtic Boy' in the following edition of The Celtic View. Those of a certain vintage will recall that you are photographed and asked to name your favourite player, who you then meet at a future home game as a guest of the club. Before I could explain how much grief I would receive at school for this, my dad was right in there, and Celtic Boy I was, like it or not. That's my version anyway!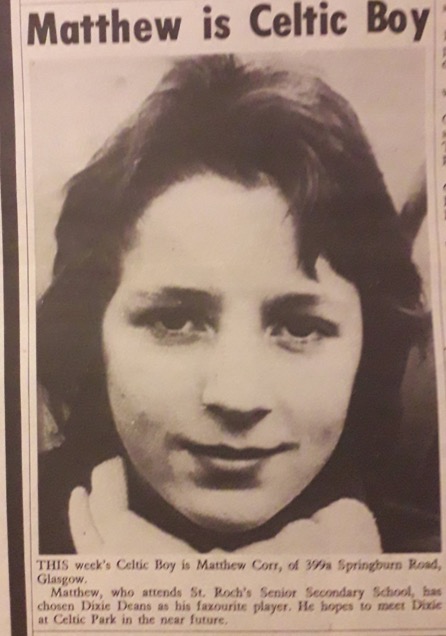 My choice of player had been Dixie Deans, and as it happened, he would be the key man on a day when Celtic again looked like champions. After a goalless first half, the striker scored twice against his old club in the opening 15 minutes of the second period to put the Hoops in the driving seat. There was a brief Groundhog Day feeling as that lead was halved just two minutes later, former Celt Vic Davidson knocking the ball over the line for 2-1 to save Johannes Edvaldsson the embarrassment of an own goal after the big sweeper had sliced a clearance.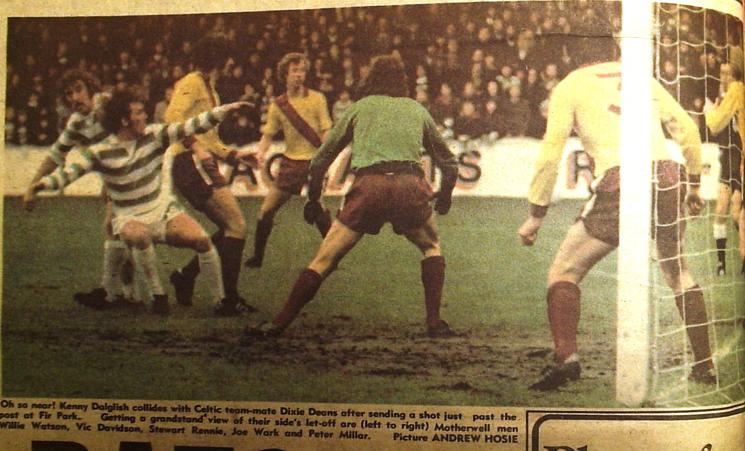 But Celtic fought back, the restored midfield duo of Steve Murray and Ronnie Glavin adding a freshness and dynamism to the team which had been missing in recent weeks and allowing captain Kenny Dalglish to operate slightly further forward. It would be King Kenny who would have the final say, with eight minutes remaining, Deans yet again involved as Dalglish beat Stewart Rennie, the Hoops roaring back to form with an exhilarating 3-1 victory over one of their main rivals for the Scottish crown.
Harry Hood had missed out on that Motherwell match and he would again be on reserve duty as the first team travelled to face bottom-dogs St Johnstone at Muirton Park, on Saturday, 17 January 1976. This is without doubt my favourite visit to the old Perth stadium, which so often witnessed a negative result for Celtic.
There was an early shock for the unchanged visitors as Duncan Lambie gave Saints the lead after 15 minutes, Celts replying within six minutes after Dixie Deans and Kenny Dalglish combined again for the skipper to equalise. Just after the half-hour, Bobby Thomson beat Peter Latchford all ends up with a long-range effort, the Saints looking good value for their interval lead before that man Deans headed his fourth goal in three games just seconds from the whistle.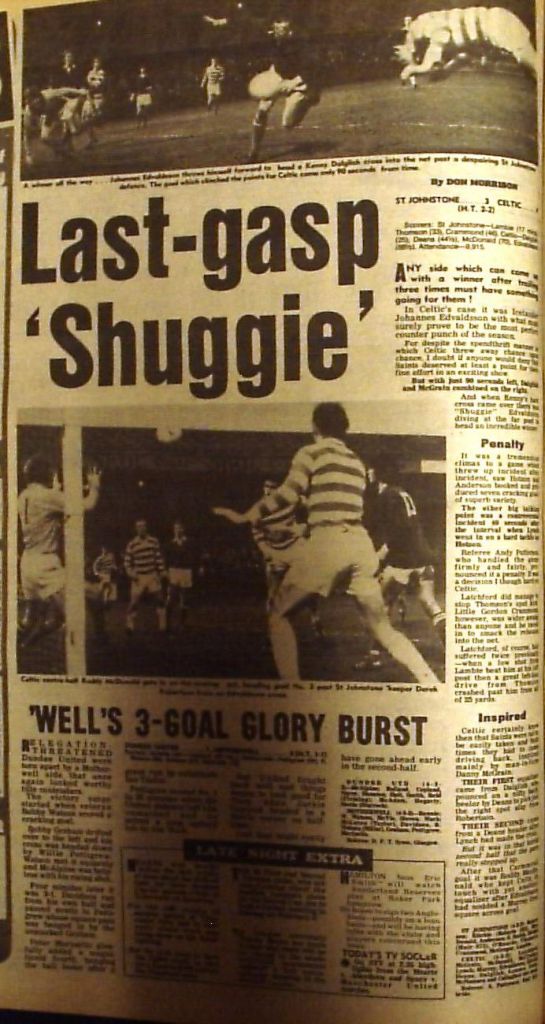 The feelgood half-time factor disappeared in the opening minute of the second period, this time Andy Lynch penalised for a challenge in the box and Thomson stepping up for his double. Latchford would deny the Perth striker with an excellent save, only to look on helplessly as Gordon Crammond was first to react and put Saints ahead for a third time.
With Celts now piling forward towards the goal a few yards in front of us, there was a huge sense of relief when Roddie MacDonald soared to power his header home for 3-3 with 20 minutes remaining. Derek Robertson and his defensive line then led a charmed life, as all attempts to secure a winner were defied, word soon coming through on a thousand transistor radios that Rangers were beating Hibernian at Ibrox and were poised to go top, that news only adding to the feeling of impending gloom.
Then cometh the hour, cometh The Iceman.
With seconds remaining, Celts were working the ball up the far side in a desperate bid to win the match, that world-class combination of Danny McGrain and Kenny Dalglish weaving closer to the danger area. All of a sudden, the King has delivered a cross, which clears everyone in the middle to drift towards us watching beyond the far post, before the powerful figure of Johannes Edvaldsson launches himself at the ball, his connection perfect as the net bulges behind the despairing Robertson to create bedlam all around us. It was an incredible end to an incredible afternoon, the Hoops showing the mark of champions to stay ahead of their closest rivals.
Thanks, as always, to the wonderful Celtic Wiki.
Hail Hail!
Matt Corr
Follow Matt on Twitter @Boola_vogue