"Oh Harry, Harry…Oh Harry Hood": Part 23: League Cup curse strikes again in the final from Hell
Hat-trick hero Harry Hood started where he had left off in midweek, as an unchanged Celtic team faced Dundee United three days later, Saturday, 8 December 1973, on the winter wonderland which was Celtic Park. This is a game which most supporters of my vintage will recall, played with a ball which was as, er, tangerine as the visitors' shirts, to allow the game to take place on a snow-covered pitch. It would never have been played in the modern era.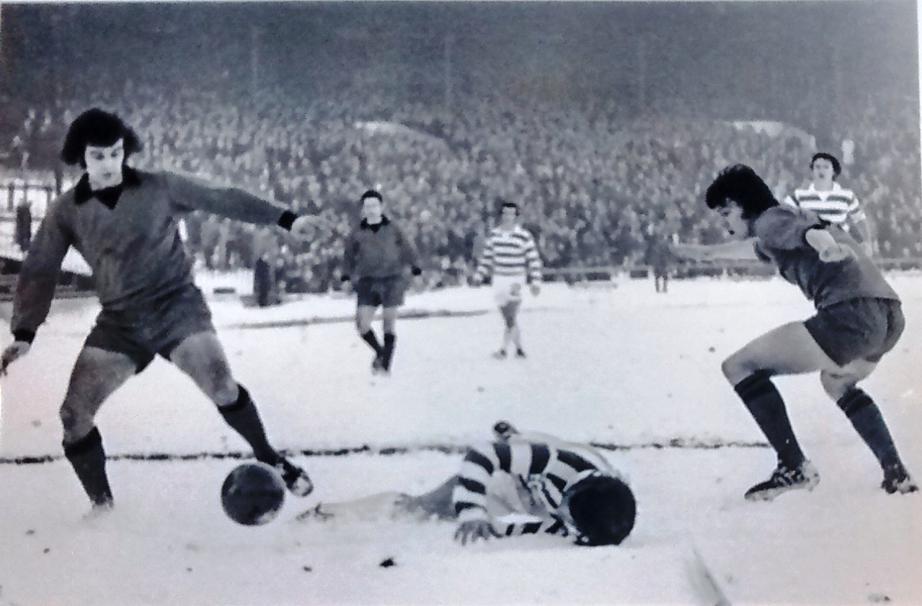 Hood followed up his three strikes which counted against Rangers and the one which didn't by hitting the opener in the seventh minute, following up a Billy McNeill header to score, just as he had done at Hampden. With Harry and the other Celts defying the atrocious underfoot conditions to turn on the style, the game appeared to be in the bag before the interval, despite an horrendous decision by referee Eddie Pringle which handed Jim McLean's United an equaliser on 17 minutes. Hoops keeper Ally Hunter was the meat in an Archie Knox/George Fleming sandwich as he leapt to collect a high ball in his box, the tangerine sphere squirming from his grasp to present Andy Gray with a belated 18th birthday gift for 1-1, Celtic captain McNeill chasing the Edinburgh official to the halfway line to protest the injustice, to no avail.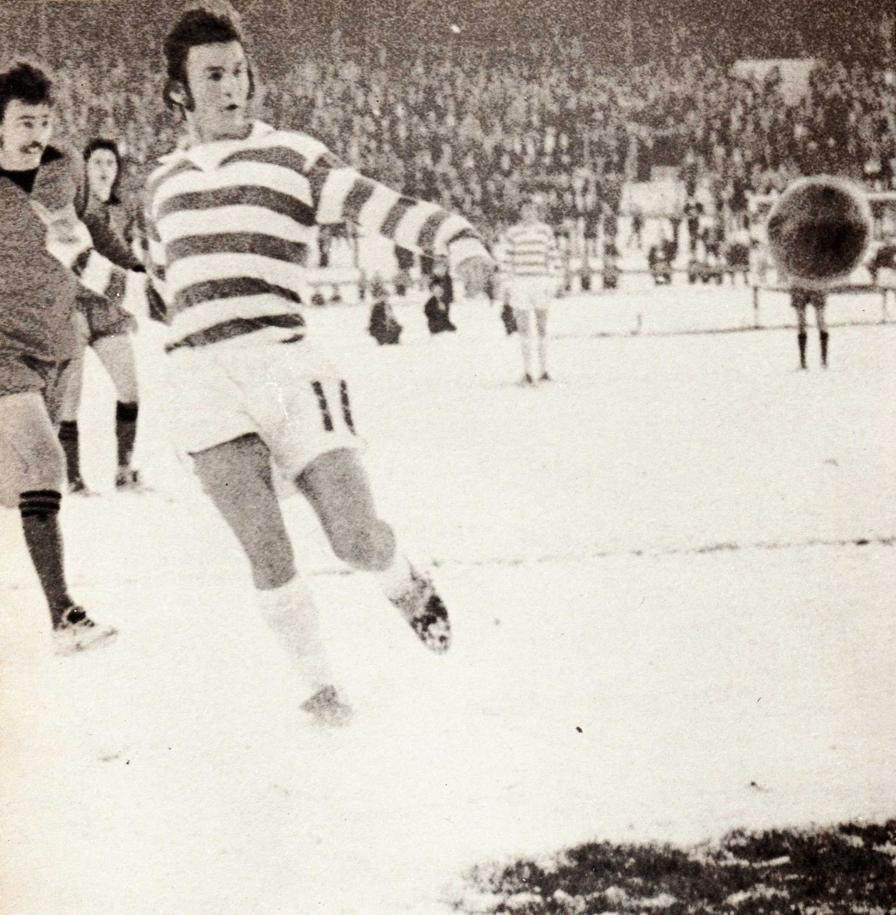 Two goals in the final 15 minutes of the half allowed that anger to be somewhat dispelled, Tom Callaghan scoring after Kenny Dalglish's effort had crashed off the crossbar then the King himself beating Hamish McAlpine after a wonderful interchange with Hood. At 3-1, it seemed that Jock Stein also believed it was job done, man-of-the-moment Harry Hood withdrawn to let Bobby Lennox loose on the United defence and finish them off, however Fleming reduced the deficit within 10 minutes of the restart before Pringle's second dreadful call of the afternoon saw the visitors leave Glasgow with an unlikely point. There were only seconds remaining when Archie Knox tapped the ball home from a clearly offside position, however, as we all looked for a linesman's flag none was forthcoming, the match ending 3-3 much to the disappointment of the majority of the frostbitten 19,000 spectators inside Parkhead.
That state of frozen disappointment would manifest itself again seven days later against the other club from Tannadice Street, in the most surreal cup final atmosphere I ever witnessed. The 1973/74 Scottish League Cup competition would be brought to a conclusion at lunchtime on Saturday, 15 December 1973, a combination of early kick-off, appalling weather conditions and the national state of emergency, perhaps even the opposition, reducing the attendance to an all-time low, at that time, for a national cup final of just under 28,000.
We were shivering high up in the North Stand, but at least we were under cover, a luxury many of those dotted around the frozen slopes of the vast stadium would not enjoy. The old Hampden packed with 100,000 spectators or more was a truly awesome sight, however, as we had witnessed against Arbroath and Rosenborg over the past year, the empty bowl often produces a performance to match the flat atmosphere. Sadly, that was about to unfold in front of us once more.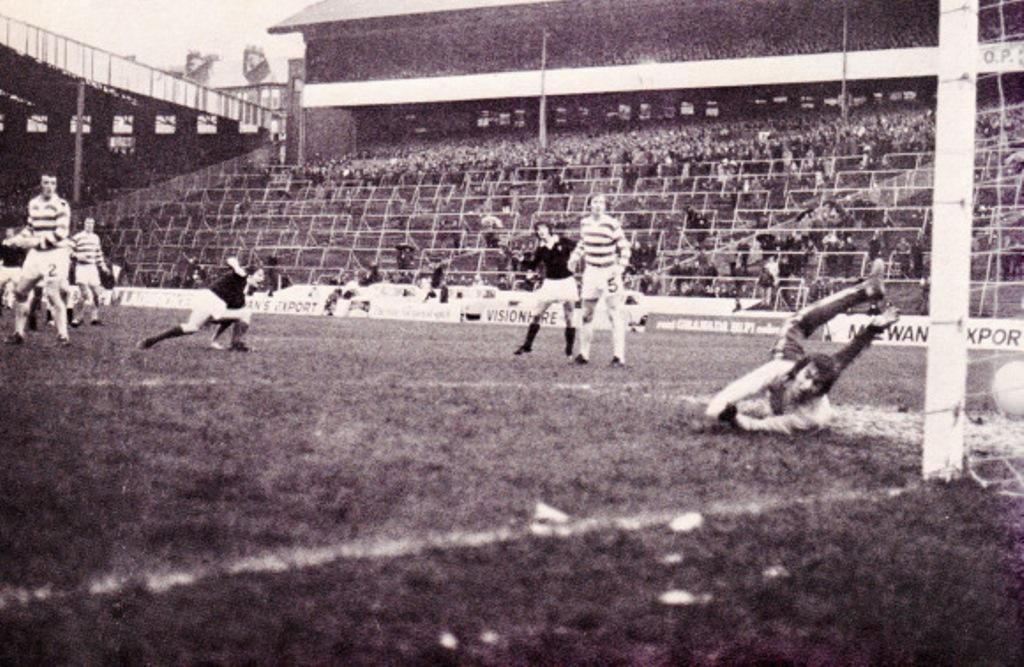 As Harry was putting Rangers to the sword 10 days earlier, Dundee were already reflecting on a job well done, having beaten Kilmarnock 1-0 at the national stadium in front of less than 5,000 spectators on the Monday evening, thanks to a goal from captain Tommy Gemmell. The match had been postponed from the previous midweek due to, yes, you've guessed it, snow.
The Dark Blues were managed by Davie White, who had played alongside Harry Hood at Clyde in his first spell there, then brought him back to Shawfield from Sunderland as manager in 1966 as the club finished third that season, their highest-ever League position, whilst taking the Lisbon Lions to a replay in the Scottish Cup semi-final, the goalless first game of which Harry had played in before injury saw him miss out in midweek. White's performance would see him move to Ibrox as assistant manager to Scot Symon that summer before replacing him a few months later. After two years without a trophy as Rangers manager, in the autumn of 1969 he would become the first man to be sacked from that post, despite his side leading the League. Jock Stein's shadow was a very cold place for anyone connected with Ibrox to live.
White then took over from his and Harry's old Clyde manager, John Prentice, at Dens Park in 1972, and had forged an excellent side which you may recall had taken Celtic to three games in the quarter-final of the previous season's League Cup, before succumbing to a four-goal first-half aerial blitz in the Hampden play-off. He had beaten Stein's Celtic in both League and Cup home matches on Tayside that campaign. They were a decent side with excellent players.
In this current League Cup competition, Dundee had topped a group including Hearts, Partick Thistle and St Johnstone, before eliminating Dunfermline Athletic and White's old team Clyde in the two-legged knockout stages before their victory over Kilmarnock in the semi-final.
This would be the club's fourth appearance in the League Cup final. They had become the first club to successfully defend the new trophy when they followed up their 3-2 win over Rangers in October 1951 with a 2-0 victory over Kilmarnock 12 months later. That great team had also reached the Scottish Cup final in April of that year, losing heavily to Motherwell, and included Doug Cowie at left-half. Doug was capped 20 times and is now believed to be the oldest surviving Scottish international player, as he looks forward to his 95th birthday in May.
As an aside, the beaten Kilmarnock side featured my uncle, Willie Jack, at inside-left. Willie had scored a last-minute winner against Rangers in the semi-final, which prevented a re-run of the previous season's finale. His goal involved an attempted clearance from an Ibrox defender taking a ricochet off his stomach to win the match, an event subsequently caricatured in the national media.
It was often wheeled out at family parties and remains in the possession of my cousins to this day, its place in our family history reinforced by its inclusion in his Order of Service when he passed away a few years ago.
Willie had won the Scottish Junior Cup with Shawfield before signing for St Mirren then joining Albion Rovers, where he was a teammate of Jock Stein. As Stein headed to Llanelli in 1951, Jack was signed by former Celt Malcolm MacDonald for Kilmarnock. Jock and Willie would later face off when the Big Man returned to Scotland with Celtic – one of those matches in the Scottish Cup memorably captured in classic footage in 1955 – and they would remain friends in later years.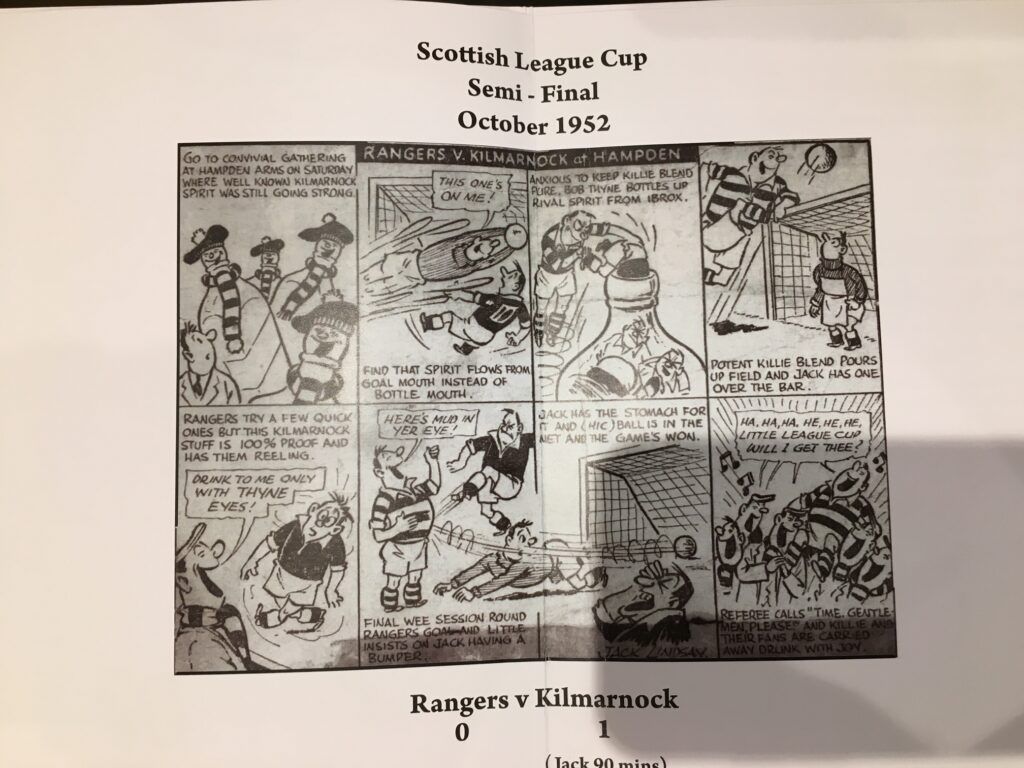 Dundee's third League Cup final had been against Stein's Celtic in October 1967, played immediately before the European champions headed out to South America for the ill-fated World Club Championship clashes with Racing Club. Celts had gone there in fine fettle after a 5-3 win over the Dark Blues had extended their sequence of successes to three, thanks to a Steve Chalmers double and further goals from John Hughes, Bobby Lennox and Willie Wallace.
Dundee's goals at Hampden that afternoon had been shared between the two McLeans, George and Jim. Both had featured against this current Celtic team in recent weeks, 'Dandy' as a player for Ayr United and 'Wee Jum' as the Dundee United manager in the 3-3 snow fight.
Some of their 1967 vintage would again feature in the final six years later, Bobby Wilson at full-back and George Stewart in central defence, whilst Steve Murray would now be wearing the colours of Celtic, having arrived in Glasgow in May 1973 via a four-year spell at Aberdeen. Murray would make his only international appearance on home Pittodrie soil in December 1971 beside Scotland debutant Kenny Dalglish, who was his now his club teammate.
The Celtic team from that previous final meeting would also include survivors in December 1973. Tommy Gemmell, of course, would now lead Dundee out at Hampden, alongside Billy McNeill, whilst Jock Stein would again be in the dugout. The incredible turnaround of players at Parkhead was illustrated further as only Bobby Lennox from the other 10 players who took part that afternoon for Celtic remained at the club. Bobby would not be in the cup final squad, as Stein went with the same men who had clinched the last-four victory over Rangers.
Ally Hunter; Danny McGrain & Jim Brogan; Pat McCluskey, Billy McNeill & Steve Murray;
Harry Hood, Davie Hay, Paul Wilson, Tom Callaghan & Kenny Dalglish.

Substitutes; Jimmy Johnstone & George Connelly.

Dundee lined up as follows:

Thomson Allan; Bobby Wilson & Tommy Gemmell; Bobby Ford, George Stewart & Iain Phillip;
John Duncan, Bobby Robinson, Gordon Wallace, Jocky Scott & Duncan Lambie.

Substitutes; Davie Johnston & Ian Scott.
Apart from Tommy Gemmell and Steve Murray, there were some other interesting side stories associated with the match. Dundee keeper Thomson Allan had shipped six goals to Celtic in his previous appearance in a League Cup final, for Hibernian in April 1969, whilst Jock Stein had allegedly tried and failed to bring Iain Phillip back to Scotland from Crystal Palace a few months earlier, the player choosing instead to return to Dens Park. And, of course, there was a suggestion that a deal involving Harry Hood and cash had been proposed to Dundee a few weeks before the final to bring John Duncan to Parkhead. As it transpired, there would be no reunion of Harry and Davie White at Dundee, whilst Duncan would eventually join Tottenham Hotspur for big money.
Celtic's route to a 10th successive League Cup final had been tortuous, six section games in August, which included two Glasgow derbies with Rangers, then followed by home and away second round games with Motherwell which produced a tie, the European 'away goals' rule which would have seen Celts qualify disregarded in favour of a play-off. The third game with Motherwell and the first leg of the quarter-final with Aberdeen were both squeezed into a 72-hour midweek period in the middle of the European Cup schedule, with a three-week gap following before the second-leg at Pittodrie. And after all that, Celtic were paired again with section rivals Rangers in a midweek semi-final played in early December, 10 days before the final itself, our 13th game in the competition. You genuinely couldn't make this up.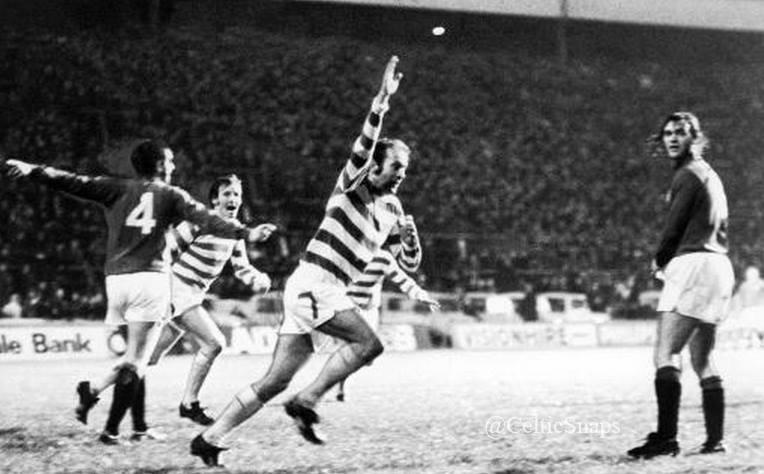 To add insult to injury, on the day of the final the Hampden surface, understandably, was in dreadful condition, the snow having been cleared only to form pools of water all over a muddy surface above a rock-hard base. Not surprisingly, both managers Stein and White wanted the game postponed on safety grounds, adding to the momentum in the wider media to defer the final until the spring to provide half a chance of making it the showpiece it once was, even despite the tedious competition it had become. However, common sense once again took a holiday. The Ghost of Hampden Past – Davidson of Airdrie – was the referee, as he had been in the 1967 final, and he decided or was told it was going ahead. And that was that.
The League Cup had been a bizarre competition for Celtic. We had managed to qualify from the initial sections only twice in the first decade following its introduction to the domestic calendar at the start of season 1946/47, succeeding the old wartime Southern and North East Regional League Cups. Then, like corporation buses, when one trophy arrived, another followed shortly, Celts beating Partick Thistle in October 1956 then Rangers 12 months later, Hampden in the Sun.
The Hoops then failed to reach another final until a defeat by Rangers in 1964, the first of the current sequence of ten, taking revenge by beating the Ibrox men in the finals of 1965 and 1966. That became three-in-a-row with the aforementioned defeat of Dundee in October 1967, then five as both Hibernian and St Johnstone were beaten in the calendar year 1969, the first final deferred after a fire at Hampden in the autumn of 1968. No other club has ever dominated the competition over such an extended period, so it was a real disappointment when the recent loss to Ross County removed the possibility of the current crop of Celts matching that achievement this season.
Having won five in a row, the Hoops had then failed to win any of the next three finals, Rangers, Partick Thistle then Hibernian all enjoying a Hampden success at Celtic's expense. I had been at the two previous defeats and still awaited a first win. Surely, even on this dismal afternoon, Jock Stein's men would prevail.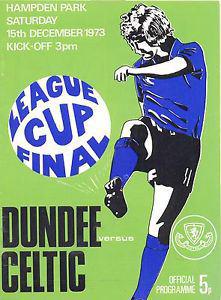 Leaving aside the conditions and atmosphere, which applied equally to both teams, there is no doubt that Dundee deserved to win on the day. The solitary goal probably reflected the only real combination of play worthy of the final. As the game entered its final 15 minutes, a free-kick on the halfway line was launched into the Celtic box by Bobby Wilson, a veteran of the match six years earlier, the ball clearing the first jumping Celtic defender. Dundee striker Gordon Wallace then showed superb control to take it on his chest before swivelling to beat Ally Hunter low at his post.
There would be a late flurry but no reprieve, as Tommy Gemmell for the first time lifted a trophy at Hampden which was not welcomed by the Celtic support.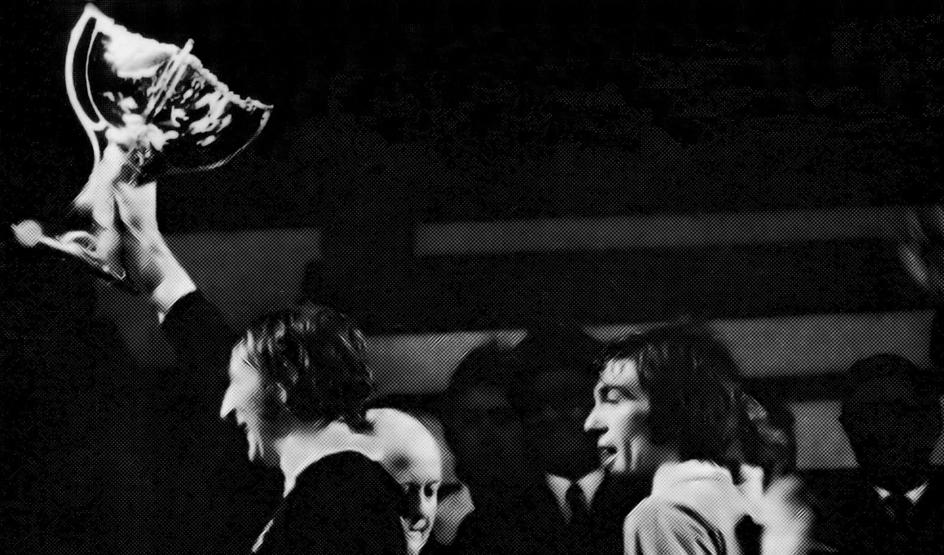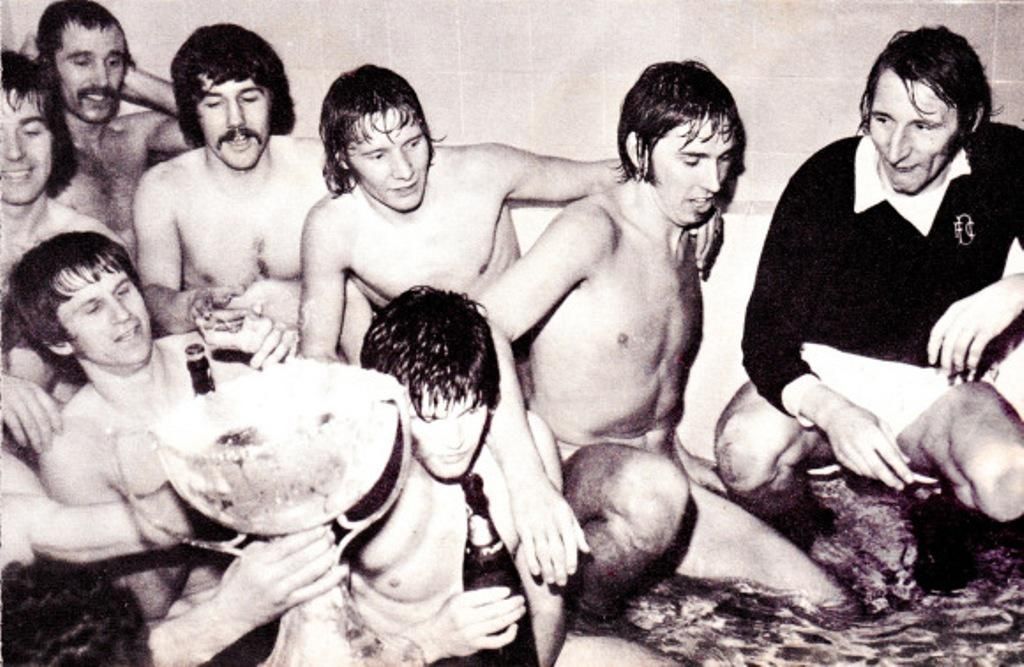 It was the hardly the ending envisaged 10 days earlier as Harry Hood made Celtic history. Still, there was the slight matter of nine successive titles to be won, by way of compensation.
Thanks, as always, to the wonderful Celtic Wiki.
Hail Hail!
Matt Corr
Follow Matt on Twitter @Boola_vogue