"Oh Harry, Harry…Oh Harry Hood":

Part 1: Springburn, Shawfield & Sunderland…but no Celtic…
Saturday, 5 December, marks the anniversary of Harry Hood's hat-trick against Rangers in the semi-final of the League Cup at Hampden in 1973, the last Celtic player to do so before the Ibrox club went into liquidation, almost 40 years later. So, Hood is a Celtic history-maker, and his achievement could and should have been even more unique, Harry denied a fourth goal on the night for an offside decision even the mainstream media described as clearly incorrect.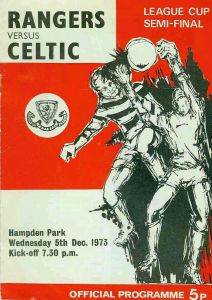 Henry Anthony Hood was born in Stobhill Hospital in Springburn, in the north of Glasgow, on Tuesday, 3 October 1944. Although his childhood would include time spent a few miles to the east in Garthamlock, my first recollection of seeing Harry's name was in the 1965 edition of Hugh Taylor's Scottish Football Book
This described his early career with Brunswick Boys Club, a well-known youth outfit based in Balornock, a mile or so from my home in Springburn, hence the reason it jumped out. Certainly, at some stage, the Hood family was based nearby, in Gartons Road, Barmulloch, where they were near-neighbours with my Celtic-mad uncle.
Having played for another local club dear to our hearts – St Roch's Juniors in the Garngad, following in the footsteps of his elder brother Jackie – Harry Hood's senior football career began south of the river at Clyde, the 18-year-old handed his debut at Ibrox on Saturday, 24 November 1962 by Shawfield boss John Haddow, in a forward-line which included future Dundee United manager Jim McLean and former Celt John Colrain. Bizarrely, this would turn out to be Haddow's last match in charge of Clyde, having managed them to a Scottish Cup victory over Hibernian in 1958, two Second Division titles in 1957 and 1962, the Glasgow Cup in 1959 and the Glasgow Charity Cup in both 1958 and 1961, a quite unprecedented run of success.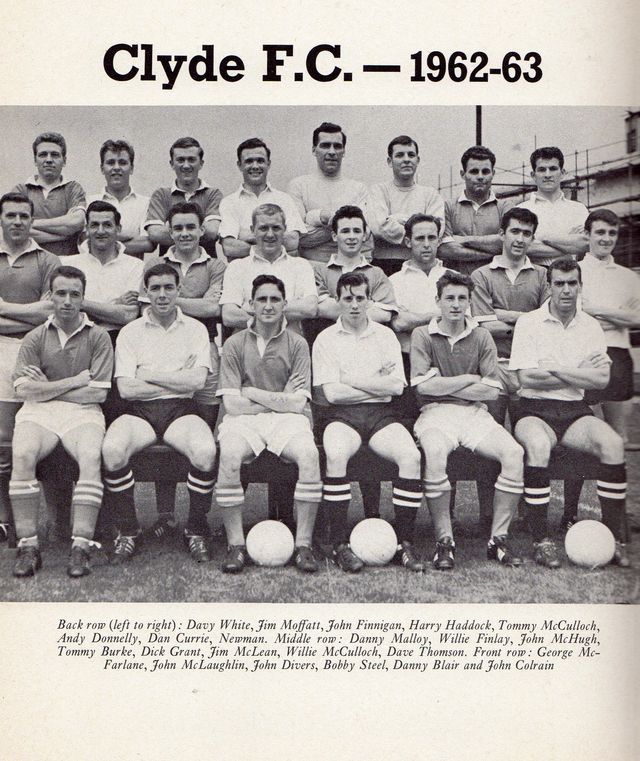 The Bully Wee would lose 3-1 to Rangers in front of 26,000 spectators, a result replicated in Harry's home debut the following week against Aberdeen, albeit the youngster would open his scoring account within 10 minutes. He would manage a further four goals in his 14 starts in that campaign, as Clyde struggled in the basement area of the old 18-club division under new manager, John Prentice. They would ultimately be relegated, finishing two points behind third-bottom Hibernian, to join Raith Rovers in the Second Division of 1963/64.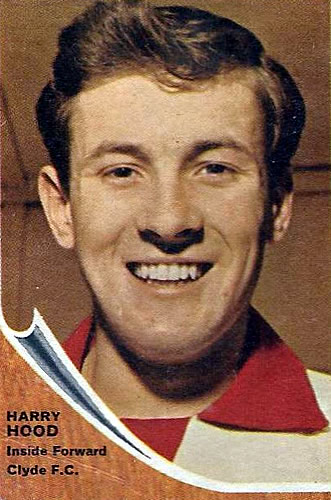 Hood and Clyde would fare much better in that following season, Harry's fantastic tally of 37 goals in 45 games taking the club to the second promotion spot behind runaway champions and League Cup finalists Morton. On Wednesday, 15 January 1964, Harry took revenge for his debut defeat, the teenager scoring the only goal of the Glasgow Cup semi-final at Ibrox to set up a first-ever meeting with his beloved Celtic. That final duly took place at Parkhead on Wednesday, 25 March 1964, the teams lining up as follows:
Celtic:

Fallon; Young & Gemmell; Clark, McNeill & Kennedy;

Johnstone, Murdoch, Chalmers, Divers & Hughes.

Clyde:

McCulloch; Mulheron & Blain; Glasgow, Fraser & Davie White;

Jim McLean, Reid, Hood, Morrison & Copeland.
Hoops fans of a certain vintage may feel a song coming on when they read through that team.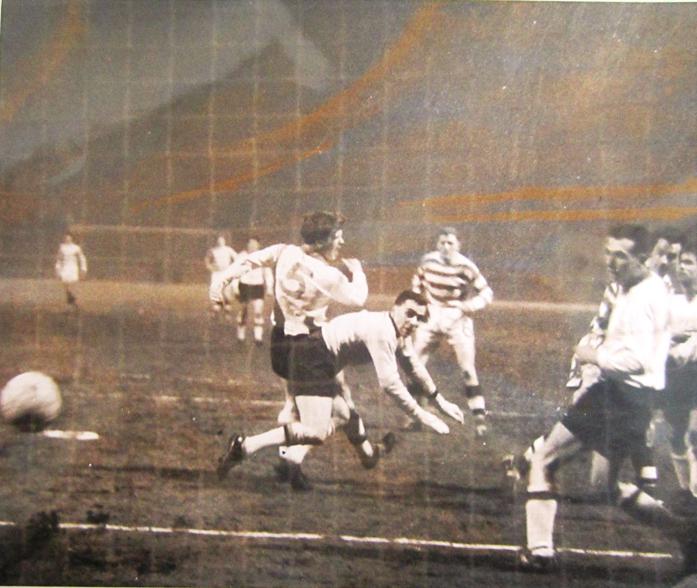 Celts would win the cup, thanks to two goals in a five-minute spell early in the second half from Stevie Chalmers and John Divers, a first trophy success for new captain, Billy McNeill. Harry had been up in direct opposition to Cesar that night, having been linked to a move to Celtic at the time. The Evening Times journalist Gair Henderson – no friend of Celtic, going by his negative coverage of the club throughout the 1960's – had this to say about the youngster.
"The game was a stern, maybe alarming test, for centre-forward Harry Hood. There he was, playing out of position against the club which may shortly be handing him his wage packet, and he was also being asked to shine against one of the best pivots in Europe. Hood had the idea that industry might bring success, and for 15 minutes he tried to put on a Denis Law show – roaming, chasing and even defending. But McNeill stood there and waited, unworried. As long as the centre-forward kept away from the middle of the field there was no hint of danger, and when Harry did come in, Billy showed him that 19-year-olds still have a deal to learn. Nevertheless, I thought Harry showed quite a lot of promise, and he will doubtless be a vastly different player in one of the inside-forward positions. I doubt if Celtic will now write him off on the evidence of one game, playing in just about the most difficult circumstances."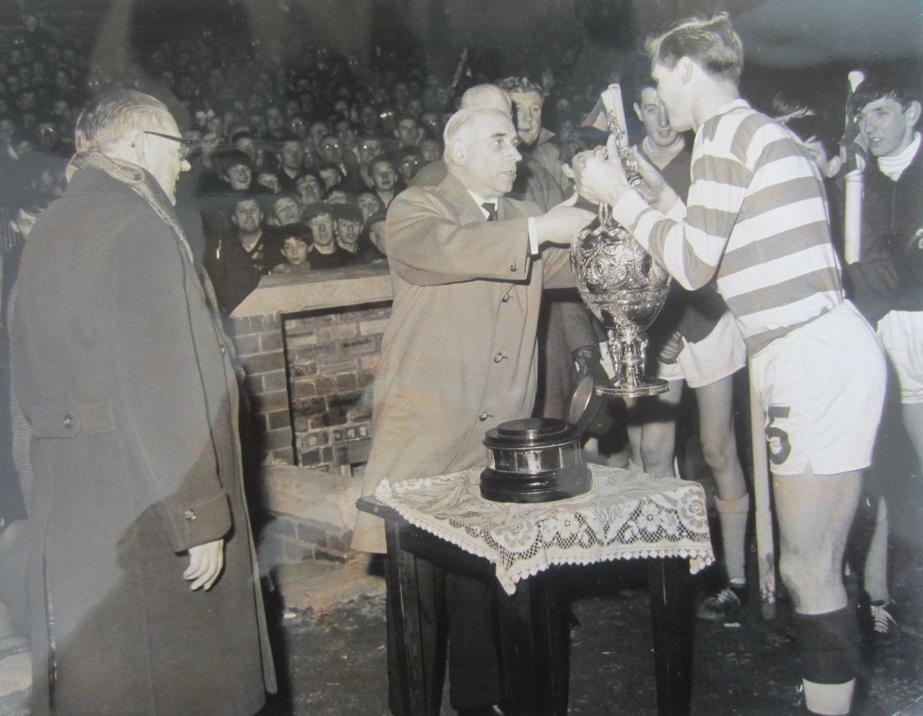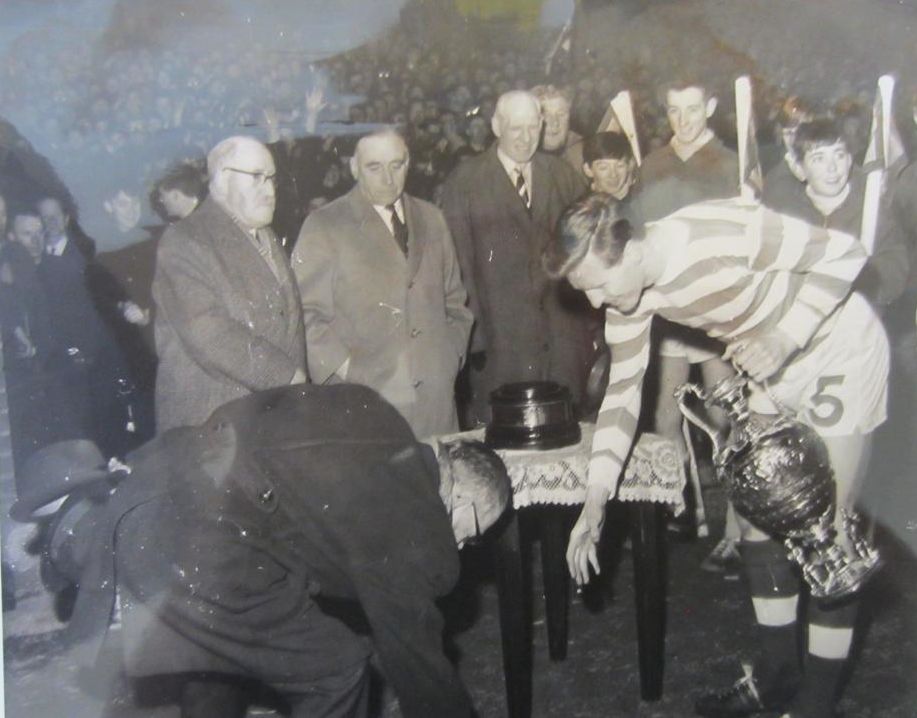 Celtic most certainly did not write him off. The two sides met again six months later, Saturday, 12 September 1964, the Bhoys on a high after a first League victory over Rangers in four years the previous week. But it was the newly-promoted side who took most of the honours in front of a 21,000 crowd at Shawfield, only a late Stevie Chalmers equaliser saving Celtic blushes and preventing Clyde from taking both points. That same Gair Henderson described Harry's performance in his review of the game.
"Harry Hood immediately produced half-a-dozen conjuring tricks with the ball inside the Celtic 18-yard line, as Cushley and Clark looked on in wonder. Hood had two shots blocked in Clyde's big offensive, and after just 10 minutes, the Celtic fans were calling on their team to wake up."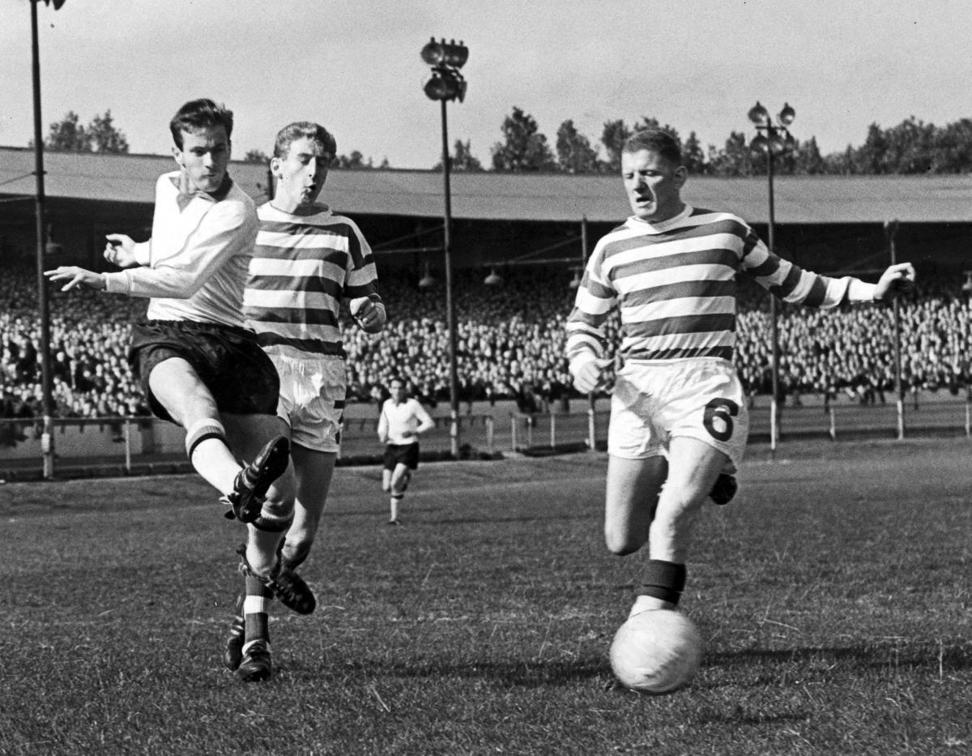 Celtic would finally make their move for Harry Hood in early November, the clubs agreeing a transfer fee of £20,000, leaving only personal terms to be agreed with the player. However, the deal was not to Harry's liking, and he rejected the chance to join his boyhood club. He would later reflect on that decision.
"I'll never know why I turned down the chance to go to Celtic several years ago. Maybe it was sprung on me so quickly that I was in a daze when I was asked to sign. Celtic and Clyde had reached agreement about a transfer fee. I was called in to complete the deal but because of a few snags I didn't sign. Celtic got impatient and I lost the chance to join them."
 Harry would play his last game for Clyde at that time against Dundee United at Shawfield on Saturday 7 November 1964, Jim McLean scoring twice against the team he would lead to the last four of the European Cup two decades later, in a 2-0 win. Having scored an impressive 11 goals in his first season in the Scottish top-flight, the 20-year-old Hood joined a Sunderland side, recently-promoted but managerless in the English First Division, in a £25,000 deal.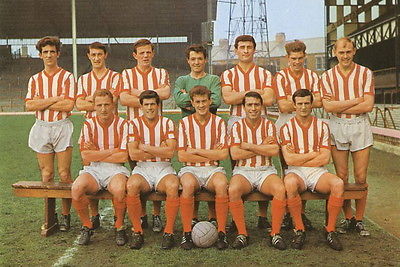 He would perhaps have been seen as the long-term successor to legendary striker Brian Clough, who had made three appearances in September following a two-year absence through injury. Sadly, the prolific Clough would never play again, eventually turning to management and huge success at Derby County and Nottingham Forest. With caretaker boss George Hardwick at the helm, Harry would make his debut against Burnley at Roker Park the following Saturday, one of four Scots in the forward line – former Shawfield hero George Herd, ex-Don George Mulhall and future Scotland striker John O'Hare the others – the two Georges on target in a 3-2 win in front of 36,000. It was an afternoon which left an indelible impression on the young Hood.
"I was absolutely stunned when I ran out at Roker Park for my debut. Remember, in my career I would ultimately play in front of huge raucous crowds in Glasgow, but I've never forgotten what the noise and atmosphere was like inside Roker Park."
Harry scored his first goal for the Black Cats on Saturday, 28 November 1964, Sunderland's last in a 4-0 victory over Everton – where his brother Jackie had spent several seasons in the late 1950s without breaking into the first team – before 42,000 ecstatic Wearsiders. And he remained in the team all the way through the festive period, his second Sunderland strike a late consolation in a 2-1 defeat to Leeds United at Elland Road on Saturday, 2 January 1965.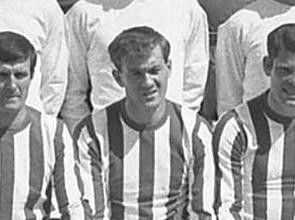 Harry netted on his FA Cup debut for Sunderland, briefly bringing the hosts back into the game before a late Charlie Hurley own goal sealed a 3-1 victory for Nottingham Forest, on Saturday, 30 January 1965. And he opened the scoring in a 3-2 Roker Park win over West Ham United three weeks later, however, perhaps the highlight of his stay on Wearside took place on Wednesday, 24 February 1965, as Hood scored the only goal of the game against Matt Busby's star-studded Manchester United side – Best, Law, Charlton, Crerand et al – in front of 51,000 jubilant home fans.
March saw Harry on the scoresheet again, as a measure of revenge was taken against Forest in the League, the Scot grabbing the third in a 4-0 win, and he opened April with Sunderland's first in a 3-1 win over Sheffield United at Roker Park, the Blades late strike coming from Mick Jones, who would go on to make his name in Don Revie's great Leeds team.
Two weeks later, Saturday, 17 April 1965, Harry was again first off the mark as the Black Cats edged a three-goal home thriller with Birmingham City. He would be missing from the team which lost 3-1 to Stoke City at the Victoria Ground seven days later. Some 200 miles north, Celtic's seven-year-plus trophy drought was coming to an end at Hampden under Jock Stein, thanks to a Bertie Auld double and Cesar's dramatic late winner. Strange to think that had those contract talks ended in a different way five months earlier, then Harry Hood may have been part of that historic Hoops line-up. His day would come.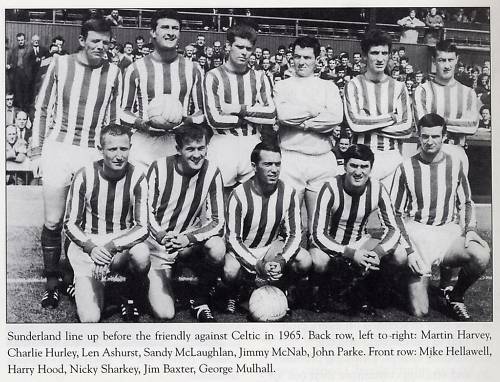 The last match of the English Football League season saw Harry grab Sunderland's final goal of that campaign, sealing a 3-0 win over Sheffield Wednesday at Roker Park on Wednesday, 28 April 1965. It had been a productive start for the new man on Wearside, eight goals in 24 League games giving him a decent return of 1:3, plus a goal in his only FA Cup-tie. Only George Mulhall and Nick Sharkey would beat Hood's total – with both men enjoying the benefit of a full season – as Sunderland finished 15th in their first season back in the 22-club Division.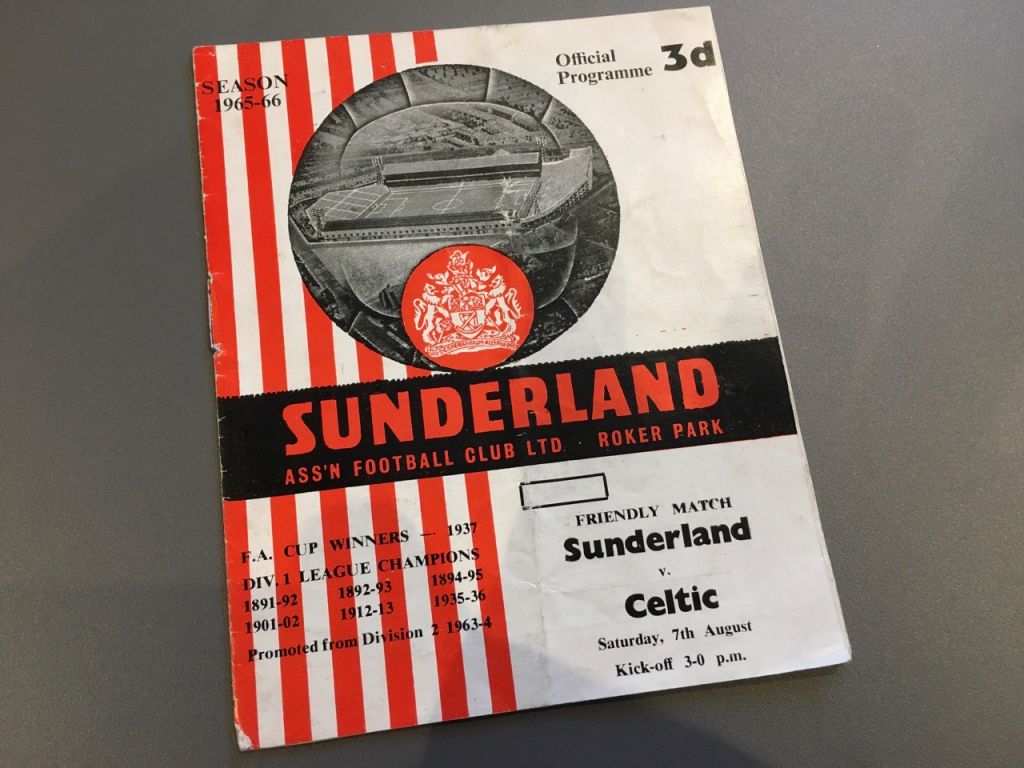 Harry's second season as a Black Cat would be a huge disappointment, effectively over almost before it had begun, thanks to a combination of injury and new manager, Ian McColl. The former Ibrox captain had left the Scotland national team role to take over at Roker Park, his first signing being Jim Baxter from Rangers. The football fates would decree that the first test for both men would be the visit of Celtic to Wearside on Saturday, 7 August 1965, a match attended by my father and brother.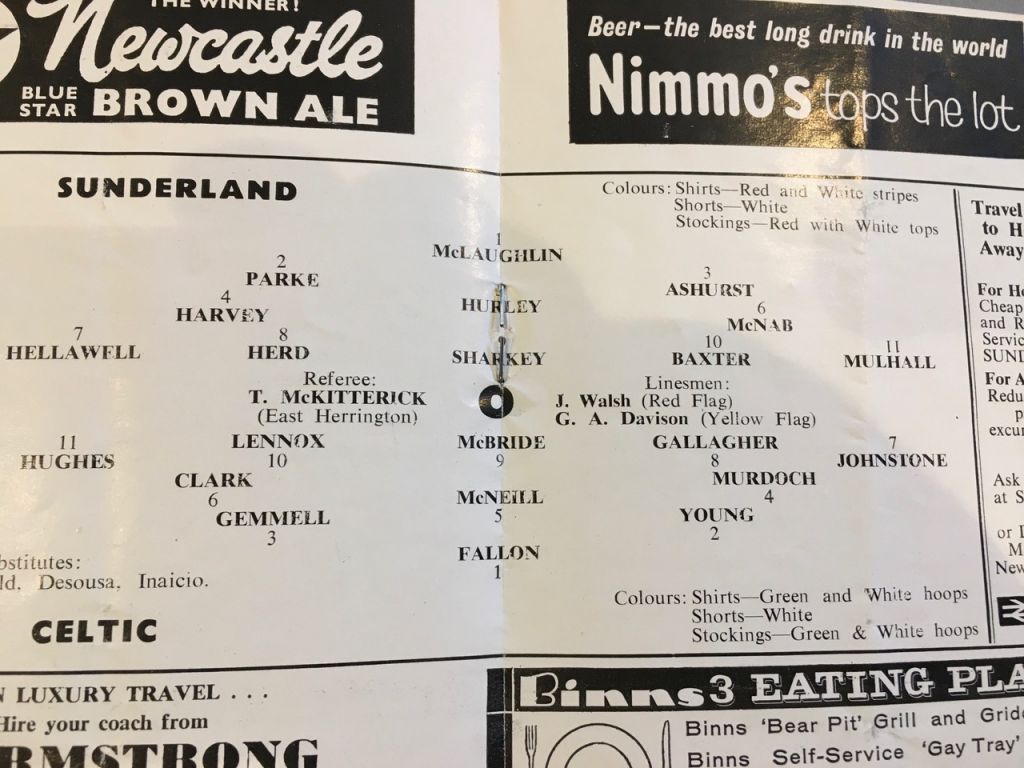 I always remember the tiny programme, with the teams listed in the centrefold. Despite George Herd being shown as Sunderland's number 8, Hood and Baxter would occupy the inside-forward positions as a rampant Celtic side, beginning its first full season under Jock Stein – who, ironically, had replaced McColl as Scotland boss in the interim – roared to a 5-0 victory, thanks to goals from Bobby Lennox, Bobby Murdoch, Joe McBride and a second-half Yogi double, in front of 37,000 spectators.
The line-ups for both teams that afternoon were as follows;
Sunderland:

Sandy McLaughlan; John Parke & Len Ashurst; Martin Harvey, Charlie Hurley & Jimmy McNab;

Mike Hellawell, Harry Hood, Nick Sharkey, Jim Baxter & George Mulhall.

Celtic:

John Fallon; Ian Young & Tommy Gemmell; Bobby Murdoch, Billy McNeill & John Clark;

Jimmy Johnstone, Charlie Gallagher, Joe McBride, Bobby Lennox & John Hughes.
That would be it for Harry for several months, in terms of first-team action, following a double hernia injury sustained during pre-season weight training. McColl would go back into the Scottish market to sign Neil Martin from Hibernian, a serious rival for his position perhaps not the 21st birthday gift Hood would have chosen in October 1965.
Having played against Celts back in August, curiously Harry's only other appearance in the red-and-white stripes that campaign would come in a December friendly with a Dukla Prague team en route to a Czech title win which would see them meet Stein's Hoops in the semi-final of the European Cup the following season. Dukla – Masopust et al – would comfortably win that Roker Park encounter by 3-0. Hood would later lay his lack of appearances firmly at the door of the new manager.
"I wasn't seeing eye to eye with Ian McColl and I felt he never gave the likes of myself or John O'Hare the run we deserved."
Harry Hood's third and final season on Wearside would see him make just eight competitive starts with one further appearance from the bench. He did feature in the goalless draw with Kilmarnock at Rugby Park and scored the only goal against Hull City at Boothferry Park in pre-season, as Sunderland prepared to improve on their 19th place League finish of 1965/66.
And Harry was in the sides which began that campaign with a 3-1 defeat by Arsenal then a 2-0 victory over Southampton – both games at Roker Park – followed by two away losses, 1-0 at Manchester City's Maine Road and 3-1 to that same Southampton at The Dell. Hood would finally open his League account for the 1966/67 season in the fifth match, a 4-0 win over a Blackpool side featuring future England captain Emlyn Hughes, on Saturday, 3 September 1966, an afternoon where his striking partner Neil Martin bagged a hat-trick. Harry's goal that day would be his 10th and final strike for the club.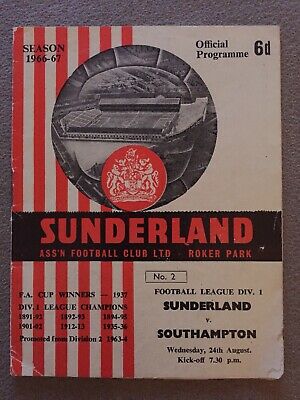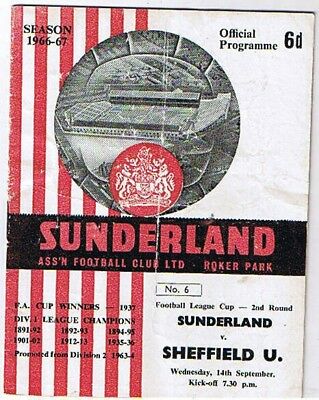 He would feature in the away double-header which followed, a midweek loss at Elland Road then a draw at Stamford Bridge where the changing times were illustrated by the replacement of legendary Irish captain Charlie Hurley by debutant Colin Todd – another future England star – late in the second half. Hood would play in his first English League Cup-tie, a 1-1 draw against Sheffield United at Roker Park, then make a late substitute appearance as the Black Cats went down in extra-time in the Bramall Lane replay on Tuesday, 20 September 1966. That would prove to be Harry Hood's last match as a Sunderland player.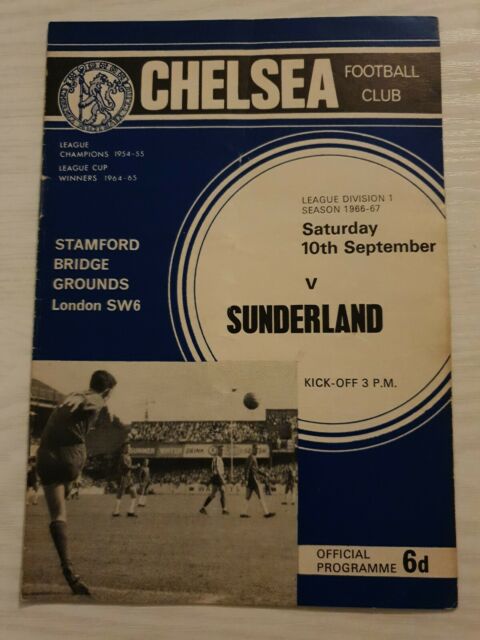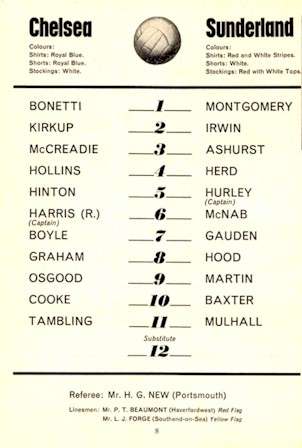 For his 22nd birthday, in October 1966, Harry was offered the chance to return to Shawfield, Clyde by now under the leadership of former player Davie White, who had played at right-half as Hood made his debut at Ibrox some four years earlier. A sum of around £11,000 was agreed between the clubs making Harry a Bully Wee player for the second time.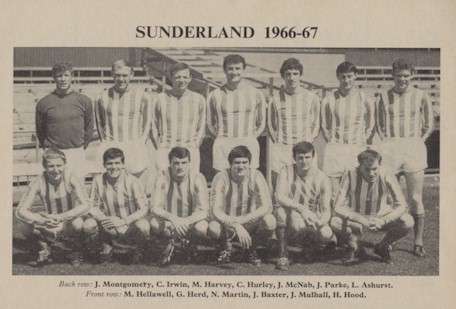 He would later be philosophical about his time at Sunderland.
"Although I felt I was playing well enough to be a regular member of the first team at Roker Park, manager Ian McColl obviously didn't, so I returned to Clyde. I do feel, however, that my spell in England has stood me in good stead. My experience has been widened, but not only that. Despite some other opinions, I didn't consider I was a failure down south and believed I was a better player when Clyde bought me back for £11,000."
He was correct. For Harry Hood, the best was still to come. Part 2 to follow on The Celtic Star…
Hail Hail!
Matt Corr
Follow Matt on Twitter @Boola_vogue