"

Oh Harry, Harry…Oh Harry Hood": Part 32: When Harry met Shuggy
Celtic Park would have been a strange place to be over the summer of 1975 as life began without some of the huge personalities who had graced the old ground over the previous decade. Cesar, of course, had bowed out after the Scottish Cup final victory over Airdrieonians in May, whilst two men who had starred beside him so often through those wonderful years, Jimmy Johnstone and Jim Brogan had been given a free transfer.
Jinky recalls being "in bits" after Jock Stein told him it was all over, whilst the versatile Brogan states that he was told of his release by Billy McNeill! They would be joined in the departure lounge by the hugely talented Vic Davidson, the former Quality Street forward having not featured in the first-team picture since November 1974. It would later transpire that Davidson's old striking partner Kenny Dalglish had submitted a transfer request, which had not been accepted by the Board.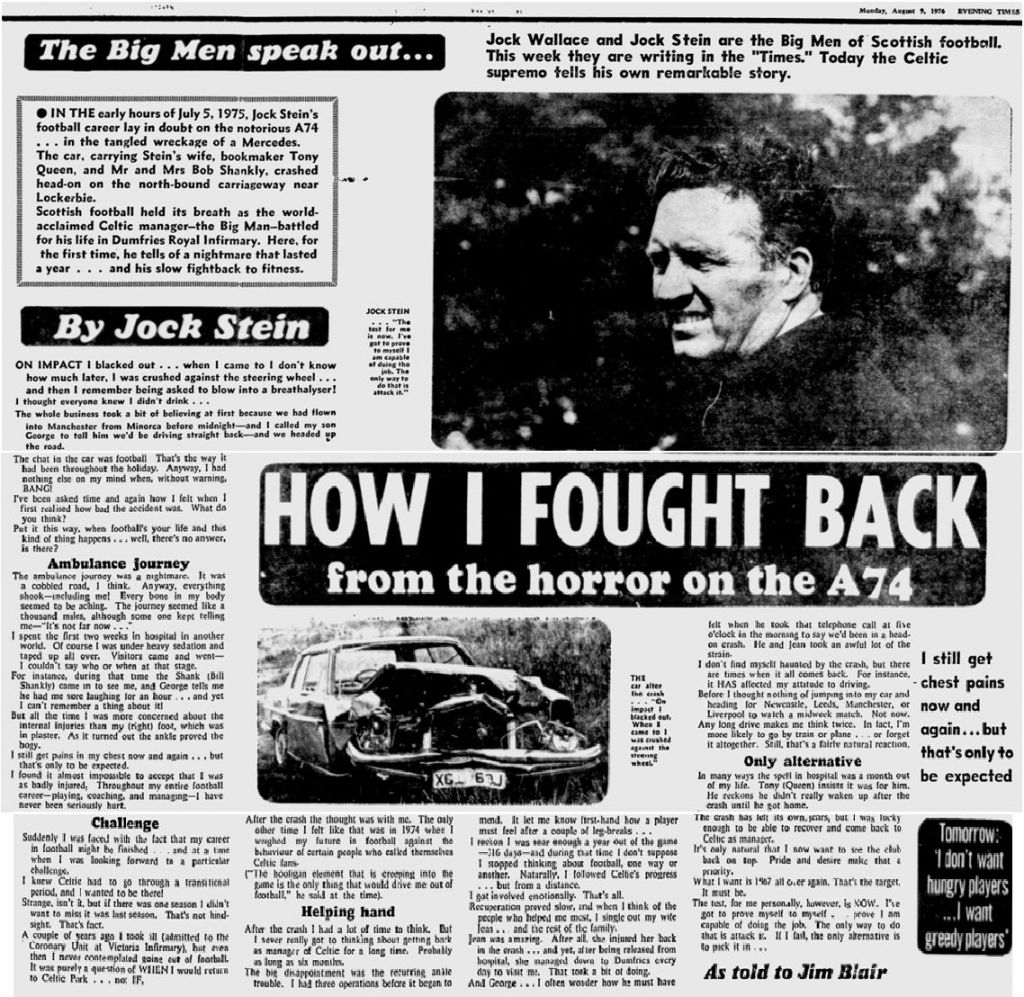 There was very nearly another Celtic legend leaving us in tragically different circumstances. On the morning of Saturday, 5 July 1975, we awoke to the horrible news that Jock Stein had been seriously injured in a car accident whilst travelling home from England on the notorious A74, following a family holiday abroad. He would, thankfully, recover in time, by far the most important concern, however, that would be not be for a considerable period, the first-team reins being passed to his friend and right-hand, Sean Fallon. It would be the Iron Man from Sligo who would lead Celtic into the brand-new Premier League era the following month.
One early piece of transfer business for Sean to conclude was to make Peter Latchford's loan deal permanent, the Englishman signed from West Bromwich Albion for a modest fee on 14 July. The next Hoops target had a slightly more exotic background than the West Midlands. Most Celtic supporters of a certain vintage will immediately think of one player when Iceland is mentioned, Johannes Edvaldsson, better known whilst he was in Scotland as 'Big Shuggy!'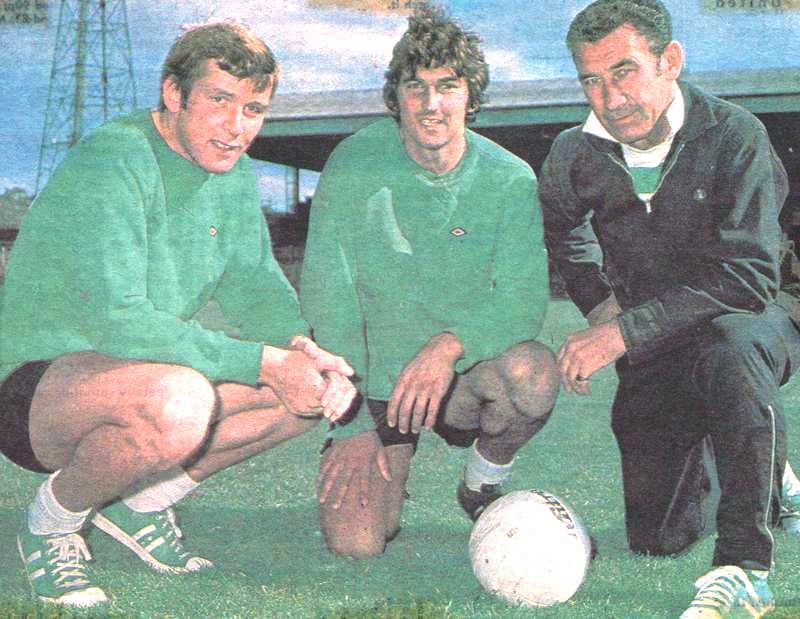 The son of a former Estonian international goalkeeper, Evald Mikson, who was accused of war crimes and fled his homeland after the Second World War to settle in Reykjavik, the current Icelandic national team captain Edvaldsson was plying his trade with Danish outfit Holbaek when he was invited to join Celtic on trial for a short tour of Ireland in the last week of July.
Johannes would be wearing the number six shorts as he lined up with Harry Hood and Ronnie Glavin in midfield for the Hoops' opening game of season 1975/76, against Dundalk at Oriel Park, capping a fine performance when he headed home a fifth goal for Celts with 15 minutes remaining. Earlier, the 5,000 spectators had witnessed two classic strikes from Hood and Kenny Dalglish which would have blessed any occasion, with Glavin and skipper Bobby Lennox adding to those to create a 4-0 lead with 40 minutes still to play. A late Paul Wilson strike would follow Edvaldsson's debut goal to complete a 6-0 win.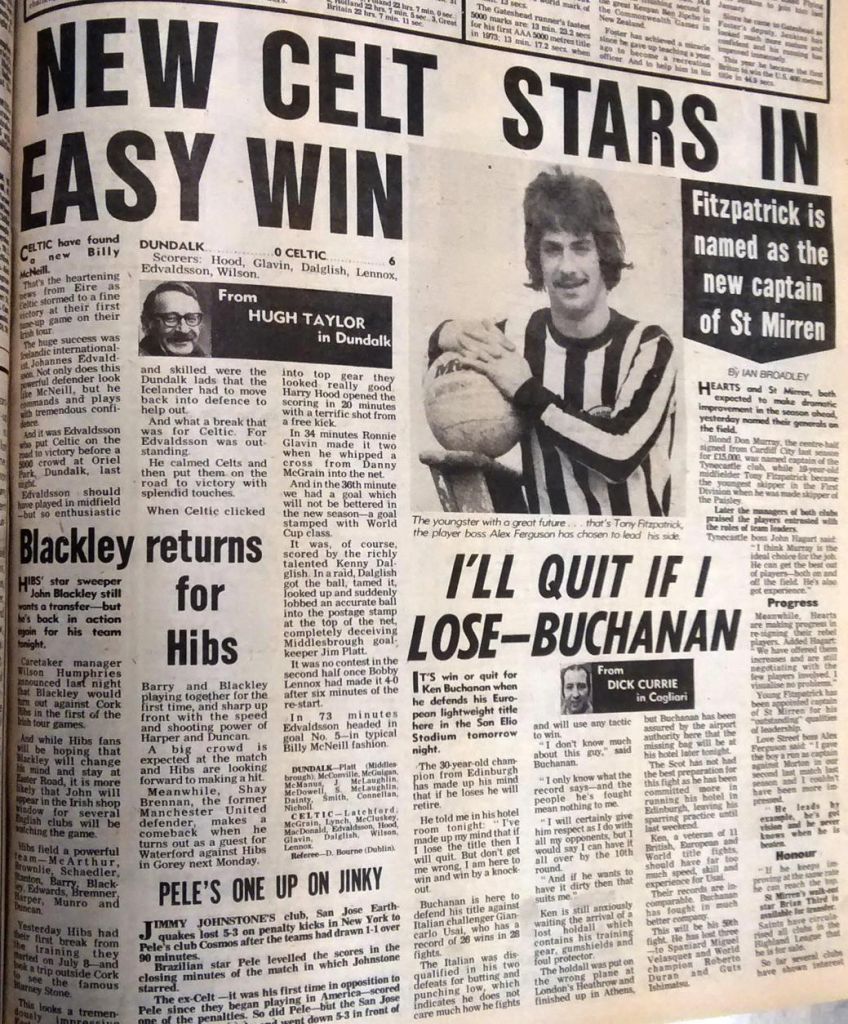 The big Icelander would again impress in the goalless draw with Finn Harps in Ballybofey, three days later, before flying back to Reykjavik to captain his country in the 2-0 defeat by the USSR. He would miss the third and final game of the tour, Sean Fallon returning to his native Sligo as Celtic manager to see his team enjoy a 6-1 victory over the local Rovers, Bobby Lennox dazzling with four to add to Ronnie Glavin's opener and Pat McCluskey's penalty kick. Five years earlier, the teenage McCluskey had enjoyed a year-long loan spell with the 'Bit o'Red.'
Saturday, 2 August 1975 was the first opportunity for Scottish-based Celtic supporters to take a look at Johannes Edvaldsson, a combination of that and the glorious sunny weather drawing over 44,000 for the home pre-season challenge match with English champions Derby County. The Rams were managed by former Hearts and Tottenham Hotspur legend Dave McKay, who had led them to promotion in 1969 under Brian Clough, before following him as a title-winner with the East Midlands club in 1975. County were a side packed full of internationalists, Bruce Rioch and Archie Gemmill perhaps the names most familiar to Scottish football supporters.
There was a welcome first sighting of the summer of George Connelly, whilst suspended Dixie Deans and injured Steve Murray were still missing, as Sean Fallon named the following team.
Peter Latchford; Danny McGrain & Andy Lynch; Pat McCluskey, Roddie MacDonald & Johannes Edvaldsson;
Harry Hood, Ronnie Glavin, Paul Wilson, Kenny Dalglish & Bobby Lennox.

Substitutes; Jackie McNamara & George Connelly.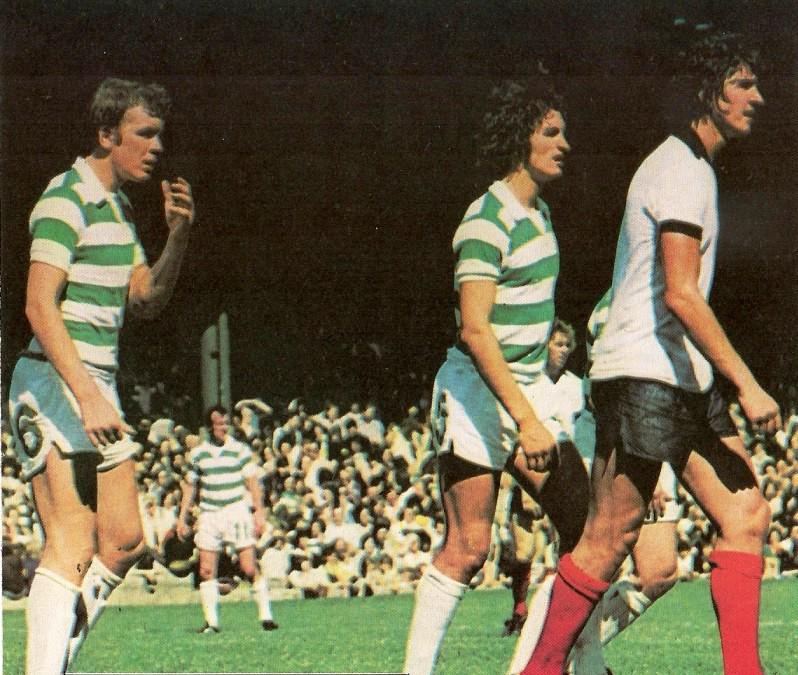 I recall it being a thoroughly enjoyable afternoon in the summer sunshine, with Celtic very much on the front foot. The headline-writers would have a field day as the only goal of the game was scored on the hour by Edvaldsson, the big Icelander swivelling to rifle the ball past Graham Moseley in the visitors' goal after good work by Danny McGrain and Paul Wilson.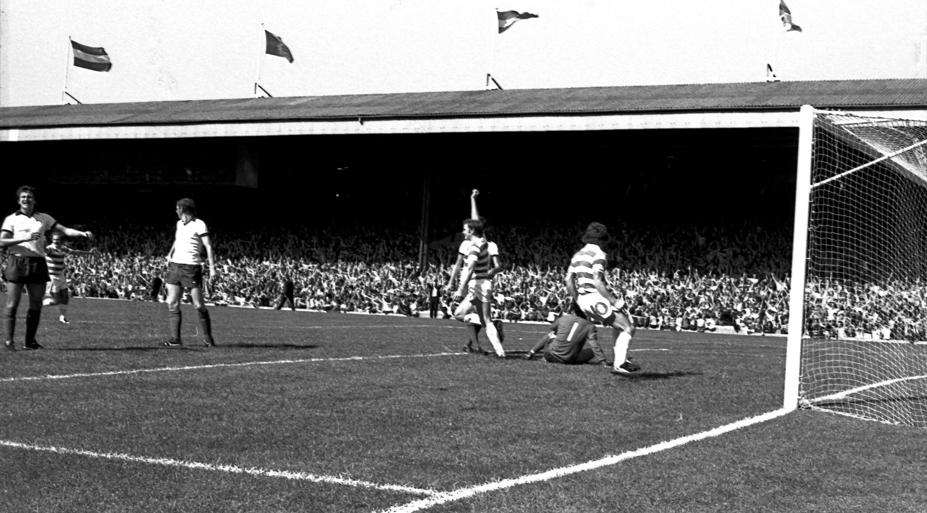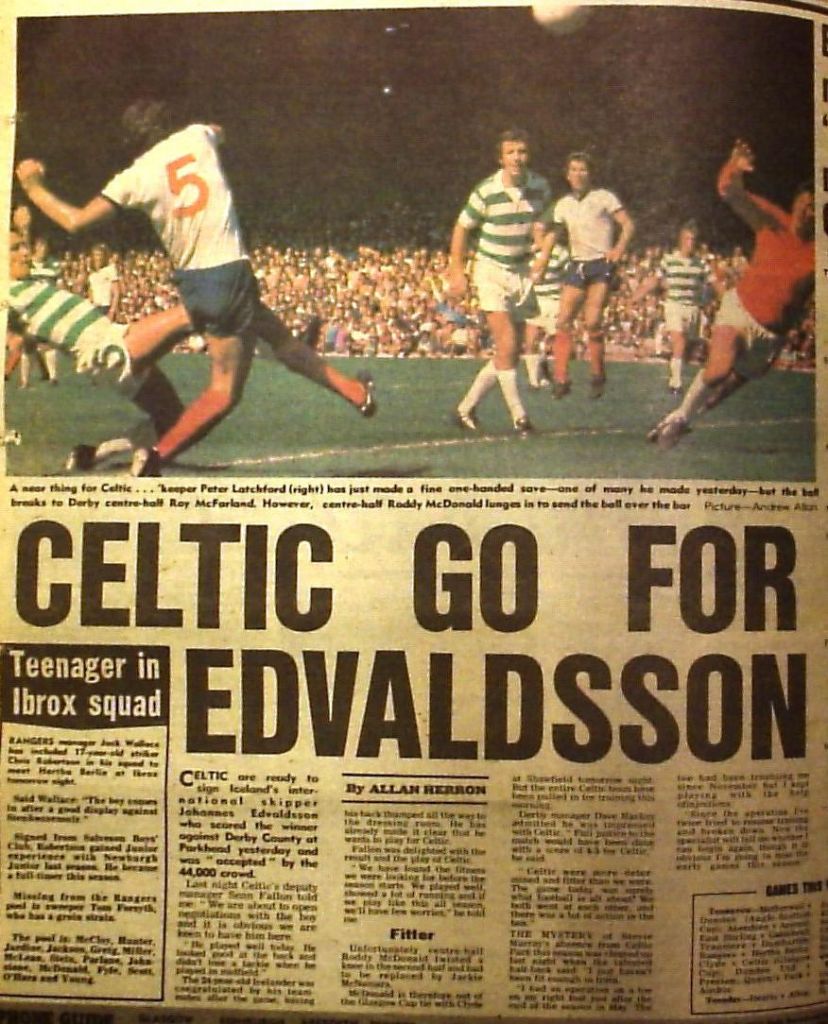 The signing of Johannes Edvaldsson from Halbaek was duly completed before Aberdeen's visit to Celtic Park to open the competitive campaign, seven days later. Another big crowd of over 30,000 basking in the sunshine saw the feelgood factor continue with the first two League Cup points secured, an early Kenny Dalglish strike proving to be the winner.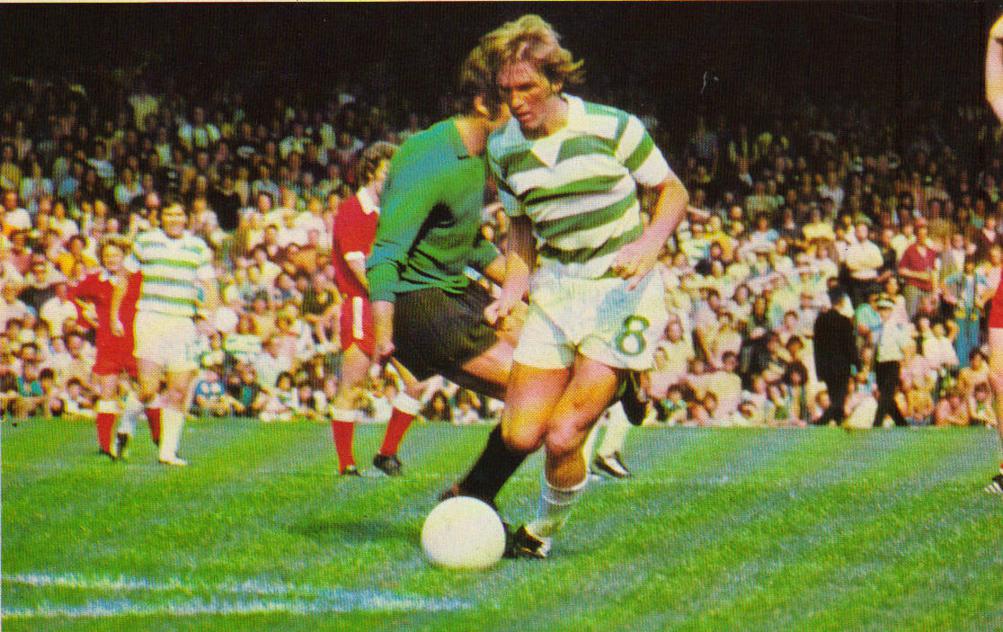 That feeling would come to a halt in midweek at Tynecastle, as Sean Fallon tasted his first defeat as Celtic manager. The game would be a tale of two goalkeepers and two penalties, Peter Latchford at fault as former Hoops midfielder Steve Hancock pounced for an opening goal on 15 minutes.
The Englishman's opposite number, Jim Cruickshank, then continued the series of spot kick saves from Celtic players as he turned away Pat McCluskey's effort on the half-hour. The veteran stopper would be in inspirational form to defy Celtic time and again, before another regular scourge of Parkhead, Gorgie striker Donald Ford, first won then converted a penalty kick with 17 minutes remaining to seal a 2-0 home win, throwing the section wide open.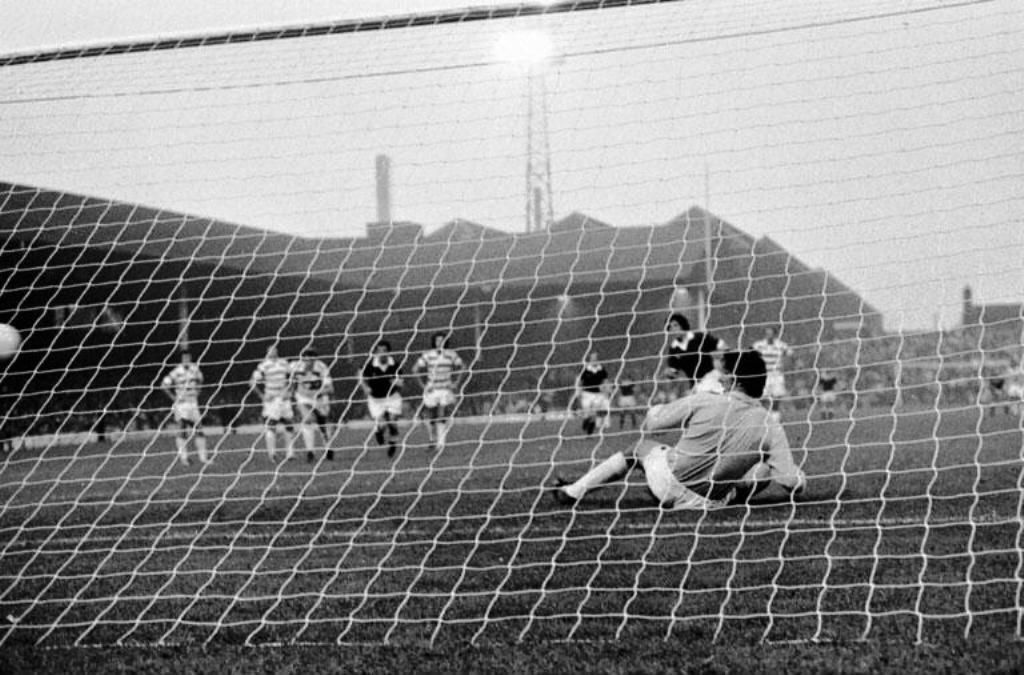 Dumbarton travelled to Glasgow to complete the first round of League Cup fixtures three days later, Kenny Dalglish once again the star of the show even though he would be missing from the scoresheet in a 3-1 win. Just after the half-hour mark, the King left three defenders for dead to create an opening tap-in for Paul Wilson at the back post.
Wilson himself would turn provider within three minutes, Bobby Lennox the happy recipient as he sent Celtic in 2-0 up at the break. A lacklustre start to the second half saw Tom McAdam add another goal to his growing collection against the Bhoys, however, the mood would be lifted around the ground with six minutes remaining as Johannes Edvaldsson scored his first competitive goal for Celtic, once again the assist going to Dalglish as he rounded keeper Williams before laying the ball back for Parkhead's new cult hero "Big Shuggy" to blast home and secure the points at 3-1.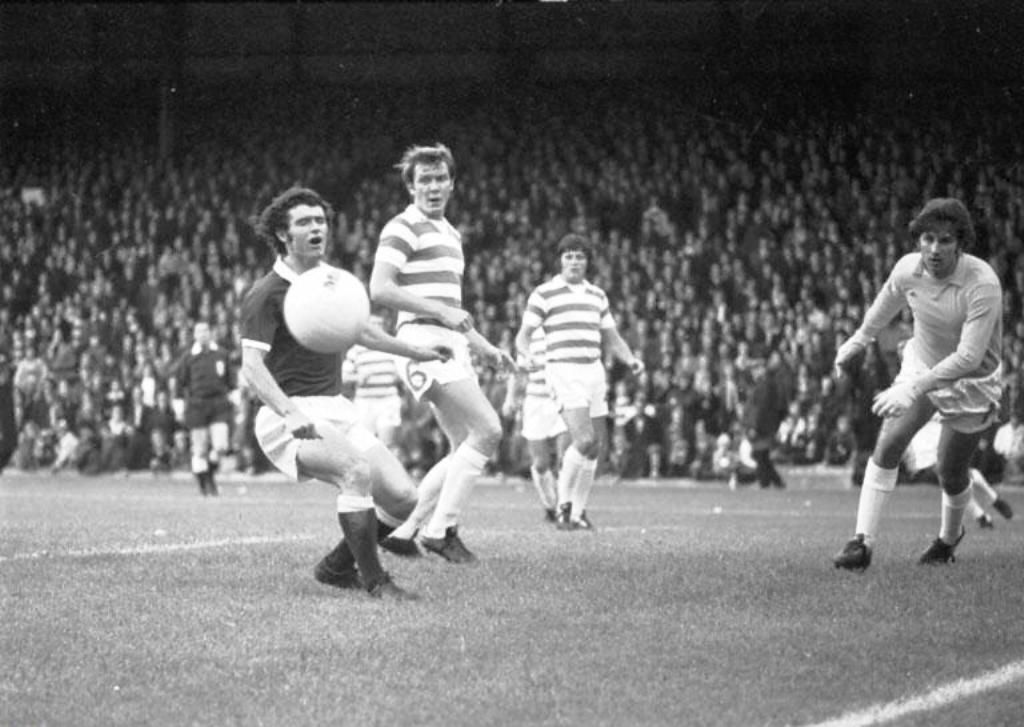 Revenge was in the air as Hearts rolled into Glasgow for the return match seven days after their victory at Tynecastle. There was a pre-match boost for Celtic as Kenny Dalglish ended the speculation around his future by penning a new two-year deal, the Hoops talisman promptly named as the new club captain. The man who had been fulfilling those duties, Bobby Lennox, would miss out through injury, Harry Hood stepping from the bench to replace him.
Two long range strikes at the beginning and end of the first half would ensure there would be no repeat of the earlier result, Ronnie Glavin lashing the ball home within two minutes with Andy Lynch accepting the challenge to send a rocket past former teammate Jim Cruickshank from even further out just before the interval from Hood's corner kick. Five minutes after the break, Edvaldsson made it two goals in as many games with a fine header following another teasing corner delivery from Harry Hood. The only negative on the night occurred with 15 minutes remaining, Drew Busby ruining the clean sheet by pulling a goal back for Hearts.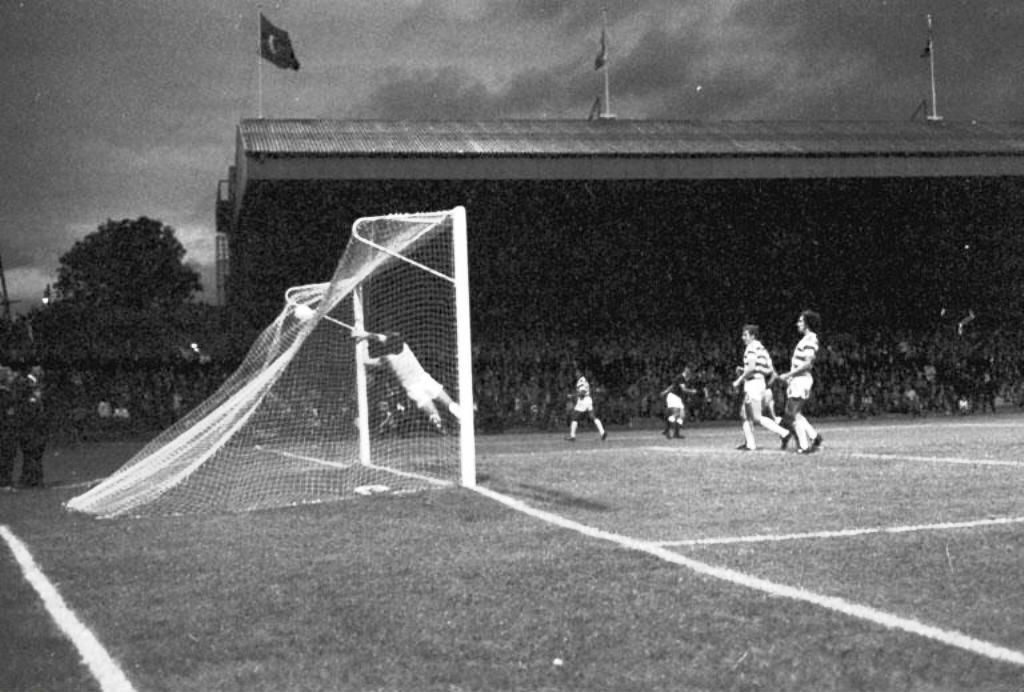 Qualification from the League Cup section was assured three days later, Saturday, 23 August 1975, as Celts ran riot at Boghead Park, Dumbarton. There was a sideshow to the main event as Ally Hunter refused the offer of a switch between the clubs as part of a package designed to have Tom McAdam score goals for Celtic rather than against them. The in-demand Sons striker was in his usual place at kick-off, but he was a mere onlooker as the Hoops attacking players filled their collective boots, Harry Hood, Kenny Dalglish then Paul Wilson with a double apiece, Danny McGrain adding a rare strike to his CV and even substitute Tom Callaghan chalking one up. When referee Bob Valentine called time, it would be a mercy for those wearing home colours, Celts winning 8-0 after a stunning display of attacking strength.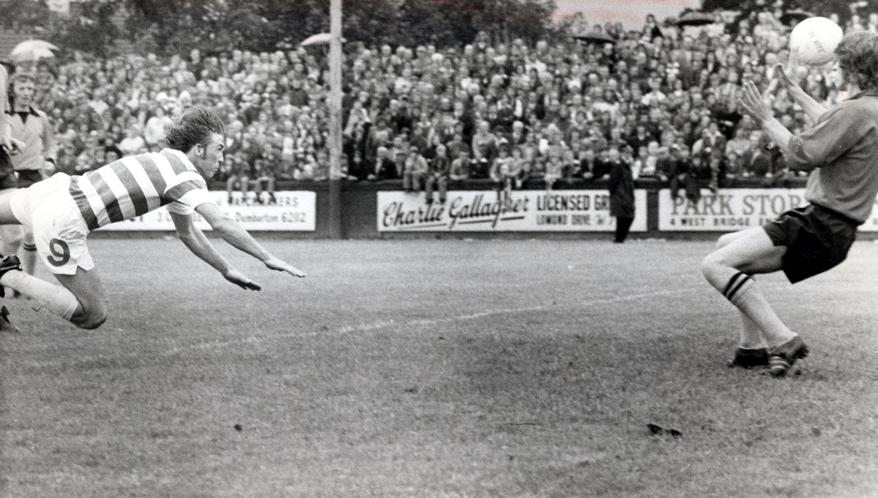 Injuries caused both Harry Hood and Ronnie Glavin to miss Celtic's midweek trip to Pittodrie to complete the League Cup sectional stage, to all intents a dead rubber such was the Hoops massively superior goal difference. Fallon's Bhoys would nevertheless take the game to Aberdeen with Kenny Dalglish slipping Bobby Lennox in to open the scoring within five minutes. The only other goal of the night came right at the end, a red-letter moment for young substitute Andy Ritchie, who had barely warmed up after replacing Paul Wilson when a defensive error left him with a clear run in on goal. The former Kirkintilloch Rob Roy teenager showed great touch, confidence and composure to beat Bobby Clark for 2-0.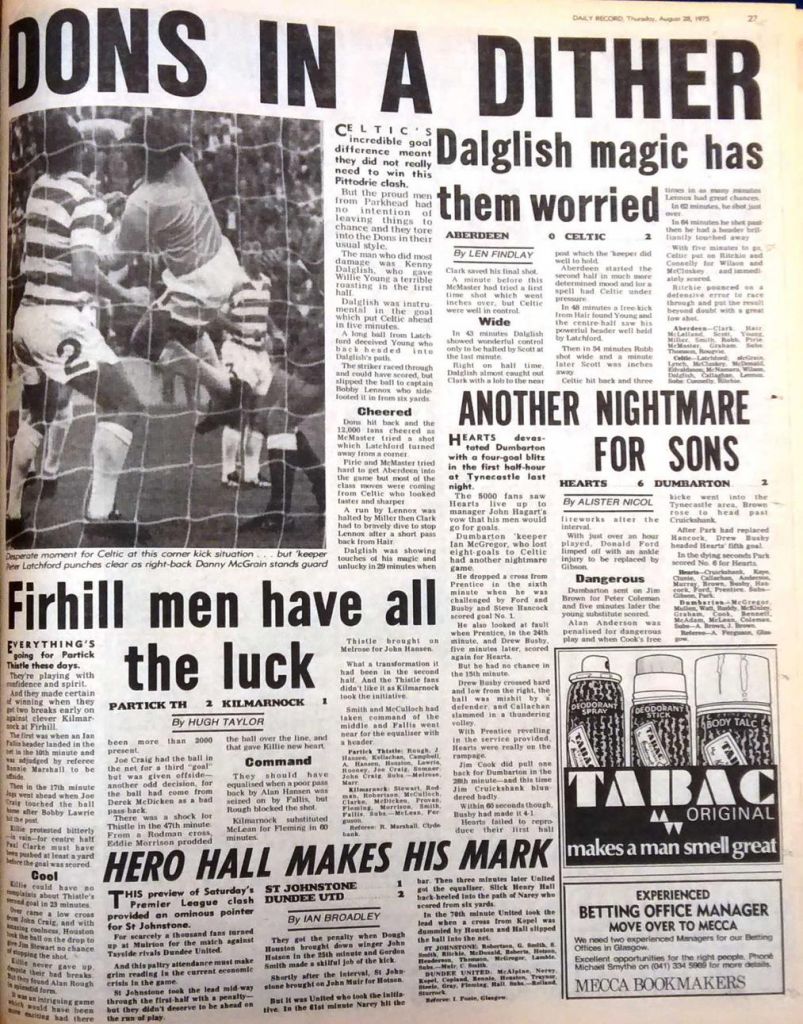 The rationale of the decision-makers in Scottish football governance was once again called into question as the first fixture of the new Premier League era saw Celtic travel to Ibrox to witness Rangers unveil their first championship flag in 11 years, strangely something which had never happened in the previous decade of Celtic dominance. Not surprisingly, protests would follow from Hoops supporters, local authorities and law enforcement agencies alike at this incredibly dangerous, needless and insensitive call, perhaps less surprisingly those calls were ignored, the numbers of arrests and injured both hovering around the century mark.
With Harry Hood and Ronnie Glavin still unavailable, Sean Fallon named the following men to bring Celtic into the Top Ten Premier League world on Saturday, 30 August 1975.
Peter Latchford; Danny McGrain & Andy Lynch; Pat McCluskey, Roddie MacDonald & Johannes Edvaldsson;
Jackie McNamara, Paul Wilson, Kenny Dalglish, Tom Callaghan & Bobby Lennox.

Substitutes; Andy Ritchie & George Connelly.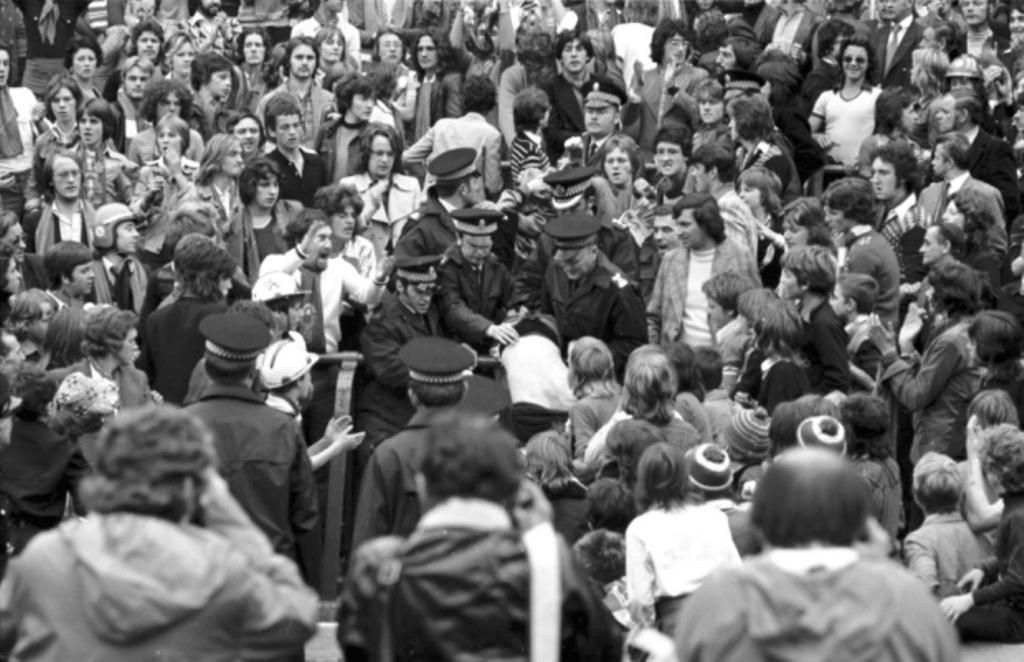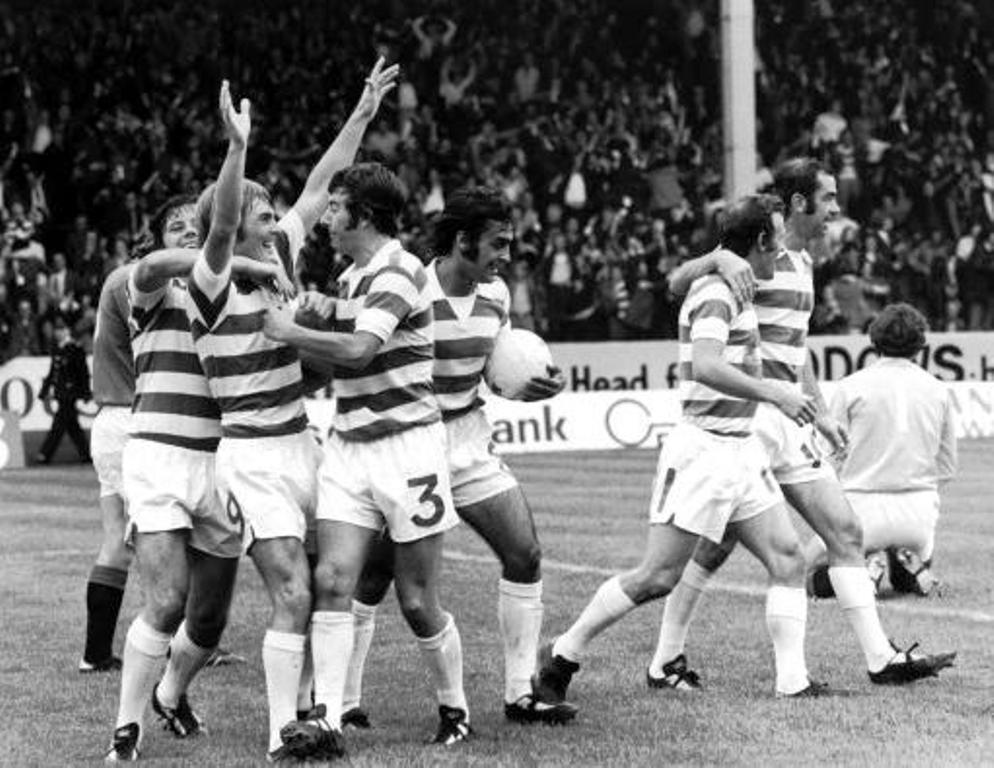 Just under 70,000 turned up to watch Celtic dominate but contrive to lose the match following Kenny Dalglish's sublime opening goal just before the break. The move started with an unlikely source, young Roddie MacDonald showing lovely control to work the ball clear at his own corner flag under pressure from Sandy Jardine, before playing a one-two with Jackie McNamara. The big defender then played a long pass down the right touchline, where a beautiful head-flick from Danny McGrain picked out the run of Dalglish driving at the Rangers defence. With Paul Wilson clear on the left, the King shot just as Jardine's recovery sprint saw him slide in to make a block, the ball skidding over Stewart Kennedy to nestle in the far corner.
The match would then turn unexpectedly in the opening 20 minutes of the second half, as Celtic's collection of missed opportunities came back to haunt them, Derek Johnstone's shot beating Peter Latchford before the hosts were reduced to 10 men as Alex MacDonald made one crude challenge too many for the liking of referee Ian Foote. With the game there for the taking, Ibrox winger Quinton Young would be fortunate to get away with a clear shove on Pat McCluskey before cutting in to net what would prove to be the winner with 20 minutes to go.
Bobby Lennox would then scorn another great chance before being replaced by Andy Ritchie, with McNamara making way for George Connelly. Ritchie would come closest to writing his name into the history books in the dying minutes, his close-range header stopped by the legs of McCloy with the keeper eventually falling onto the ball. It would be a sore result to take, as the brave new dawn of Scottish football served up the same old issues, on and off the pitch.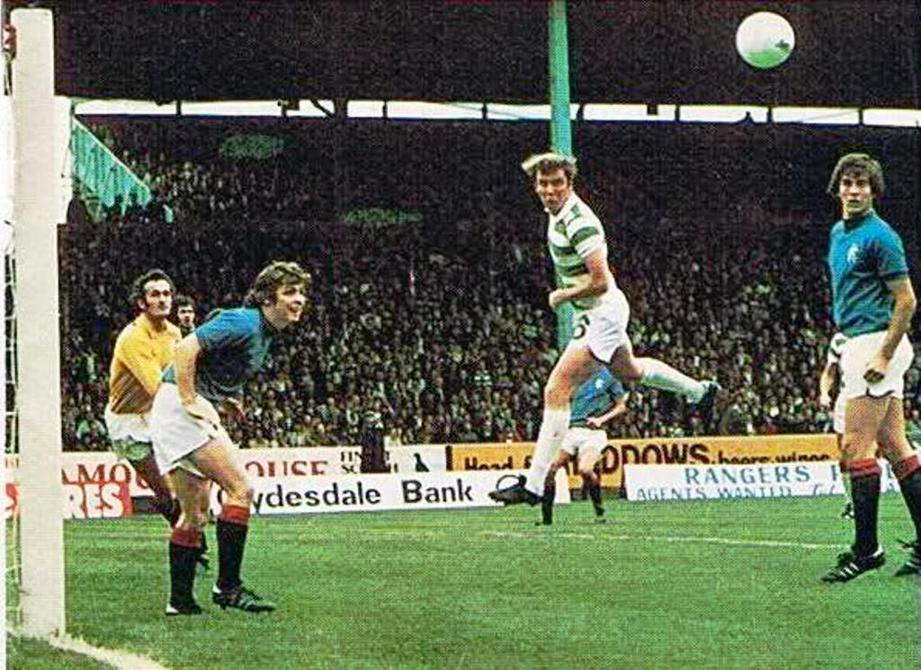 There was a better afternoon for Celtic supporters to enjoy, seven days later, Saturday, 6 September 1975, with the visit of Dundee for the club's first home game in the Premier League. Ahead of kick-off, the return of Jock Stein to Paradise was a sight for sore eyes, the Celtic manager gingerly taking his seat in the Directors' Box to huge applause. Ronnie Glavin returned to the side as Sean Fallon shuffled his pack to accommodate the loss of the injured Roddie MacDonald, although, sadly, the news on Harry Hood would provide the one negative, the skilful playmaker now requiring specialist advice to resolve his painful foot problem.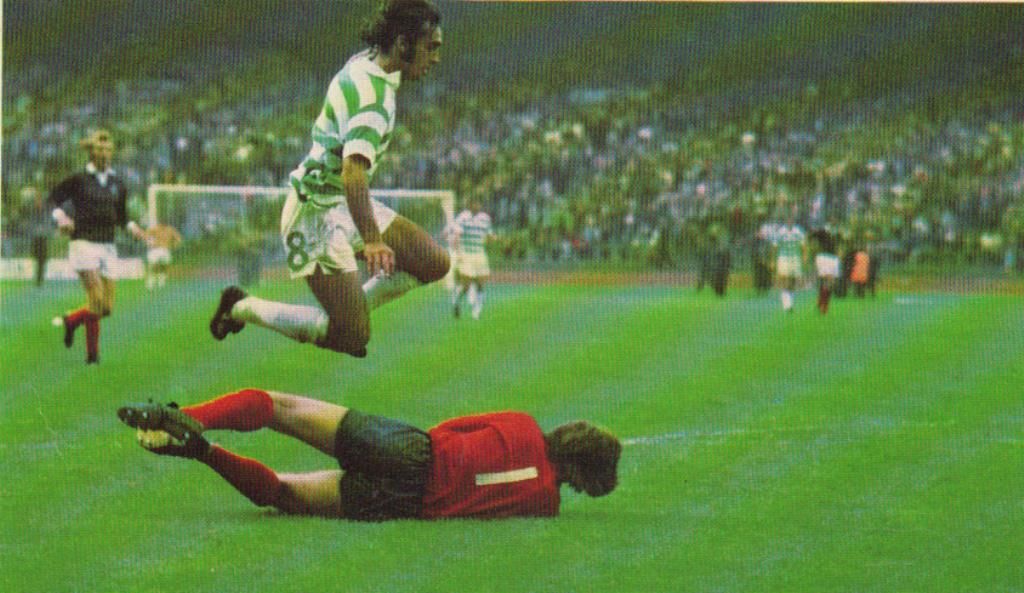 Stein's one remaining Lisbon Lion would again be the star of the show, Bobby Lennox scoring the first hat-trick of the Premier League era, just reward for a typically energetic performance, whilst Jackie McNamara was also on target in an emphatic 4-0 win over the Dark Blues. After the gloom of losing the cherished Ten, followed by the summer departures of our legends, then the serious threat to the life of our greatest-ever manager, it was a huge relief to witness a team in Hoops once again playing football the Glasgow Celtic way.
The fightback to reclaim our crown as Scottish football's dominant force was underway.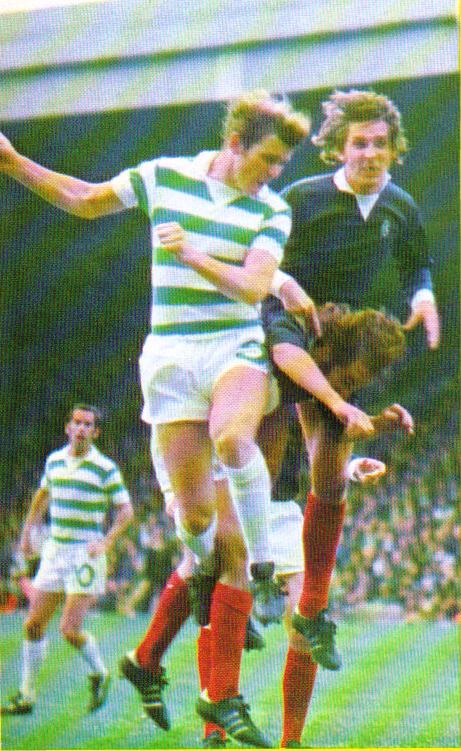 This chapter is dedicated to the memory of Johannes Edvaldsson, another wonderful Celt, who sadly passed away at the weekend.
Rest in peace, Johannes.
Thanks, as always, to the wonderful Celtic Wiki.
Hail Hail!
Matt Corr
Follow Matt on Twitter @Boola_vogue