"Oh Harry, Harry…Oh Harry Hood": Part 37: No plain sailing at Motherwell as Celts exit the Scottish Cup
After two thrilling away victories in the League, the mood of the Celtic supporters was upbeat as they made their way to Motherwell in their thousands on Saturday, 24 January 1976. The defence of their Scottish Cup would start at one of the most difficult venues in the country at that time, Fir Park, however, just two weeks earlier, Celtic had dismantled the Steelmen on their own turf, emerging as 3-1 winners to maintain their narrow lead at the top of the table.
Whilst some of the Celtic constants of my childhood had now gone – Billy McNeill, the League title and the annual European Cup entry – the Scottish Cup had been retained. Jock Stein had a quite incredible record in the competition, having lifted it as the Hoops captain in April 1954 then as Dunfermline Athletic manager against Celtic seven years later.
His last act as Hibernian boss had been to eliminate Rangers and take the Edinburgh side into the last four in March 1965, and by the time those ties came around, Stein was in charge at Parkhead and leading his new charges to their first major trophy since Hampden in the Sun, more than seven years earlier. In 11 years at the helm, Jock had taken Celtic to 10 Scottish Cup finals, winning seven of those.
The only blight on that cup final record had been 1968, the Bhoys losing out, rather ironically, to Stein's old Dunfermline Athletic team in a 2-0 defeat at Celtic Park in the third-round tie played on Saturday, 27 January. The referee that day, RH Davidson of Airdrieonians, had controversially ruled out a Jim Brogan strike with the game goalless and would play a huge part in Aberdeen's defeat of Celtic in the final two years later. He and Jock would be at loggerheads for many years after that. Davidson was no friend of Celtic. I'll leave it at that.
Whilst Stein would be missing from the Celtic dugout at Motherwell, as he recovered from the severe injuries sustained in a road accident the previous summer, Davidson would again be the man in the middle. Celts were attempting to achieve something never before managed by a team in the famous Hoops, a third successive Scottish Cup triumph. Perhaps this would be the year. Caretaker boss Sean Fallon was forced into making one change, Steve Murray's attempted comeback from the toe injury, which had forced his retiral the previous year, sadly ended, following a recurrence in training ahead of the match. He would not play for Celtic again. Jackie McNamara moved off the bench to replace Murray in midfield whilst Harry Hood came back into the first-team squad after a spell in the reserves, Celtic lining up as follows.
Peter Latchford; Danny McGrain & Andy Lynch; Pat McCluskey, Roddie MacDonald & Johannes Edvaldsson;
Jackie McNamara, Kenny Dalglish, Dixie Deans, Ronnie Glavin & Bobby Lennox.

Substitutes; Harry Hood & Tom Callaghan.
The high terracing at Fir Park was one of my favourite spots for watching football, offering a great view of the action. I had stood there on my first visit to Motherwell, back in November 1969, when an early Harry Hood strike was cancelled out before the interval by none other than Dixie Deans, before John Hughes, 'Big Yogi,' beat Peter McCloy to win the game late on.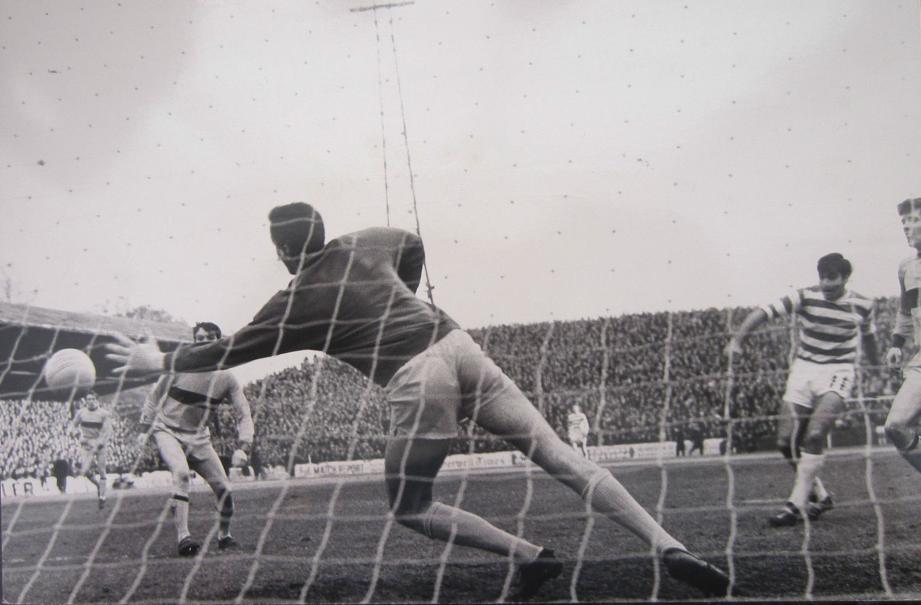 In years to come, I would watch Charlie and another Bear, Roy Aitken, destroy Jock Wallace's Motherwell by scoring seven without reply, then a St Patrick's Day Scottish Cup victory which ended 6-0. Even after ground reconstruction, I liked the fact that Motherwell had erected a two-tier visitors' stand which still pretty much did the same job. I had enjoyed some great times in there, most memorable being the night Henrik scored four and Lubo curled another wonderful free-kick past, would you believe, Stevie Woods. Great times.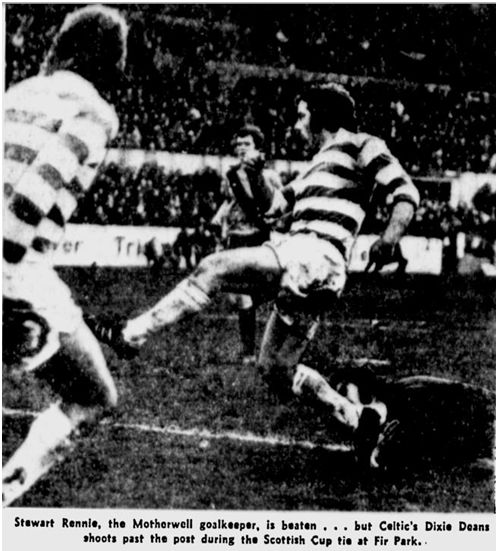 By the interval, it would appear for all the world that this one would be added to that list. This was the first time I ever recall the Rod Stewart anthem "Sailing" being belted out by the Celtic support accompanied by a sea of green-and-white scarves, "Walk On" style, particularly in that covered enclosure to our right. The majority of the 25,000 spectators appeared to be favouring the Hoops and the match was going to script. On the half-hour, Kenny Dalglish exploded a free-kick past Stewart Rennie to get the party started, and when Andy Lynch popped up to head home a loose ball 10 minutes later it looked done and dusted.
The proverbial game of two halves would see that turnaround completely. Almost exactly 12 months earlier, a Motherwell side inspired by Bobby Graham and Willie Pettigrew had won 3-2 at Celtic Park to hammer another nail in the coffin of 10-in-a-row, despite a Harry Hood double.
Whilst the headlines usually centred around Pettigrew, and which big-name club would be signing him, I thought Graham was a tremendous player, and he had pedigree. Born in Motherwell, he would follow another local lad Ian St John by heading to Bill Shankly's Liverpool in 1961. He would score a hat-trick against Aston Villa on his League debut and, despite the presence of St John and partner Roger Hunt, would make over 100 League appearances for that first great Anfield side. Bobby would then rejoin Ian St John at both Coventry City and Tranmere Rovers before his old friend brought him home to Motherwell in 1973. Graham would complete a rare treble by making over a century of appearances at Fir Park then again as he ended his career at nearby Hamilton Academical.
In January 1976, the 31-year-old Graham would inspire the comeback of comebacks. Within seven minutes of the restart, he would be first to reach Bobby Watson's curling cross to nod the ball down past Peter Latchford for 2-1. Ten minutes later, Celtic's English keeper had another moment to forget. Ian Taylor's low long-range shot from a free-kick should have been food and drink for Latchford, however, agonisingly he allowed it to squirm from his grasp over the line.
At that point, the graffiti was on the wall. With 20 minutes remaining, a through ball saw Willie Pettigrew in a chase with Roddie MacDonald and Pat McCluskey in the Celtic half. There would only be one winner. Pettigrew's pace saw him reach the pass first, a sublime first touch taking both defenders out. And although he still had much to do, his angled shot was perfectly placed, fate drawing it onto the inside of Latchford's far post then the net for the winner. A wonderful run had come to an end from a seemingly unassailable position, and the good ship Celtic was sailing out of the Scottish Cup at this stage for the first time since 1968.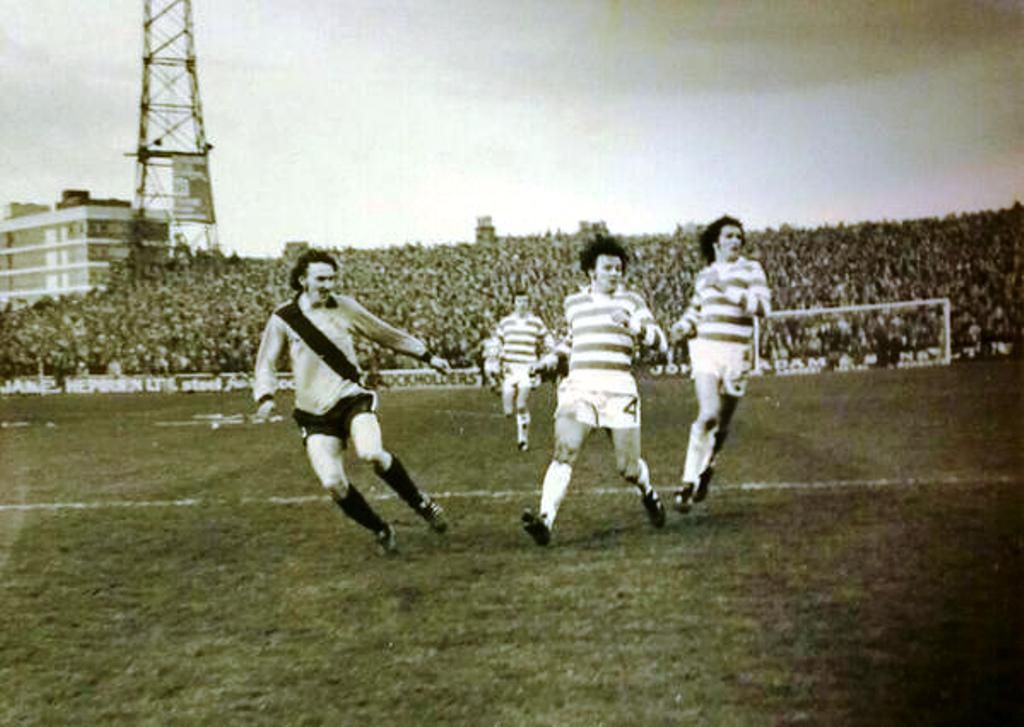 As an aside, I will always maintain that Motherwell were robbed of their best chance of winning the famous trophy since their defeat of Dundee back in April 1952. Having knocked out another top side in Hibernian over three games in an epic quarter-final, I recall clearly watching the highlights of their last four tie with Rangers at Hampden. Motherwell were 2-0 up and coasting with around an hour played, when the Ibrox club were awarded the most ridiculous penalty kick to get them back into the match. Two late goals then turned the game around and sent the Steelmen out of the competition. The more things change…
Harry Hood had remained on the bench at Motherwell, and he would have moved there by the time Celtic made their next appearance in the competition 12 months later, hence his last Scottish Cup action as a Celt would have been in the Hampden final of 1975, where he had played a key role as the Bhoys made sure the great Cesar's last stand would end in victory, as so many had in the decade before. Not a bad way to bow out, Harry.
Hood would again be listed as a Celtic substitute seven days after the cup exit, caretaker manager Sean Fallon reacting to the defeat by ringing the changes for the visit of Dundee United. Out went keeper, Peter Latchford, defender Roddie MacDonald and record-signing Ronnie Glavin altogether, with Bobby Lennox joining Harry on the bench. In came Ally Hunter between the posts for the first time since he carried the can for the loss of a two-goal lead to Dumbarton the previous February, as dreams of The Ten crashed and burned.
There was a first competitive start for young Andy Ritchie, Tom Callaghan coming in to bring his experience to bear alongside him and Jackie McNamara in midfield, whilst Paul Wilson returned up front after several weeks out in the cold.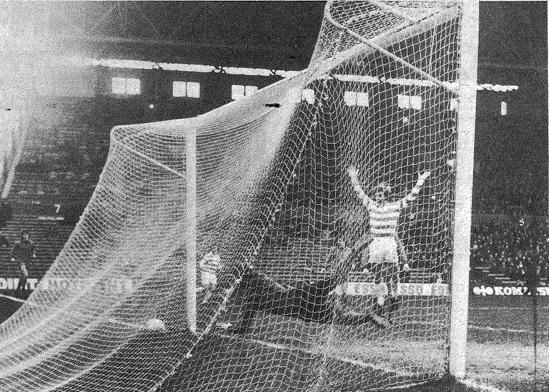 Hunter's long-awaited comeback would be a personal nightmare for the former Scotland keeper. Within a minute, he had failed to deal with a passback from Johannes Edvaldsson, Henry Hall seizing on the error to put United ahead. This was an afternoon where Celtic would ride their luck with the benefit of a strange refereeing performance from Tommy Muirhead. Tom McAdam had scored Dumbarton's equaliser in Ally's previous appearance for Celtic, and now wearing the tangerine of the Tayside outfit, he would beat the keeper twice in the first half, albeit on both occasions Muirhead would rule them out for offside with no flag raised by his lineman.
To compound United's fury, the Stenhousemuir official had allowed a Kenny Dalglish equaliser to stand with the Celt, at best, playing on the very margins of the defensive line. There was even a hint of good fortune for Celtic's winner, scored by Paul Wilson just before the break, the winger's shot deflected past a wrong-footed Hamish McAlpine for 2-1. One can only imagine Jim McLean's press conference afterwards. There would be no further scoring in the second half, Harry Hood replacing Tom Callaghan for the final 25 minutes to get his first taste of the action since the defeat at Pittodrie in mid-December.
With Rangers drawing 1-1 draw with Dundee at Dens Park, Celts would edge one point clear again at the top of the table with 13 matches of the inaugural Premier League campaign now remaining, including a clash between the top two at Celtic Park. It was still very much in the hands of the Parkhead club to claim a 10th title in 11 seasons. Those hands would not belong to Ally Hunter, though, the loss of that first-minute goal to Dundee United would be the last he would concede in the colours of Celtic. He would follow Steve Murray by playing his last match for the Hoops in January 1976, as the transition period at Celtic Park continued.
Next up for a starting debut was Jim Casey, drafted into central defence for the visit of Hearts on Saturday, 7 February 1976, with Pat McCluskey pushed forward into midfield beside Andy Ritchie and the restored Ronnie Glavin, Tom Callaghan dropping out of the squad. Peter Latchford replaced Ally Hunter whilst Harry Hood was joined on the bench by another youngster, Roy Aitken, albeit neither would get the call.
This was another memorable day for a third young Celt, yours truly, invited to meet and have my photo taken with Dixie Deans in the Parkhead tunnel before the game as the latest 'Celtic Boy.' Dixie must have wondered what the Fair Isle was going on, as rather than the usual cute kid, he was confronted with this skinny teenager with a moustache to rival his own, wearing flares which could have quite comfortably smuggled two friends into the ground, suspended above platform shoes which Elton John would have rejected as being too outrageous. It was probably all Dixie could do to keep a straight face.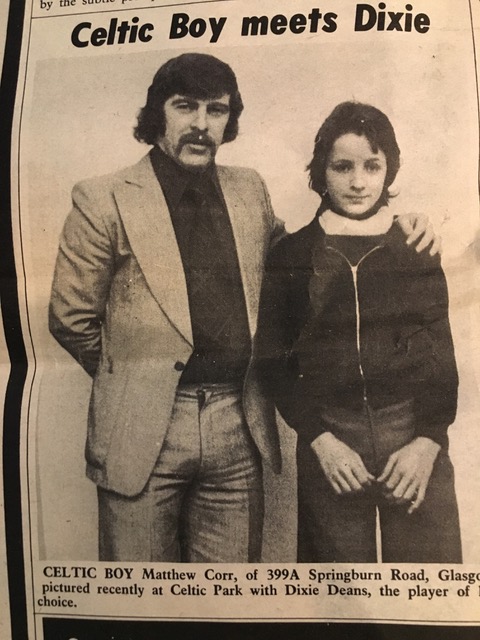 Deans would definitely be smiling an hour or so later, his head flick setting up Kenny Dalglish for a stunning lob over Jim Cruickshank which broke the deadlock. With 10 minutes to go, the Celtic skipper then nodded home a second, after Andy Ritchie's cross had taken out the Hearts keeper. All three challengers, Hibernian, Motherwell and Rangers, would also enjoy victories, as the destination of the flag remained unclear, Celts still a single point in front.
With a redundant Saturday looming due to the Scottish Cup, Celts took the opportunity to play a challenge match against old foes Leeds United at Parkhead on Wednesday, 11 February 1976. The Yorkshire club had finally reached a European Cup final the previous May, five years after their home and away defeats by Jock Stein's men in the historic last-four clashes, before losing to Bayern Munich somewhat controversially in Paris. Hoops-mad captain Billy Bremner had scored Leeds' only goal of that 1970 tie, however, he would be missing on this occasion, albeit several who declared their allegiances to Celtic were in the line-up, Peter Lorimer, Joe Jordan and the Gray brothers.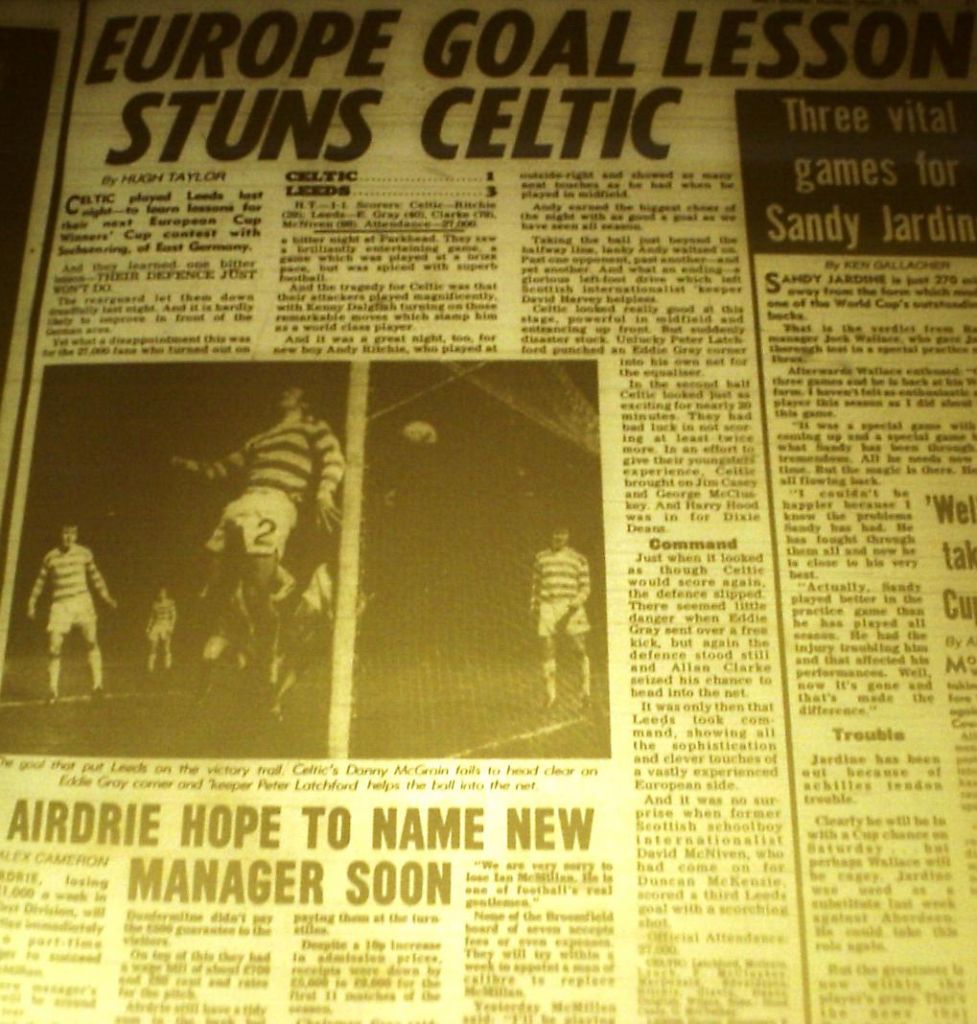 Castlemilk Bhoy Eddie Gray would cause yet another nightmare for a Celtic goalkeeper, his corner-kick punched into the net by Peter Latchford just before the break to equalise for the visitors after a piece of genius from Andy Ritchie had given Celts the lead on the half-hour. Picking the ball up on the halfway line, the big midfielder proceeded to waltz past several Leeds defenders before sending a screamer over David Harvey to send the 27,000 spectators into raptures.
Harry Hood replaced Dixie Deans at the interval as Celts, with Kenny Dalglish in wonderful form, continued to look the part moving forward, before a late sucker-punch saw the honours head south. With Jim Casey and George McCluskey on to reduce the average age of the team still further, defensive hesitancy again proved fatal. Neither Latchford nor his defenders attacked another cross from Eddie Gray, Leeds ace hitman Allan Clarke gleefully accepting the free gift with 10 minutes remaining, before former Scottish schoolboy star Dave McNiven twisted the knife, his shot deceiving Latchford for 3-1.
Harry Hood, Tom Callaghan and Roddie MacDonald would all be on reserve team duty the following Saturday, as the title race resumed for Celtic with a tricky fixture to Pittodrie, the Dons at that time involved in a struggle to remain in the top-flight with the Tayside trio of St Johnstone, Dundee and Dundee United.
MacDonald's normal centre-half berth would be taken by Roy Aitken, a League debut for the Ayrshire teenager. He would never look back from there, whilst at the other end of the field, a young Willie Garner was beginning his career at Aberdeen. The pair would briefly become teammates at Parkhead in the early 1980's. On an afternoon of missed chances, the match turned in a five-minute spell late in the second half. With the game goalless, the hosts went close to breaking the deadlock when a Davie Robb shot crashed back off the crossbar with Peter Latchford beaten.
The big Englishman's opposite number, Bobby Clark, would then have his own moment of horror, completely misjudging a cross from Kenny Dalglish which drifted over his head to the far post. Whether it was going in or not, substitute Bobby Lennox was taking no chances, the Lisbon Lion applying the finishing touch to secure another vital two points. As supporters pressed radios to ears, news would come through that both Rangers and Hibernian had won 1-0 away from home, the Ibrox club at Ayr and the Hibees effectively knocking Motherwell out of the race.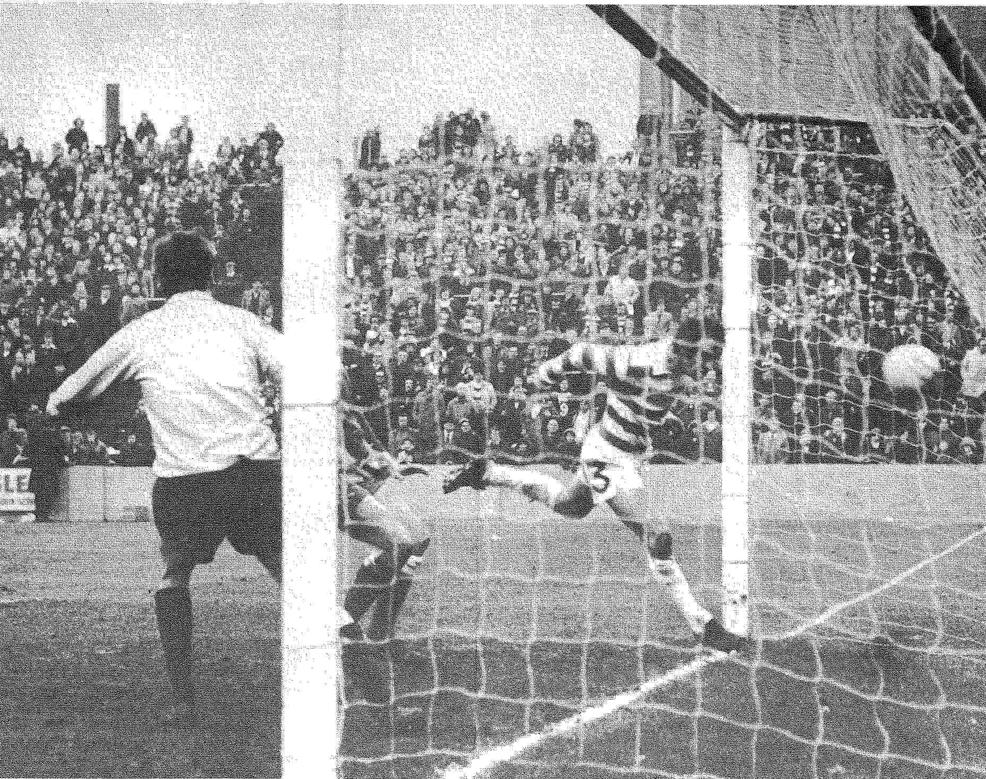 Hibernian would now travel to Celtic Park for the final game of the month, on Saturday, 28 February 1976. The flu virus which had swept across Scotland that week had claimed its first Parkhead victims, youngsters Andy Ritchie and Jim Casey missing out. That allowed Bobby Lennox to reclaim a starting slot, and Harry Hood and Roddie MacDonald a seat on the bench. Sean Fallon sent the following men out to keep the Hoops ahead at the top of the table.
Peter Latchford; Danny McGrain & Andy Lynch; Pat McCluskey, Roy Aitken & Johannes Edvaldsson;
Paul Wilson, Kenny Dalglish, Dixie Deans, Ronnie Glavin & Bobby Lennox.

Substitutes; Harry Hood & Roddie MacDonald.
Despite the blustery conditions, this would be another day when the real Celtic would turn up, the visitors literally blown away in the first half. Bobby Lennox and Dixie Deans would be front and centre as Celts built a three-goal lead, the veteran Lennox felled for a penalty which Deans converted for his 20th, and as it turned out, his final goal against the club he just loved scoring against.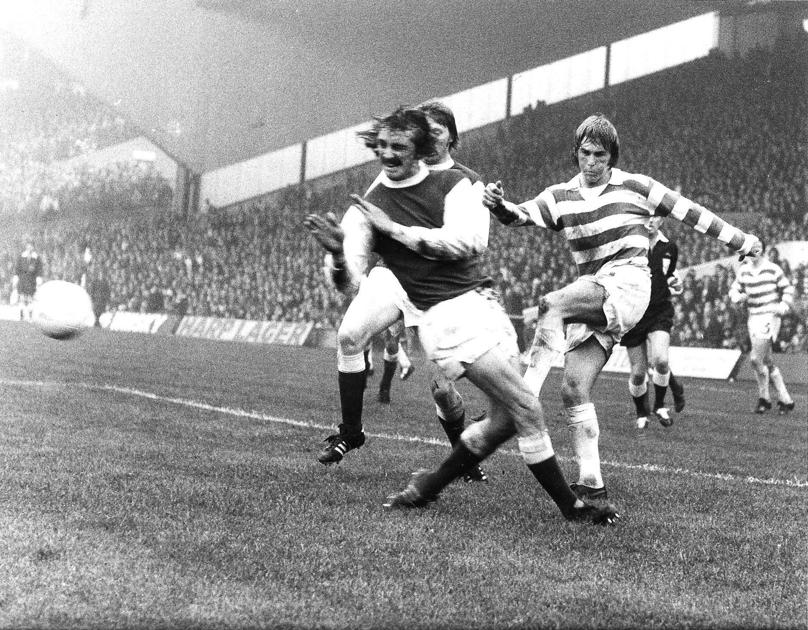 Five minutes before the break, Bobby himself, another Celt with a Hampden cup final hat-trick against Hibernian on his CV, got in on the act, this time Dixie with the assist as the Saltcoats Lion made it 2-0. And as the pie queues gathered momentum, only the woodwork prevented a second goal for Deans, strike partner Paul Wilson not hanging around to quickly dispatch the rebound past Mike McDonald for 3-0.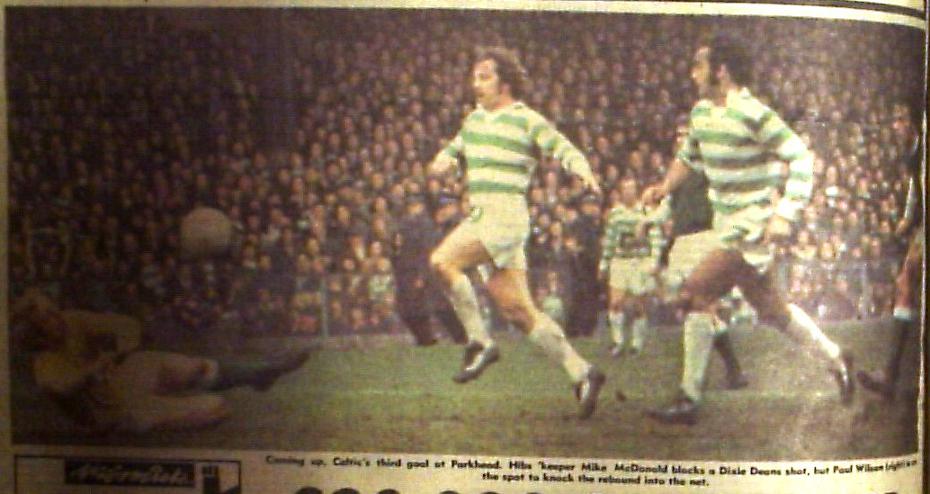 With the points in the bag, there would be just one more goal for the 33,000 spectators to enjoy, but what a goal it was. In memory's view, a trademark Kenny Dalglish goal would involve the Hoops superstar looking up before curling a shot over defender and goalkeeper into the top corner. Just after the hour mark, he would do just that, a goal perfect in its design and execution to complete a wonderful afternoon for those with Celtic flowing through their veins. Hibernian's defeat combined with Motherwell's single goal loss at home to Rangers meant the title race would now be between the two Glasgow rivals, Celtic one point ahead with 10 games remaining.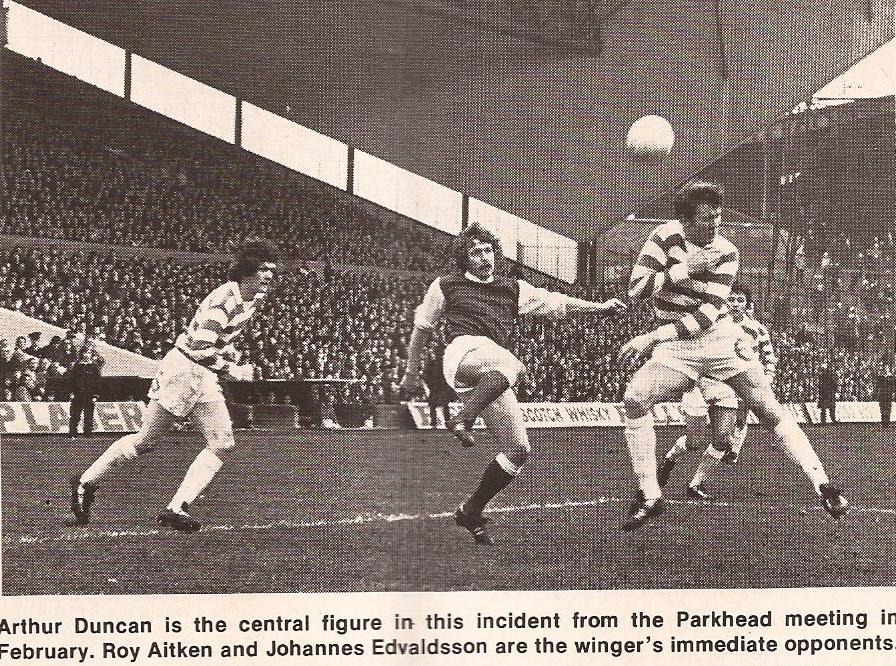 Thanks, as always, to the wonderful Celtic Wiki.
Hail Hail!
Matt Corr
Follow Matt on Twitter @Boola_vogue