After the pain of Leipzig and the joy of Murrayfield, it's the Road and the Miles to Dundee tonight for the travelling support. Dens Park is one of those grounds where the old traditional stands and terracing sit side-by-side with the modern upgrades, in this case the ends behind both goals. Our seats are in the old Main Stand, however, on my first visit to the ground, we stood in what is now the Dundee supporters' section, opposite that stand, where the television cameras are based.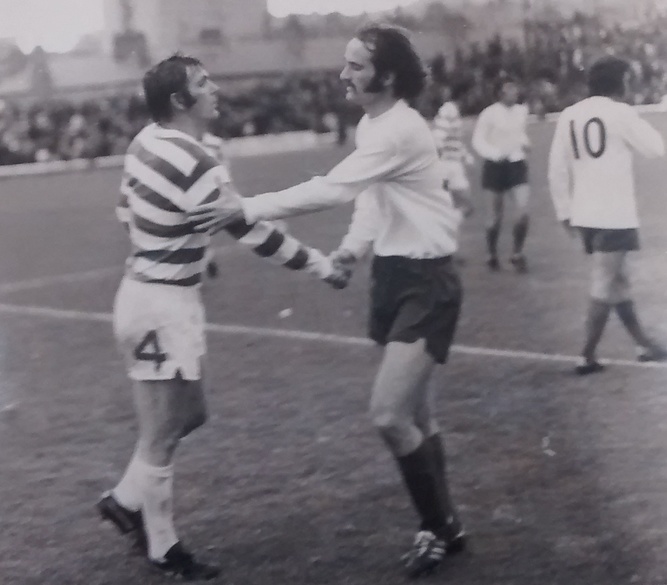 That was a League fixture in September 1972, as Celtic began the chase for an eighth successive title and were preparing for a European tie in Trondheim. The more things change etc. On the day, Dundee were far superior and thoroughly deserving of their 2-0 victory, both goals coming in the opening fifteen minutes, as the class act which was Jocky Scott pulled the strings for the white-shirted home side. This was a strong Celtic team, European Cup Semi-finalists just a few months earlier, with only young Jimmy Quinn at left-back, grandson of the Mighty Croy legend, not considered a regular at that time. Just not our day I guess.
I was back at Dens just a few weeks later, this time for a midweek League Cup Quarter-final tie. Dundee again scored first, midway through the second-half, through that prolific striker, Gordon Wallace, whose goal would win the same trophy the following December for Tommy Gemmell's Dark Blues, in the strangest cup final atmosphere I ever witnessed. Unlike the previous game, that night Celtic, with the late Jim Brogan and striker Dixie Deans reinstated for Quinn and Pat McCluskey respectively, hit them with everything but the kitchen sink but just could not find the net.
The return leg at Celtic Park was a classic, in front of 40,000 fans. The game see-sawed to a 3-2 conclusion after extra-time, Lennox and a Macari double for Celts with Wallace and Scott responding for the visitors.
As the sides could not be separated on aggregate at 3-3, a third game was required, this time at Hampden on a cold Monday night in November. Following some controversial decisions, Celtic had officially requested that the referee, our old friend R.H. Davidson from Airdrie, be replaced.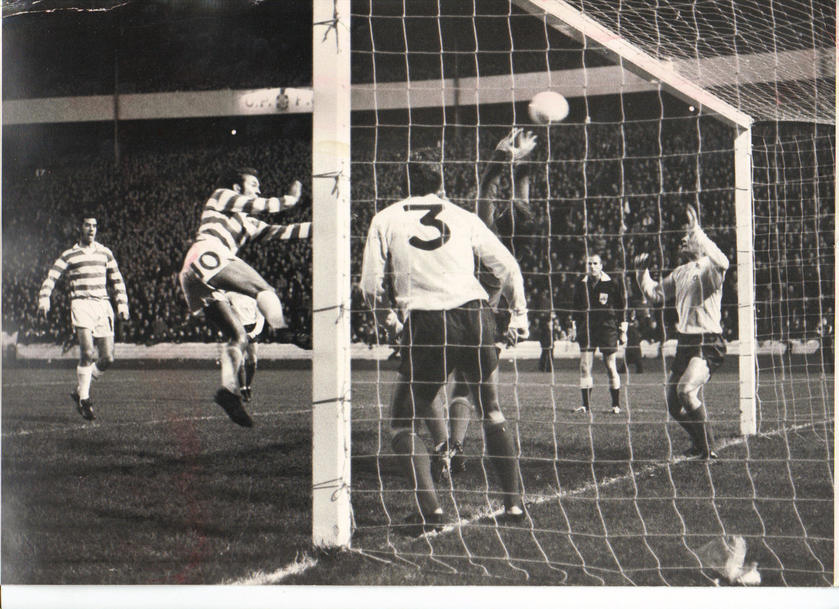 This was rejected and so he was in the middle as we took our spot in the old South Stand Enclosure to watch Dundee again take an early lead through Jocky Scott. Celtic's response was emphatic, Hood equalising before a devastating six-minute spell saw three further goals from Dalglish and Deans (2) finish the tie before half-time, all four Hoops efforts remarkably coming from headers.
Dens Park was also the venue for a classic three-match cup-tie in February 1987. This time, though, it was a neutral venue, as Celtic and Aberdeen locked horns in the Scottish Cup Third Round, following a 2-2 draw at Pittodrie and a goalless replay at Parkhead. There were over 21,000 supporters crammed into the old ground to watch Brian McClair win the match for Celtic with a first-half shot, his 29th goal of what would be his most prolific and final season.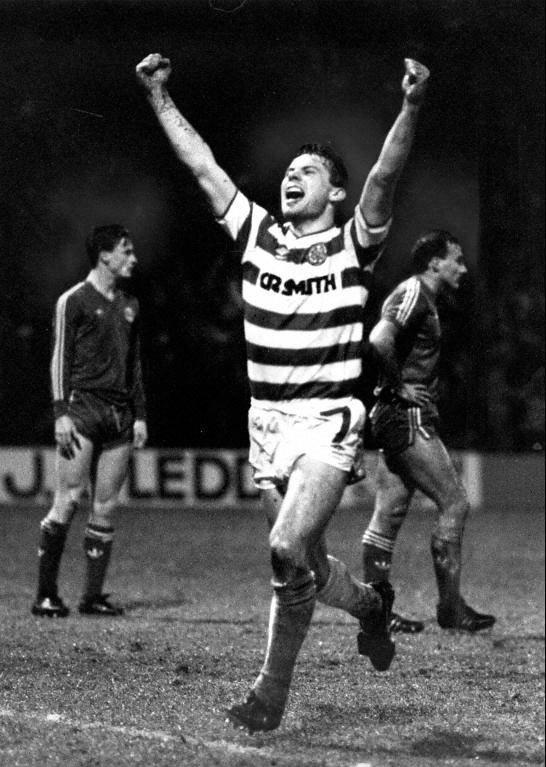 Dens Park was also significant in Brian's Celtic career back in September 1983. On this day, the teenage striker announced himself as a Celt, with a 4-goal haul in a 6-2 victory. In the Main Stand that day, I got chatting to a guy who I have seen many times since over the years at Celtic games, although I know him only as 'Big Willie' (Behave yourself!). I think he travelled on the McConnells' bus from the Cowcaddens and he is a distinctive character, second only to Dermot in the Celtic Moustache Stakes. He was travelling to Aberdeen after the match, to catch a flight from Dyce to Aarhus for Celtic's UEFA Cup-tie there in midweek. Our normal plans to run Cairn CSC buses to Euro games had been scuppered on this occasion, by some inconsiderate person placing the North Sea between Scotland and Denmark.
I have attended many other memorable matches at Dens over the years, memorable for varying reasons. There was the time when a guy was giving the team 'pelters' for throwing away a precious point when the final whistle blew. He only stopped when a helpful supporter pointed out that Celtic had won 1-0. He had come in late, missed Tommy Callaghan's 3rd minute goal and so watched the rest of the game in blissful ignorance of that fact. Superb.
Less funny was the time when our bus arrived late, missing Roy Aitken's early strike for a Celtic side pushing hard for the championship in April 1980. Sadly, we were on time to witness Dundee's five-goal response, a result which ultimately cost Billy McNeill four-in-a-row, between '79 and '82.
There was Johnny Doyle's debut in March 1976, which although we won was marred by a tackle which forced the much-missed winger off the field within half an hour of fulfilling his Bhoyhood dream.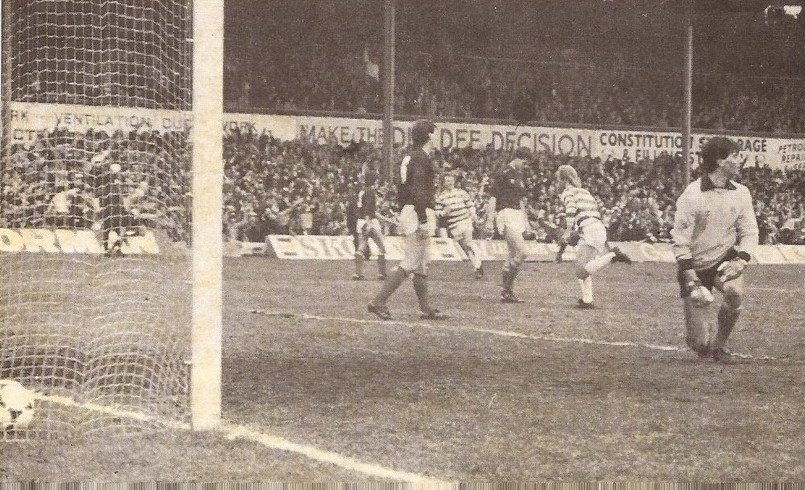 Then a classic Scottish Cup Fifth Round tie in February 1985, where another 21,000+ crowd packed in to watch the teams fight out a 1-1 draw. Future Ibrox legend Maurice Johnston had opened the scoring for his boyhood idols midway through the second half, following great work from that man again McClair. However, five minutes later, John 'Show us the deeds' Brown equalised with a header, paving his way to the Big Hoose Which Must Stay Open. Ironically, it was Brown's goal which eliminated his future employers in the previous round. Over 37,000 were in Celtic Park for the midweek replay, which the Hoops won 2-1, thanks to goals from McGarvey and Johnston, either side of a Ray Stephen effort.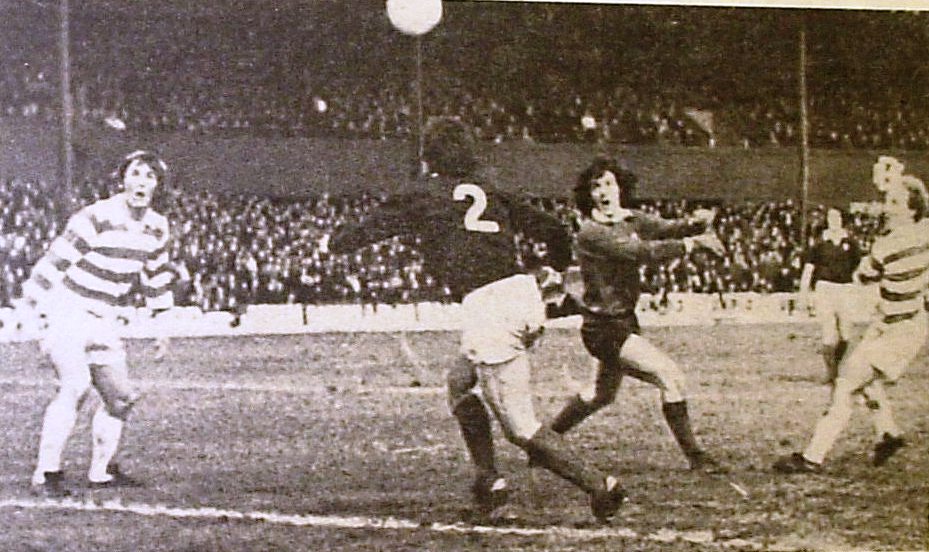 But by far my favourite Dens memory took place on 14 December 1974. For me, this was King Kenny's finest hour in the Hoops, hitting a fabulous hat-trick in a 6-0 victory. He was aided and abetted by the one and only Jimmy Johnstone, who scored a double himself, as Dundee were torn to shreds, the late Paul Wilson notching the other goal. In the Main Stand that day, not far from us, was Rod Stewart. Known as a fanatical Scotland supporter, I've always believed that this was the day Rod fell in love with Celtic. It was a sublime performance, with, appropriately, the fans constantly chanting the Pilot hit of the time, Magic. 'Oh, Oh, Oh It's Magic, you know, it's gonna be ten in a row'.
What was I saying earlier about the more things change?
Hail Hail!
Matt Corr
Enjoy the 90 Minute Cynic's latest Celtic Podcast below…
Also on The Celtic Star today…
Celtic blow Italian Giants away in 7 goal Champions League thriller…See HERE.
'Peter Lawwell has earned £11,320,000 at Celtic,' Price of Football…See HERE.
'He looked different class but he's a big game player,' Rodgers on Scotty Sinclair…See HERE.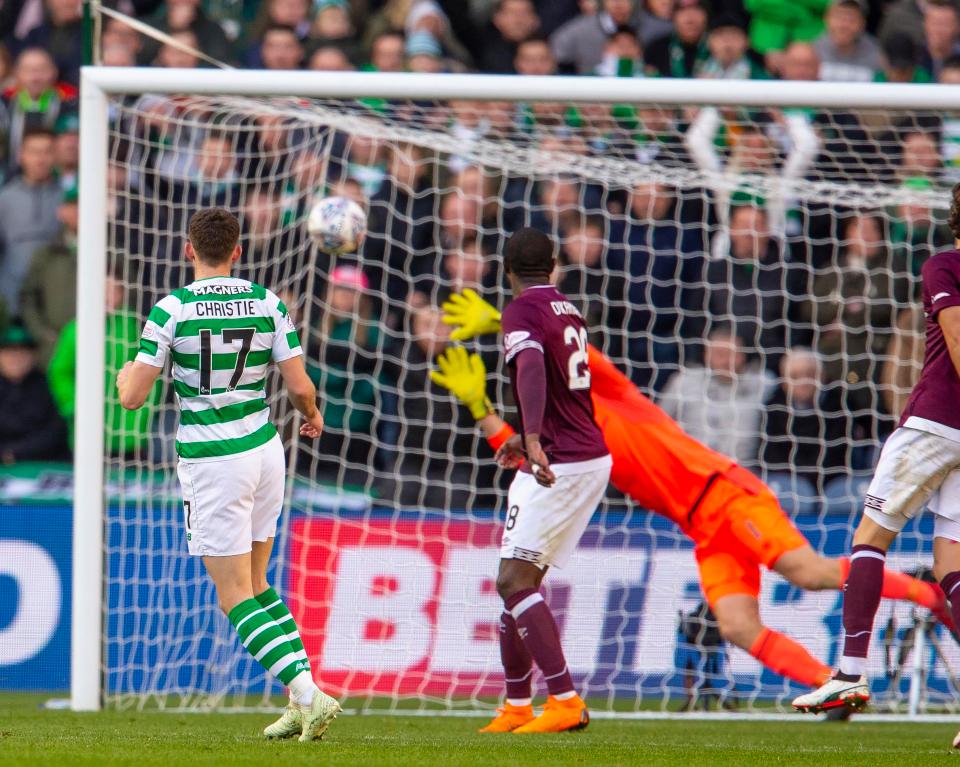 'That was 10 kilos of muscle there but he can carry that,' Brendan on Christie…See HERE.
Jim Craig – New Bhoy Billy McPhail stars as Celtic win the League CupSee HERE.