THIS can only be described as a splendid European performance by Celtic, and it was a great experience to be part of Celtic Park on one of these iconic nights which Celtic Park was surely built for.
The atmosphere at the beginning, given a welcome boost by the news from Switzerland about 15 minutes before kick-off, was such that once again we must really ask people like Brendan Rodgers and Kieran Tierney just why on earth they would want to turn their backs on this.
Is what they have really any better than Celtic Park in all its European glory? But there are things that "a feller simply cannot understand".
But that was just the fans. Illustrating the magnificent symbiosis which exists between supporters and players – basically you can't have one without the other – Scott Brown and co rose to the occasion.
They had a point to prove about that awful night in August which had so many repercussions, and my goodness, how they did it! 2-0 and it could have been more, but we will settle for what we got – and the main thing was that it was a totally professional approach with everyone playing his part, and no obvious weak link for the trolls to vent their spleen on.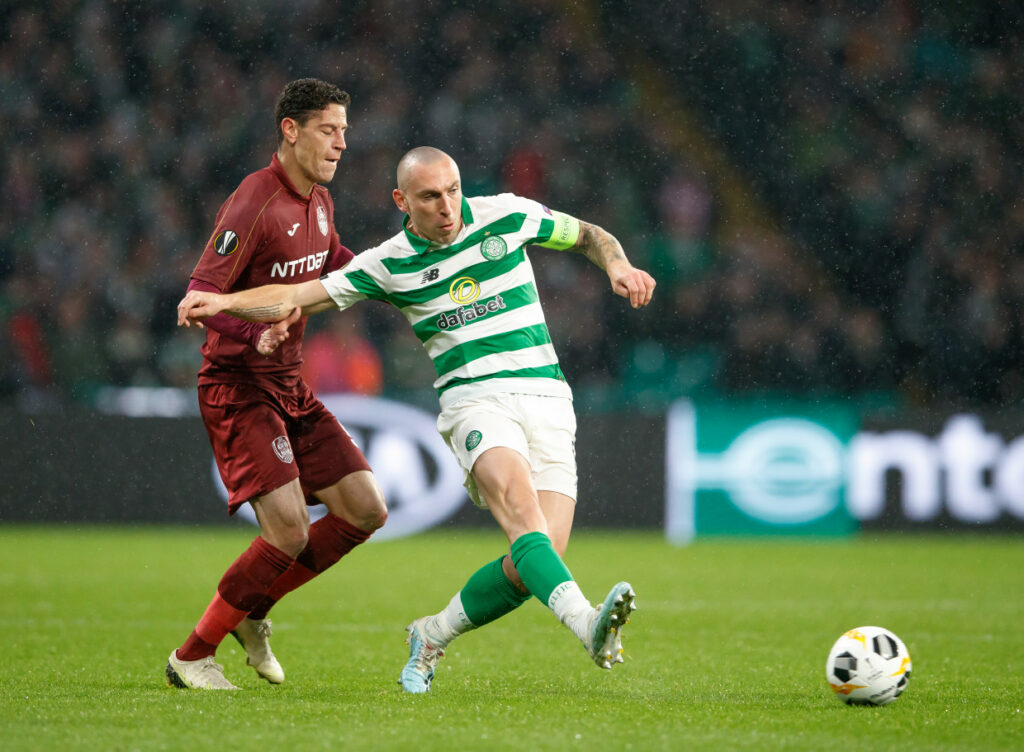 Official Man of the Match was Scott Brown. Without disagreeing too much about that, I would have possibly gone for Ryan Christie for his perpetual motion and enthusiasm to be in the action.
Another player that I would single out for praise would be Boli Bolingoli, a player who had to put up with a tremendous amount of abuse, but has now come through it! A wonderful cross for the first goal, and excellent throughout – give or take the odd mistake.
There is no problem about the central defence, Fraser Forster had one bad kick out but otherwise radiated confidence and security, and James Forrest who found it difficult to get going in the first half, was first class in the lead up to the second goal.
The only bad things about last night were the rain and the refereeing. Both were excessive and over zealous! There is little that can be done about Jupiter Pluvius (the rain!), but I thought that the referee was far too keen to use his yellow cards, and on occasion slowed the game down unnecessarily.
— North Curve Celtic (@NCCeltic) October 4, 2019
Once again, full marks to the Green Brigade for their encouragement. I loved the banner about OK to go down, but not OK to stay down. Good philosophy that, and good singing as well with Willie Maley, Grace Gifford and Aiden McAnespie all getting their honourable mentions in their encomia, but the "Glasgow's Green and White" refrain took the biscuit! And the 67th minute was a joy to behold and listen to.
— Daniel Tetstall (@dantetstall) October 3, 2019
A full Parkhead, I reiterate, is one of the finest sights on earth. On this performance we will have the opportunity to enjoy it many times in the future – but Livingston at the Tony Macaroni on Sunday is what we now look forward to.
David Potter
Don't miss Sandman's Hilarious Player Ratings including a few words on this guy…