As part of our look at Celtic in the early 1990's this evening we are looking at today's Birthday Bhoy Tommy Coyne. In our first instalment we looked at possibly Tommy's finest game when Celtic beat Hearts 3-0 at Tynecastle on the opening day of the 1989-90 season.
Tommy was signed by Billy McNeill for Celtic from Dundee in in March 1989. At Dundee he'd built up a reputation as one half of the 'Cobra and Mongoose' striking double act with Keith Wright. Tommy was the Cobra! And what a player he was.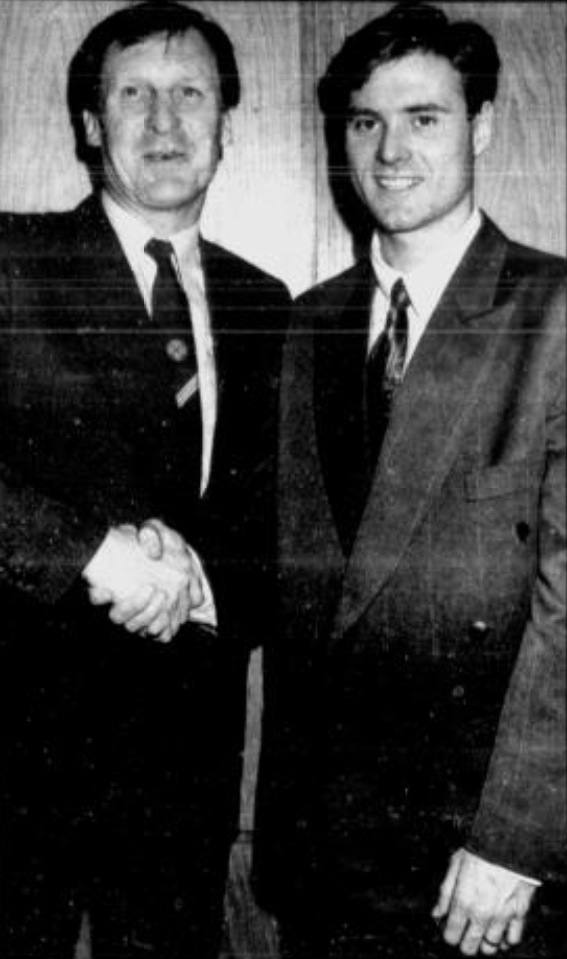 In normal circumstances I think the signing would have been welcomed. He had a good goalscoring record at Dundee, but the timing of the signing meant it was less welcome than it could have been.
That week Celtic accepted a rather large transfer fee from West Ham for someone you could say had been a fan's favourite. As Tommy came in the door Frank McAvennie was heading south. Rather unfortunate timing as it certainly made Tommy look like Macca's replacement and although Billy McNeill said that wasn't the case it certainly looked that way.
Perhaps Billy was trying to disguise the intentions further because on Tommy's debut at Tynecastle in a 1-0 victory, Tommy Coyne played wide left. Billy McNeill had advised that's a role he saw Tommy playing on occasion as needs must but it was a strange one as he didn't play the role again.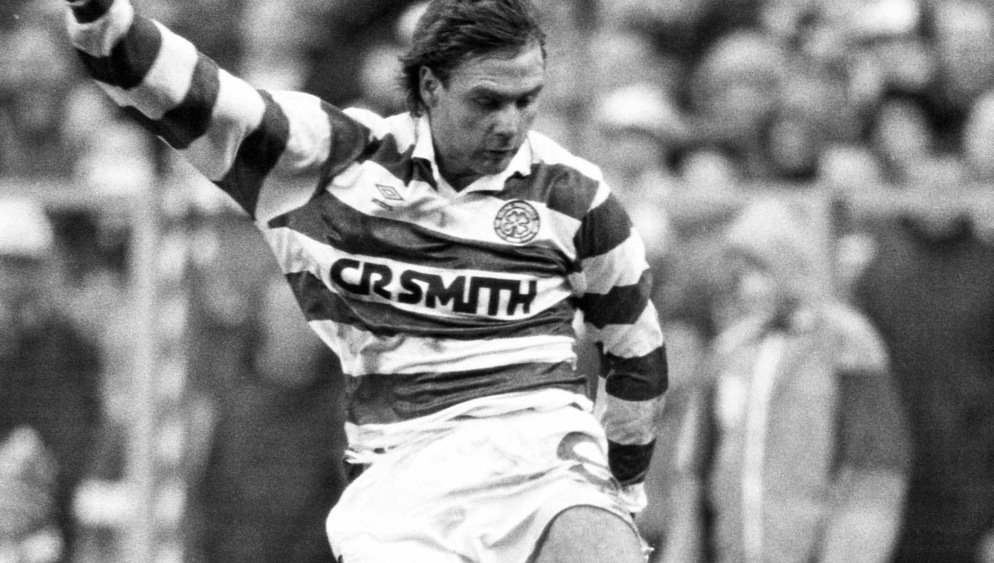 By the start of the next season 89/90 money was spent on another striker who was more likely seen as McAvennie's replacement, and initially it looked like Tommy would have a strike partner to go to war with.
Dariusz Dziekanowski signed from Legia Warsaw and on paper Tommy's work rate and Jacki's natural ability looked perfectly matched, however it didn't pan out. Their first team debut was that 3-1 win at Tynecastle where Tommy score a sensational hat-trick but the pair never quite clicked.
On this day in 1962, Tommy Coyne is born. "I was never ever going to sign for Rangers because they did not allow it at the time. I'd been asked a few times but when it became clear what school I went to it was dismissed." Happy birthday! pic.twitter.com/UmirkAFkn1

— CelticLisbolingoli (@CelticLisboaa) November 14, 2019
In what was a poor season things took a similar nosedive for Tommy Coyne but it could have been so different. In a sliding doors moment, as Celtic took on rangers at Ibrox on 4 November 1989, Joe Miller broke clean on Chris Woods in the Rangers goal. Woods managed to save Millers effort and Tommy had a glorious chance to give Celtic the lead. In front of the Celtic fans Tommy hit the post. When you consider that a certain Judas striker scored the winning goal you can see why it was a sliding door moment. Sometimes you need that bit of luck and it didn't quite turn out as Tommy or Celtic would have wanted.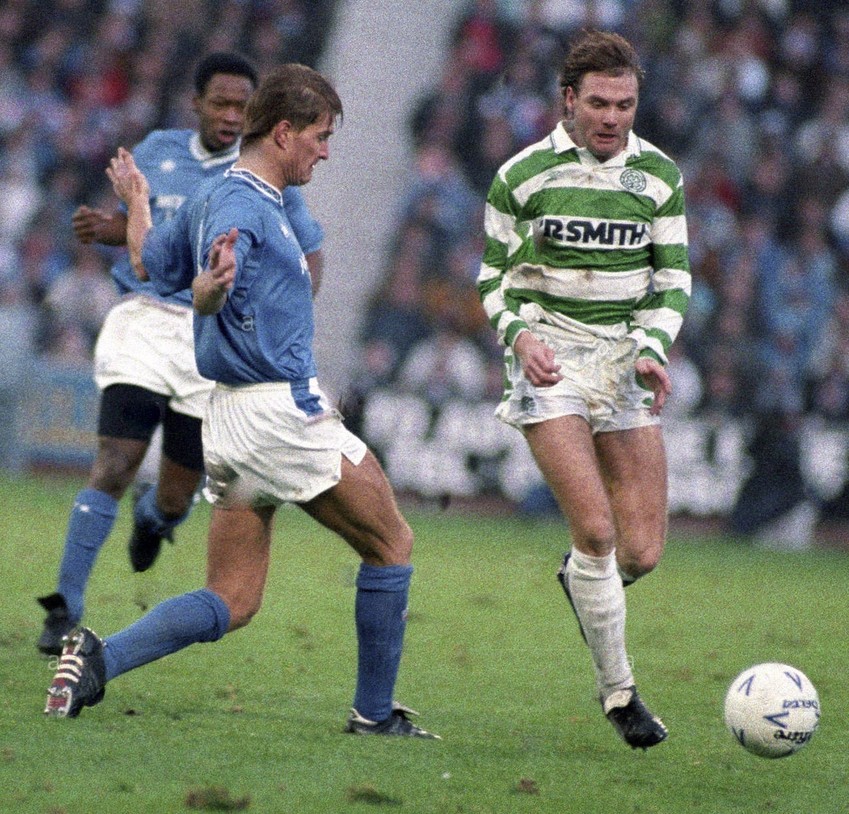 As a famous advertising campaign said however 'Good things come to those who wait' and Tommy only had to wait until February 1990. Terrible weather and a Scottish Cup Tie at Parkhead, what's not to like, especially when revenge is served.
This time Joe Miller was again the supplier across the face of goal and Tommy arrived to bundle the ball home. Even John 'Deeds' Brown's attempts to dampen Tommy's enthusiasm by throwing him to the ground didn't matter. Nothing was getting in the way of the Celtic striker's celebrations as he ignored Brown and started the party. Remember the interview with Billy McNeill on Scotsport post-match and Terry Butcher kicking the door in mid-interview? That was that game. 'Sweet dreams are made of these' as Annie Lennox said.
The aftermath here shows that Butcher incident and an interview with Tommy as well.
From the highs it was back to the lows by the autumn of 1990. Billy McNeill no longer saw much of a role for Tommy especially after the return of prodigal son Charlie Nicholas to Celtic. As Celtic got a draw at Ibrox Tommy was in the stiffs and not even in the reserves first eleven, he found himself on the bench. He had been getting a fair bit of stick from the terraces and was also soon transfer listed.
But on and off the pitch Tommy Coyne had character in spades and he didn't give up on his dream of playing for Celtic.
The opportunity for redemption came in a midweek encounter with Motherwell. Celtic hadn't been finding the net and it had become a source of real irritation to Billy McNeill. Tommy was back in the team and given a chance to show his worth again. Celtic won 2-1 and Tommy scored both goals, and both superb finishes, and you know what-he wasn't finished there. Tommy taken his opportunity and now he wasn't letting go. Tommy ended the season as Celtic's top scorer with 17 goals. Considering he'd missed a third of the season you can only stand back and admire the sheer determination of the man.
One of the big highlights was Aberdeen at home in January 1991. By now Tommy Coyne was my Jimmy McGrory. Even when Celtic struggled it always seemed to be Tommy Coyne who was everywhere. He worked his socks off and was now getting the goals his endeavour deserved.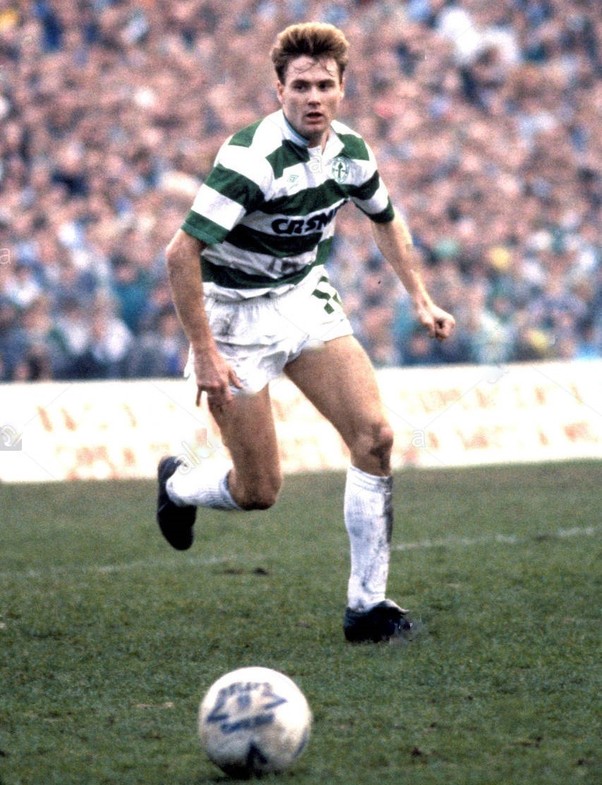 Against Aberdeen Paul Elliot hit the post in the last minute and Tommy scored the rebound. It was a massive goal and the crowd exploded. A moment of joy in tough times. Not that I'd know of course. My Grandfather who had taken me to the game decided he wanted to get ahead of the crowds and we left the ground with five minutes to go.
I heard it right enough-halfway to Dalmarnock station, but I didn't see it until the highlights later that night. Couldn't say a word either. I was too scared he wouldn't take me next time. I took a vow of silence.
As we touched on in the St Patrick's Day massacre instalment and again in the Palm Sunday Humiliation article, Tommy also played a big part in both those games. He scored a wonderful header from a Paul McStay cross in the 3-0 league win and despite not scoring, for me he was man of the match in the 2-0 Scottish Cup win the week before
In 1991 Celtic appointed the managerial rookie but top class footballer Liam Brady to the role of manager. I loved the idea, my Grandfather said it was too big an ask for a first job. As he often was Granda was right again. Shame about his sense of timing though.
Happy Birthday Tommy Coyne. pic.twitter.com/wAnSe4Yr7G

— Li'l Ze (@LilZe85) November 14, 2019
Brady arrived with his own ideas. He made some big signings in the likes of Stuart Slater, Andy Payton, Tony Cascarino and of course the return of a certain Frank McAvennie. The attacking intent from Brady was there but none of it really worked, in fact Andy Payton arrived with the least fanfare and was by far the most successful.
Tommy himself missed the majority of the 92/93 season unfortunately but it wasn't the form of the new signings that caused that he was just unfortunate with injuries. He did score in the second coming of Frank McAvennie match against Airdrie at Broomfield but glimpses of Tommy were few and far between.
Tommy left Celtic in March 1993 and signed for Tranmere. He then joined Motherwell in November the same year.
He scored against Celtic at Fir Park in 1994 in the Scottish Cup and received a bit of post-match criticism for his celebrations being perceived as excessive. Perhaps he should have walked solemnly back to the centre circle and begged forgiveness. He wasn't employed by Celtic and he was paid to score goals. If that makes you happy you celebrate, a winner in a Scottish Cup tie is bound to do that to you.
Redemption however was only five years away. It was worth the wait. In March 1998 and Rangers going for 10 in a row Tommy put in a man of the match performance as Willie Falconer also an ex Celt and Owen Coyle a huge Celtic fan scored the goals in a 2-1 win at Fir Park, so he played his part Celtic's title win that season as Celtic stopped the 10 and he got to do it with a few fellow Celts too. His effort that hits the post from 30 yards is well worth a watch.
That's probably as good a place as any to stop. It doesn't get better than playing your part in that particular part of Celtic's history.
Happy Birthday Tommy Coyne. A real Celtic man.
Niall J
ALSO ON THE CELTIC STAR…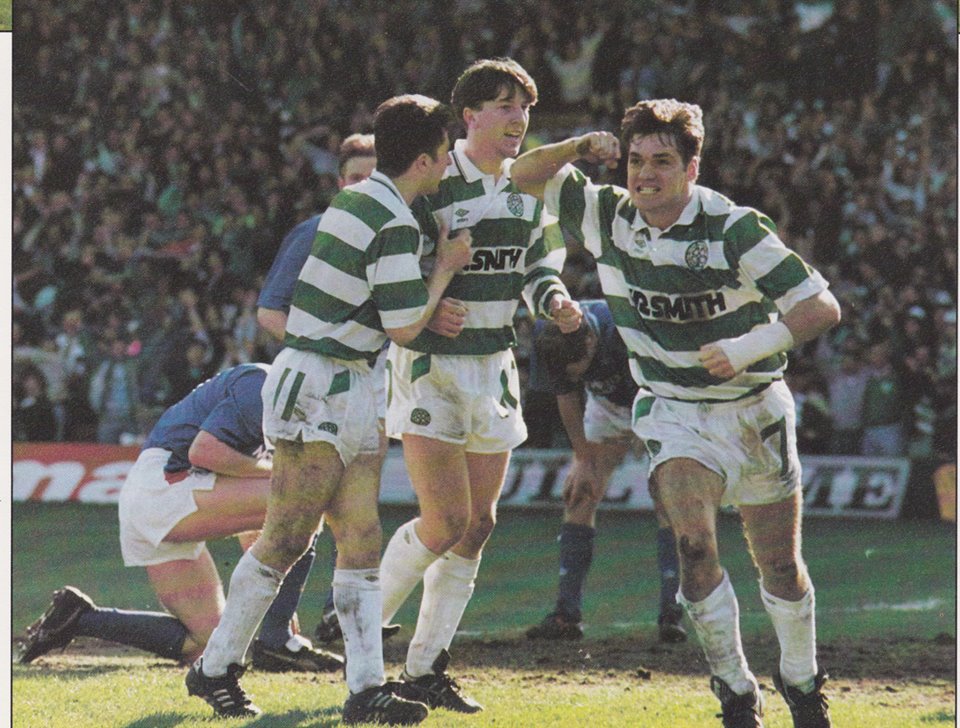 Gerry Creaney – Grabbed some Glory and lived the Dream…see HERE.
To supporters of my generation John Collins became Celtic's star midfielder…see HERE.
Dariusz Dziekanowski, the Polish Bhoy we called 'Jacki'…see HERE.