TWENTY YEARS AGO TODAY Martin O'Neill arrived in Glasgow and was unveiled as the new Celtic manager. We have look at the events that followed over the next five years in an earlier article today by David Potter and Celtic's Assistant Manager John Kennedy has also been speaking about the arrival of MON at Celtic Park.
Five years to the day later, on 1 June 2005 Celtic appointed Gordon Strachan as O'Neill's successor. But to put this all in context we have to go back just over a week further to 22 May 2005, to Martin O'Neill's last league game as Celtic manager. Matt Corr gets the short straw in talking about thus game – and there will be no photography or videos shown.
🗓 ON THIS DAY: In 2005, Gordon Strachan is appointed as Celtic manager. pic.twitter.com/8u7IYhdKgI

— celticbible (@celticbible) May 31, 2020
BLACK SUNDAY AND THE ARRIVAL OF GORDON STRACHAN AS CELTIC MANAGER – 15 YEARS AGO TODAY
The events of Sunday, 22 May 2005 will haunt me forever.
I have never felt so low as a Celtic supporter.
Not watching the dream of 10 disappear as a 14-year-old schoolboy in 1975.
Or even Jock's horrendous final season in 1977/78, as we lost our Kenny…then Pat Stanton…then Danny…then the plot, to finish out of a European slot.
Or the pain of watching us toil against English Second Division side Burnley in the Anglo-Scottish Cup the following season, then seeing our hard-won reputation smeared following events at Turf Moor.
Not even the Valentine League Cup Final of March 1984 or the injustice of Rapid Vienna later the same year. Hell, not even the pain of enduring that nine-in-a row in Govan felt like this. Desperate stuff.
I had been struggling badly for away tickets that season and Fir Park, Motherwell was no exception. My local, the Cross Keys in Milngavie, a mixed shop, had been turned over to the Rangers regulars for the day, as the local publicans sensibly put their heads together to achieve a compromise. Ticketless Celtic supporters like myself would be accommodated in the nearby Talbot Arms, a pub I had never been in. For a ridiculously superstitious guy like me, this was not a good omen. But there were no better offers, so the Talbot it was, propped up against the bar with a Guinness and a prayer.
The position was straightforward. Match Rangers' result and the title was ours. Win the game and the flag would be flying at Paradise again next season regardless of their score. There was no doubt we were the much better placed of the two contenders, unlike that final day in Ayrshire in 2003.
Even in the bar, you could feel the tension oozing from the Lanarkshire stadium, the noise deafening. Grounds like Fir Park and Rugby Park are transformed on such days, when the nonsense of empty seats and ticketless fans gives way to packed stadia. Kilmarnock 2012, anyone?
Apart from the new pub, there were other omens, few of them good.
Unusually, albeit looking back, appropriately, the Steelmen were wearing black, in their goal the ghost of Celtic past, Gordon Marshall, just as he had been at Kilmarnock, two years earlier, when he had played out of his skin to restrict us to just the four goals, agonisingly one short of what we needed.
Former Ibrox skipper Terry Butcher was in the home dugout, so it would be reasonable to assume that Motherwell, with nothing tangible to play for, would not be going through the motions.
"No Celtic party on my watch."
My heart sank when I realised the referee would be Hugh Dallas. I'll just leave that one there, in the interests of diplomacy.
On the plus side, the Hoops fans were making a tremendous racket and our multi-million-pound strike force of Craig Bellamy, John Hartson and Chris Sutton were all starting. Despite all the signs, maybe, just maybe, this would be okay. "Another Guinness, please!"
Dallas confirmed my worst suspicions early on, allowing a last-man, rugby-tackle on the lightning Bellamy to go unpunished, as the Welshman leaves a defender for dead. Not even a foul. Incredible.
Then it happened. Alan Thompson and Hartson combine wonderfully down the left-wing, on the main stand side. The Englishman's low cross is fumbled by Marshall and Sutton slides in to give the Hoops a vital lead. It's bedlam in Fir Park and the Talbot.
The precious lead is maintained at the interval, allowing us to pause for air and recharge our glasses. Then early in the second half, there is a moment of panic, as Stephen Craigan's header from a corner is blocked on the line by the face of Didier Agathe, before being scrambled to safety. Pampers time.
We need a second.
Hartson heads high over, where one hundred times before he buries it. Then the chance of the match, as Bellamy sprints clear, one-on-one with Marshall but this time the keeper stretches out a hand to divert his shot wide. Minutes later, he is at it again, Sutton brilliantly dummies a defender to bear down on goal, the big stopper blocking his effort. Moments later, the cameras scan into the away end. Nacho Novo has scored at Easter Road. We will have to win. The tension is unbearable.
It is one-way traffic here, as Celtic go for the clincher which will ensure the title, no matter what happens in Leith. Marshall is now playing the game of his life, blocking twice again from Hartson when he seemed certain to score. That sinking feeling starts to creep back into your stomach. What if?
We are into the last minute of play when former Celtic General Manager, Jock Brown, commentating live, utters the immortal words, "they know that one false move will cost them the title." He has hardly finished speaking before a long ball into the Celtic box is cleared by Stan Varga, a mishit return shot then picking out Scott McDonald, with his back to goal. One touch on his barrel-chest and an acrobatic hitch-kick sends the ball flying high past Rab Douglas into the Celtic net.
And at that moment, we just know.
David Faulds also knew. The Celtic Star editor was in the family section of the main stand that day. He recalls the final stages vividly.
"Moments before the first goal, Stan Petrov was urging the Celtic players to come out. They were getting deeper and deeper. It's the only time that I can ever say this but in those minutes, in front of my eyes, I saw a team die. Their collective legs had gone. It was awful. The supporters were shocked leaving there. A horrible, horrible day."
But there's still time. For a Celtic winner or a Hibs equaliser.
One goal will change a game, a season and a legacy.
And this is football, so it does. But for all the wrong reasons.
Every Celt except Varga and Douglas has pushed forward to chase that second Hoops goal which will bring the destiny of the flag back into our hands, as the ball is frantically cleared from the Motherwell box towards the corner flag. McDonald is chasing it ahead of Varga and gets there first. Now the Australian hitman has turned and is facing our goal, then he has shuffled to the side and attempted a shot, as a second defender arrives to support the big Slovakian. His shot takes a nick off a Celtic boot and spins high into the air. Douglas is leaping, grasping, but in that split-second we know. There is only one place that ball is landing and our dreams will be shattered within seconds. I recall the barman next to me shouting for joy then, realising the situation, quickly withdrawing to the back. I am totally numb. Five minutes earlier the pub was vibrant. Now there is a strange silence, other than doors slamming as a few thousand summers are ruined in Milngavie and millions more across the world.
A half-hour or so later, I see my wife and daughter approaching the pub through the large window, for the pre-arranged lift home. I see it again now. They take one look at me, still sitting traumatised at the bar, and they walk on. There is no hope in my heart. I have rarely felt so low in my entire life.
It was a defining moment in the Martin O'Neill era.
Two years earlier, I had sat with my dad watching on television in his Balornock living-room, as the title changed hands several times over ninety minutes. He was gravely ill but had hung on for Seville, a survivor of Lisbon looking for one last shot at Europe. Dad would pass away within a few months, his job done, his legacy intact and living on in the shape of his children, then our kids. Whilst Rugby Park and Seville had been sore, excruciatingly so, for me the defeat at Motherwell was even worse.
Fifteen years down the line, I can better reflect on Martin's tenure, that fine balance of objectivity and hurt having moved along the timescale sufficiently to allow that. My thoughts and views on this period are fairly clear. Despite the occasional and spectacular lows endured then, relived again in the writing of this chapter, I have no hesitation in saying that, as an overall package, I would not have swapped it for anything. If those dark days at Kilmarnock and Motherwell and the pain of watching Henrik Larsson miss out on a deserved gold medal in Seville are the price of our march with O'Neill, then so be it.
To put the Irishman's achievements in some sort of perspective, when Martin O'Neill took over at Celtic Park on 1 June 2000, Dick Advocaat's Rangers had just won the treble, finishing 21 points ahead of the Barnes/Dalglish 'Dream Team' at Celtic. Within 12 months, the Bhoys would record their own full house of silverware, their 15-point lead in the flag race reflecting an incredible 36-point swing. The following season, that gap had been extended to 18 points, and in 2003/04, his third and final title for Celtic, there had been another 17 points between the champions and their traditional Glasgow rivals.
In contrast, the two championships lost had gone to the last minute of the season in both cases, a solitary goal the difference in May 2003 before McDonald's unwelcome intrusion in the final moments of the 2004/05 campaign turned a two-point lead into a single-point deficit. There had been a further two Scottish Cups added after the Treble of 2001, a third cruelly lost in the final seconds at Hampden in 2002, as Peter Lovenkrands had his day in the sun. And it had all been achieved with no financial sideshow and with a style and panache on the field that allowed a new generation of supporters, mine, to enjoy watching us take on the best in Europe once again as equals, playing football the Celtic way.
In my adult life, I had been thrilled by the sight of Billy McNeill's two great attacking sides, that team from his first spell in charge, which had given us 4-2 and so many memorable times, followed by his Centenary Bhoys in the fairytale season of 1987/88. There had been precious few of those types of celebrations in the 12 years or so which had elapsed since then. The arrival of Martin O'Neill in June 2000 brought a magical feeling back to supporting our team that I probably thought had gone forever.
Martin's own family were at the heart of the second defining factor that month, as the situation with his wife, who had been battling serious illness for some months, persuaded the Derry-born Celtic boss to take some time away from football. The following week's Scottish Cup final at Hampden against Dundee United would thus be his swansong. Somehow, he would have to lift the team and the support for one more challenge before heading off to deal with one of a far more personal and critical nature. He would come through the football task on a rainy day in Mount Florida, as the first part of the collective Celtic recovery from Black Sunday came in the shape of Our Cup. He would go out as a winner, at least, acknowledging the support of the crowd on a tearful post-match walkabout, something which at that time was fast becoming an annual event.
It seems a strange thing to say, having just won a major trophy, however, my over-riding emotion as we shuffled home from Hampden was still very much one of sadness. In seven seismic Celtic days we had lost a title in the most agonising of circumstances, then the most successful manager since Stein. Black Sunday would require some major healing but heal we would, in time, to continue the quest. To reclaim our crown and re-establish Celtic as the dominant force in Scottish football. Under a new man.
Within days, the speculation became fact.
Perhaps ironically, it would be a man returning from his own personal time away from the Beautiful Game, who would be coming in to replace Martin O'Neill as the next manager of Celtic.
On 1 June 2005, five years to the day when O'Neill had promised to "do everything in his power to bring success to the football club," and almost 30 years since his initial links to Parkhead as a promising teenager under Tommy Gemmell at Dundee, Gordon Strachan finally arrived at Paradise.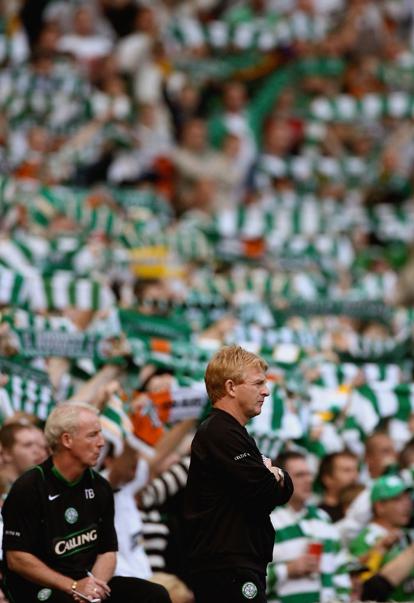 He may have felt that he had seen and done it all.
He was wrong.
The madness was just about to start.
Matt Corr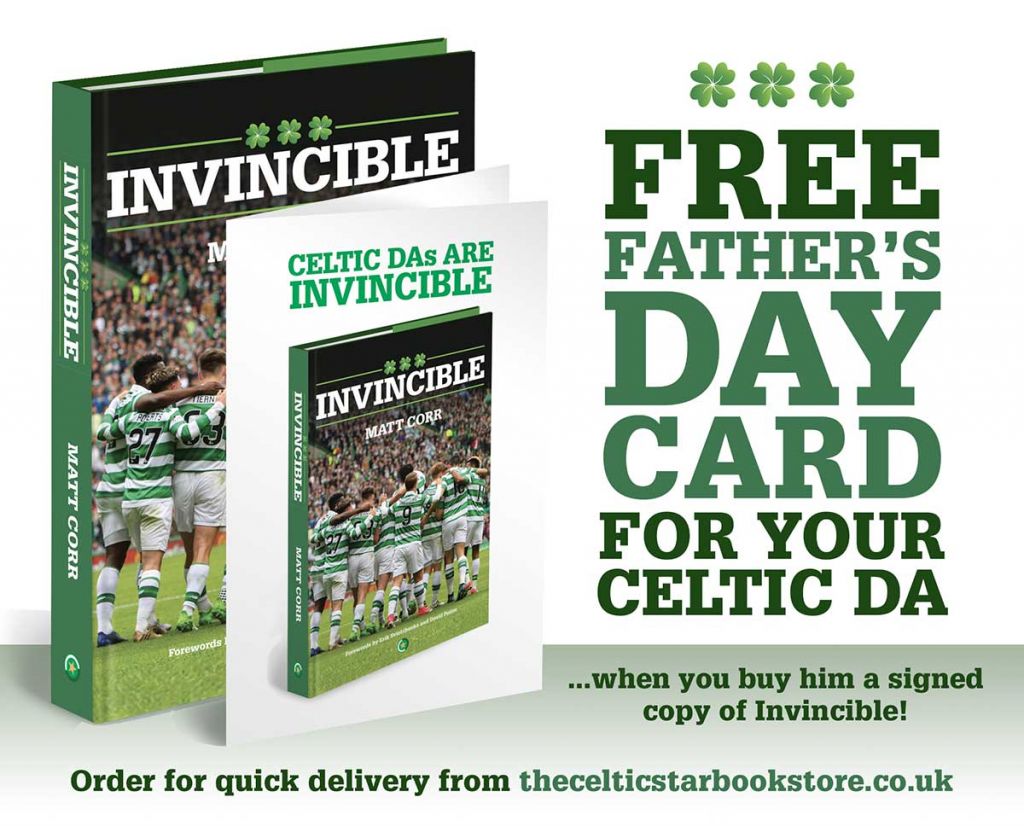 VOTE NOW FOR THE CELTIC STAR'S PLAYER OF THE YEAR
 Loading ...