Kenny Dalglish scored a remarkable goal for Celtic against Motherwell at Celtic Park on this day on 1976 and Li'l Ze features it on the daily round-up of Celtic on This Day on Twitter.  Few players in World football in any are could have had the vision and the skill to execute – it was a goal of sheer class from King Kenny.
The short review of this match on Celtic Wiki reported on Celtic's first half blitz on the visitor's goal. "Celtic blitzed Motherwell with four first half goals. They elected to play into a strong wind and used the elements to their advantage.
"Dalglish set them on their way after a lung bursting run and his second goal was sublime when he beat Miller and McLaren on the bye line to shoot home from a tight angle.  Roddy MacDonald was played up front again in an emergency."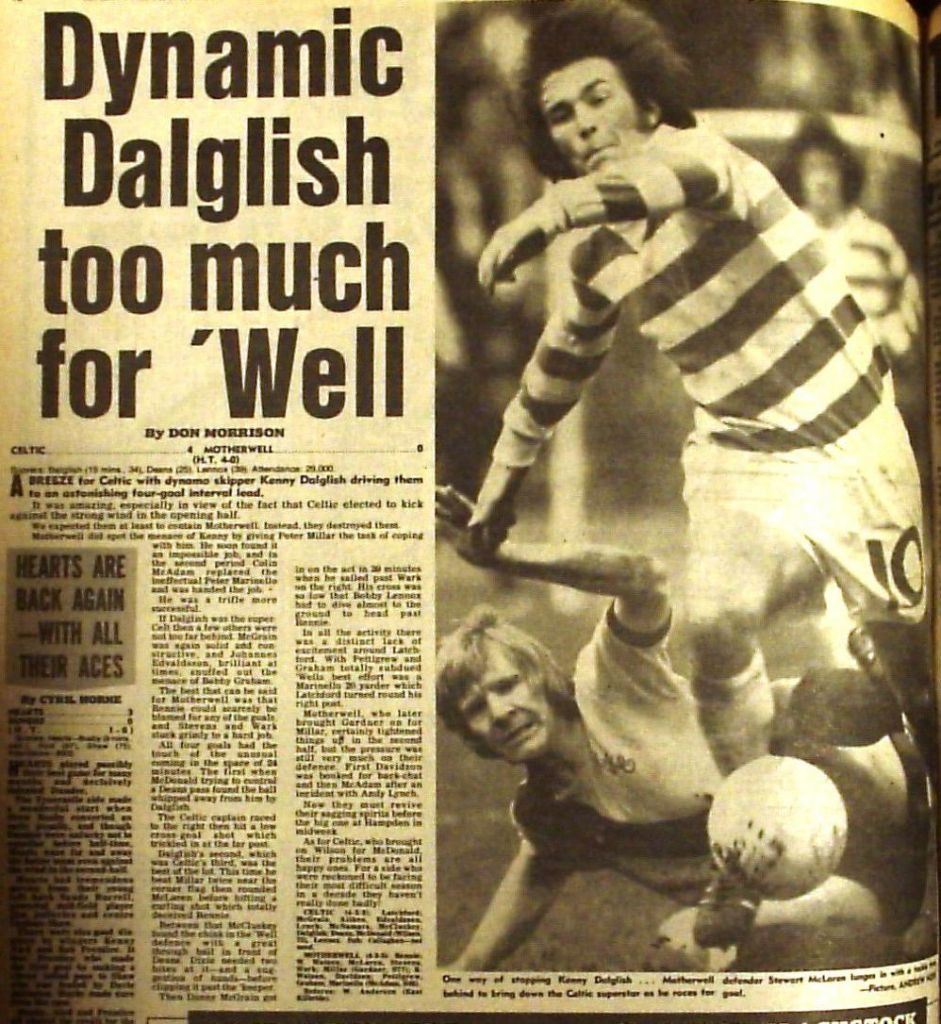 Celtic:  Latchford, McGrain, Aitken, Edvaldsson, Lynch, McNamara, P McCluskey, Dalglish, Deans, MacDonald (Wilson), Lennox. Sub: Callaghan  Scorers: Dalglish 2 (15, 34), Deans (25), Lennox (39). Attendance: 29,000 (cough).
27th March 1976, Celtic beat Motherwell 4:0 and Kenny Dalglish scores this superb goal. pic.twitter.com/Ng9AjVM8I1

— Li'l Ze (@LilZe_7) March 26, 2023
Also On This Day…
30 years ago today, Dundee Utd 2:3 Celtic.

McAvennie, Galloway and Collins. @MaccaFrank pic.twitter.com/nxVUysRLRm

— Li'l Ze (@LilZe_7) March 26, 2023
27th March 2010, Celtic 3:1 Kilmarnock.

Excellent goals from Robbie Keane(2) and Broony. @ScottBrown8 pic.twitter.com/qbXj1m95lT

— Li'l Ze (@LilZe_7) March 26, 2023