Charlie Gallagher had been recommended to Jimmy McGrory by one of his teachers at Holyrood, a man called John Murphy who was also the Public Address announcer at Celtic Park. Significantly, all this was done without any input from Jock Stein, then working with the youngsters. According to Charlie, Jock Stein did not know Charlie when he was signed in September 1958 on a provisional basis – and possibly Jock took a subliminal dislike to him for that reason – but presumably Stein was very much involved in the process when he became a full signing in March 1959.
There is still however a minor mystery about Jock Stein's role in all this. Jock's subsequent career, in which he famously knew almost everything that there was to know about players in the juniors and in the opposition – he was often challenged to name Motherwell's team against Falkirk ten days ago, for example, and was able to do it! – makes one wonder if he did know about Gallagher. Charlie himself claims that Stein didn't know him. One wonders, however. There was very little that Stein didn't know.
Charlie was naturally delighted to be signing for Celtic along with another Yoker player called Jimmy Hughes. They were referred to as "the Celtic right wing" of Yoker, with Hughes on the right wing and Gallagher now at
inside right. Much debate went on even in the early stages of Gallagher's career about what his best position would be. He seemed to lack the required pace to be a traditional right winger whose skills were those of getting to the dead ball line and cutting the ball back, and an inside position seemed better suited to his undeniable passing ability. He also had a ferocious shot – one report talks of Charlie Gallagher "ripping the defence apart and bulging the net with a terrific drive", and the general consensus of opinion was that he was ready for full time football. Both Manchester United and Everton had expressed some kind of interest as well, but Charlie did not really consider anyone other than Celtic.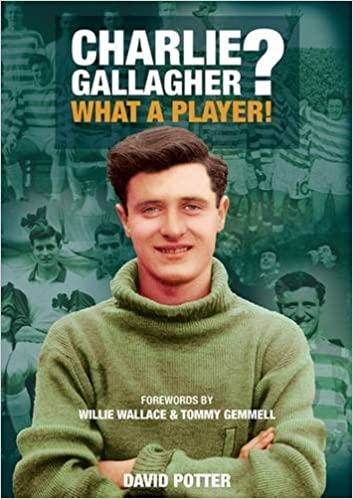 Gallagher and Hughes were part of the much vaunted youth policy of Chairman Bob Kelly. The team which had beaten Rangers 7-1 on October 19 1957 in the Scottish League Cup final was (incredibly) almost
immediately dismantled – to be fair, some of them were ageing in any case – and replaced by callow youths. In some ways this was admirable – the "Kelly Kids" seemed to have been a conscious imitation of the very successful "Busby Babes" of Manchester United who would surely have been the best in Europe for many years but for the air crash in the snows of Munich – but the problem with the "Kelly Kids" was Kelly himself.
Frankly, Mr Kelly knew very little about the actual footballing side of the club. He was steeped in the traditions of the club, for his father, James Kelly had been brought into the club from Renton at the very beginning in 1888 and had captained Celtic and Scotland, and in time became Chairman. Bob's withered arm had precluded him from actually playing football, but he involved himself in the administrative side of the game.
He had been Chairman of Celtic since 1947 (and would continue to act in that capacity until his death in 1971), and he deserves credit to a certain extent, at least, for the way in which he ran the club. His strong points were that he was strict on discipline and considered the good name of Celtic to be a very important thing. He had in 1952 successfully taken on George Graham of the SFA on the business of whether Celtic should be allowed to fly the Irish flag or not, and he had a laudable belief in a British dimension to football, frequently saying that he wished to see a British Cup, for example.
His weak point was the basic one that he himself insisted on picking the team when there were others who could have done the job better. Already by the time that Charlie came to Celtic Park, two Scottish Cups had been lost because of crazy team selections where Kelly's heart had been allowed to rule his head.
In 1955, Bobby Collins had been dropped after the first game of the Scottish Cup final, apparently because of a
somewhat undignified and indeed ludicrous (Collins was a very small man!) shoulder charging incident on the Clyde goalkeeper. Celtic then lost the replay. And in 1956, his answer to an injury problem had been to bring in full back Mike Haughney at inside right, and bring in a youngster called Billy Craig who had played only a handful of games for the club.
Other, more believable, options existed but Mr Kelly had made up his mind. Hearts beat Celtic easily 3-1.
The frustrating thing was that Celtic probably, man for man, were better than anyone else. In-fact in both 1956/57 and 1957/58, as we have seen, Celtic won the Scottish League Cup, the second of these being the famous 7-1 against Rangers which kept the fans happy – but hid the basic problem. The 7-1 team with great names like Evans, Fernie, Collins, Peacock and Tully disappeared within two or three years of this (some of them were
getting old, but others weren't) and the emphasis was now on youth.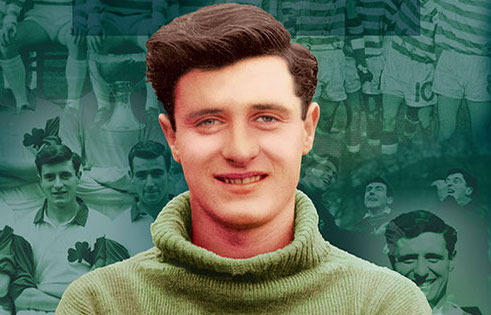 In retrospect, we can now, of course, see that it would have been better to blend the youth policy with a few more experienced players, even one or two men bought from another club, if necessary. This however did not happen, and as a result Celtic collapsed miserably in the 1957/58 season after the League Cup win in October. 1958/59, while Charlie was at Yoker, had been one of the worst in the history of Celtic since 1888. There had
been some good moments, like putting Rangers out of the Scottish Cup, for example, 2-1 at the end of February 1959, but the general picture was one of potential, promise but under-achievement and no honours won.
And there was, of course, more horror to come in future years. But before then, we had a truly bizarre day on 18 April 1959 – something which absolutely bewildered the support of Celtic (and those of Rangers
too for that matter), showing the world just how good Celtic could be, and at the same time inflicting a certain amount of distress on their fans.
It was the day on which Celtic actually won the Scottish League – for Rangers! Celtic beat Hearts at Parkhead with a good goal from Bertie Auld and an even better one from Eric Smith. Normally this would have been a cause of great rejoicing, but the snag was that it gave Rangers the Championship. A veteran supporter switched off his radio in disgust saying "After playing poorly all season, they have to go and flaming win the day!"
Across the city at Ibrox, Rangers lost to Aberdeen. Aberdeen needed to win that game to dispel any remaining fears of relegation, and duly did so to the delight of their small band of supporters. Rangers trooped off the field
disconsolately to the boos and jeers of their crowd who were convinced that Hearts had beaten Celtic at Parkhead, for they had been winning 1-0 at half-time and Celtic, frankly, were generally regarded as a very poor
team indeed in 1959. When everyone heard the scores from the other grounds, neither Celtic nor Rangers supporters knew whether to laugh or cry! Hearts supporters knew what to do – they cried, whereas Aberdeen
fans heaved a sigh of relief, but no more so than those of Dunfermline who also rescued themselves from relegation by beating Partick Thistle 10-1, a result that, shall we say, raised more than a few eyebrows.
This pantomime on the last day of the Scottish League season underlined just how crazy Scottish football was in those days, and just how annoying it was for Celtic fans that they could not do better. Rangers, described categorically by the eminent and respected journalist Cyril Horne in The Glasgow Herald as "the worst Rangers team that he had ever seen", were the champions! Perhaps just as amazingly, Aberdeen who had escaped relegation with an absolutely dreadful team reached the final of the Scottish Cup! Admittedly they were defeated there by St Mirren, 4-0 conquerors of Celtic in the semi-final, but it showed that there was no really good team in Scotland. Celtic should have done a lot better for the times were ripe for collecting trophies. But they had burned their boats by deploying the youth policy called the "Kelly Kids."
But when Gallagher came to the club, the youth policy was still being praised as a good idea. Time would tell just exactly how good (or bad) it was going to be. It was, of course, certainly a good idea, but in spite of Jock Stein still being around, it was not implemented properly. Youth policies have to be well blended with experience and common sense.
Alan Hansen once famously said "You'll get nowhere with kids". In this particular context, Alan was proved wrong, but he did have a point, and perhaps he should have added "until they mature". Celtic's youth policy was a long time in the maturing – but it did eventually come good and some could claim that it eventually won the European Cup – and the early few years of Charlie's career at Celtic Park were an excellent example of how not to do it, as we shall find out.
David Potter
From David's biography of Charlie Gallagher, who sadly passed away today.
To be continued.
RIP Charlie Gallagher

Charlie made more than 170 appearances for Celtic between 1958-70. The Gorbals born son of Donegal parents was also capped twice by Ireland.https://t.co/7X93soy7GP pic.twitter.com/RZKa9J2jrv

— Celtic Wiki (@TheCelticWiki) July 11, 2021
RIP Charlie Gallagher A True Celtic Legend.
Total gentleman and one of the nicest folks you could ever meet. Always had time for a chat with the fans
Hardly missed a game Home or Away

Thoughts are with his family and friends
💚🍀🙏 pic.twitter.com/asuI872H2u

— Celtic Collectibles (@CollectCelticFC) July 11, 2021