He's somewhat of a Celtic icon for his exploits in the famous green and white, make no mistake.
Despite having his well-documented off-field problems for the last couple of seasons, Leigh Griffiths has still given Celtic fans plenty of good memories throughout his time at Parkhead. His involvement of an amazing 90 league goals in 171 games – most of which he has come off the bench from – and of course the huge helping hand he has played in gaining the quadruple treble and seven consecutive league titles, cannot go unspoken of.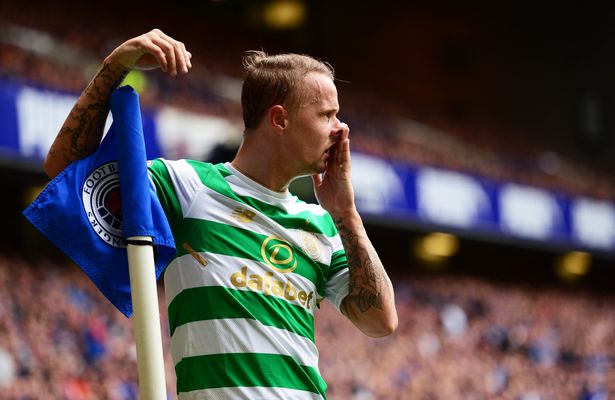 Yet at the same time, there is that crippling thought of what could have been had Leigh Griffiths not been…well, Leigh Griffiths.
I don't want this to be a damning piece as such, in which I slate Leigh for anything and everything he has done throughout his Celtic career.
This is not only because he had been quite frankly outstanding for the first half of his now eight-year spell at Celtic Park, but because an aspect of his demons haven't been avoidable; his evident battles with depression highlight this, and it was imperative that the striker should have had the time off to recuperate given his struggles with his mental health – something which should be treated in the most important manner across all walks of life.
An interview with the BBC highlighted this, as Griff went on record to say: "Looking at what's happening in society nowadays, a lot of people are taking their own lives and, maybe if they open up and speak up a little bit, it can save lives." He seemed to be an advocate and perhaps someone that Scottish people – whether they supported Celtic or not – could look up to. "It was very lonely at times and, without the help of the club, friends, family and support that I had, I wouldn't be sitting here now."
However, since then, and despite three different managers in Rodgers, Lennon and Ange offering him help and final chances across three tumultuous years, all Leigh has done is bring hisself into disrepute.
"He's a rascal, he's a bit different and maybe that's what separates him from the rest.
Almost three years down the line, and there has been minimal – if any – moment in which Griffiths has even started to repay the faith shown in him by the club following the time he needed away from the club.
Again, I am not saying he owes the club anything in return for taking care of him; the mental health issues he endured were out of his hands, as is often the case with depression. And, as stated in his interview, without the help of the club, family and friends, he wouldn't be back playing full-time football doing what he loves.
But a great way to say thank you to Celtic – to let them know that they are appreciated as much to him as he was to us, and a club whose fans have adored him for years as one of their star strikers – isn't to become unfit in what was the longest Scottish pre-season in my living memory, and then have a well-documented run-in with the authorities less than twelve months later.
Take what Neil Lennon said last summer. It isn't so much bad boy antics that set Griffiths apart from the rest; it is a matter of professionalism. Sure enough, some players were not angels off the pitch – take Ronaldinho for one, who partied all night long in Barcelona before going out and giving defenders nightmares at the Camp Nou. But there is a difference between what you do on the training pitch and being different at home, as opposed to just not trying at all.
"He's on full pay for the three months of lockdown and he comes back totally out of condition and a stone overweight. He couldn't afford to be because he hadn't played much football in the previous 18 months to two years", said Lennon.
"During the lockdown, the three months off, we opened the training ground. My fitness coach set up fitness training for the players every day. Callum McGregor, Scott Brown, James Forrest, Greg Taylor, Jonny Hayes – all the lads that lived in Scotland – came in."
"Leigh didn't come in one day. You can take a horse to water but you can't force it to drink."
Not exactly enticing for Postecoglou to hear about his second-best attacker, is it? Especially in the circumstances in which he has joined the club, having lost a glorious chance under Lennon to claim 10-In-A-Row, a big rebuild is needed; so why keep the rotten apples in the club if you're after a culture change?
This begs to ask the question; how many times can Griff get away with bringing not only his own reputation down catastrophically to the floor, but being a mercenary upon the brand image that Celtic (or most other clubs for that matter) work hard to portray?
He's undoubtedly a very, very talented player, with a wand of a left foot that all teams in the Scottish Premiership would long for even at this stage in his career. His goal record speaks for itself; not many players will have had a better goal return that a goal in less than every two games since the records of Scottish top-flight football began.
The fact Ange Postecoglou had rewarded him with a one-year deal after not seeing him play in the flesh once was the biggest lifeline anyone could have wished for; to stay at a team that loves you – despite your flaws – was the biggest compliment of all to his talents.
Is this his last chance? Or will it continue to happen time and time again; a carousel of good few performances to push himself back into the hearts of Celtic fans, before another media controversy clouds the summer rumours?
Lennon again remains unconvinced with Griffiths' motivation – at 31 year old in less than a month, the former Celtic boss realises that Leigh doesn't have long to go in his career; especially at the rate of unfitness he is spiralling into at the moment.
"I don't know if that ship's sailed now. He's saying, 'I'll prove people wrong,' he hasn't proved anybody wrong. He's not at the level of being a Champions League player, he didn't get picked for Scotland – you have to ask why.
"He has to get himself in the best condition possible and there's no excuse not to these days because you've got great fitness coaches, medical staff, nutritionists and all those things.
"He's a rascal, he's a bit different and maybe that's what separates him from the rest."
Ange Postecoglou recognised this in an interview given to The Herald yesterday, having more than likely been informed by Celtic staff of the character that Leigh has become over the last few years, he gave himself no responsibility for Leigh's actions and rested all the laurels in the Edinburgh-born talisman's hands.
Asked if it was Leigh's last chance, the Aussie said: "I don't think that's a question for me. I think you should probably put that question to Leigh. I've given him an opportunity to contribute to our season ahead and he's now in the building, he's training, with the opportunity to do that. Beyond that, the rest is up to him."
"Absolutely it was a serious thing. And because it was a serious thing that's why I left the people who are responsible for that side of things deal with it. My role is that I'm football manager of this football club."
"It's pretty simple, and as I said to Leigh as I have said to all the players at the outset, the expectations and standards in terms of what I expect are pretty clear. And if people fall short of them then it doesn't matter who it is, they'll be dealt with.
"What that means depends on what happens. But once it's been dealt with we move on."
By witnessing the managerial style that Ange has brought in since his move to Glasgow – by omitting Kristoffer Ajer and the majority of 'the want aways' from pre-season games over the course of his tenure – I don't doubt him one bit in banishing Griffiths if he misbehaves and brings the clubs reputation down once again.
But we've heard it with Brendan Rodgers, we heard it with Neil Lennon at the start of last season following Griffith's fitness woes, and now we've heard it just a month into the Postecoglou tenure – which won't have helped the Aussie's cause in terms of a quick turnaround at all.
What makes it worse is that Callum McGregor – Celtic's new club captain – has also had to have close words with him as well. Unlike Postecoglou, McGregor has been here for all of Leigh's misdemeanours; and the way Calmac states what he has spoken to Griffiths in the Herald interview comes across as a 'final warning' to him – something you don't want from the leader in the team.
"I've said to him what I'll say to you, football has to be his sole focus. That is what he is paid to do, he's paid to come in and give everything for the club.
"When you are in this moment of transition as a club, we need everyone pushing in the right direction, and Leigh is no different to that as well.
"We draw a line under it, we move on, and we look forward to the game tomorrow night and then take it from there."
Within the space of a week, you've had three very Celtic-orientated people – a captain, a manager, and a former captain AND manager – have to go public to get your head into focus. Can you imagine this happened at any other club?
Sure, Griff has done a lot for Celtic, but as I stated right at the very start of this article, he is somewhat of a club icon, not a club legend in the same light as Henrik Larsson, Scott Brown or King Kenny.
And for that reason, given what has happened over and over again throughout his Celtic career, I wouldn't play Griffiths again – unless I was extremely desperate – if I was Ange. Enough chances have been given, and it frees up a wage for a player who will genuinely want to try and force their way into his plans.
Cheers Griff, but enough is enough – thanks for everything.