With Celtic's announcement of Peter Lawwell's impending retirement and of his replacement, Dominic McKay from Scottish Rugby, a man the Celtic Trust Chairman David Low described as a "financial hardman" and a "probable precursor of further change", it certainly seems revolution may be in the air at Celtic. For now, at least it is a welcome evolution.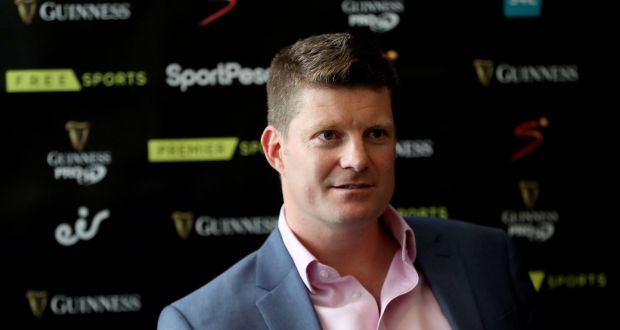 Another financial hardman, a good thing in this environment. Fallouts assured. Probably a precursor of further change.

— David Low (@Heavidor) January 29, 2021
If as expected Celtic's new CEO sets high demands and standards and appears willing to challenge, en route to implementing change, then it may be that a Director of Football and one with high standards, someone himself who would be a "precursor for change" at a footballing level could be high on Dominic McKay's agenda.
While Dominic McKay has been been a long term season ticket holder he apparently attended a rugby playing private school in Glasgow and has been appointed from his current job as the Chief Executive at Scottish Rugby, so he's probably not planning on picking up the de-facto Director of Football mantle himself. He's like to bring on someone to do that job for him, someone intelligent, with broad knowledge of the game both in the UK and across Europe and maybe even someone with a deep understand and affection for Celtic. Maybe someone like John Collins all be near the top of any list McKay is currently considering.
Collins isn't everyone's cup of tea, indeed for many if John Collins is the answer some may request a rephrasing of the question. His personality it appears puts noses out of joint when it comes to coaching and managing, but he does have a strategic mind and if he could implement changes and a vision on young and impressionable minds, then Celtic could reap the benefits by employing Collins as Director of Football and allowing his vision for high standards to realign the dropping off in standards that are sadly far too evident now.
One other point that should be made after his appearance on Hibs TV earlier in the season for the visit of Celtic, although John Collins played for Hibs and has a great affection for his old club, he is and always has been a Celtic supporter.
The additional advantage is the message, the nuts and bolts of that vision would be supplied by the rank-and-file coaches across the club, with little chance of that perceived lack of man-management from Collins able to frustrate the new students of the game – coaches on the other hand would have to be up to spec.
Collins of course has had success. He was manager of a young Hibs team who brought home the League Cup to Easter Road, and his influence Ronny Deila's assistant, as the foundations of a change in mentality from which Brendan Rodgers ultimately added the finishing touches shouldn't be underestimated.
While some railed against the pair's methods, there were many who bought into their vision as 24-hour athletes. Just ask Virgil van Dijk what he thought of the standard of coaching at Celtic during the Deila and Collins reign. Collins has also managed abroad with Charleroi and been director of football at Livingston, the therefore has experience on the frontline and in a strategic role.
The midfielder was one of the few Scots of his generation to play abroad, with Monaco after leaving Celtic on a controversial Bosman deal – much to the annoyance of Fergus McCann. There he reached a Champions league semi-final, won the French title before playing top level Premiership football with Everton and Fulham. He also gained a wealth of experience at International level where he won 58 caps for Scotland, scoring 12 times and played at both Euro 96 and the 1998 World Cup in France. He was a cultured player and is a cultured individual.
Collins himself has caused controversy once again last summer with his comments to the BBC where he questioned the standard of professionalism in Scotland but it's in those comments that you can see there remains a passion for football and the development of footballers, that could well mean the role of Celtic's Director of football would suit Collins to a tee:
"Professional is not just training in the morning and going home at lunchtime, that's not what I class professional,"

"Especially for your younger players, they should be doing much more than one session a day. They should be doing double sessions regularly. All the full-time clubs in Scotland, how many are training in the afternoon if they're playing one game a week?

"I know there's fantastic professionals at Celtic. Players eat, sleep and train correctly but I know there's a lot throughout Scotland that probably don't."

"I thought I was a professional football player until I was 28. I realised that I wasn't a professional footballer until I went to France. We were sent away for tests. First one was a heart test seeing how fast you can run, what level you're at for pre-season. Blood was analysed, you were taken into the doctor's office and told, 'this is what you're lacking' – B12, zinc.

"At dinner, there's no fizzy drinks, no cakes, everything's salad, fruit, veg, chicken, fish. We started at 7.30 in the morning for a run. That was my wake-up call.

"Three sessions the first day, two sessions the next, three, two, three, two. Eat, sleep, drink, train. Ten days and then you come back in an unbelievable condition. That's when I realised, this is serious, this is professional. I loved it, I loved training. It pushed me up to another level."
If ever there was a role where such a questionable mentality could be challenged by encouraging impressionable minds from a young age, then perhaps the post of Director of football would suit John Collins and benefit Celtic as we move into a new era. If Celtic decide to go down the route of a Director of football, it would be somewhat remiss of the club if John Collins name wasn't on the final shortlist.
We already touched on, in an earlier article, that the structure at youth level needs addressing as Celtic are losing highly regarded players at a younger level to clubs who have pathway and career plans tailored to the individuals, players such as Josh Adam, Liam Morrison and Barry Hepburn. I'm certain such pathways and plans would be something Collins would be sure to implement.
We also mentioned Project type players at the next stage up appear to be stagnating, making little impact on the first team and also growing frustrated. Karamoko Dembele, Armstrong Okoflex are two who have shown displeasure at their development, whilst Cameron Harper appears to be weighing up alternative options and likes of Luca Connell having signed with six months of Championship football haven't been seen near the first team to see what they can offer.
If that is down to a lack of opportunity it could well be something Collins could address, if it is down to Celtic signing talented footballers but with questionable attitudes, you get the impression the standards John Collins would expect may not even see such players signed in the first place, and certainly weeded out if they don't match the expected standards in professionalism.
The appointment of John Collins would allow for a trenchant Football man at the top of the Celtic tree with the 'financial hardman' of Dominic McKay away from the day-to-day football decisions.
Collins is bright and articulate; he understands football at every level from player to Director of Football already evidenced on his CV. He would also bring with him European experience and a knowledge of the club he would be re-joining intimately, both as player and assistant to Ronny Deila.
It would then allow Celtic to look to employ the kind of coach that we're probably looking at, one who is a modern training ground tactician rather than a football manager spread too thinly. One who could focus on the job at hand, improving players and implementing a philosophy.
The names of Alex Neil and Shaun Maloney have recently been linked, amongst others of course, but having the experience of someone like Collins above them with the overarching vision could well reap rewards. Could there even be room for someone live Damien Duff to return as an assistant? You'd like to think so.
John Collins would of course have his own ideas, his own names to throw into the ring as I'm sure will Celtic's new CEO.
Change is needed at Celtic and with change can often come resistance. A Director of Football would have to have experience to draw on and the courage of his convictions. He'd have to stick to his strategy and implement it. John Collins would have that strength and he'd be an ideal fit.
Niall J