SPARTA PRAGUE 4 CELTIC 1
If 2020 was a game of football it was the dismal display against the Czech side by the Scottish Champions. With the reverse fixture ending 4-1, Neil Lennon needed a big performance to banish the concerns of the naysayers. The final nail in Celtic's Europa League campaign for 2020 came as Prague sat in and hit Celtic on the break.
It was a carbon copy of the game three weeks ago. Celtic had all the ball but Prague had the chances and they made sure they took them. Not once but four times Neil Lennon watched as his side picked the ball out of their net after being hit on the break or being caught ball watching as the game passed them by.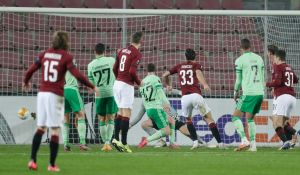 Odsonne Edouard gave Prague a taste of their own medicine with a wonderful break from a corner. The Frenchman burst through, weaving in and out before sticking his shot into the corner of the net. It was a great start, it was exactly what Celtic needed and we dared to dream that this was the goal to get us out of this season's doldrums.
With that in mind, the hope quickly turned to disappointment, anger and then resignation. Prague scored as Celtic refused to clear their lines or get out, allowing a tap in from six yards to draw the home side level. The second goal showed the inadequacies of Celtic this season, a cross wasn't defended – squirming between the central defenders and the goalkeeper with neither showing desire to go and claim the ball.
Cross and finish was similar for the third, poor defending and no claim by the goalkeeper. It was a straight forward finish but another weak goal to concede. The last goal was shambolic, a punt up the park and Bain decided that it was worth coming. Instead of taking the player or the ball, the Prague player finished comfortably and gave symmetry to the defeats. 1-4, 4-1.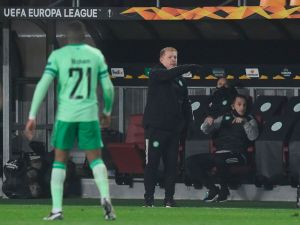 The buck stops at Neil Lennon, that is the way of European football. Celtic have an incredible servant in Lennon but if the performances of late are anything to go by, the team aren't playing for him.
The team need to take responsibility too. The careless and lazy mistakes that have resulted in conceding goals as well as humiliating defeats come down to the players as well as the coaching team. Scott Brown is a seasoned pro, he has been there and done it so why isn't he hooking that ball into the stratosphere instead of letting it drop? Likewise, Callum McGregor and Odsonne Edouard are playing 3 Prague players onside by at least two yards.
The back four of Hatem Abd Elhamed, Christopher Jullien, Kris Ajer and Diego Laxalt looks solid on paper but their indecision and frailties allowed an average Sparta Prague to score four goals. Scott Bain isn't a Celtic No.1 goalkeeper, he is a tidy second pick but it isn't fair having him on
The team assembled was done so to play 3-5-2. Edouard was at his best last season when he was able to come short with Griffiths in behind, so now when we have Edouard available is there not a switch? If Celtic's season is based upon Rangers collapsing then we are in deep trouble.
Sky Sports' Anthony Joseph said that the position of the Celtic Board remains the same. This may be something that they are considering because if they are not then I would be quite worried about the destination of this season.
No change – Sky Sports man says Board still support Lennon | The Celtic Star https://t.co/HEb0ccDkBy

— The Celtic Star Editor – Walfrid & The Bould Bhoys (@CelticStarMag) November 26, 2020
A dark night for Celtic, but at this stage it isn't a surprise. The performances haven't improved despite a number of poor results this season.
If Neil Lennon is to lose his job, which even his friend Chris Sutton has conceded might happen, the players need to take responsibility as they ultimately have contributed to the abject performances. They are playing for a global institution with expectations on them that will never compare to any club bar a select few. They need to stand up and be counted regardless of who is in the dugout as Jock Stein said:
"Celtic jerseys are not for second best, they don't shrink to fit inferior players."
I just fear that it will be too late by the time the board are forced into action. Ten in a row is hurtling towards a cliff edge as the Celtic board face making a decision, to not make one is as good as saying nothing on the matter but one thing is for sure, Rangers are a different breed this year.