Former Celtic striker Frank McAvennie is at it again, producing more inane ramblings to please whoever the hell it is that actually goes to hyperbole website footballinsider for their footballing news. Today's victim is Giorgos Giakoumakis, the Greek striker who only signed for Celtic back in the summer.
Football Insider claim 'a recruitment source' had informed them on Monday that Celtic are in the hunt for two more forwards during this window. In fact, they claim it's our top priority. I doubt that very much. With Ange only utilising one up top in his system and with Kyogo, Maeda, Giakoumakis and Ajeti all on the books as well as new signing Johnny Kenny, who McAvennie seems to have completely forgot about, I think we are pretty well covered in that area.
And as far as their 'source' is concerned, they surely are much less 'reliable' after Ange Postecoglou's remarks today at the Celtic Media Conference attended by The Celtic Star's Editor (video at end of article).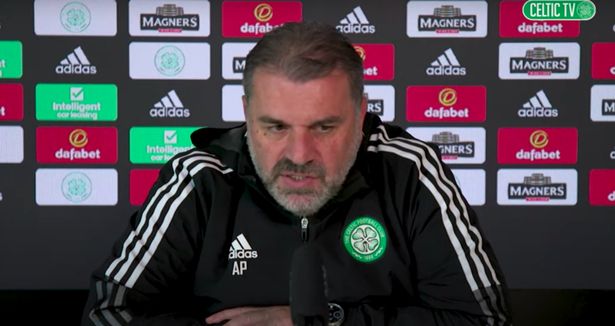 Pushing on regardless, when discussing the possibility of Celtic bringing in even more strikers in this window, McAvennie told the 'rumour mill' website's correspondent Ben Wild: "I'll never say no to new strikers coming in.
"I think we have some great strikers. Kyogo has obviously proved it and the new guy Maeda is really exciting.I look at Ajeti and he's not done it. I've said enough about him at this point.
"Giakoumakis, he's not done anything really, has he? He barely plays and I do wonder why did we sign him? "I don't know if it's a fitness thing or if he's not up to the task but he was on fire last season. He doesn't look right here. I just wonder if a loan spell might be best for him.
"I think if another striker comes in then he will definitely leave. The squad needs to be smaller now, not bigger."
McAvennie's comments are also at odds with what manager Ange Postecoglou has said recently in his Greek TV interview, where he stated he believes in the player and feels he has been unlucky so far in his Celtic career with injuries hampering his progression and limiting his opportunities to impress the Celtic faithful. The Celtic manager believes he can still emulate former striker, and fellow countryman, Georgios Samaras by having an impact at the club.
Giakoumakis has scored once so far this season in eight appearances, getting his goal against St Johnstone in late October. A week later Giakoumakis missed a late spot-kick as Celtic missed the chance to overtake theRangers after a goalless draw at home to Livingston which seemed to effect his confidence. He has only started 2 games this season and the rest have been substitute appearances.
There is absolutely no way Giakoumakis should be getting written off at Celtic already. McAvennie states that he 'barely plays' and 'hasn't really done anything' so far this season but this is because he has had very limited time on the pitch as he has struggled with injuries.
When he has played he has looked more than decent and definitely offers something unique to this Celtic team. He is certainly a better option than Albian Ajeti, and if anyone in the striking department will be getting the chop during this window it will be the Swiss international.
McAvennie also 'wonders why we signed him'. He's a striker who scored 26 goals in 30 games for VVV-Venlo in the Eredivisie last season finishing the league's top scorer even though his club got relegated. He knows where the net is. When he's fit and in form he's a player who will provide bagfuls of goals. That's why we signed him Frank. Let's give him a chance before we write him off altogether.
Conall McGinty