KIERAN TIERNEY is in the press today talking about how tough a decision it was for him to leave the club he loves to go and play against and with some of the best players in the world. The left back was adored by the Celtic support, he would get the megaphone from the Green Brigade and lead the songs of triumph after a title or Cup win and he left Celtic in August to sign for Arsenal.
KT appeared on the club's book cover last Christmas, entitled This is How it Feels to be Celtic.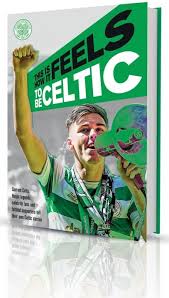 Tierney had at least THREE songs from a Celtic support who regarded him very much as one of our own, living the dream and everyone in the support bought into that narrative. It certainly was good while it lasted.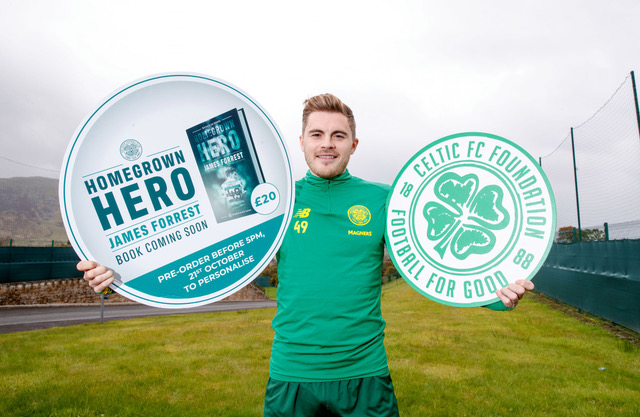 Contrast that with James Forrest, who is as his new book title describes is a Homegrown Hero. He is our current Player of the Year as voted by readers on The Celtic Star and he won two or three other awards this year. He also scored 5 goals in 2 games for Scotland to ensure we have a play-off place for the Euros.
James has been at Celtic most of his life and opening expresses his wish to spend his entire career wearing the Hoops. He had a few tough years before Brendan Rodgers arrived and was even the whipping Bhoy for sections of the support for a while. I remember Lisbon Lion Willie Wallace telling me about 5 years ago that he rated Forrest as the most talented player at the club and suggested that such was his ability he could be the first £10 Million transfer to England. He couldn't understand the stick Forrest was taking and urged the support to get behind him.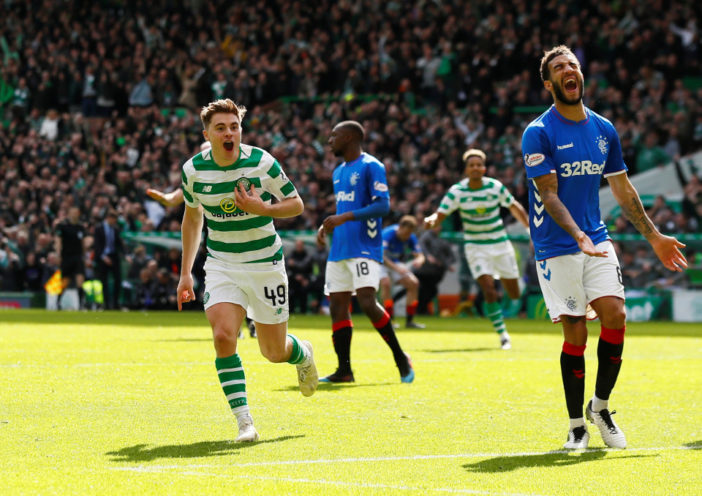 James Forrest is only 28 and is perhaps reaching his peak as years as a professional footballer and he's been involved along with skipper Scott Brown every season of the 9 as Celtic try for 9 in a row.  He has no song – we've tried on several occasions on here and there was no shortage of great suggestions but other that one chorus of 'There's only One James Forrest' at a 3-2 Scottish Cup win over Partick Thistle in the season before last, there's been no vocal appreciation for the player.
Consider this folks, Dedryck Boyata even had a song!
He is of course shown tremendous affection from Sandman in his wonderfully funny Player Ratings – apparently enjoyed by the Celtic players, or so I'm told – and now Celtic are planning on recognising Jamesy by releasing his book in December, the aforementioned Homegrown Hero.
Jamesy was rather embarrassed by the attention and the spotlight that this project brought yesterday but he is has pressed on with the club's suggestion and will use quite a bit of the revenue to benefit the Celtic Foundation's Christmas Appeal.  A real Celtic thing to do, Jamesy.
Jamesy appeared at Celtic's Media Conference yesterday to talk about the new book and his ten years in the Hoops, and started by explaining how it all came about.
"About four to six weeks ago the club came to me and asked me about doing a book. Right away I said No! I didn't really want to do it, and it wasn't me who came up with the title.
"I am only 28 and I am still young, so it felt a bit strange to do a book but they wanted to talk about the fact I've been in the first team for ten years.
"Celtic talked me into it, and my family said it would be a good thing to do. It is good to do it for the Charity Foundation, and that is a big part of why I wanted to do it in the end. I don't really like talking about myself, but it has been good speaking about the experiences of the last ten years at Celtic, and when I first came through.
"My brother has also done a bit for it. I've not read it yet but hopefully it's nice!," Jamesy said at the club's Media Conference as reported by Scottish Sun.
"It feels strange to have the book coming out as I'm still playing. I'm not finished and still want to play loads more games, and be more successful. I want to keep winning and not just rest. I'm not going to stop working hard just because I've got a book out!"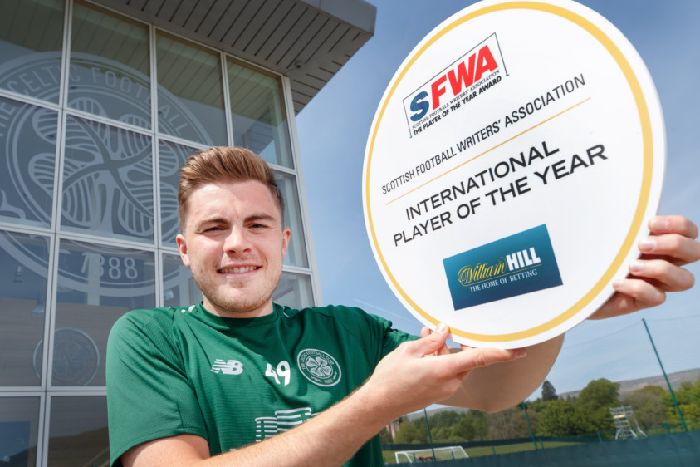 He's enjoyed the process of having his memory jogged about games in seasons gone by and realising that the memories of those matches come flooding back.
"A game gets mentioned and then you do remember bits of it. I focus on matches coming up all the time, you aren't thinking about a game that took place back then.
"But it has all been really positive. You get a lot of good feelings from these old games, and you never know, maybe it can help you with games coming up?"
From a youngster breaking into the team, Forrest, at 28 is one of the first names on the team sheet and of course is the club's own Player of the Year. Thursday night was his 89th European appearance for Celtic, putting him behind only Scott Brown.
"I remember when I first started playing and there were a lot of big characters here. They helped the younger boys come out of their shells, and it was an exciting time.
"But it was not until a year or two after I made my debut that I moved to the first-team dressing room. We have got a good changing room these days. Scott Brown might be the only one here longer than me. I am one of the older ones now, but I feel good and it's positive being in the first-team for that long.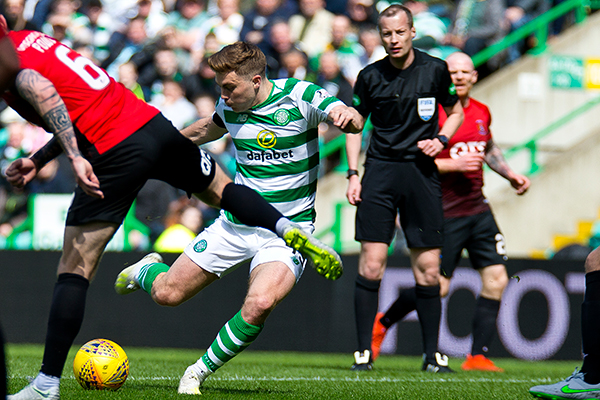 "When you are playing with the youth team at Celtic you want to make your debut, and there is always something else you want to do. Playing in Europe was something I always wanted to do, but I am only 28 and I want to keep adding to that tally.
"When you hear stats like that it gives you a real confidence boost, and shows you must be doing something right. It was a really good team performance against Cluj, and we got even better second half. We could have scored a few more. It's very exciting to play in this team, really enjoyable."
Jamesy was also asked about his former team-mate who made his European debut for his new club on Thursday night.
"I heard Kieran did really well for Arsenal, and all the boys knew how well he would do when he went down there. We saw how he performed every day in training here. We knew how hard he was going to work when he went down to Arsenal.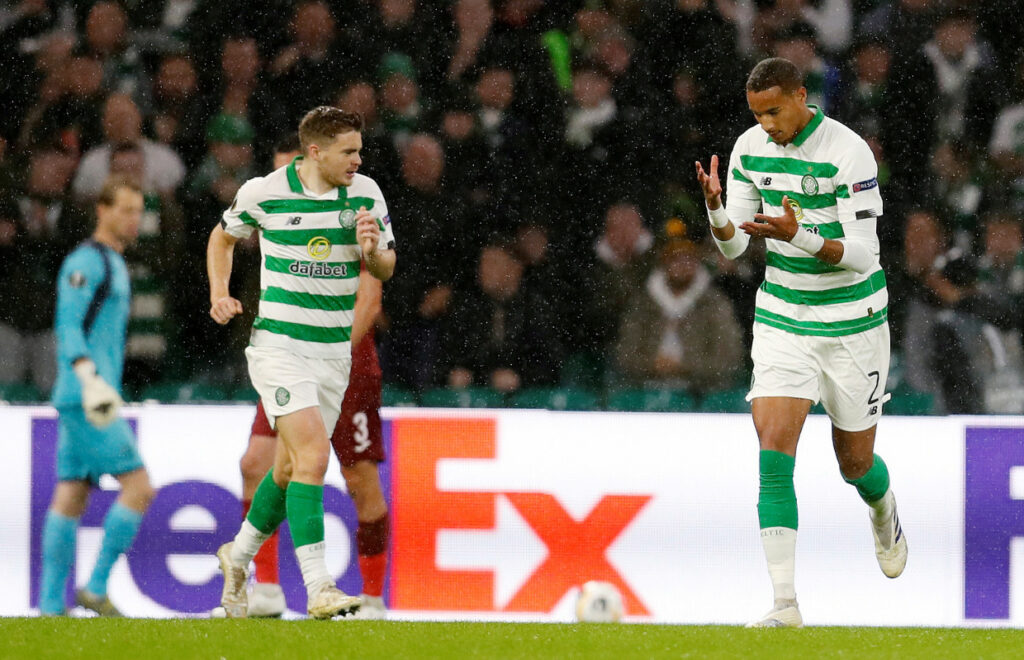 "It's great to see him playing and doing so well for them now. Hopefully he can play even more games, and if we both get through our groups it would be great."
You wonder if the Arsenal fans will get a song together for Tierney before the Celtic support gets round to singing a song for James Forrest?
Our Homegrown Hero is also an Unsung Hero.